10 Best STEM Toys This Year for Every Category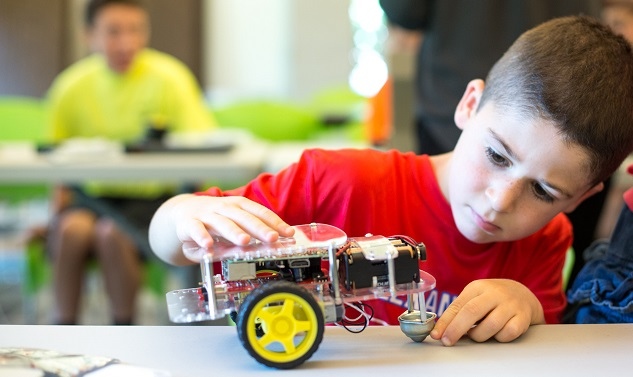 The best STEM toys encourage children's interest and skills in science, technology, engineering, and math while still being a blast!
We've rounded up our favorite toys for 2019. Looking for a coding robot for kids? Or more interested in a science kit? We've picked our favorites for every category, so you can find the perfect fit between education & FUN!
Best STEM Toy of 2019: Sphero Bolt
There's so many activities you can do with a Sphero! It's our favorite STEM toy -especially for those of you who want to start learning the fundamentals of programming. Program you waterproof, shock-proof ball to navigate mazes, play with your cat and so much more! Connect to the Sphero Lab for endless ideas and activities for everything you can program.
KK'NEX never fails to impress me with great sets, but this one is by far my favorite. It's a great starter set with 70 different models you can create. Put the "E" in STEM with these great building activities. Follow the models or have creative play by creating your own designs.

This is the best science kit for your future meteorologists and nature-lovers! This science kit has 6 activities/experiments that teaches you how real weather works. Experiment with static electricity and create your own mini-lightening effect! The kit even pitches how you make clouds in your hand! Children will learn more about the water cycle, wind, and greenhouse effect.
After the experiments, our kids had fun creating their own "Weather Channel" and reported what they learned while we recorded! So fun for your scientist that love acting as well! Also, this is the bargain for our Best of STEM list at only $12.99 on Amazon.
For all of the Snap Circuit fans out there (like me!) the exploration Snap Circuit set is surely to be a hit or be a great addition to existing Snap Circuit kits. In this kit, you are going to start building up the wall!
The light sensor is the go-to favorite addition to this set. Everyone in the family will love the new projects. If this is your first Snap Circuit set, the best part of all of these kits is that once you start doing the projects (which feels like a puzzle) children naturally start experimenting with their own designs. The creativity blooms, as well as a better understanding of circuitry.
Plus, it includes a project manual, so you can focus more on just making the circuits – learn the STEM lessons behind this toy.
Get ready for blast off! In this game, the primary skill you're practicing is addition and subtraction. But you can also focus on odds/evens, patterns, and greater than/less than. It's beautiful designed and a great gift for an elementary school classroom.
Best Kit for Future Inventors: Makey Makey
Makey Makey, "The Invention Kit for Everyone" allows you to turn simple objects like bananas into touchpads! There really are hundreds of possibilities, like the kit claims and even more fun to be had! This best STEM kit was designed by MIT PhD's to be simple and foster true project based creative learning. The kit gives you good examples to start with, but then let the imagination run wild with it! Find inspiration for everything you can do with a makey makey here!
Best Computer Kit for Future Programmers: Kano Computer Kit
Kano was a STEM education crowdfunding hit, raising over $1.5 million on Kickstarter. It is unique in that it is more than teaching children how computers are built, but you learn programing too! After following a storybook and building your own computer, you bring it to life with playful projects and challenges that teach you to code art, music, apps, and games. Children are exposed to programming languages like Javascript and Python. When kid-tested, they got excited about finishing their next game build and were hooked to this great STEM kit! Adults would have fun with this one too!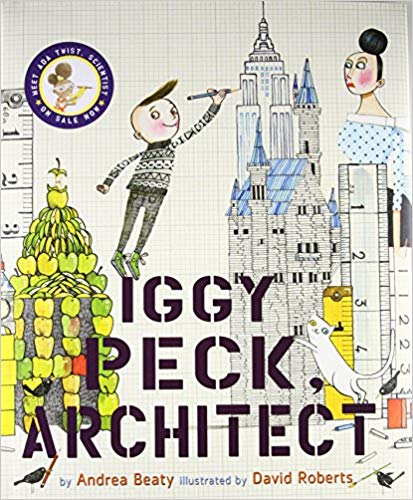 You should check out all of the books by author Andrea Beaty. This New York Time best seller is a popular book for STEM and literature lessons in school – and for a reason! It's great. Learn the importance of teamwork and be inspired by the architectural creations of Iggy Peck.
 I love  this toy, and if you have a Minecraft fans in your house, they will love it too.
The Minecraft Animation Studio combines real-life objects with a mobile app so that kids can direct their own Minecraft Stop-Motion production. Build your own movie set, create the plot, and action! 
People often forget that STEM careers aren't limited to engineering, scientists, and programmers. The film industry today is filled with creative STEM careers. This toy will help inspire that future movie maker in your family.
Additional Reading: 
We've also listed and reviewed the best STEM toys for different age groups too!
Don't have time to pick out a gift? Check out our full list of STEM subscription boxes for monthly activities & toys right to your door!