10 Best STEM Toys This Year for Every Category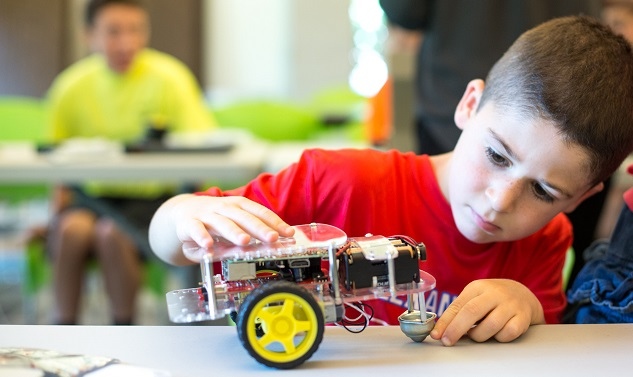 The best STEM toys encourage children's interest and skills in science, technology, engineering, and math while still being a blast! All of the below toys are child-tested and educator-approved. By 2020 there will be over 1 million unfilled jobs in STEM careers, and these STEM toys will be loved by all future engineers, programmers and scientists! 
The Force is with this toy and all the future engineers who will love it. This is our pick for the STEM toy of 2016. Become a Jedi Knight when you control your BB-8 App-Enabled Droid with a wave of your hand! If you already have the BB-8 App-Enabled Droid, give your child the power of the force. The wrist band is compatible and can be bought separately. Say hello to the best (and cutest) robotic toy on the market and get excited about robotics and tech.

Know a hungry learner interested in how bridges are built? K'NEX never fails to impress me with great sets, but this one is by far my favorite. Experiment how you can make your bridge stronger. Build 13 fully-functioning models of real world structures including suspension, truss, and arch bridges. (Although, truthfully, some of those 13 models are small variations of others.) Question your designs – which bridges use the least materials? The kit also includes a Teacher's Guide that aligned to STEM standards and Common Core Mathematics.  Although, not new to 2016, this is among the best STEM toys on the market for 2016!

This is the best science kit for your future meteorologists and nature-lovers! This science kit has 6 activities/experiments that teaches you how real weather works. Experiment with static electricity and create your own mini-lightening effect! The kit even pitches how you make clouds in your hand! Children will learn more about the water cycle, wind, and greenhouse effect. After the experiments, our kids had fun creating their own "Weather Channel" and reported what they learned while we recorded! So fun for your scientist that love acting as well! Also, this is the bargain for our Best of STEM list at only $12.99 on Amazon.
 For all of the Snap Circuit fans out there (like me!) the newest Snap Circuit set is surely to be a hit or be a great addition to existing Snap Circuit kits. In this new kit, you are going to start building up the wall!  The light sensor is the go-to favorite addition to this set. Everyone in the family will love the new projects. If this is your first Snap Circuit set, the best part of all of these kits is that once you start doing the projects (which feels like a puzzle) children naturally start experimenting with their own designs. The creativity blooms, as well as a better understanding of circuitry.
This is a best math game for kids to grow their math skills with. Roll the dice out of the fun, head-shaped shaker, and then create as many formulas as you can with the given dice, using addition, subtraction, multiplication, and division. The game is idea for ages 7+, but even your younger children can play it with the challenge to be putting the numbers in correct sequences. This one has been kid-tested, and though there is no hiding the fact you are doing math, they love it! The only thing to be aware of is that the dice are the best quality, with numbers having a tendency to rub off for those who play it a lot.
Best Kit for Future Inventors: Makey Makey
Makey Makey, "The Invention Kit for Everyone" allows you to turn simple objects like bananas into touchpads! There really are hundreds of possibilities, like the kit claims and even more fun to be had! This best STEM kit was designed by MIT PhD's to be simple and foster true project based creative learning. The kit gives you good examples to start with, but then let the imagination run wild with it! This kit has been around for a couple years now but it is still ranks as our best invention kit on the market in 2016.
Best Computer Kit for Future Programmers: Kano Computer Kit
Kano was a STEM education crowdfunding hit, raising over $1.5 million on Kickstarter. It is unique in that it is more than teaching children how computers are built, but you learn programing too! After following a storybook and building your own computer, you bring it to life with playful projects and challenges that teach you to code art, music, apps, and games. Children are exposed to programming languages like Javascript and Python. When kid-tested, they got excited about finishing their next game build and were hooked to this great STEM kit! Adults would have fun with this one too!
This is the best STEM toy for intro into robotics and another of our favorites for teaching children programming. First, who doesn't think robots are awesome? Robots are so cool. And I'd say this little guy a pretty cute robot toy too. With Ozobot you receive a simple, engaging introduction into programming. You can even program Ozobot using Scratch. If a Sphero is out of your price range, than Ozobot is a good option at only $49. 
If you want to use Ozobot in the classroom, they will provide free lesson plans that emphasizes the different STEM skills developed with Ozobot.
 I love  this toy, and if you have a Minecraft fans in your house, they will love it too. The Minecraft Animation Studio combines real-life objects with a mobile app so that kids can direct their own Minecraft Stop-Motion production. Build your own movie set, create the plot, and action!  The kids had such a great appreciation for the time and technology that goes into creating modern animation films. This is a great introduction to the many creative fields that also rely technology.
OTHER RELATED ARTICLES: