7 Best DIY Computer Build Kits for Kids (2023)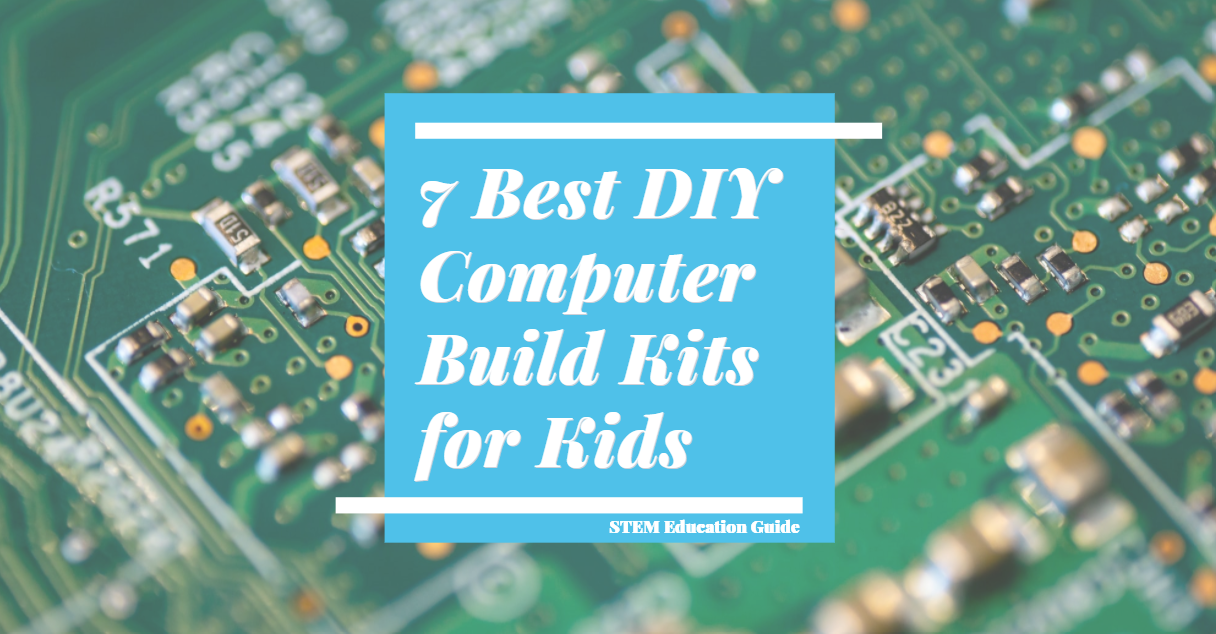 Make screen time engaging and educational.
How much time are you spending on the computer? What about your kids?
The average child is spending up to seven hours a day in front of a screen, based on The American Heart Association study. This leads to heart risks and anxiety, but limited screen time poses a challenge for many parents as the internet and screens are now a part of everyday life.
The solution? Make screen time engaging and educational. Combat mindless screen watching and scrolling with a computer kit.
These computer kits get your child actively thinking while engaging their desire to be in front of a screen. It is never too early to introduce children to computer science.
We have compiled 7 computer kits that will keep your child entertained and also keep them their mind actively working.
Top 7 Computer Kits for Kids
We looked for kits that are complete for the appropriate age group. The difficulty of building each kit and the most important part, the fun factor!
After you check out these kits make sure to have a look at all our coding articles to continue learning.
Look no further than the Piper computer kit, if you want a project built by kids and built to last. This kit will take you from building the computer to learning different codes to ultimately setting off on creating their own games.
Learn valuable coding and engineering skills with the Piper computer kit. With its wooden parts and microcomputer chip, your child will feel like a real-life computer programmer.
Piper taps into the love of Minecraft by using Raspberry Pi to bring to life over eight different mini-video games. The drag-and-drop visual programming language is a perfect start for a beginner coder and they can advance all the way to Python coding.
The Piper computer kit will grow with your child, leaving them feeling more confident than before.
Why We Love It:
• Builds a fully functioning computer
• The secret mission will have your child riveted
• 11 challenges increasing in difficulty
• Designed for ages 8 and up
Check for availability of the Piper Computer Kit on Amazon here
This kit outshines the rest with its award-winning history and ability to inspire thousands of kids to pursue STEM.
With over 100 coding challenges and unique apps, your child will stay entertained for hours from building, coding, and playing on this computer.
This kano computer kit comes with a wireless keyboard and so much more.
Start by building the computer with the bits, button, and brain found in the box. Quickly build and learn all about the different pieces needed to make a functioning computer.
Once built, the computer will take you through the coding process, ranging from simple to expansive. You won't ever need another kit as your child will never run out of fun with Kano's: art, games, music, Minecraft, and more.
Why We Love It:
• Comes with 100+ coding challenges and 100+ unique apps
• Awards: Webby Award, Family Choice Award, Red Dot Award, and more
• Connect with the Kano community for over half a million creations
• Perfect for ages 6+
Check for availability of the Kano Computer Kit on Amazon here
This kit is the only build your own computer kit that includes programming, animations, coding, and electronics. It even comes with downloadable lessons to keep the learning going.
Your child will spend hours working through the various projects that comes with this kit. They will start with scratch projects introducing them to the world of technology and advance all the way to python programming.
For all the Minecraft loving kids, this kit will engage their imagination. It also comes with the highest internet safety so parents don't have to worry about what their kids will be doing.
Why We Love It:
• Based on Raspberry Pi, includes Python and Scratch programming
• Accommodates skill growth with a variety of beginner to advanced projects
• Box comes with a carrying case, so you can take it forever
• A good gift for 8 and up
Check for availability of the Boolean Box Computer Kit on Amazon here
This kit is made for the most advanced coders and inspiring engineers. With over 200 pieces, this is the best kit for learning all about Arduino, electronics, and programming.
This kit is also the cheapest on the list as it's made for older kids.
Unlike some other kits, the SunFounder projects all focus on building common and useful electronic components that your teenager can take and apply to the real world.
Take the problem-solving and STEM skills you've learned with this kit and apply them creating other electronics objects outside of this kit. You can learn to code with SunFounder.
Why We Love It:
• Over 25 projects for a dynamic learning experience
• Great customer service if you need help along the way
• Over 200 pieces to build with
• Advanced computer kit for ages 12 and up
Check for availability of the SunFounder Mega Computer Kit on Amazon here
This kit is an advanced introduction to electronics and programming. If you are looking to take your programming skills to the next level, this kit is for you.
You will find both quality and quantity are important to Elegoo. With the controller and expansion board, you can finish any Arduino projects.
The small sensors, LCD display, RFID module, and LCD1602 parts, will help you complete any simple or complex project.
You won't need another kit, because this contains all the big, small, and in between pieces.
Why We Love It:
• 200+ pieces and 100% compatible with Arduino
• Box included for holding small pieces
• Free tutorial with more than 35 lessons
• Works well for older ages, 10 and up
Check for availability of the ELEGOO Mega 2560 Computer Kit on Amazon here
Everything you need to get started with Arduino is right here. With tons of pieces, you can quickly get started on any project.
Have fun playing around and dipping your toe into the world of programming. Build anything from computers, weather stations, and so much more.
Advance your coding skills with the pre-coded examples on the CD, giving you a perfect place to start your learning.
While this kit is designed for older individuals, you can partner with your elementary student to complete some more basic projects.
Why We Love It:
• Most economical way to start programming
• No soldering required
• Storage box to hold even the tiniest of pieces
• Teenagers and young advanced programmers will enjoy
Check for availability of the Smraza Super Computer Kit on Amazon here
This Raspberry Pi edition learning kit is the perfect sidekick to any STEM home or classroom. With so much tech packed into one stylish little suitcase, you and your child will have fun for days.
What makes this kit great is that you can expand the breadboard making the possibilities endless. Whether you want to build a system or venture into coding, you can do it all with Elecrow.
It's LCD screen will clearly show off your coding. Build your Scratch or Python programming skills with this product with a variety of features.
Many families find this a perfect kit as children as young as five can find value with this unique STEM toy.
Why We Love It:
• Comes with multiple Raspberry Pi versions
• Everything is already pre-wired
• Strong and sturdy enough to travel with• Fun for any age group
Check for availability of the ELECROW Crowpi Computer Kit on Amazon here
Wrapping Up Kids Computer Kits
These are the best ones we've found but this list will be updated from time to time as new kits come out. If you've found one that's been a great fit for yourself or your child let us know down in the comments and we'll check it out!