kiwiCo Atlas Crate Review: All the Key Pros and Cons
In this KiwiCo Atlas Crate review, I'll go over everything my kids enjoyed about this Atlas Crate subscription.
My family has reviewed dozens of kids' subscription boxes. I've been able to see which ones my kids gravitate more towards. As well as hear which ones they still talk about months after putting together all the projects and lessons from the subscriptions.
KiwiCo has been one of the best subscriptions my kids have enjoyed, and we still subscribe to them years later. When my kids heard about the KiwiCo Atlas Crate, they couldn't wait to get their hands on it!
I encourage you to read my review of the Atlas Crate, but if you're short on time and want to see all the details, you can check out the KiwiCo Atlas site here.
KiwiCo Atlas Crate Review
Before we get into the review, let's see precisely what Atlas Crate is and how it works.
Atlas Crate is a new geography subscription from KiwiCo, previously called Kiwi Crate. They aim to ignite your kid's curiosity by introducing them to various cultures. Through stimulating, hands-on STEAM activities, they promote your child's creative and intellectual connections with communities and customs beyond their community.
It's aimed at kids 6 to 11 years old. This isn't to say that kids older won't enjoy Atlas Crate, but kids that are six years old are the youngest that will get use out of it. I think a five-year-old might be too young to enjoy this subscription.
Atlas Crate is a monthly subscription. Meaning you'll receive a new box at your door every month. The box will be filled with new activities, lessons, and educational and art projects that kids will love.
What's in the Atlas Crate Box
Our Atlas Crate theme for this month is exploring Brazil. Full of cultural projects and activities that center around the culture.
When first opening up the box, you're treated with a ton of material. It can be a little daunting where to start.
My daughter was excited about this crate. She's learning about South America, so she wanted to drive right in and start with a craft.
The first craft was making a small stuffed animal from Brazil.
This was a new animal for her to learn as she had only seen it on TV and in documentaries about South America. Putting the stuffed animal together is a new skill for her as well. I like the instructions were laid out in a way that a six-year-old would be able to put it together on their own. She had no problem following along as the pictures were clear.
Next, we when through more of the material and read the recipe from Brazil that was included. This is something we are going to try in the next few days to get the full experience!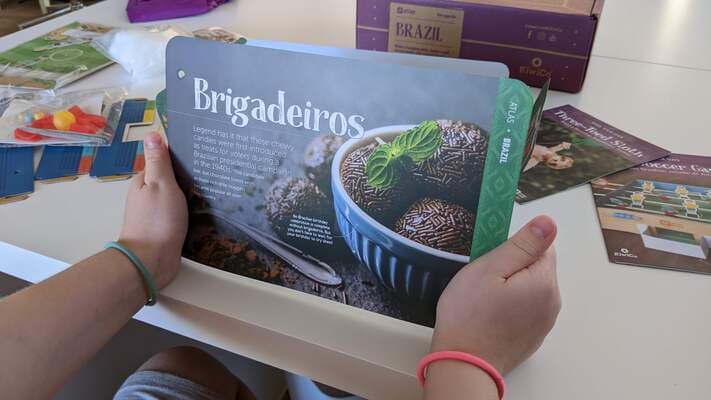 KiwiCo Atlas crate really wants to engulf your child in the culture of whatever place to take you to. This is why they included so much stuff; it's like a vacation in a box!
The next craft project we tackled was building a soccer stadium. I know everyone besides Americans calls it football, and they also go over the cultural difference in language.
This foosball table was a lot of fun, and all my kids ended up playing with it.
We then read about our buddies Anya the Cricket and Milo the Sandpiper. Anya the Cricket and Milo the Sandpiper are your international travel buddies. Inspired by the discovery of a world, every little duo decides to embark on an adventurous expedition around the globe. Together, you will delve into different countries' cultural traditions, architecture, food, and people.
Along with the letter from Anya and Milo is an adventure book.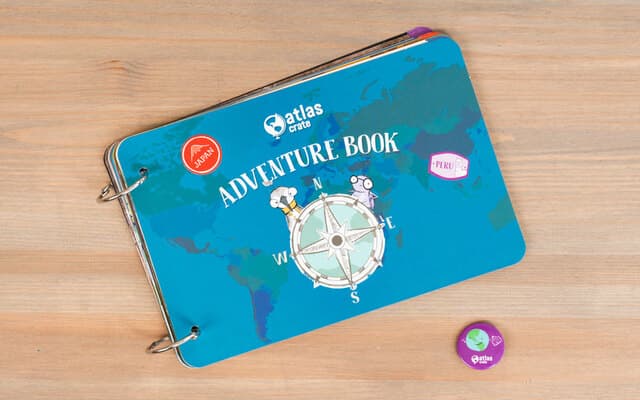 Each crate comes with seven World of Atlas cards that feature facts about each country, its customs, architecture, geography, history, and cuisine. Try out a few karate motions from Japan, discover the history of Machu Picchu in Peru, whip up some delicious coconut shuku treats from Nigeria, or something else!
As we get more KiwiCo Atlas crates, we'll add them to our book. This will be a fun way for my kids to flip through old crates and remember the fun times.
How Much Does Atlas Crate Cost
With each subscription, you'll receive a box each month. So you can pick the best subscription for you, you'll have the ability to select between a pay-as-you-go plan (which charges you for only the current month) as well as a long-term plan (which costs you in full for a year's worth of boxes). For the most significant discount, you'll want an entire year.
KiwiCo Atlas Prices
Monthly – $23.95
3 months – $21.95
6 months – $19.95
12 months – $18.50
You'll save $208.80 with the 12-month plan over a one-time purchase at $27.95. I like that they offer so many options. Month to month or purchasing a box individually is also great for gifts.
You can find more information on how to purchase Atlas Crate here.
How Does Atlas Crate Compare to Little Passports
I wanted to compare these two because they are both geography and cultural subscription. My kids reviewed Little Passports, you can find that full review here. Or, check out their site here.
Both offer projects and activities that kids will love. They are similar in the educational area. Your kids will learn about the culture, foods, and experiences of everyday natives in the area.

The projects and crafts from Atlas Crate were better than Little Passports. There was nothing wrong with Little Passports crafts; I would give a slight edge to KiwiCo. KiwiCo has a lot more experience in this area and offers a ton of options with their different Crates for all ages.

I feel Little Passports has a better and more interesting story with their mascots. I read both stories, and Little Passports nailed it.

Each box is themed around two characters named Sam and Sofia, who travel worldwide. A letter to your kids from them is included about the country they're visiting. Atlas Crate has this too, but it doesn't go into the same detail.
You can't go wrong with either one. If you'd like more detail in this comparison of Atlas Crate and Little Passports, you can find my complete comparison here. Or, you can see everything Little Passports has to offer here.
Final Thoughts
In conclusion, Atlas Crate is an excellent subscription service for children of all ages. It helps them explore different cultures and communities while teaching them essential skills like critical thinking and problem-solving. With monthly themes that are constantly changing, kids will never get bored!
Plus, the fun activities make learning more enjoyable and engaging. Atlas Crate is an excellent way to give your kids an educational experience that's both informative and entertaining. So why wait? Get your kids started on their journey of cultural exploration today!
You can find more information or signup on KiwiCo's site here.
FAQ
Is Atlas Crate Worth it?
In this review, I've covered everything which is designed for travelers, as well as in comparison to other subscription boxes. I truly believe that this crate is worth the value for the crafts alone. KiwiCo has strived to provide careful attention to detail on everything I've seen and been subbed for years; we intend on keeping our subscription active.
Can I Buy a Single Box as a Gift?
Yes, you may buy just 1 crate at a time. When checking out, select the 1-month subscription option for an individual crate.
Is Everything Included?
Yes, everything is included in the box. My kids have completed at least 30 crates from KiwiCo, and we've never needed anything outside the box.
Do Crates Or Boxes Repeat?
No, not for subscribers. You can purchase individual boxes for yourself or for someone else as a gift. So if your kids really liked a certain theme, you can repurchase that one for a friend as a gift.
You can get a closer look at everything the Atlas Crate has to offer here, as well as current pricing.