kiwiCo Atlas vs. Little Passports: 5 Differences to Consider
In this comparison of KiwiCo Atlas vs. Little Passports, I show you everything my kids liked and disliked about each subscription.
My family and I have reviewed dozens of educational subscriptions. KiwiCo and Little Passports have been some of our most memorable boxes.
My oldest son talks about Little Passports to his friends like he went on a vacation around the world!
I encourage you to read this full comparison, but if you're short on time, I give a slight edge to Little Passports. You can find all their information on their site here.
What Is a STEAM Subscription Box
Science, technology, engineering, mathematics, and art (STEAM) are the mixing of these disciplines together in a practical, real-world sense.
These STEAM boxes and crates create fun activities and science experiments for kids and adults to challenge themselves. The reason these subscriptions are so popular is that they mix fun and learning well.
We've had a subscription of one kind or another for a few years and continue to subscribe.
Can I put together activities for my kids in the same way that KiwiCo and Little Passports do?
Yes and no.
I've put together a ton of activities for you and my kids; it's kind of what this site is about. But, it takes a lot of work and wasted resources. Let me explain.
Putting activities together or buying a subscription:
Time: Planning and gathering material at the store. You can go to one of my popular activities for kids page here. Decide what you'd like your kids to learn. Make a list of items you'll need at the store, then purchase those items. Come home, and set the experiments up. This is a lot of time and planning required. Or, receive a subscription at your door with everything included with instructions.
Material wasted: You're not just going to buy one straw, you're going to get a few hundred. Those clear plastic cups I have in the link above, I have a hundred of those. Not counting all the other things you're going to need that you'll say you'll use eventually. Or, receive a subscription at your door with the exact material required.
There is something to be said about one-off or custom items you'll receive from KiwiCo and Little Passports. We can't recreate these because they are custom-made for that specific month that goes in one box for your kids.
As you can see, I'm a fan of purchasing a subscription made by professionals and educators tailored for a specific age group.
kiwiCo Atlas vs. Little Passports
I had this comparison in mind during my hands-on reviews of KiwiCo Atlas and Little Passports.
As my kids dug through both, I compared them to see which option was best for most families.
Of course, both have their pros and cons. Let's dig in a little deeper for a good comparison.
Reasons To Choose KiwiCo Atlas Over Little Passports
More subscription options – Atlas and Little Passports are focused on adventures, but KiwiCo has more options if you'd like to change it up for your kids. They have a ton of science and engineering crates that will interest anyone.
Better projects – While Little Passports gives a better story for your kids to follow along with, I felt the projects are better with KiwiCo Atlas. My daughter loved to put the stuffed animal together and hang it in our home.
Out of all the comparisons I've made of other subscription boxes, these two are the closest, and both are great. You can find my detailed review of KiwiCo here. You can find my detailed review of the Atlas Crate here.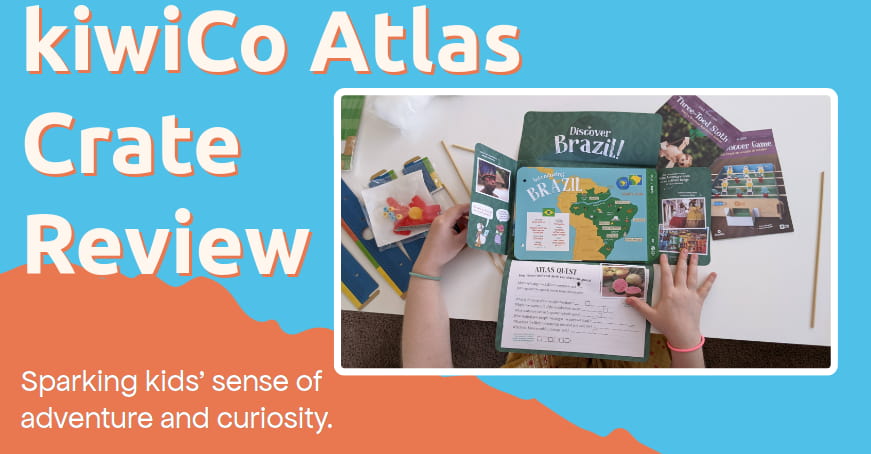 You can find more detail about KiwiCo Atlas on their site here.
Reasons to Choose Little Passports Over KiwiCo Atlas
More age groups – Little Passports has a tighter range of age groups. KiwiCo has a ton of options for science but doesn't offer as many options for these explorers' boxes.
– 3 to 5 years old, Early Explorers.
– 6 to 10 years old, World Edition.
– 7 to 12 years old, USA Edition.
Better stories – While I said KiwiCo had slightly better projects for kids, Little Passports definitely has the better story. Each box included pin pals that bring your kids on an adventure in their letters. I love the immersion this brings, and you can see the level of detail and effort Little Passports gives in these subscription boxes.
These are just a few significant reasons for choosing one over the other in our comparison. You can find my detailed hands-on review of Little Passports here.
Looking at the pros and cons, I give a slight edge to Little Passports. You can find more detail about Little Passports on their site here.
Subscription Cost Comparison
With each subscription, you'll receive a box every month. Both of them have a few different options on how to subscribe. You'll receive the most significant discount if you subscribe for an entire year, paying all at once.
Now, let's compare the cost of KiwiCo Atlas and Little Passports!
KiwiCo Atlas
Monthly – $23.95
3 months – $21.95
6 months – $19.95
12 months – $18.50
You'll save $208.80 with the 12-month plan over a one-time purchase at $27.95. I like that they offer so many options. Month to month or purchasing a box individually is also great for gifts.
You can see all their current prices here.
Little Passports
Monthly – $29.95
6 months – $27.95
12 months – $24.95
You'll save $60 with the 12-month plan over the month-to-month. You can also make one-time purchases for a gift.
You can find all of their current prices here.
Choice Of Subscription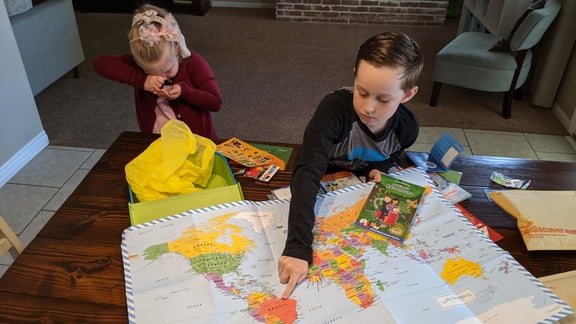 Let's compare the different options both have.
Little Passports
These are only the traveling and exploring subscriptions that they have to offer. They also have four different types not shown here for different ages. Since this article compares KiwiCo Atlas and Little Passports, I'm only focusing on culture subscription boxes.
Early Explorers is geared toward younger kids, but I think any kid can enjoy the World Edition and USA Edition over five years old.
The younger your kids, the more you'll have to help them navigate the projects and read the stories.
KiwiCo Atlas
Geography, culture, and STEAM for kids. They only make one crate right now in this category, but you can check out the dozens of other crates they offer here.
That's it for right now, but I'm sure they will expand more. This is what they've done for the other subscription boxes they offer.
Should I Buy KiwiCo Atlas or Little Passports
It's going to come down to what you value more, the craft projects from KiwiCo or the great story and adventures from Little Passports.
In this comparison of both, I say Little Passports is just a head slightly, but only a little bit. You really can't go wrong with either, as they are two of the best kids' subscription boxes. Both are highly polished!
Wrapping Up
We put these two best of the best subscriptions against each other and learned they are both excellent. Check out all their information on their sites and have a look around. You can find KiwiCo here, and Little Passports here.
Remember, you can always try them for a short time before committing to a full year. This way, you can see what your kids like the most.
Frequently Asked Questions
Do crates or boxes repeat?
No, not for subscribers. You can purchase individual boxes from either of these as a gift or a one-time purchase.
How similar are these two?
If you're comparing Atlas vs. Little Passports and not everything they have to offer, then they are very similar. But that's to be expected from adventure boxes for the same age groups.
Is it easy to cancel?
Both of these are easy to cancel. Contacting them for any reason is accessible on their sites, and they should respond quickly to any questions you have.