Messy STEM Science Experiments for Kids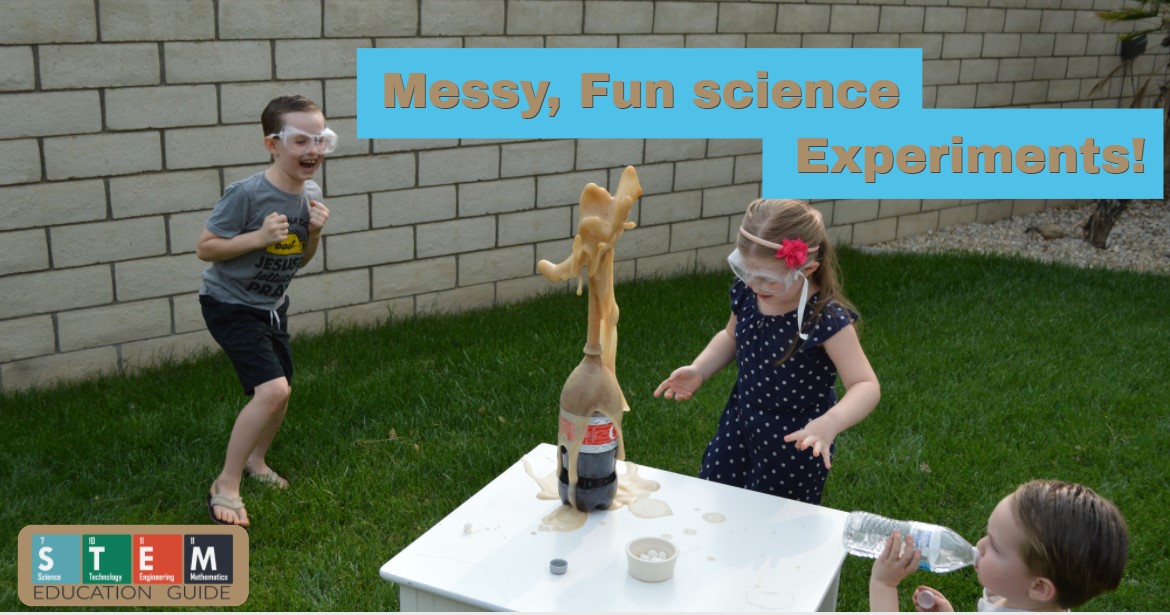 Don't be afraid to get down and dirty with some hands-on learning!
Fun, messy science experiments are sure to please kids of all ages. Kids enjoy getting into hands-on activities where they get to touch, play, and explore.
When kids have fun with learning, they learn more because they are engaged in the learning process. Kids will enjoy messy STEM experiments, which will make them want to learn more.
So why messy STEM experiments?
Messy play and experimenting are part of project-based learning, which helps kids to understand scientific concepts better. So, let's ditch the textbook and explore some fun STEM experiments.
—–You can download our FREE ebook with 25 STEM Activities here——
Diet Coke & Mentos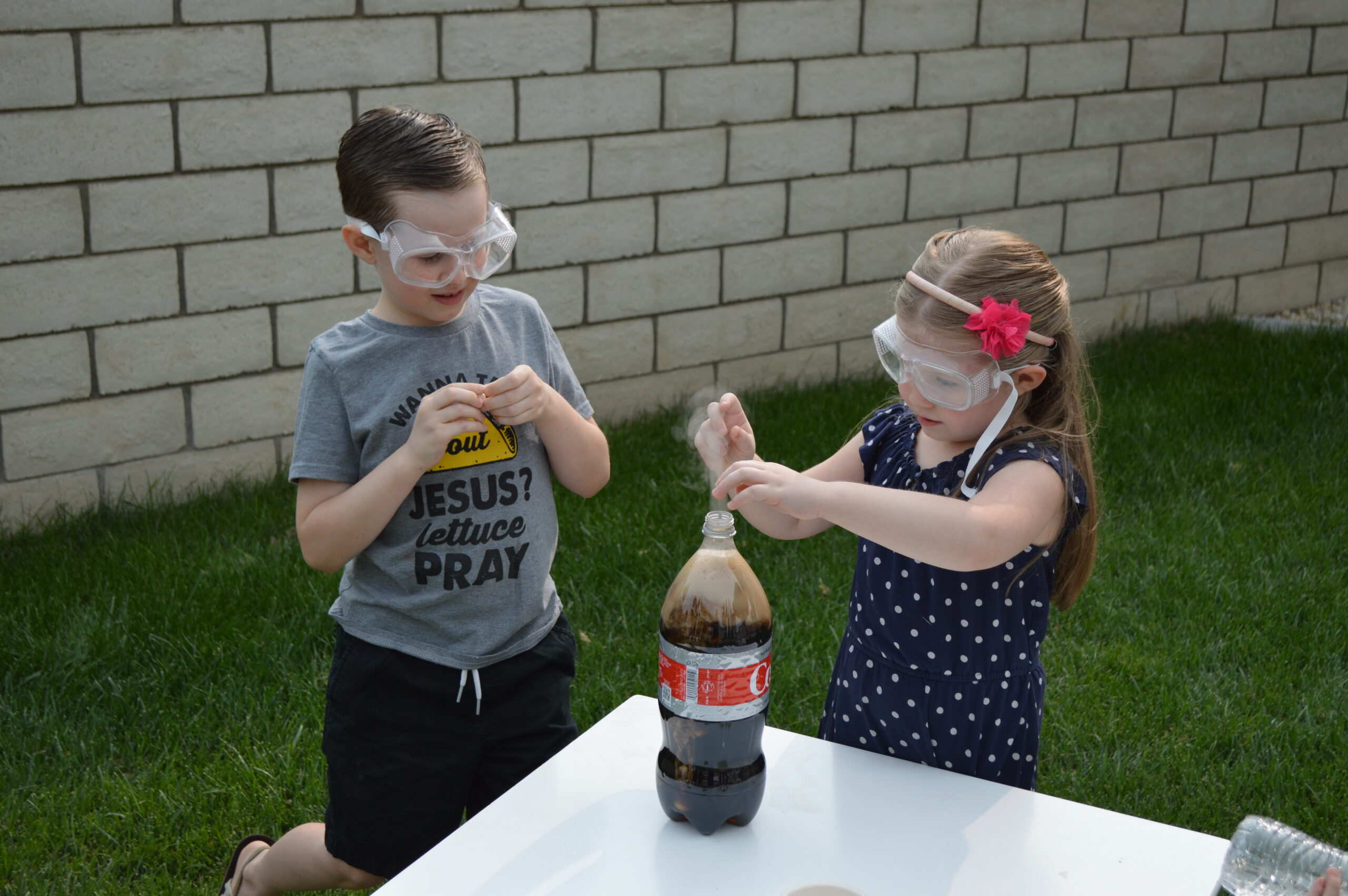 This results in awesome explosion kids will love!
It's fun finding a combination of things that will make the biggest reaction. We used a few different sodas and tried mentos, M&M's, and sand. They were surprised the biggest reaction with got was with sand and diet coke.
Bottle Rockets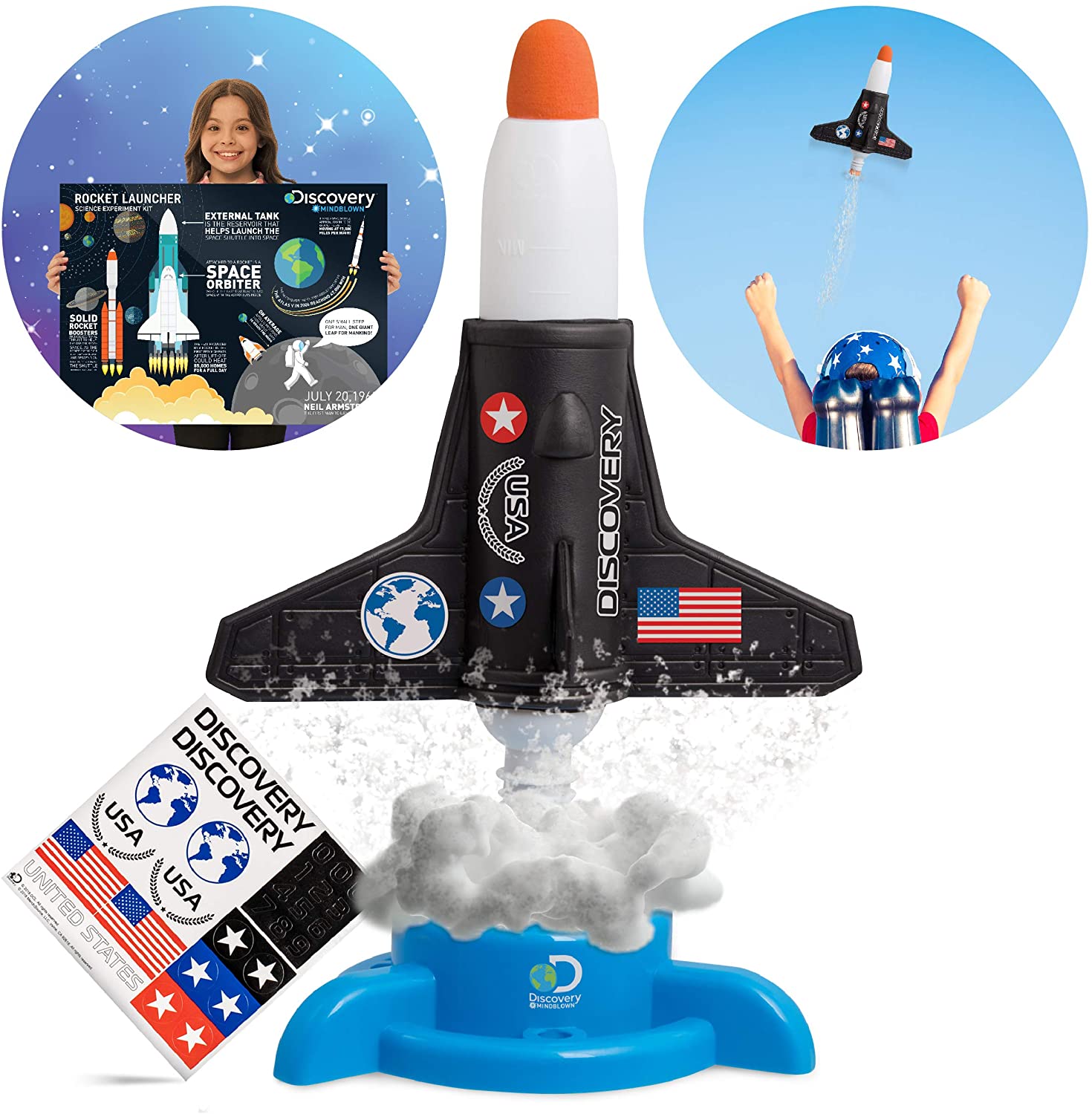 This experiment pops! Bottle rockets are a classic hit with kids of all ages.
You can get the kit from Amazon here or make your own Water Rocket that I detailed in this article.
A simple chemical reaction will send the soda bottle jolting through the air. All you need is a 2-liter bottle, baking soda, vinegar, paper towels, and a cork.
Oh! Don't forget the launch pad. Try using legos for an additional fun factor.
This simple yet exciting experiment helps kids learn math and science concepts. Creating a stable base involves measurements to help basic math skills.
When you add the baking soda and vinegar, kids learn about the chemical reaction that creates Carbon Dioxide Gas. Finally, we add an element of physics due to built-up pressure that causes the bottle to launch.
Shaving Cream Cloud With Rainbow Rain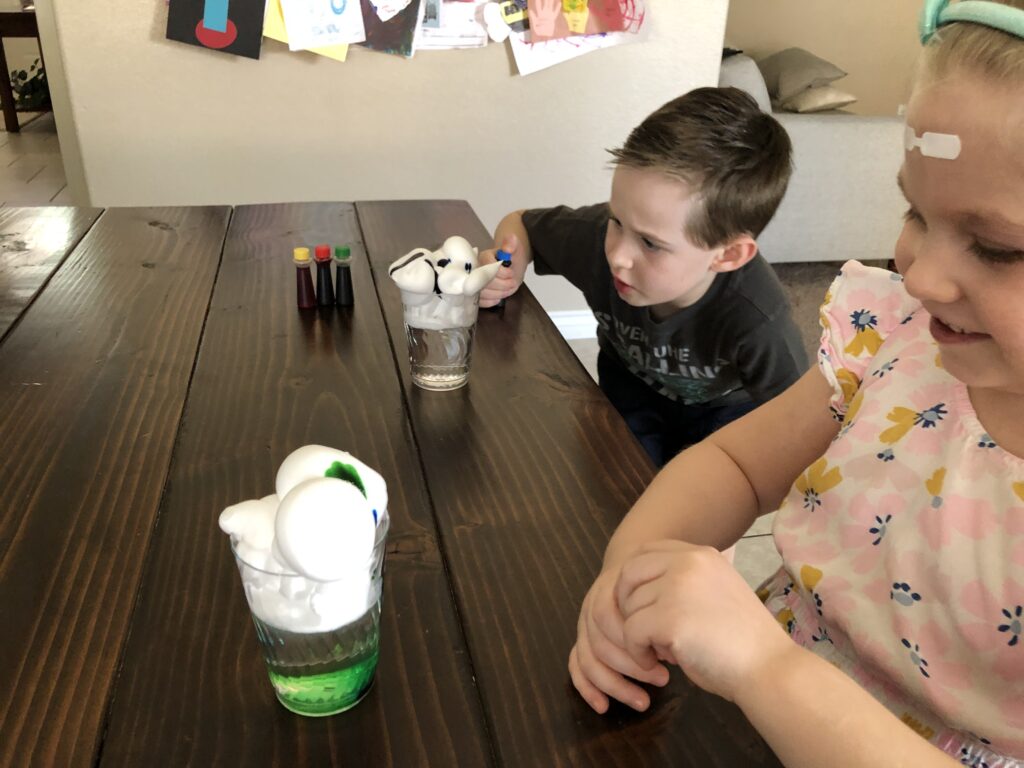 This fun experiment involves creating a cloud of shaving cream that rains beautiful colors! Kids love this experiment because they get to create their own rain. Plus, it can be any color of rain they like.
This mesmerizing experiment is great for younger kids who are interested in learning about the weather. Simply fill a cup with water and add a layer of shaving cream to the top.
Then, add drops of food coloring to the cloud of shaving cream. When the cloud becomes too heavy, gravity will pull the food coloring down, just like when it rains in the sky!
You can do this experiment inside, but it would have probably been safer outside on a table, in case they spill.
For all their questions about the Rain, Cycle check out netgokids.
Edible Flubber
While this doesn't look very appealing, flubber is a fan favorite. This sensory-based experiment is fun for kids of all ages. Kids get to play with their hands, and they can even EAT this flubber.
All you need is water, psyllium husk powder, a bowl, and a microwave. Try using food coloring to add a splash of color. Kids love to play with this slime and enjoy to feel it with their hands. Plus, this experiment is non-toxic and edible in small quantities.
This experiment is great because children will learn about chemical reactions and water-soluble solutions. The water binds to the psyllium husk, while the heat from the microwave speeds up the rate of dispersion.
Kids are left with a puddle of slime to play with, all while learning about how heat and chemical reactions work to form new solutions.
The photo above is from athriftmom.com; she has a recipe there.
Volcano Experiment
They Had Just as Much Fun Painting the Volcano as Erupting It!
If you're looking for an alternative to bottle rockets, look no further than an erupting volcano. This experiment involves a volcano model, baking soda, vinegar, dish soap, and food coloring.
Similar to bottle rockets, this is an acid (vinegar) base (baking soda) chemical reaction. They combine to release carbon dioxide gas, leaving a bubbly effect.
To add to the fun, add some dish soap and food coloring. Kids love this experiment because they get to build their own volcano and watch it explode!
Our kids used this volcano kit from Amazon, and they loved it!
Flower Dissection
Try this hands-on experiment to learn about the reproductive parts of a plant. Kids love this experiment because it is hands-on.
Plus, they get to be the scientist and dissect a flower. Larger flowers, like lilies or irises, work well for this type of experiment. As your child slowly dissects the flower, have them sort and label each part.
Bonus Tip: Use a microscope to examine the parts up close.
Elephant Toothpaste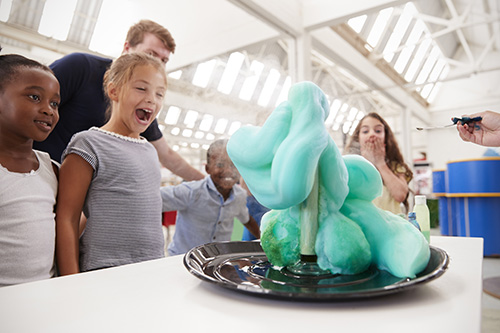 Image from cmosc.org
Warning: do this experiment outside. This foamy chemical reaction is one everybody will love.
This experiment looks like you squeezed a tube of toothpaste fit for an elephant. Kids will love it because it creates giant foaming action!
All you need is a large plastic bottle, dish soap, hydrogen peroxide, dry yeast, and warm water. A splash of excitement adds some food coloring and uses 6% hydrogen peroxide (it will explode up to 5 feet high).
Marshmallow Catapult
Image from behrend.psu.edu
Not only is this experiment fun, but you can also eat it too! The marshmallow catapult is perfect for learning about motion, force, and energy.
Your child will love launching marshmallows through the air. Try it out with a friend for a little competition.
All you need for this experiment are rubber bands, popsicle sticks, plastic spoons, marshmallows, and masking tape. Build your catapult and launch those marshmallows.
Egg Drop Experiment
You might want to take this experiment outside – or at least in the kitchen.
This egg drop experiment requires your child to create a structure that will stop a raw egg from breaking from various heights. The focus of this experiment is the potential energy to kinetic energy.
Make sure to focus on a design that will prevent the amount of energy transferred to the eggshell. Students love this experiment because of the hands-on learning.
From building a structure to dropping eggs, this experiment is sure to keep you on your toes.
Exploding Watermelon
Warning: do this experiment outside. Don't be intimidated by the name of this experiment.
Kids are sure to love the exploding watermelon. Children will learn about potential energy and kinetic energy in this experiment.
You will need a mid-size watermelon, 300-400 rubber bands, a small bowl, and an assistant for this experiment.
The rubber bands create pressure on the watermelon, and in turn, the watermelon builds pressure on the inside until it splits and explodes! Kids will love this hands-on activity because they get to create a watermelon explosion.
This was a little hard for our 5-year-old to put the rubber bands on, but our 7-year-old had no problem. Also, you can see they had safety goggles on while made them feel like a scientist!
Chalk Fireworks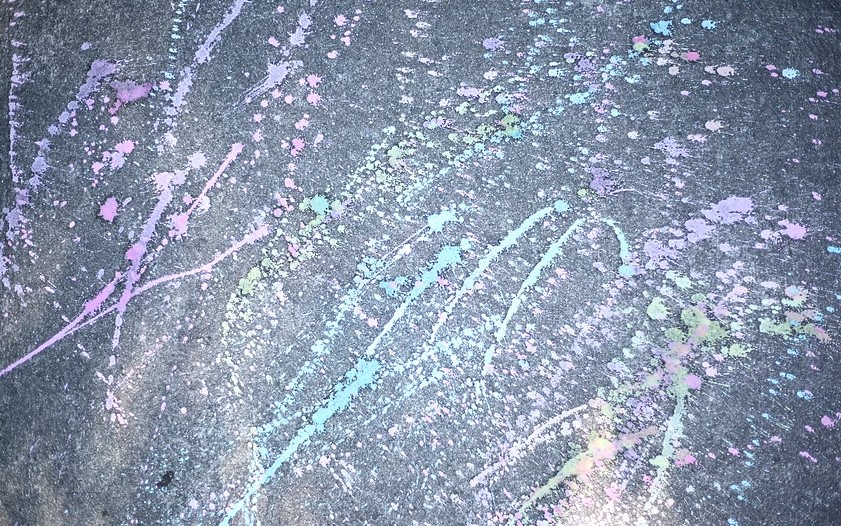 This experiment is perfect for your budding artist. They will love watching these fireworks fizz.
Plus, they get to make beautiful colorful creations. Children will get the chance to draw and create their own eye-popping fireworks.
This is another fun version of a chemical reaction involving an acid and a base. Here's what you'll need: chalk, baking soda, corn starch, water, food coloring, small bowls, paintbrushes, and a spray bottle of white vinegar.
Make Your Own Floam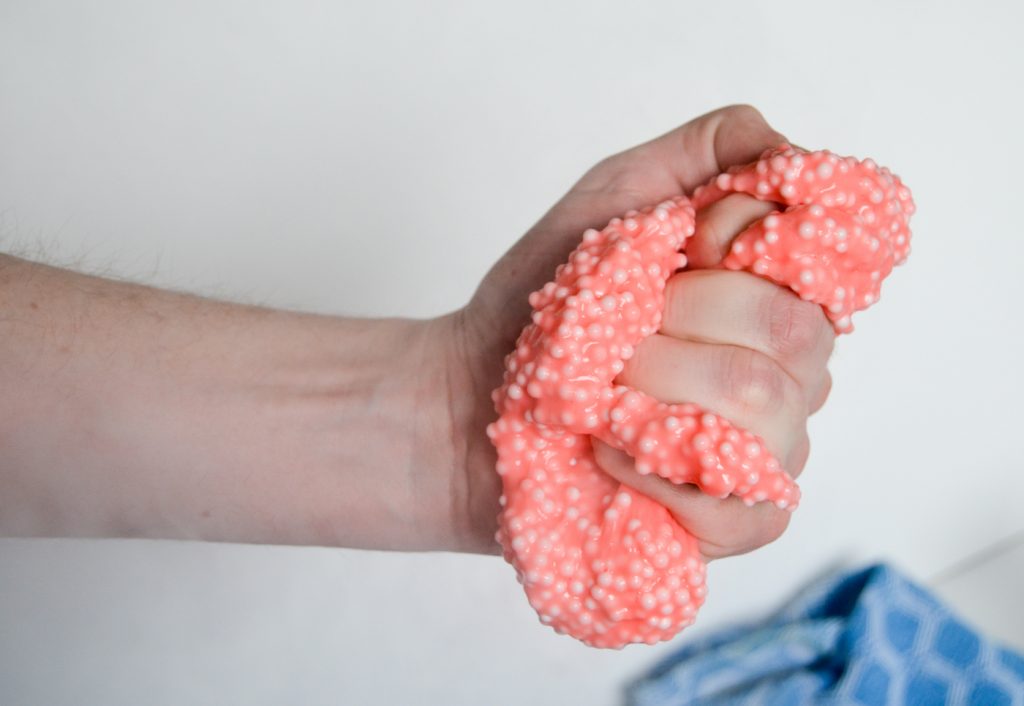 Kids love foam, and the best part – it's nowhere near as messy as playdough!
I have a detailed article about How to Make Foam at Home.
The ingredients for foam are similar to those you use for slime. If you've made DIY slime at home, you know the process!
Floam is simply a combination of slime and poly-fil microbeads (the beads you use in a beanbag chair.) You can buy these online at Amazon or a craft store.
We bought a variety pack with different colors, but in the end, I liked the white beads with a bit of food coloring added best!
Please check out our list of fall activities. We have something for the whole family!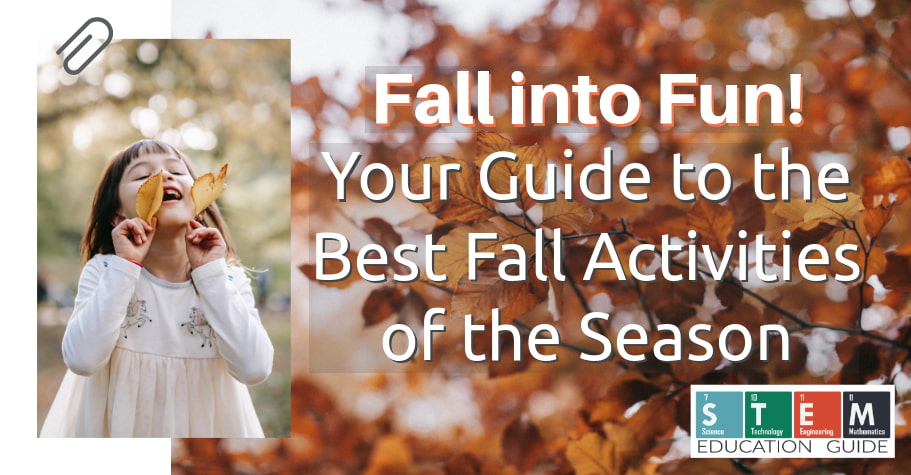 To Wrap up Fun Mess STEM Experiments, Here are Some Common Questions We've Received
What is the most popular science experiment for kids?
Some of the most popular science experiments for kids are the baking soda volcano, the Mentos geyser, lava lamp, rainbow celery sticks, and slime.
What's a simple science experiment with water?
A simple water experiment is to make a lava lamp. All you need is oil, water, Alka seltzer, and food coloring. This experiment explores different densities between oil, water, and carbon dioxide.
Easy Science experiment with stuff you already have at home
If you're looking for an easy science experiment with stuff from home, try the walking rainbow. All you need are paper towels, food, coloring water, and jars.
I'll add to these fun science experiments as I find new ones. If you have a favorite that your kids enjoyed, let us know down in the comments, and I'll add it to the list!