Fall into Fun: Your Guide to the Best Fall Activities
Fall is a time of preparation, celebration, and change. Summer crops are all harvested, and fall storage crops are ripening. School children are returning to their classrooms. Leaves are drifting to the ground in a blaze of red, orange, and yellow. The sun sets earlier and earlier.
How can you make the most of this transitional season between summer and winter? Maybe you have your own fall traditions, or maybe you need a little inspiration. Whether you're crafty, cozy, or outdoorsy, there's something for you and your family to love about fall.
Outdoor Fall Activities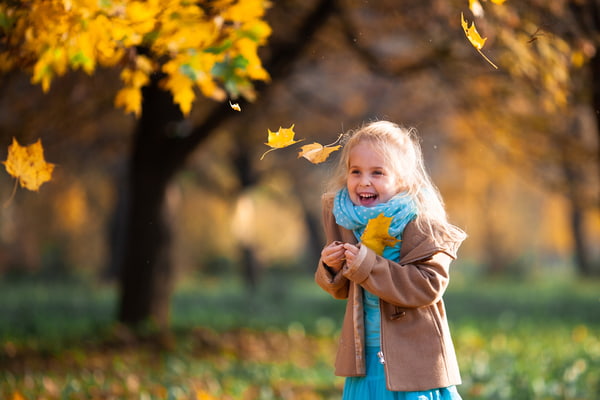 Fall is a perfect time to don your coziest sweatshirt and get outside. From bonfires to pumpkin patches, autumn is rife with outdoor events and activities for the whole family, featuring cooler air and zero mosquitos. Here are just a few to consider:
Apple Picking
Sweet, tart, crisp — apples are my all-time favorite fruit.
If you plan to hit the local orchard ready to pick a fresh bushel, make note of the weather and any on-site amenities. A sunny day on an open hillside can really take the fall feeling out of your apple picking adventures, and you may need to dress for warmer weather than you'd think. Some orchards offer additional refreshments, like apple cider slushies, to help keep you cool.
When apples are ripe for the picking, humans, animals, and gravity will have an easy time pulling them from their branches. This means the ground in an orchard is typically littered with fruit. This can be challenging for anyone with mobility issues, or anyone pushing a stroller.
Fall Nature Walk or Hike
Cooler temps mean getting some fresh air and exercising without breaking a major sweat. Take to the woods on an October day to see how the leaves have changed, and maybe collect a few — bring your camera.
This time of year, many animals are feasting in preparation for the long winter, so be aware of local wildlife. Travel with a group and take provisions such as a bear horn to keep yourself safe. Know the signs of animal activity.

Another classic activity during this season is hiking through a scenic trail. Whether it's a leisurely walk or a challenging climb up a mountain, hiking offers an opportunity to get some exercise and take in the stunning views of autumn foliage.
Camping
Camping in chilly weather can be a wonderful fall activity for the whole family as long as you're prepared. A campfire for warmth is essential this time of year, as are sleeping bags with the appropriate temperature ratings.
If you're a nervous camper but have an outdoor fireplace at home, a backyard campout can be a great place to start.
Corn maze
Don't miss out if you live within driving distance of a corn maze. Navigating through the whimsical tunnels of a cornfield is a great way to strengthen working memory and navigational skills.
Visit the check-in booth before you get going to gather any available resources: maps, clipboards, pencils, checklists, clues, etc. And don't forget the sunscreen.

If you don't have access to a corn maze or don't live in an area that has one, try making your own. You could take a walk through the neighborhood and see what kind of paths you can find. Or, arrange some sticks or rocks in an interesting pattern and make a trail through them.
Hay Rides
Hay rides are a beloved fall activity that has been around for generations. Enjoying the crisp autumn air and taking in beautiful scenery is fun.
If you're at a place with a corn maze, they also might offer hay rides. Many farms offer hay rides during this season, allowing people to experience classic farm life.

The hay ride itself involves sitting on bales of hay on a wagon pulled by a tractor or horse. The ride usually lasts about 20-30 minutes and can be enjoyed alone or with friends and family. Often, the wagon meanders through cornfields or pastures, allowing riders to get up close with farm animals and crops.

Hay rides are not just a fun activity; they also provide an educational experience for children as they learn about agriculture and farm life. Additionally, many farms offer other activities such as pumpkin picking, petting zoos, and corn mazes, making it an ideal day trip for families looking to enjoy outdoor fall fun together.
Pumpkin patch
What list of fall activities isn't complete without visiting a pumpkin patch!
Visiting a pumpkin patch in early October has been a fall staple since before the days of Charlie Brown. As with the corn maze, this agricultural tour is likely to feature full sun, so don't skip out on sunscreen just because summer has ended.
Chances are, there are a number of pumpkin patch options near you, so you may want to compare prices and features — is there a tractor ride? Is it a great place to take photos?
When your pumpkins have served their purpose as decorations and jack-o-lanterns, don't let this edible produce go to waste. Save the seeds for a delicious treat.
Indoor Fall Activities
If the onset of colder, shorter days sometimes urges you indoors, there's still plenty to do.
Baking
Take advantage of seasonal crops by leaning into classics like apple and pumpkin dishes. Make your own candy apples and sprinkle them or roll them in whatever toppings you like best.
Find age-appropriate tasks for your kids to help within the kitchen. Kids often love to mix and measure, which teaches chemistry, volume, and fractions. Talk about each step, and don't be afraid to get messy.
Seasonal Coffee Drinks
As the weather cools down, there's nothing quite like a warm cup of coffee to keep you cozy. Fall is the perfect time to experiment with seasonal flavors and create your own coffee concoctions. Think pumpkin spice lattes, caramel apple ciders, and cinnamon mochas.
Gather some fall-inspired syrups, spices, and toppings, and have fun crafting your own signature fall beverages. If you're unsure where to start, you can check out this guide to Seasonal Coffee Recipes. Invite some friends over for a coffee-tasting party, or simply enjoy your creations with a good book by the fireplace.
Ghost Stories
You can read scary stories out by the campfire, but reading them while tucked safely in your home can be slightly less spooky and more approachable. Share your own version of a classic that you remember well, or browse this list from KOA.
For a longer-term read-aloud, Wait Till Helen Comes is a suspenseful and haunting story intended for elementary audiences, which was also recently adopted as a graphic novel. Or you might look into books by R.L. Stine or John Bellairs.
Fall Crafts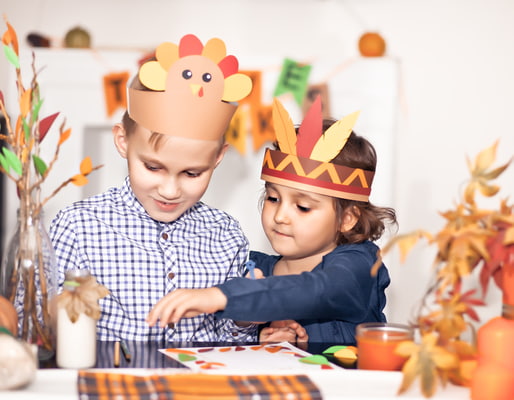 Souvenirs gathered from your fall nature walks make great craft materials. Acorns, pine cones, sticks, and fall leaves all serve as fabulous media for craft projects.
Find ideas online or let your imaginations run wild. See how many things you can stuff into empty acorn tops to create vibrant new baubles.
You can also dip into your craft bin for popsicle sticks, paper plates, markers, paints, pipe cleaners, or whatever you have on hand to make fall-themed sculptures and works of art. Draw a bare tree and let your kids use whatever they want to adorn it with leaves — paints? Sequins? Tissue paper? Anything goes!
Spooky or Cozy Movies
On a cold, dark night in October, pop a bowl of buttery popcorn and hunker down on the sofa to stream a fall film. Depending on your family's ages and preferences, you might go for something frightening…or not.
Family-friendly scary movies range from Curious George: A Halloween Boo Fest to Casper, Hocus Pocus, The Addams Family, Coraline, The Nightmare Before Christmas, and maybe even Tim Burton's Sleepy Hollow.
Common Sense Media offers a long list of not-too-scary Halloween movies for kids, organized by age. Their round-up of cozy movies includes some spook-free classics, like Little Women.
Seasonal Events
Fall is the time for carnivals, festivals, and fairs. Whether you're interested in thrill rides, fried foods, or demolition derbies, there's always something to see and do.
At many fairs, you can participate as an entrant, showing an animal that you've raised or a sewing project you've completed, or participating in a tractor pull or other event. Competing and showing work is highly motivational for some kids.
Festivals and fairs can also be overwhelming, crowded, hot, and expensive. They require lots of planning.
Check the weather before you go, consider which times will likely be the most crowded (i.e. a weekday vs. a weekend afternoon), and review the schedule of events so that you don't miss whatever highlights are most important to you.
If your kids have their hearts set on rides, see if you can verify any height requirements before you go, and determine the per-ride cost. You might be able to save money by packing a bag with cold drinks and snacks if outside food and drink are allowed. You may also want to pack some light layers in case you end up staying into the cooler evening hours — it gets dark early this time of year.
Fall Cultural Celebrations Activities
Thanksgiving and Día de Los Muertos are two of the most culturally significant celebrations that take place during fall. Thanksgiving is celebrated in the United States, Canada, and some other countries as a day to give thanks for the year's blessings.
It usually involves sharing a meal with family and friends, watching football games, and enjoying parades. Traditional foods served during Thanksgiving include turkey, stuffing, cranberry sauce, mashed potatoes, and pumpkin pie.
On the other hand, Día de Los Muertos (Day of the Dead) is a Mexican celebration held on November 1st and 2nd to honor loved ones who have passed away.
Celebrants often create altars decorated with flowers like marigolds or papel picado (decorative cut-out paper), photographs of their deceased loved ones, candles, food offerings such as pan de muerto (bread of the dead), calaveras (sugar skulls), or favorite beverages like tequila or mezcal. The holiday has deep spiritual roots in Mexican culture but has become more popular recently beyond Mexico.
Both celebrations teach us about giving thanks for what we have while remembering those who came before us – values that can be celebrated worldwide no matter what culture you come from.
Fall Travel
Certain destinations — like Salem, MA for example — are extremely popular in the fall. If you want to visit an autumnal hot spot, make sure you book your trip well in advance. Hotel space will be limited. You should also be mindful of major fall holidays that impact travel, such as Indigenous People's Day, Veteran's Day, and Thanksgiving.
If you're late to get started, look for a quaint small town that's just a bit outside of your destination.
Enjoy some extra scenic driving and allow your family to escape the hustle, bustle, and crowds of the more popular locations.
Before setting out, thoroughly research any local seasonal events, including pricing, schedules, and capacity. You might need to reserve space in advance, just like with hotels. Finding out whether events are indoor or outdoor will influence your packing, and having a complete plan helps to finalize your trip budget, too.
If a grand vacation is not in the cards, you can still take a scenic drive near you. Try googling the phrase "scenic drives near me" if you aren't sure where to start. Once you find a route, plan one or two fun stops along the way if you can, then hit the road.
Wrapping Up Fall Activities
Fall is distinguished by seasonal crops and festivals, cooler weather, shorter days, and changing leaves. Whatever you do, find ways to take advantage of and enjoy its unique features. Teach your kids that change can be engaging and joyful, and that dark days present a wonderful opportunity to build warm fires.