Best Alternative to Magna Tiles: Hands-on Tested
My family loves Magna Tiles because they are durable, simple, and can be put together in any shape your kids can imagine.
From what I've seen, there's really only one downside, and that's the price. That's why I set out to find the best alternative to Magna Tiles.
I was happy to invest in a complete set, but I started looking for Magna Tile alternatives when we wanted to expand. This gives my kids more options to create larger structures with their magnetic toys.
So, let's get into the best affordable alternatives to Magna-Tiles!
Why Are Magna Tiles So Expensive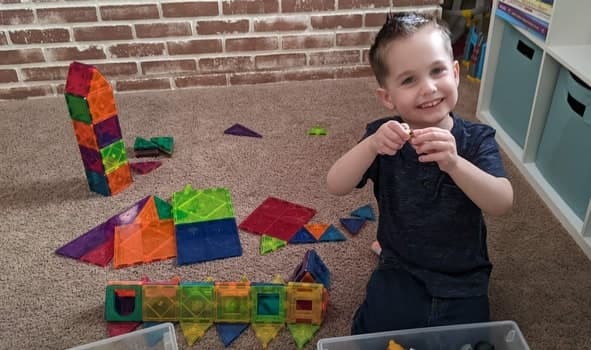 When paying for Magna Tiles, you're mostly paying for the brand's name. Magna Tiles are made from ABS plastic and simple ceramic magnets, so one could argue the quality of the product plays into the price.
Magna Tiles were the first to market, and they invented the magnetic tile toy. So that gave them the first position to charge what they wanted.
The construction is slightly different than other brands I've tried out. From my test of breaking them apart, Magna-Tiles were the most ridged compared to the alternatives.
However, many other off-brand Magna tiles offer the same quality of materials.
Yes, Magna Tiles are the best magnetic tiles, but not enough to justifiable the price.
Many other off-brand Magna tiles offer the same quality of materials.
The Best Magna Tile Alternatives
We are in full support of the Magna Tile product. We understand the value of the company's policies and how it likely shows full support for the validity of the product.
We also think it is essential to offer more affordable Magna tile knock-off brands, generic brands, or off-brands. For that reason, we have done our research to bring you some of the best Magna Tile alternatives, and you're in luck!
PicassoTiles
PicassoTiles makes the top of the list in affordability for a Magna tile generic brand. We own a set of these, and they closely mirror Magna Tiles.
This was the third set of magnetic tiles we brought for our kids. They match up perfectly with all the other tiles we have already.
For that reason, it is easy to mix and match the sets to make an incredible neighborhood of masterpieces.
Why We Love it:
100 pieces with a good mix of different shapes.
PicassoTiles has a wide range of add-on sets that match the base kit.
PicassoTiles is the second most popular brand next to Magna Tiles.
Check the current price of PicassoTiles here.
Curious about a comparison breakdown between Magna Tiles vs. PicassoTiles? Our article goes over the top ten differences between the two magnetic tile brands.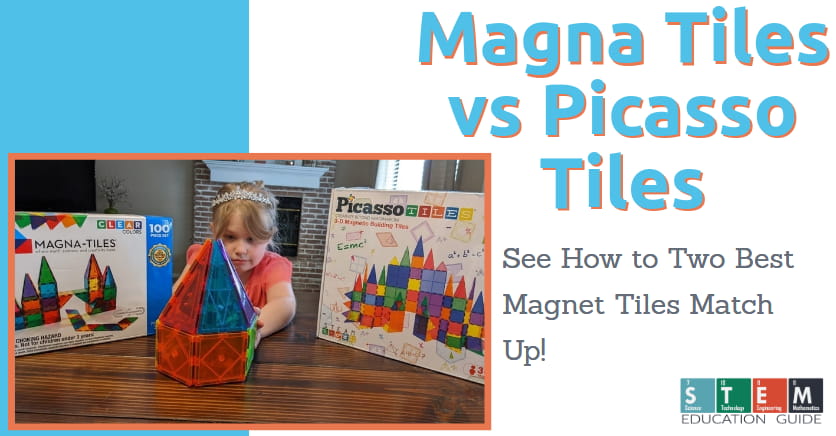 Cossy Kids Magnetic Tiles
Cossy really takes the cake when it comes to vibrant colors and high transparency. This is another set we own, and the brightness of colors and high transparency truly does illuminate my kids' creations (especially when the sun shines).
We can attest that they have held up nicely over the last couple of years!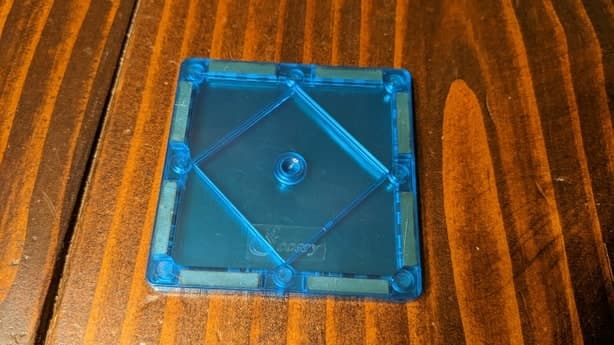 This is a picture of a Crossy tile I pulled out of our toy box. The tiles have held up well for getting played with every day.
Why We Love it:
120-piece magnetic building blocks are a full set.
Same ABS plastic that is used with Magna-Tiles.
Fully compatible with other brands.
You can find the current price of Cossy Magnetic Tiles here.
Shapemags Magnetic Tiles for Kids
You can find the same offering with some of these other Magna tile knock-off brands, but we love the option of gifting a 60-piece starter set.
That or buying a small expansion pack for a set you already have.
Magnetics work with other sets, and they also come with 24 Stile Mags. Stile mags are little magnetic slips with pictures or letters on the front that you can click on top of a piece- bringing in a little more style to your creations!
Why We Love it:
124 pieces are a way of getting started with magnetic tiles.
Smaller tiles are great for little hands.
Sturdy construction means they will last a long time.
You can see if Shapemags Magnetic Tiles are still available here.
Magblock Magnetic Blocks
What Magblock offers that other off-brand alternatives might not. They include window-shaped tiles, archways for doors, or rectangles with divots to mirror the top of a fence.
This takes building to the next level. I know my kids LOVE to replicate buildings and create their own. You can find these pieces in their original set without purchasing a specific building set.
Why We Love it:
120 complete set with windows and doors.
Durable construction with rivets and larger magnets.
You can find the current price of Magblock magnetic tiles here.
Do Magna Tiles Go on Sale
Not that we have seen. We have an inkling this may be related to Magna Tiles' stringent "Minimum Advertised Price Policy."
Meaning any retailer that sells the product must have the retail price approved by the company. While this isn't unusual for a lot of companies to do this, it means that it's unlikely to find discounts.
If there are discounts, you're likely to find them on their page here.
What Is the Difference Between Magna Tiles vs. Other Brands
As we mentioned, you are paying for the brand with Magna Tiles. We also believe the product stands the test of durability, strength, and weight compared to these off-brands.
They have been pioneers in the STEM building world, dating back to their release in 1997. These off brands have followed suit with affordability and added unique add-ons like windows and fences that the original Magna Tile set does not offer.
A fun exploration tip? Leave it to your littles to see the difference. Asking engaging questions like, "How much does this piece weigh in comparison to that one?", "What do you notice about being able to see through each of these pieces?".
All and all, there is nothing sweeter than imaginative, open-ended STEM building play. Another bonus? They're pretty fun for us adults too!
If you're looking for more STEM toys for five-year-olds, please take a look at our article, 8 Awesome STEM Toys for 5-Year-Olds.