Magna Tiles vs Picasso Tiles, hands-on: 10 Differences to Consider
Magnetic tiles are easy to pick up and put away STEM toys.
I have three kids, between three to nine years old, and magnetic tiles get played with by all of them on a daily bases. This is one of the many reasons they have recently taken off in popularity.
With so many brands of magnetic tiles popping up lately, the two most recommended are Magna Tiles and Picasso Tiles. In this buyer's guide, I'll go over why Magna Tiles and Picasso Tiles are the best that I've found and how to make the best decision when it comes to Maga Tiles vs. Picasso Tiles.
Let's get into it!
What Are Magnetic Tiles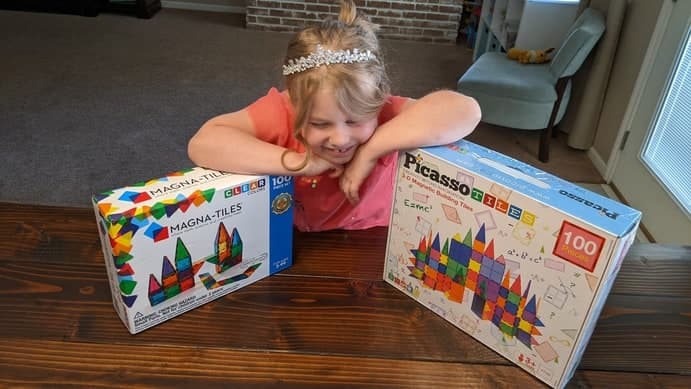 Magnetic Tiles are construction toys made up of magnetic encased in plastic that click together.
The fantastic thing about these is they have no moving parts and are durable. Your kids will be able to build tall structures, roads, and replicate historic buildings.
As a parent, I love that they are easy to take out of the toy box and set on the floor for my kids. Magnetic tiles clean up very quickly. They can all be put away back in a box or container in a minute or so.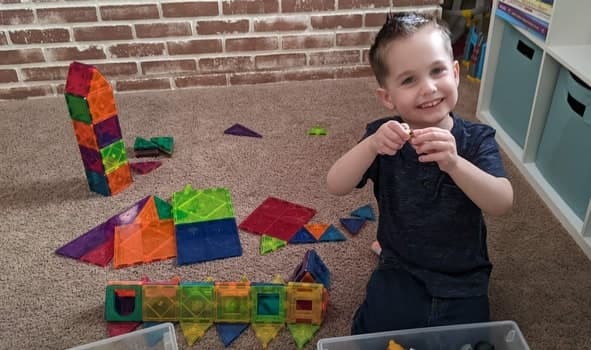 They remind me of playing with Legos when I was little, but without the downsides of stepping on a tiny Lego piece and screaming in pain.
What Are STEM Toys
STEM is an acronym for science, technology, engineering, and mathematics. The best definition I found for Sim toys is learning toys developed with an educational concept for use in learning purposes.
Magnet tiles definitely encompass all of these and are one of the first stem toys I recommend for toddlers. Toddlers won't get frustrated putting little parts together. The magnet tiles just snap together and pull apart, perfect for little hands.
Magnetic tile toys help kids learn and develop fine motor skills, teamwork and cooperation, design and architecture, and much more.
I have a few articles about education toys my kids have enjoyed over the years. You can find their favorite monthly STEM activities box review here.
Differences Between Magna-Tiles and Picasso Tiles
Magna-Tiles first came about in 1997 but didn't catch on until around 2012, when the New York Times mentioned them in an article. When they first came out, they were only offered in one color, black.
Magna-Tiles are the original magnet construction toy system. But like most things, this doesn't necessarily mean they're the best, and something won't cover throughout this article.
Strength and Durability
From the pictures I took, you can see that Magna Tiles and Picasso Tiles are constructed differently.
Magna-Tiles have small rivets in the corners that give added strength and resistance to the everyday stress of playtime. You can also see that inside of the Magna-Tile, it has a sturdier center shape than the Picasso Tiles.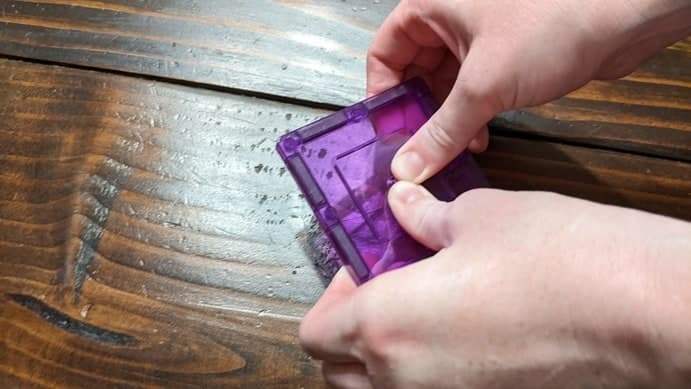 You can see in the picture above that I gave the tile a good hard squeeze to see if it would crack. I did this to both sets to see how strong the tiles are.
Magna-Tiles are much more rigid than Picasso Tiles.
This doesn't mean that Picasso Tiles are weak, but there was a noticeable difference between them.
While Picasso Tiles don't have metal rivets, they're glued together and still durable.
Both Magna-Tile and Picasso Tiles are made of food-grade ABS plastic. Which means the plastic is safe and strong.
Weight
Your kids aren't going to care about the weight of a magnet tile when playing with them. But this does give some insight into their durability.
I purchased each hundred-piece box at the same time. Right away, I noticed that the Magna-Tile felt much heavier than the Picasso Tiles.
Each box was a hundred-piece set, but the Magna-Tiles box was packed tighter in a smaller package, so they felt heavier. When I put both boxes on the scale, Magna-Tile is a little heavier, but not by much.
So I decided to weigh each magnet tile by itself.
From the picture on the scale, you can see that the Magna-Tiles are heaver, and the size is the same between each set.
There are still different factors on which is more robust and more durable, but this will give a good base as to why I think Magna-Tiles will hold up much better in the long run.
Scratch Resistance
I also tested the scratch resistance on each set and found Picasso Tiles scratched easier. I think the materials both magnet sets are made from are rigid, but the plastic coding on Picasso Tiles is softer and tends to scratch more.
Since Magna-Tiles have better scratch resistance, they will look newer for longer.
Magna-Tiles & Picasso Tiles Price Difference
This will be one of the defining factors for some people, but I think you came to this article to find the best magnet tiles for kids. You might not mind spending a little extra for a better STEM toy or gift.
Let's look at both prices directly:
The cost of both surprised me as well.
Picasso Tiles are just less expensive. I searched around, and the two prices above were the best I could find for complete magnet sets.
Are Picasso Tiles Compatible with Magna-Tiles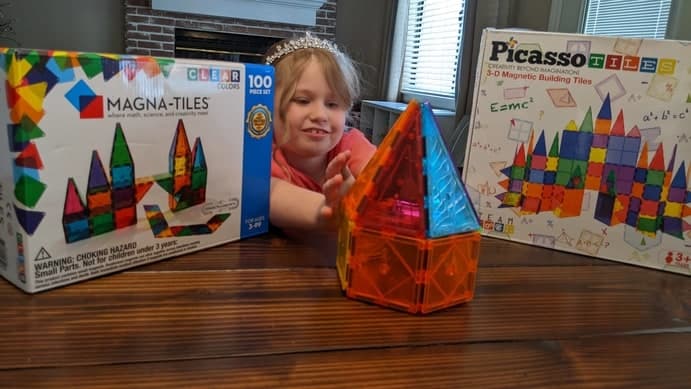 Yes, they are!
My kids have three different brands of magnet tiles. All of them play nice with each other to build and build. This guide isn't about other brands, but we've had Cossy magnet tiles for over a year that have held up nicely and are less expensive.
They might make a nice starter set to see if your kids will like magnet toys, and since they are compatible with other tilesets, there's nothing to lose.
You can see the current price of Cossy Magnet Tiles here.
Different Types of Magna-Tiles
They have a wide range of themes and creative ways of playing with Magna-Tiles. While my kids have the base set, I'll highlight some sets that I like and might pick up soon.
Remember, you can find the base set here. While all these sets below can be used by themselves, to get the most out of them, I think a child will be happy with a standard magnet tileset as well.
Magna-Tiles Builder Set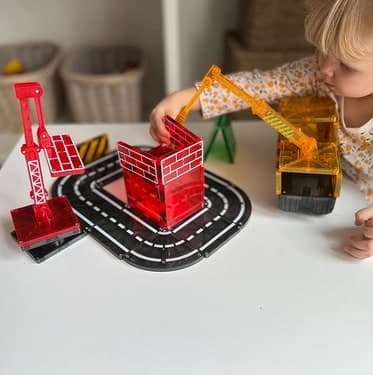 I like this set for younger kids because it features two magnetic cranes along with a base set of magnets. A cool feature of the builder set is that the magnetic cranes can raise, lower, extend and swivel 360-degrees when attached to the spinner.
The small road and track is included in this builder set, along with 32-piece magnets.
This is an excellent way of building to new heights and just having more fun when building, adding to an already great experience.
You can find the current price of the Magna-Tiles Builder Set here.
Magna-Tiles Glow in the Dark Set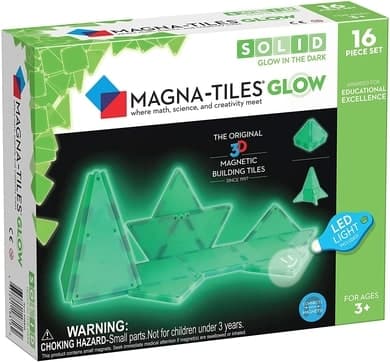 This is a fantastic glow-in-the-dark Magna-Tile set. These are classic pieces, so they will go with any Magna-Tiles set as well.
I like that an LED light is included to supercharge the tiles at night. Another way of charging them is to set them out in the sun for a minute or two before moving the set into a darkroom.
You can find the current price of the Magna-Tiles Glow In The Dark Set here.
Magna-Tiles House Set
This house set is a nice addition to any Magna-Tiles if your kids are into building houses with tiles. A house seems to be one of the first things I see kids make when I've brought them as gifts.
The Magna-Tiles House Set adds stickers and other odd-shaped Magna-Tiles not found in the regular or standard set. While this would be fine as a kids' first magnet tileset, I recommended the house set for additional tiles to go along with the base set.
You can find the current price of the Magna-Tiles House Set here.
Magna-Tiles Storage Bin & Interactive Play-Mat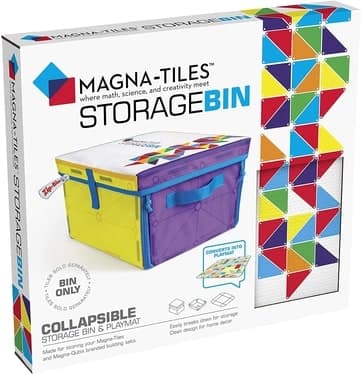 This one is more for parents than it is for kids. I mentioned above that these STEM toys are great for setting up and only take a minute to put away. With this Magna-Tiles storage bin, your kids will be excited to put all their tiles back in the dedicated container.
I like that the bin has a built-in play mat. That way, your kids will always have a clean place to play wherever you go.
You can find the current price of the Magna-Tiles Storage Bin and Interactive Play-Mat here.
Different Types of Picasso Tiles
Picasso Tiles offers more options than Magna Tiles and has a wide range of educational toys for kids. Picasso Tiles are known for their magnets, but if you'd like to see all their STEM toys, you can click here.
PicassoTiles 3-in-1 Theme Set School Hospital Police Station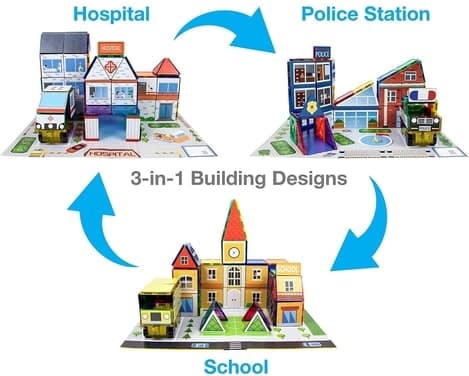 like all the magnets I've mentioned in this guide, this 3-in-1 set works fine and is compatible with Picasso Tiles and Magna-Tiles.
This set benefits from the included stickers to transform regular tiles into a school, hospital, and police station. PicassoTiles 3-in-1 would make a great addition or stand on its own as a great gift for kids that love to build.
You can find the current price of the PicassoTiles 3-in-1 Theme Set here.
PicassoTiles Ferris Wheel Set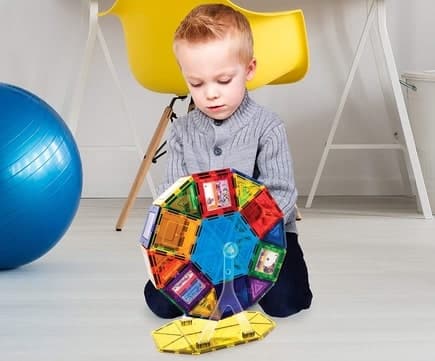 With 62 pieces in this set, your kids will be able to make different shapes than the standard sets. They aren't stuck with only making a Ferris wheel. All the tiles are compatible, and with a bit of imagination, your kids will be building a ton of different structures.
You can find the current price of the PicassoTiles Ferris Wheel Set here.
PicassoTiles 32 Piece Magnetic Building Block Rocket Booster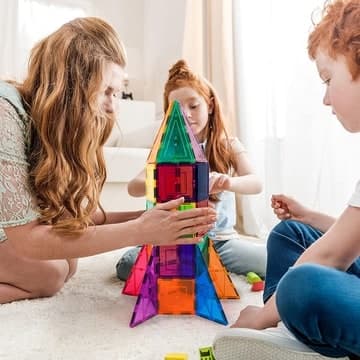 This is their lowest-priced set, and it can make a great gift. It's made to form a rocket in a few different configurations, but your kids can make whatever they can think of.
I like that this is a great entity to see if your kids will be increased, but I've never met a kid that didn't like building with these.
Check to see if the PicassoTiles Rocket Booster Set is still available here.
Are Magnetic Tiles Dangers
My family received our first set years ago when my first born son was just a little guy.
If thought I had was, "what if they break and the magnet come out?"
That never happen to us but I do recommend if you ever have atile break for whatever reason, throw it right away. Don't try and repair it, just chuck it out.
I've delt with my far share of my kids eating stuff, like a little Lego guy that took a trip down my sons stomach. But, I'd think a magnet, or a few magnets would be worst.
You can see the pictures of my trying to break the tiles, and I'm happy to say they are strong and won't break under normal play.
Magna Tiles vs. Picasso Tiles
Final thoughts.
So, what's the best magnet tile for kids? If you've made it this far down this guide, you'll know I favor Magna-Tiles by a long shot. I do like Picasso Tiles because I think they are a great value. You can try out magnet tiles or gift them without much of a risk.
If you have a favorite magnet tileset you think I should check out, leave a comment below, and I'll check it out.
FAQ
Are Picasso Tiles the Same As Magna-Tiles?
They are not the same but they do connect to each other. Kids will be happy to mix and match as both sets work together.
Which Brand of Magnetic Tiles Is the Best?
Magna-Tiles are clearly better, and the original ones to first offer magnet STEM tiles. They also know they are the premium brand and charge accordingly. With that said, any kid will be happy to get any magnet tiles you decide.
Are Picasso Tiles BPA Free?
Yes, both brands are BPA free so they are non-toxic.
Do Picasso Tiles Break Easily?
Please take a look at my picture above when I'm trying to break the tiles. Magna-Tiles are much more robust, but Picasso Tiles will still stand up to regular play and building.
If you're looking for the perfect STEM gift of a kid, then please take a look at our article, How to Choose STEM Toy Gifts for Every Age Kid. In this we break down every catagoie for the correct age group.