KiwiCo Review: What was inside our first 3 boxes (Plus, 30% off Coupon Code!)
Our family has loved receiving our Kiwi Crate. I wanted to share with you exactly what you can expect in your Kiwi Crate (and give you a coupon code.)
If you're on the fence about purchasing a KiwiCo subscription box, this article is for you! Prior to purchasing, I really wondered – What can I expect in each Kiwi Crate?
In this article, I'll share with you what was in our first 3 boxes, and what lessons they shared.
But first, here's a discount for when you sign-up!
KiwiCo Coupon Code
If you're ready to go ahead and purchase, you can get 30% off your first box with the below coupon code!
Coupon Code: SHARE30
About KiwiCo
KiwiCo offers different STEM subscription boxes to inspire young innovators! The boxes include science and art projects.
There are 8 different box options, so you can be sure to get age-appropriate activities. Most of the subscriptions are $19.95 when you purchase the monthly option. Only the Maker Crate & Eureka Crate are $29.95.
Here are each of the age & subscription options:
Panda Crate: Ages 0 to 24 months
Koala Crate: Ages 2 to 4
Kiwi Crate: Ages 5 to 8, includes science, art, and engineering activities.
Atlas Crate: Ages 6 to 11, includes geography and cultural projects.
Doodle Create: Ages 9 & Up, includes craft and art projects.
Tinker Crate: Ages 9 to 16+, includes science and engineering projects.
Maker Crate: Ages 14 & up, includes art & design projects.
Eureka Crate: Ages 14 & up, includes engineering & design projects.
We received the Kiwi Crate (ages 5 to 8) for our 7-year-old, so this review is for that subscription specifically!
A Look Inside Our Kiwi Crate Boxes
Our first 3 Kiwi Crates were each so unique – which I loved! All of the activities and lessons learned were different. They were also age-appropriate. I only had to help my 7-year-old with the first box (it required that we cut the cardboard box, to make the "arcade" claw machine.)
Box 1: The Arcade
Our very first box was "The Arcade". With your very first box, you'll also receive this "map" where you collect stickers with each new box.
With each box, you also receive a "magazine". It includes additional activities and information. This one was really fun for me! I loved learning about the history of some arcade games myself!
The main activity within this box was to create a "claw" machine. You put together the claw yourself and learn about simple machines in the process!
Box 2: Kladeiscope Puzzles
The second box we received focused on learning about symmetry.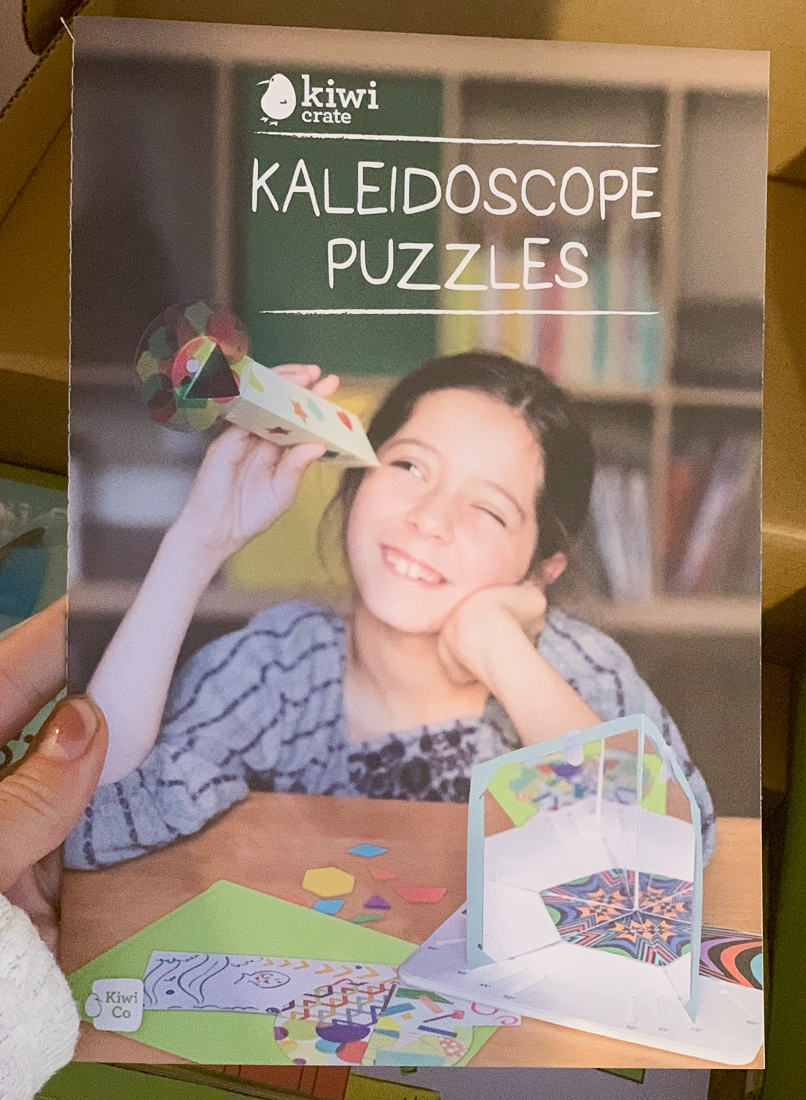 This box came with 2 complete projects – we built both a standup and handheld kaleidoscope.
Box 3: Secret Agent
This Kiwi Crate theme was both my favorite and my son's favorite! It was such a fun theme.
The main activity was to build a periscope. It worked great. My son loved learning how it worked and then went around the house "spying" over the couch at us.
He loved the activity, but where I was especially impressed was with the "magazine" with this project. The additional activities in the magazine really helped his attention too!
First, he did the "fingerprint art" activity. He learned about how all fingerprints are different, and then took his own fingerprints (and mine too!)
Next, there was a code breaker activity. He enjoyed breaking the code! We practiced coming up with some of our own codes and "encrypted" messages too.
Wrapping Up
Overall, for just $20 a month, I think Kiwi Crate is great! Some activities are better than others (we didn't really love our first box where we created the arcade "claw" game).
Click here to purchase your own subscription and use your coupon code for Kiwi Crate above!