Clicbot Hands-on Review – See How the Best Coding Robot Operates
ClicBot is an intelligent coding robot suitable for both education and entertainment.
In this review of Clicbot, I'll go over everything my kids liked and disliked about Clicbot. We'll take a deep dive into how the robot works and how to set it up correctly.
I'll also compair it to other robots to see if it's worth picking up or not.
I encourage you to read my review, but if you're short on time and like to look at everything Clicbot has to offer, you can go to the Clicbot info page here. Or, you can see them on Amazon here.
What is Clicbot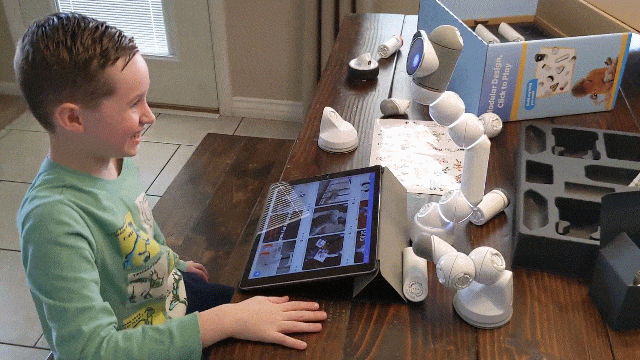 Clicbot is a unique robot that is powered by AI and robotics. It was designed by a Pixar Animator to introduce and keep people engaged in technology and robotics.
Unlike most robots made that only have one function, Clicbot is modular. Meaning just a simple "click" will change Clicbot to a different configuration. No wires or screws are required.
Clicbot will also help kids learn to code. I'll go into this deeper in a section below but Clicbot does this in a few surprising ways. Clicbot's personality adjusts depending on how you build and code him. With over 1000 different setups, you're in for a lot of fun!
You can go as deep as you want in programming. It's also great for someone only getting started. Clicbot has pre-programmed movements like dancing, climbing up windows, and interacting with someone as they pet the robot's touch-sensitive head.
These are all great for showing off your robot to someone that has never seen a Clicbot before.
How to Setup Clicbot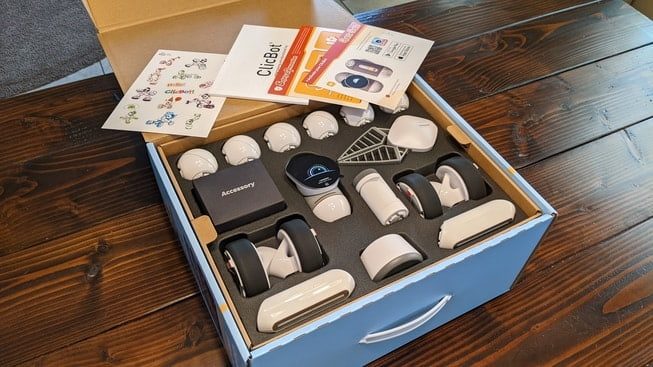 Setup was easy, but there are a few ways of setting up Clicbot. We used the free app that is included after your Clicbot arrives.
STEM Tip: If you're buying a Clicbot as a gift, charge the robot all the way (a charger is included), and update the robot before using it. The update is quick, but you'll need to use the app (Android or Apple) to connect Clicbot to the internet.
After the update, the app walked us through the setup. The app will show a 3D model of Clicbot to connect all the modular parts.
The modular felt kind of hard to click in first. My son didn't want to break them, but they do take some force to get in and pull apart. Don't worry too much about this. Each piece of Clicbot feels high-quality and a little heavy.
Coding with Clicbot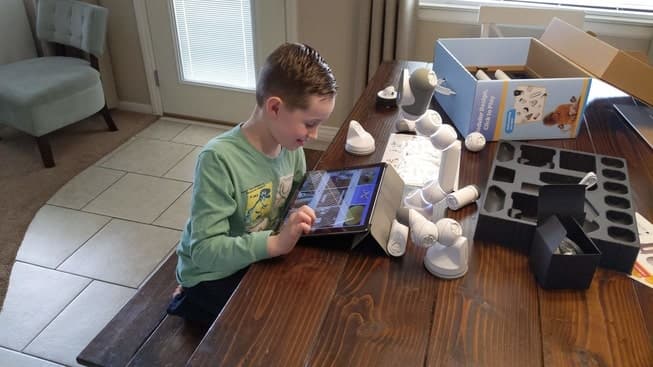 I've covered coding robots, and I have a detailed review of Marty the Robot. What makes Clicbot so unique and, frankly, better than all the other coding robots I've covered before is that Clicbot is modular. Out of the box with the starter kit, you'll have 50 pre-defined shapes of robots.
These are some of the basic ones, such as a dog, car, snake-shaped robot. After a few short minutes of playing with our Clicbot, my son was already thinking of different ways to put the robot together.
If your kids are creative, the ability for Clicbot to change shapes will be a dream come true.
By changing shapes, you'll have to develop new ways of problem-solving. A robot with a hand to grab objects will need to be programmed differently than a robot with two suction cups for arms.
You'll really have endless opportunities and hours of learning and fun because Clicbot can change forms and be configured in so many ways.
Scratch
Clicbot comes with a controller interface through the app for your smartphone. This will be the quickest way to get the robot moving. Using Scratch to program Clicbot is an excellent way of learning to code.
I've covered the best way to get kids coding. I recommend learning to code with Scratch. It's a programming language that was made for kids and complete newcomers.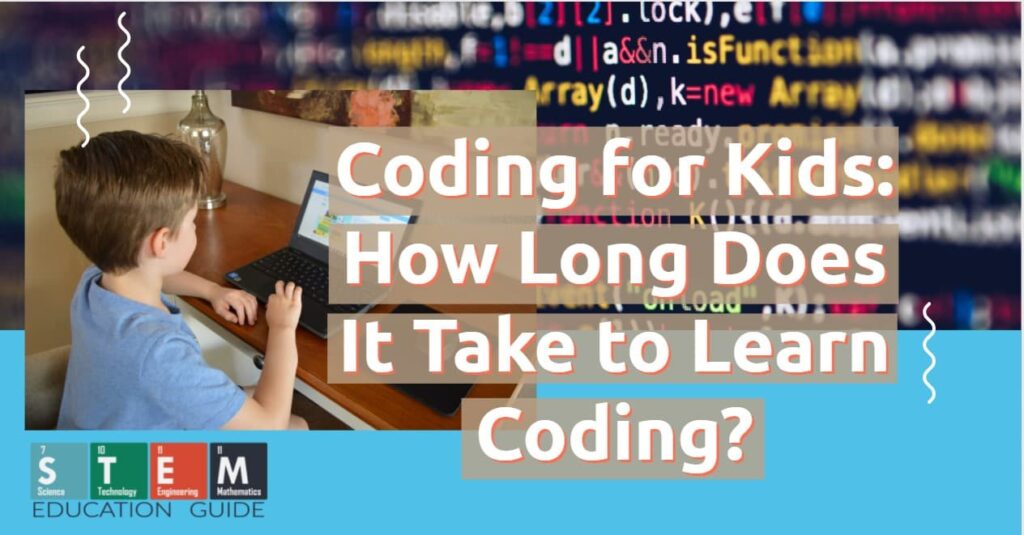 It's a click-and-drag interface that allows someone to code with no experience whatsoever. With Scratch, you and your kids will program Clicbot to perform actions such as:
Move forward, turn right, grab, and pick up. Commands like these get Clickbot to perform a task. After the code has been written, you'll click "play" for the robot to perform all the actions together.
These commands can be saved, so you can change Clicbots' shape and make something new.
How Does Clicbot Compair to Other Coding Robots
Coding robots have taken off in popularity recently. They are fun while also learning valuable skills. If kids are having fun while they learn, it doesn't feel like a chore, it's enjoyable.
One of the most popular coding robots is the Sphero SPRK+. There are a few different variations, and the Sphero SPRK+ isn't as diverse as Clicbot; you can still get a lot of use out of one.
The Sphero Edu Coding App powers Sphero. You can program Sphero across several programs, including JavaScript.
Sphero has a few different sensors, like a gyroscope and accelerometer you can program. Making Spero move and perform tasks like Clicbot.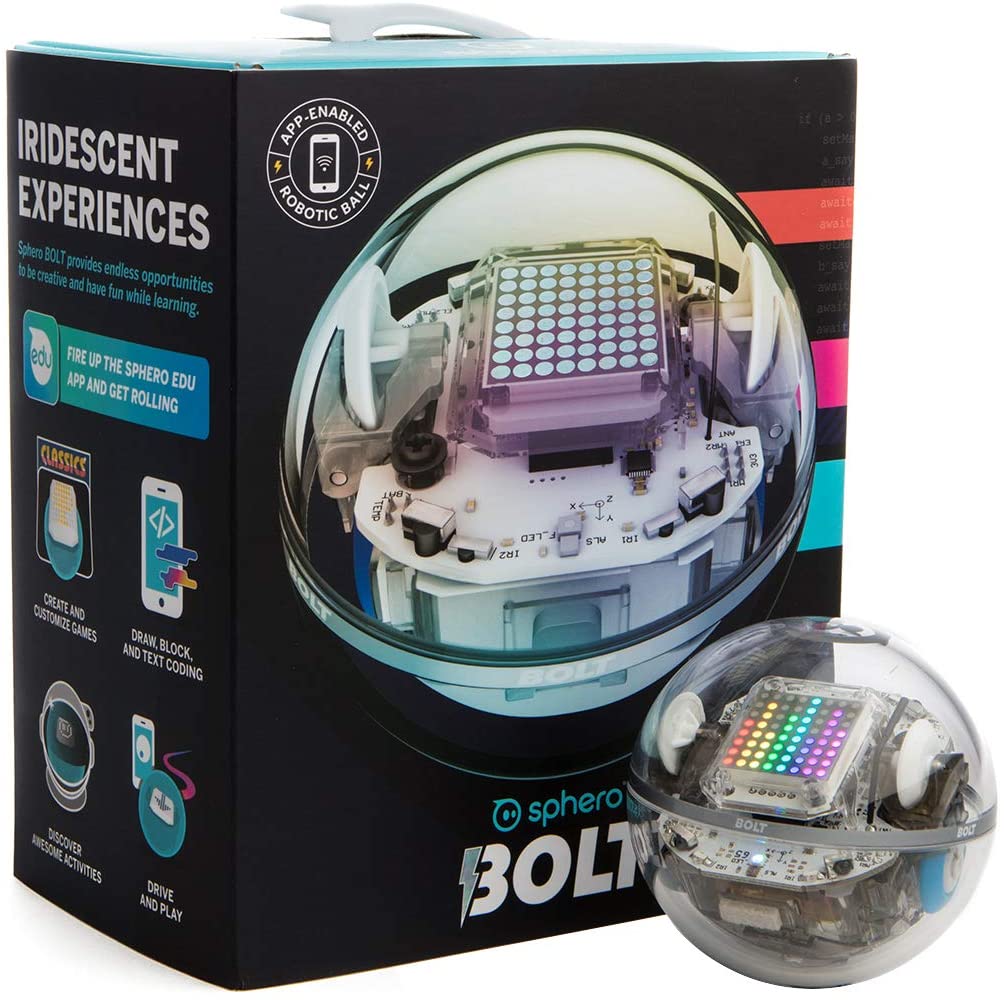 You can find more information about the Spero SPRK+ here.
The Wonder Workshop Dash is another coding robot that is great for someone getting into robotics and coding. It's made for kids younger than Clicbot, as it's for ages 6+.
I like that it's voice-activated, has a free programming app, and helps kids unleash their creativity.
The Wonder Workshop Dash might not be the best comparison to Clicbot, but it is a cheaper option and can be a great entry into learning to code.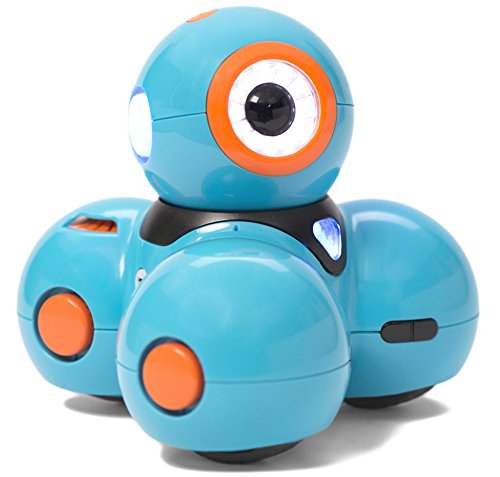 You can find more information about the Wonder Workshop Dash here.
Advantages Clicbot has over the Spero SPRK+ and Wonder Workshop:
Modular Design – With Clicbot, you can make hundreds of robots with different functions for all of them.
Easy to Get Started – Clicbot set-up is very easy to get started with predesigned actions and programs.
Easy to Program – Clicbot is a real robot you can program with Scratch programing language. It's a drag-and-click programming language made for beginners and children that are interested in coding.
Expandability – With Clicbots' modular design and programming, it will grow with your kids. The robot will get more advances as your kids' skills grow. No need to buy another coding robot for years and years.
Clicbot Recommended Age
I thought my son was on the younger side, but once he started digging in and learning about coding robots, he was right at home. He's nine, and he is very enthusiastic about learning to code with Clicbot.
The official recommended age for Clicbot is eight and up. The younger your kids are, the more help they will need to set the robot up. If your kids are over ten, they should be able to set Clicbot up as long as they have access to the app.
Once the app is downloaded, it will update with one click and walk your kids on how to set up their first coding robot.
Not Just for Kids
Clicbot is flexible enough for kids and adults. What to play with robotics but don't want to code? You can do that. Do you want to code robotics and control everything a robot does? You can do that as well.

Adults will get just as much enjoyment from Clicbot as kids will.
How Much Does Clicbot Cost?
Clicbot is on the premium side of coding robots. It has a lot of technology packed inside, but I feel it's well worth it. You can see the Clicbot we have here. Or, check out their page on Amazon here.
There are a few options to choose from. The kits will have different parts, but every kit includes the main robot, access to the Clicbot app, Clicbot academy, and access to the Clicbot community.
Every kit includes an Accelerometer, Gyroscope, Gesture Sensor, Camera, Microphone, and Touch Sensor.
Starter Kit: Everything included above, along with 12 modules to build your Clicbot.
Standard Kit: Everything from the starter kit with a Pressure Sensor and 22 modules.
Full Kit: Everything in the starts kit with a Distance Sensor and 35 modules.
Maker Kit: Everything in the full kit, along with 55 modules.
Looking at the kits and reviewing Clicbot with the full kit, I think anyone will be happy with the starter kit. Of course, more sensors and modules will give them more options, but the starter kit is an excellent place to begin.
You can see the full line-up of Clicbot kits and current prices here.
Pros and Cons of Coding Robots
Kids spend a record amount of time in front of the screen these days. A coding robot will allow them to create, not just consume. Robotics opens up the creative juices. If you can think of it, you can code it!
Communication and collaboration. Clicbot has a great community to lean on when learning coding and robotics in general. This can be said for every coding robot, but this is one of the best selling points of Clicbot.
The community frequently uploads videos and code to do new projects with Clicbot that haven't been thought of before.
You can do the same.
With so many different ways of setting Clicbot up, you can write your own code and then share it with the community. You can even do this if you don't know how to code yet.
Clicbot records the movement when you're manipulating the robot. You can physically move Clicbot say up a window, then she the build and code inside the community app. People do this every day and comment on the projects.
Coding is the future. It's a good idea to get in front of it at a young age. Kids learn and pick up new skills so fast. If a coding robot encourages them to learn while having fun, we should only cheer them on.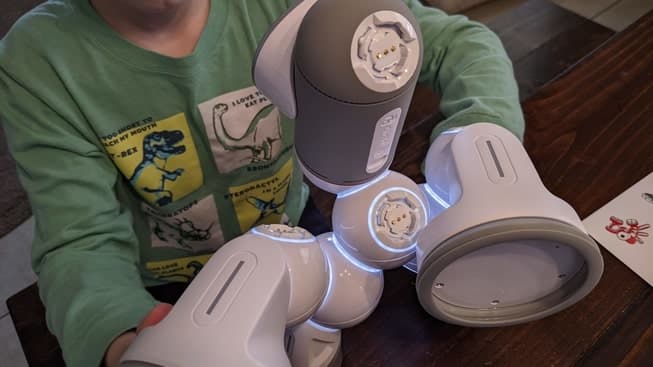 Final Thoughts
I only scratch the surface of Clicbot and everything it can do. Out of all the robots we've reviewed and had in our house, Clicbot is the most advanced.
If you know someone interested in coding and robotics, Clicbot is the perfect gift!
You can find more information and the current price for Clicbot here.
FAQ
What Can Clicbot Do?
Clicbot is a modular robot that can take many forms by clicking and unclicking modular parts on and off the robot. Clicbot is a coding robot that can be programmed to do small tasks or just for entertainment purposes. From simple movements or complex multi-pass tasks.
How Long Does the Battery Last in Clicbot?
From our experience, around three to four hours. The robot is modular, so it will differ depending on your configuration. Recharging our robot was around three hours, from zero to full.
If I Buy the Starter Kit, Can I Purchase Other Parts Later?
Yes. You'll get all the parts you'll need to get started with your kit. Then as you get more advanced and want to build your robot in new ways, you can expand with new parts.
Do I Have To Have Internet for Clicbot?
While you don't "have" to have internet, you'll get the most out of Clicbot connecting to the community to see new projects and challenges. Clicbot will connect to your smart device and be on the same wifi or internet signal as your device.
You can find more information and the current price for Clicbot here. Or, take a look at their Amazon page here.