8 Best Coding Robots to Teach Kids to Code (for all ages!)
Teaching your kids how to code when you don't know how to code yourself can seem intimidating. Luckily, there are coding robots for kids.
Even if you don't know anything about coding yourself, your kids can learn the fundamentals of programing with these codeable robots.
And the best part? Coding robots make learning to code fun!
Your kids can start to learn how to code at an early age. Think of learning how to code as learning a new language. You have to master a new syntax, learn new words. And what better time to start than when you're young?
We have a mantra in our house that learning should be fun, hands-on, and creative! The same goes for learning how to code.
Learning to code doesn't mean spending hours at the computer. In fact, many of the coding apps for kids use a drag & drop interface to learn the new syntax and patterns, which is great for kids who aren't strong at typing yet.
While learning to code, you should still nurture creativity. Creativity and problem-solving are both important skills for a career in programming. Each of these robots encourages creative thinking.
Imagine having your own robot that you can program to do whatever you want! It can play with the cat, talk to you, or race across the yard. That is exactly what some of the below suggestions do. Just think of how your kids' imagination can run wild with this!
This guide lays out the best robots to teach kids how to code, so your kids can learn the basics of programming even if you don't know a line of code yourself!
TLDR version: Sphero is great for older children (8+) without countless activities! Sphero also creates more affordable "mini" versions of their bot. Botley is the best coding robot for young learners (ages 6 to 8) who are just getting started.
Best Programmable Robots to Teach Kids Code
There's a number of toys and games specifically designed to teach kids how to code in a fun & creative way! Many integrate with an app that interacts with the toy. Here are just a few of our recommendations of the robots you can code.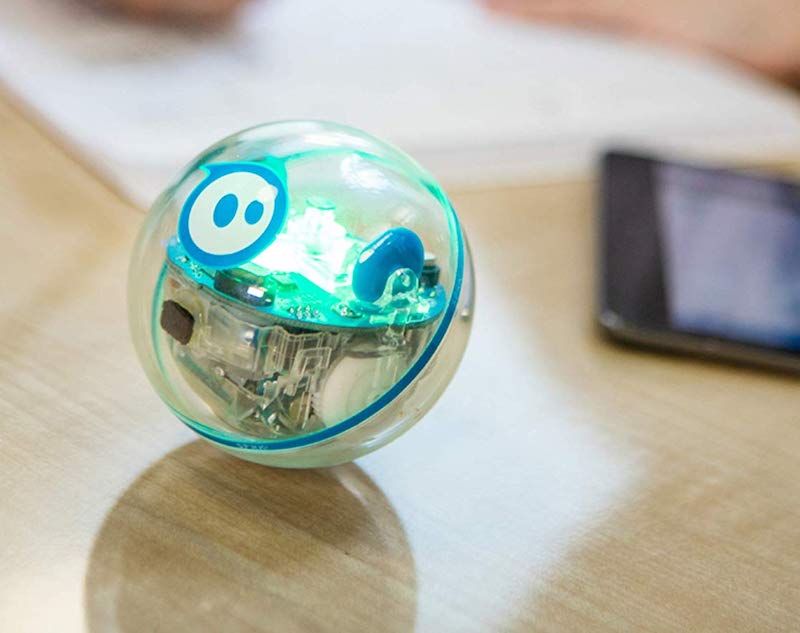 Sphero's are my top recommendation for a robot to teach code! You can go from beginner to advanced with just this single toy. Start with draw programming then blocks, and ultimately even write Javascript directly to program your Sphero.
You tell this little bot exactly what you want it to do. You'll never get bored with a Sphero. Activities with Sphero are endless!
Plus, they're waterproof and shockproof.
If you're just getting one toy focused on programming, you can't go wrong with Sphero. They have multiple models – the mini, BOLT, and SPRK+. Any of these models would be a great choice and all are programmable. My top recommendation is SPRK+ since its one I have experience with.
Recommended Ages: 5-14
If you want a robot that teaches code but is also "cute", choose Cozmo! This little guy has personality. We've written a full post comparing Cozmo vs. Sphero since these are two of the most popular programmable bots available.
Cozmo also uses visual drag & drop commands, but as you advance you can also program in Python SDK.
If you're thinking you'll be programming your robot directly, you do want to look closely at the programming languages powering each bot.
Python is one of the most common first languages to learn. It is more semantic than Javascript. In other words, it looks more like the English language and would be easier to learn as your first language. So if your goal is to write some of your own lines of code instead of using the blog interface, Cozmo is a really great choice.
Recommended Ages: 8+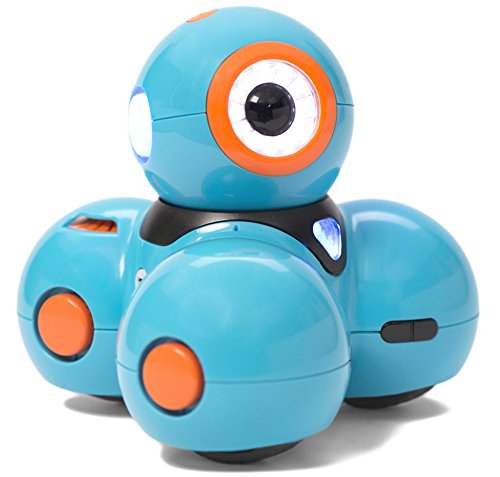 Dash is another cute robot with a lot of personality and potential. While I haven't used this one before myself, I researched it heavily to understand what are some of the main selling points for Dash!
The recommended manufacturer age is 8+, but they have multiple apps available depending on what you want to do. Some of the apps are really well suited for 5-6 year-olds too, making this a great bot choice for younger learners.
Dash can also get accessories! There's a xylophone you can purchase and program Dash to play it.
Ages: 6+
Ozobot offers two bots: Evo and Bit. Evo is for older kids ages 9+ while Bit is for ages 6-9.
This bot is the smallest of the bunch. You could fit it in your pocket! For programming you also have two options. You can OzoBlockly app to program your bot from an iPad or computer. But the other option is really unique! You can program Ozobot off-screen with markers and papers.
If you're looking for a programming option that also includes off-screen play, especially for younger kids, this is a great option!
Ages: 6+
If your kids love building too, LEGO offers their own coding toys. There are two lines of LEGO's programable toys: LEGO Boost and LEGO Mindstorm.
LEGO Boost is the much more affordable one of the two. First you build your robot. You can build 5 different models: robot, cat, guitar, rover, and an auto builder. Next, you start programming by downloading the free app. The one downside to LEGO Boost is that it's not as robust as a programming app.
If you want something where you can really develop programming skills, choose one of the above robots. If you want to get the basic logic and syntax, plus build your own robot, then Boost is a good choice!
Ages: 7-12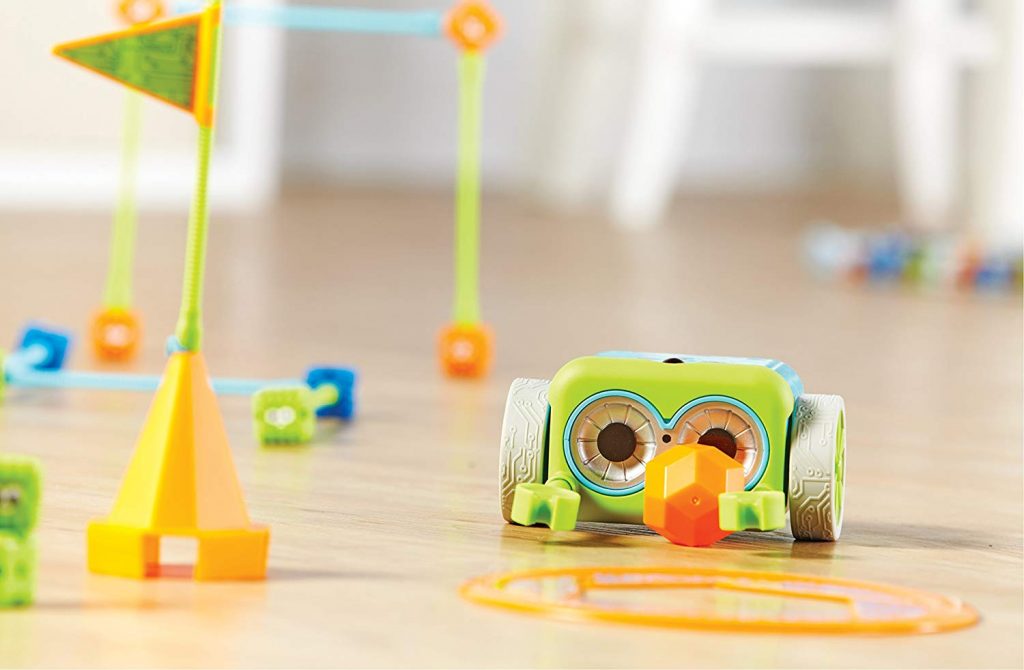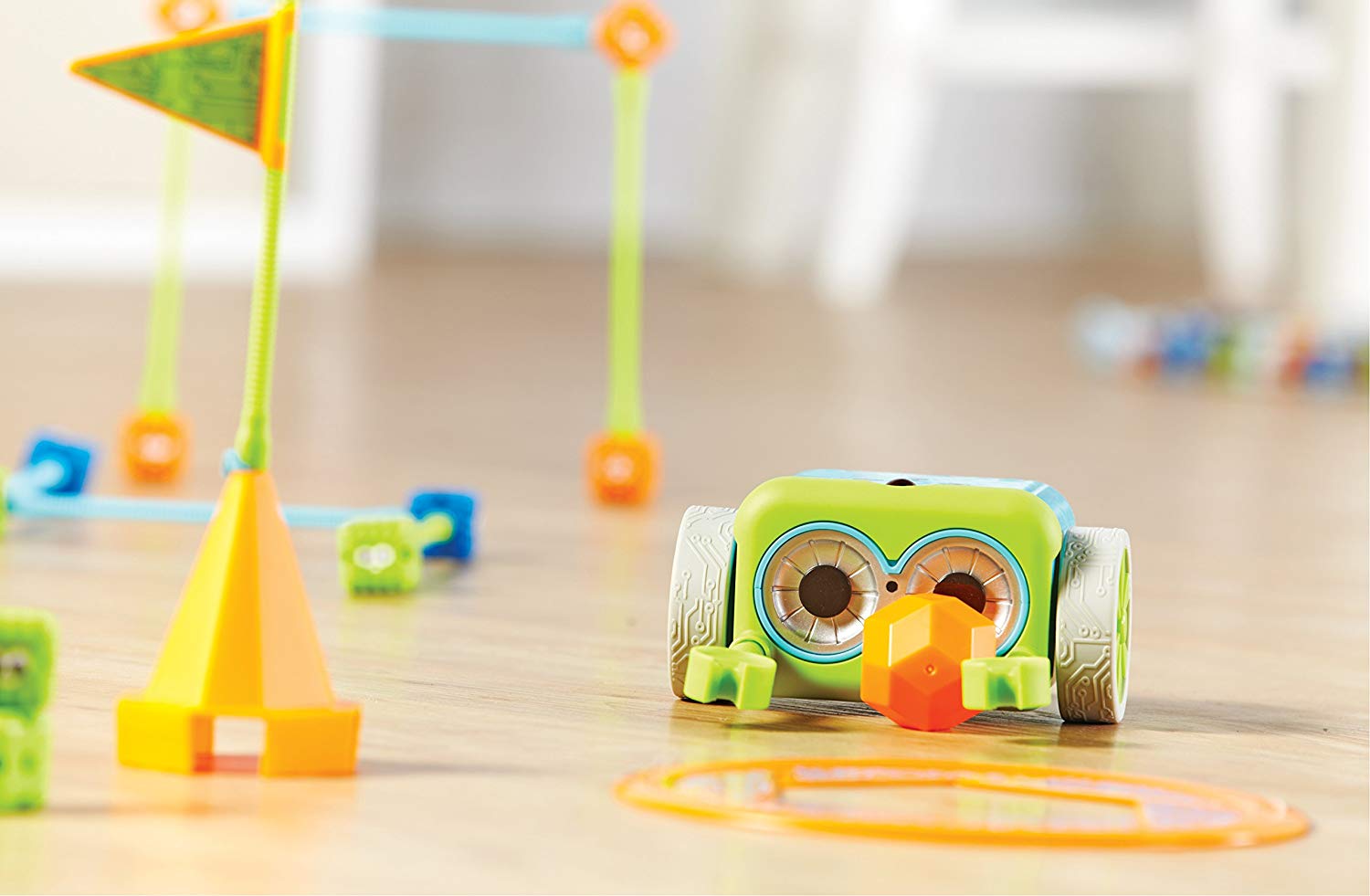 The above bots are focused for older students who are learning the syntax and structure of programming. These next few are awesome coding robots for toddlers! They generally involve less screen-time and have much simpler patterns that you're building.
Botley is 100% screen-free and ready to go straight out of the box – no apps or downloads necessary. He comes with a total of 77 pieces, including your programmable remote.
The rest of the pieces are mostly obstacle pieces for you to create your own course for Botley to navigate. You program his moves, and he makes them. It's a great choice for young kids!
Ages: 4-6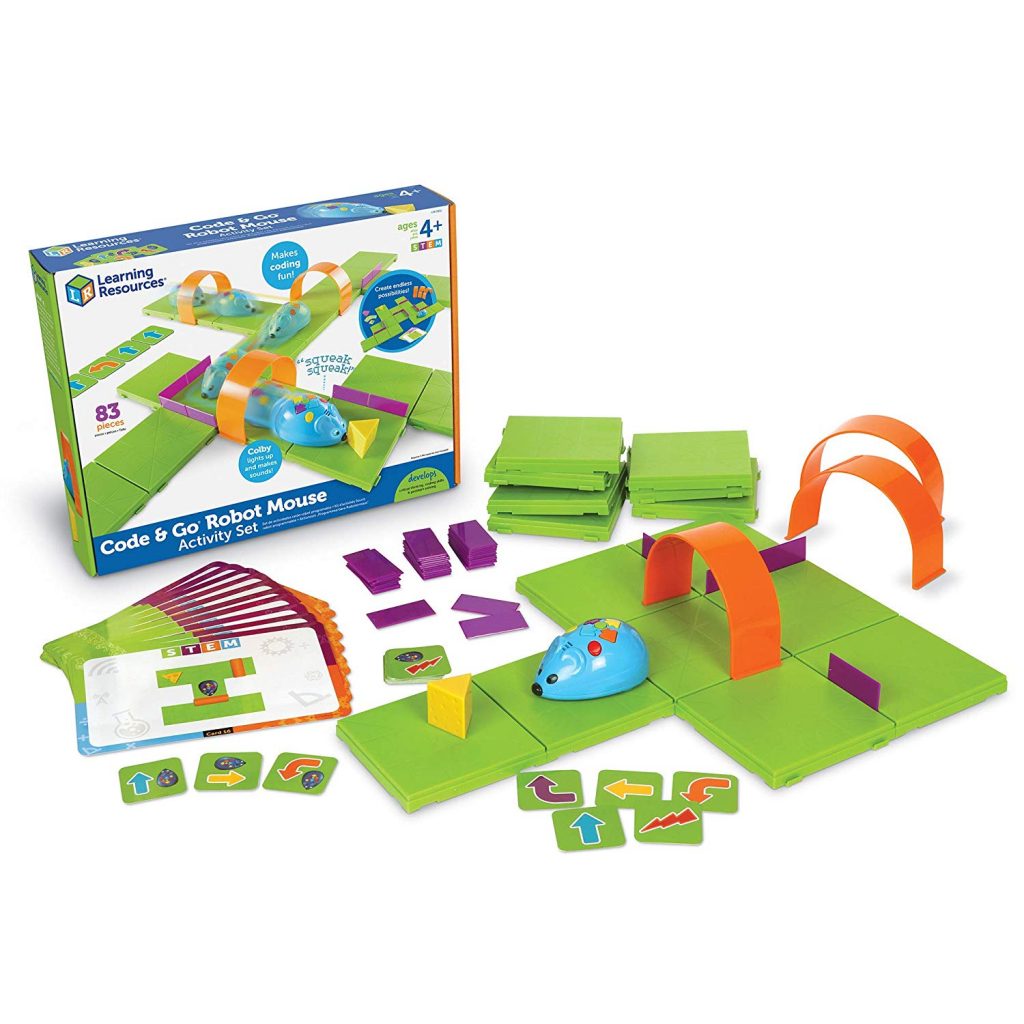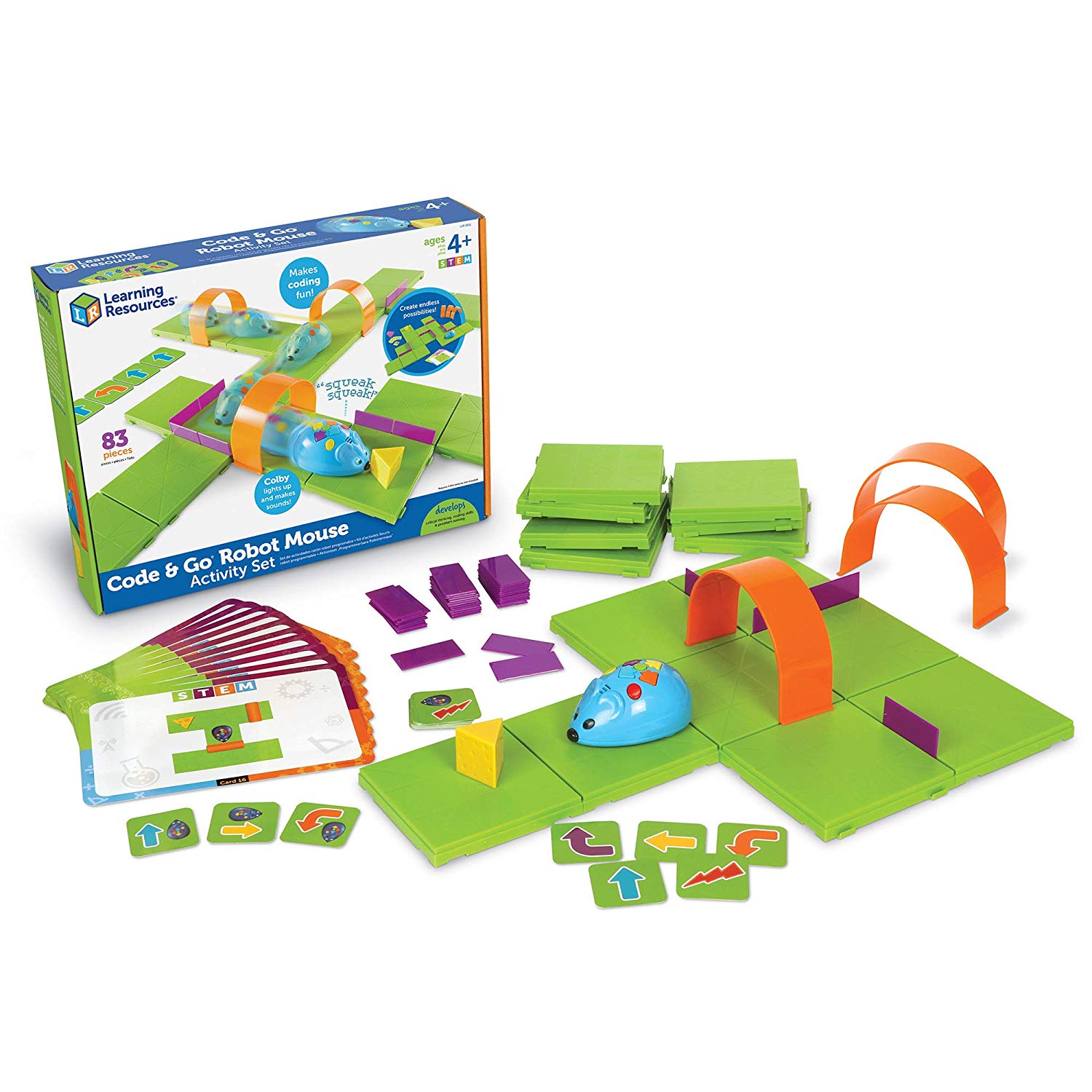 Code & Go Robot Mouse is similar to Botley. But instead of a separate remote where you'll enter the commands, you control your Robot Mouse directly from his back!
Enter in the commands he'll need to navigate the maze! There are action cards included too to give you inspiration about new maze setups for Robot Mouse to solve.
These toys are great for establishing problem-solving and pattern skills. However, if you're choosing one of the above two for a toddler, choose Botley. Code & Go Robot has been known to not always accurately follow the inputs (like faulty turns) which is very unhelpful for learning and understanding the patterns.
Ages: 4-6
8. Code-A-Pillar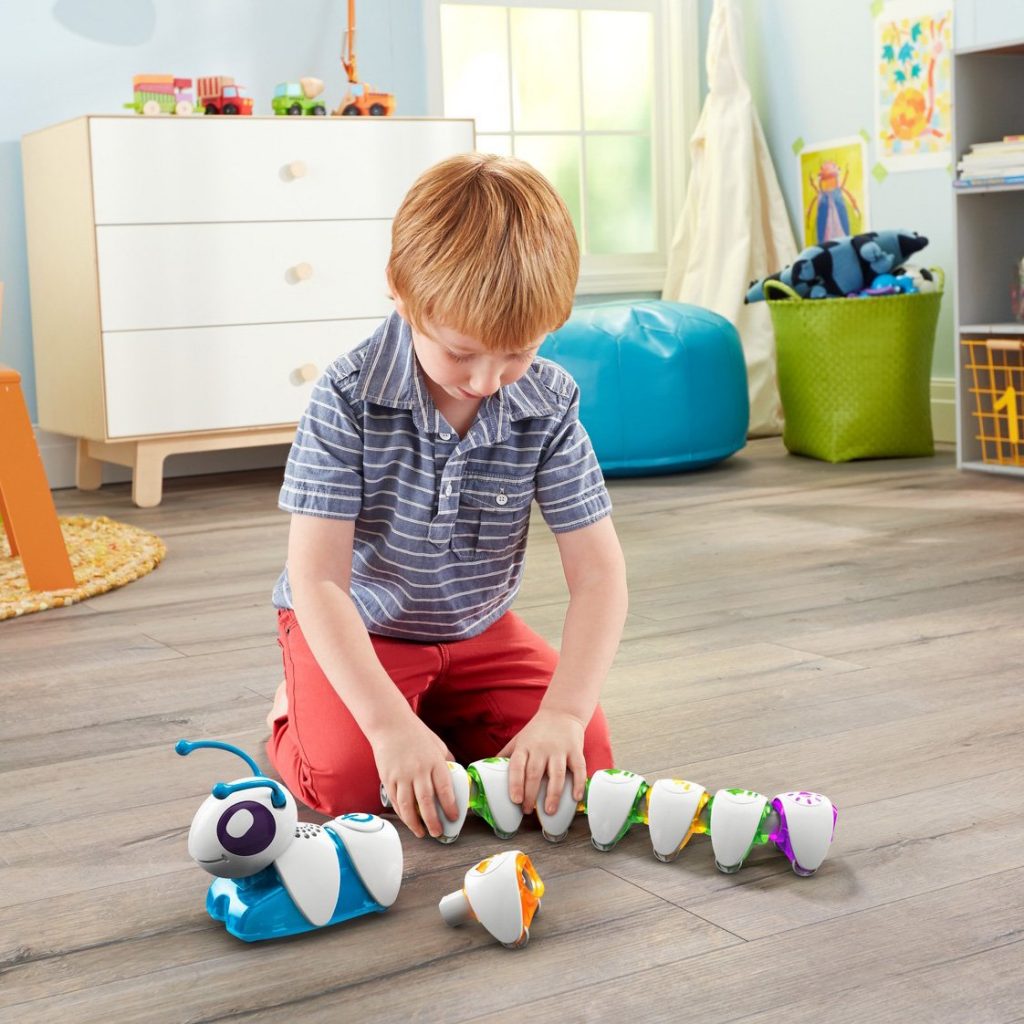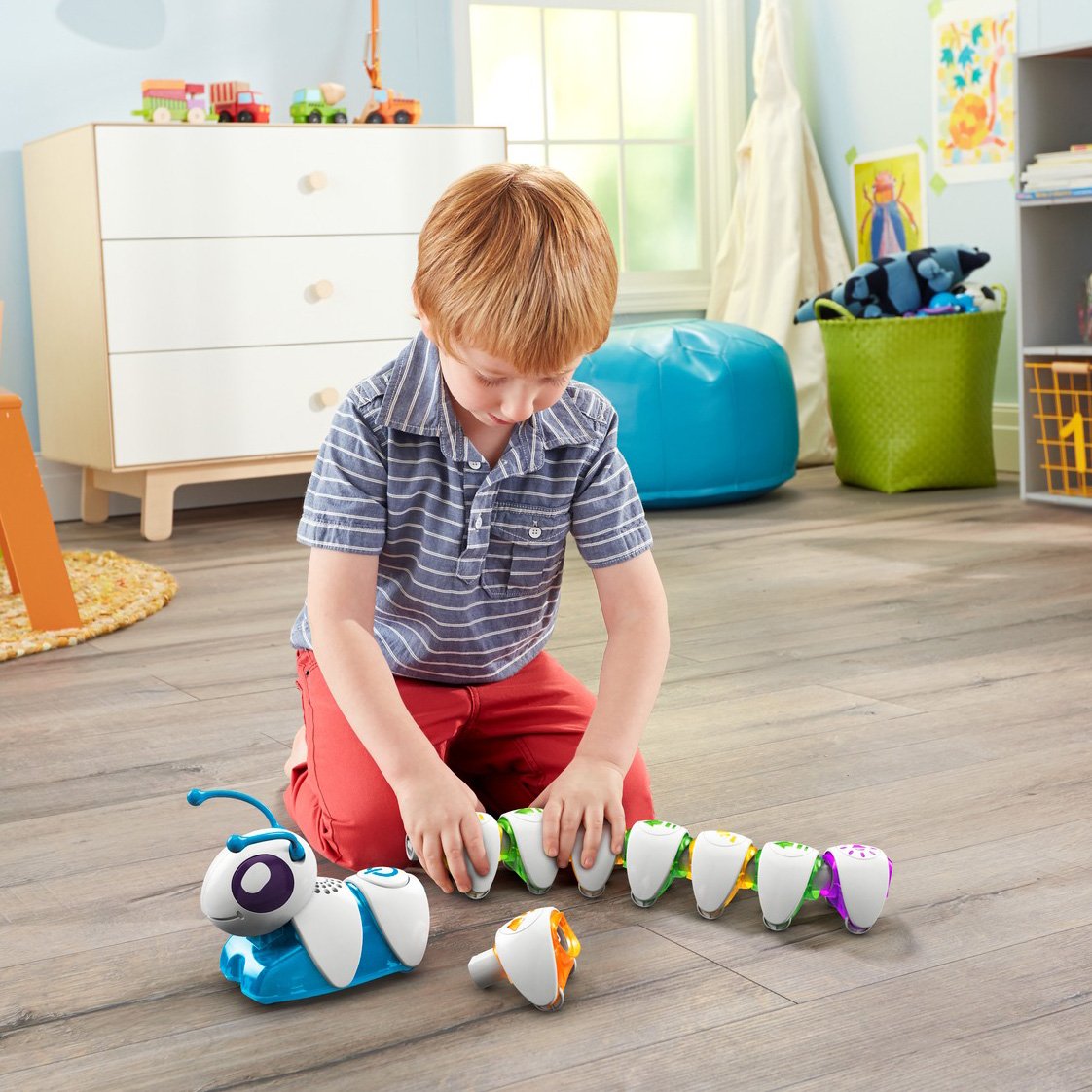 This one is for the youngest programmers out there! Code-a-pillar is less of a robot, but he teaches similar problem solving and sequence skills. You create the pattern to code where Code-a-pillar will go! It's a great toy for toddlers to start developing the fundamental skills to code.
Have you tried any of these coding robots with your kids? What did you think? Let us know in the comments!
Remember as you begin to teach your kids to code to keep it both fun and creative!