Yellow Scope Review: Chemistry for the Next Generation of Girls
Yellow Scope makes science kits for curious and creative girls.
In this review of Yellow Scope, I'll go over how their science kits stand up to other STEM kits my daughter and I have experimented with. We'll go over everything, from how easy the instructions were to follow, to the value offered from Yellow Scope.
I encourage you to read my review, but if you'd like to take a look at everything Yellow Scope has to offer, you can follow this link here.
What Is Yellow Scope
Yellow Scope has a mission to make science kits for girls. They want to inspire young females to explore their world and discover its amazing possibilities.
How do they do this? They make learning fun and entertaining through well-thought-out science kits. This isn't just theory; their kits provide everything young women will need to feel like they are in a real lab conducting experiments.
How Did Yellow Scope Get Started
Yellow Scope was started by a group of women that are scientists and mothers. Their mission is to provide educational resources to inspire the next generation of women.
Yellow Scope grew out of their shared passion for science, education, and closing the gender gap in science. Each science, technology, engineering, and math (STEM) kit is lovingly assembled by hand in Portland, Oregon.
Why Science for Girls
I have two sons and a daughter. While I did this review with my daughter, my oldest son would have been just as happy to do the experiments as well. (don't feel bad for him, he reviews most of the sciences kits with me).
What makes Yellow Scope specifically for girls? Isn't science neutral?
Well, it is neutral, but the problem is not science but industries. I've covered topics about the STEM curriculum and biases towards men in the industry. I like that Yellow Scope turns this around and puts effort into focusing STEM topics for girls.
With the right platform, young girls can grow up to dominate the stem fields, thanks to learning critical skills in their early education.
What Is in the Yellow Scope Box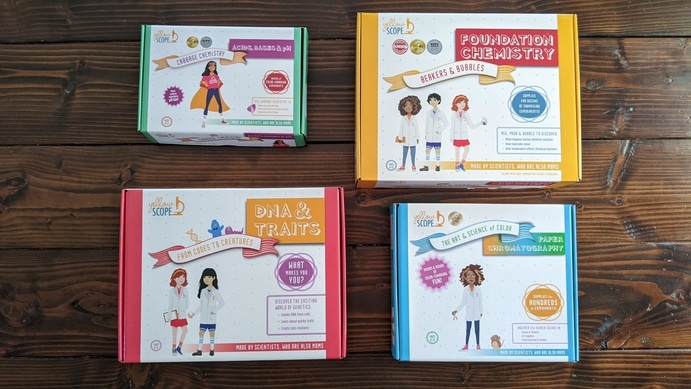 First off, there are so many activities and science experiments with each of these kits.
I've reviewed a ton of science and STEM boxes with my kids and I've never seen so many experiments per box.
Almost every task builds on the next. I'll show you how my daughter pulled DNA from a strawberry. The first step is to mix a few different chemicals when doing this.
We used those for the rest of the experiments in the box. Every box is like this, and one lab experiment will be used for the next, so I recommend starting at the beginning of the lab notebook then moving to the next.
Each notebook starts with lab safety. Matching colored goggles are included with each box. Depending on the age of your little girl, some of the experiments will need to be supervised by you.
Everything I show from these boxes with my daughter is just one or two experiments. There are about eighteen more per box I didn't cover in these reviews of Yellow Scope. So, this is just a tiny sample of everything you can do.
Cabbage Chemistry
The cabbage chemistry box from Yellow Scope is all about acids, bases, and pH. In this, your daughter will have three different labs, with a total of twenty various chemistry experiments.
In this experiment, you'll use red cabbage powder to figure out whether different household chemicals (stuff you'll have laying around) are acids, bases, or neutral substances.
We used water, window cleaner, vinegar, baking soda, lemon juice, and detergent to determine if they were acids or bases.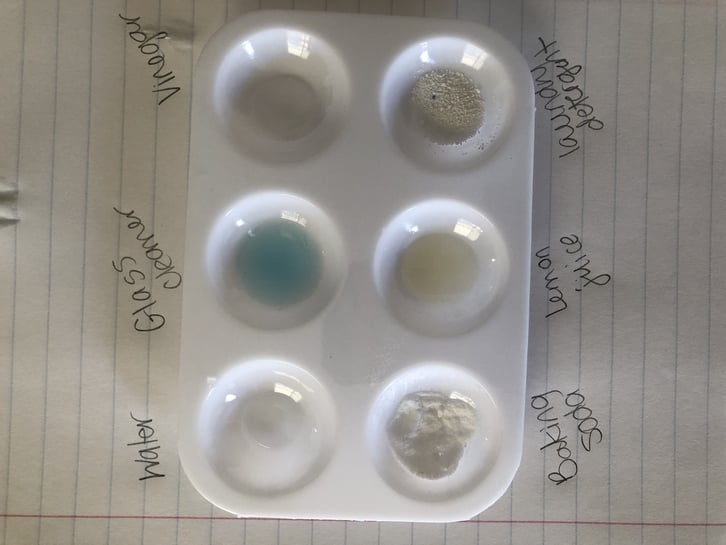 We used the cabbage powder that was provided. All we had to do was to add water. They use red cabbage juice as an indicator to approximate the pH of the different household chemicals.
From here, my daughter used the pipette, dripping the cabbage juice onto the household chemicals.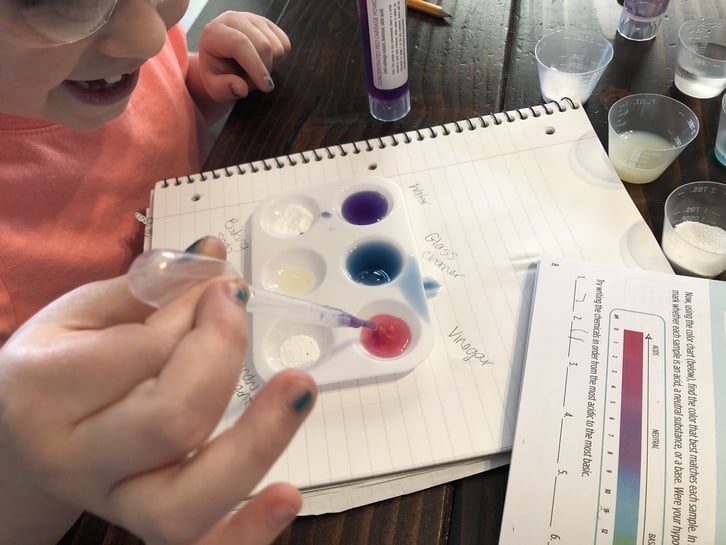 This was just one of the lab experiments, but as I mentioned, there's a ton more I didn't cover in this box. Let's take a look at the next one.
Paper Chromatorgraphy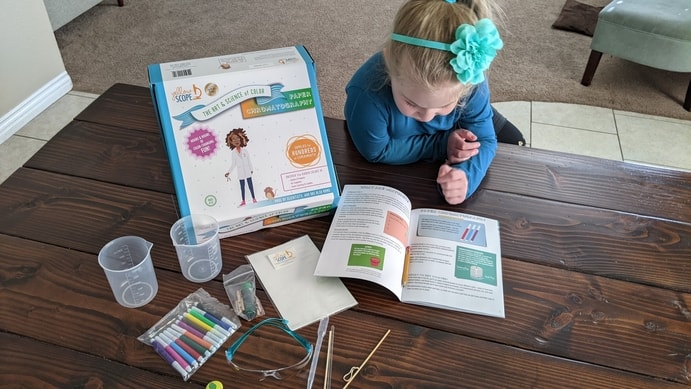 Paper Chromatography is the art and science of color. In this box, there are three different labs with seventeen various experiments.
Included in the kit are ten sheets of scientific chromatography paper. For most experiments, you'll need strips that are 9cm long and 1 cm wide. You should go ahead and start with one sheet and cut that up to make strips before pulling out all the paper. The paper is very absorbent, so keep these away from any liquid.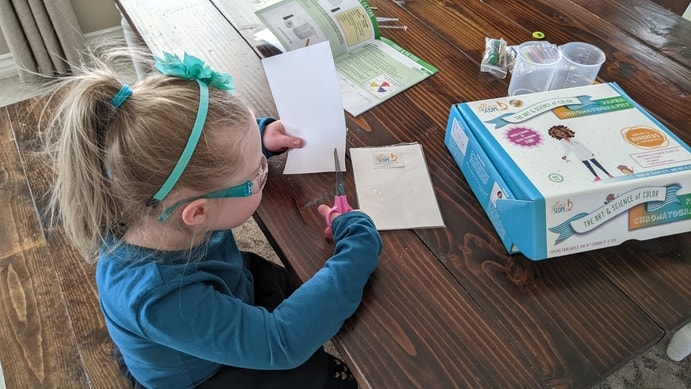 My daughter had to unmix liquids from green food coloring in this first one. The paper strips are small, so you'll want to make a small line about an inch up.
It was recommended that you use a few drops of the food coloring in a small piece of aluminum foil. Then, use the small stick provided to dip in the food coloring to mark on the paper.
She then added 50ml of tap water to the beaker and placed the paper strip inside, touching the water, making sure not to put the paper in too far where the water would hit the green mark.
What changed? We were able to see the water pull out the different mixtures in the liquid food coloring.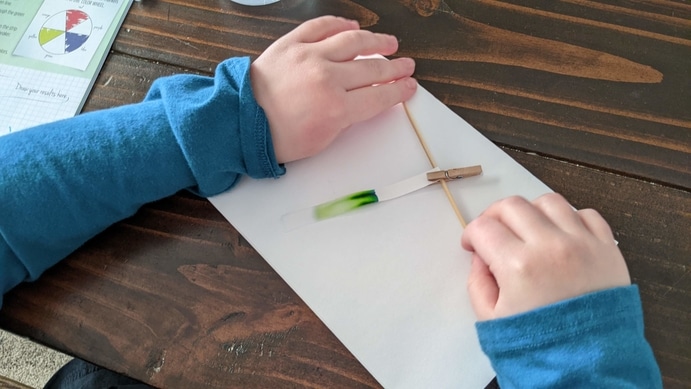 The following experiment in this same kit was to do it again, but this time with salt and regular water to see the difference. Like I mentioned above, the labs all build on each other.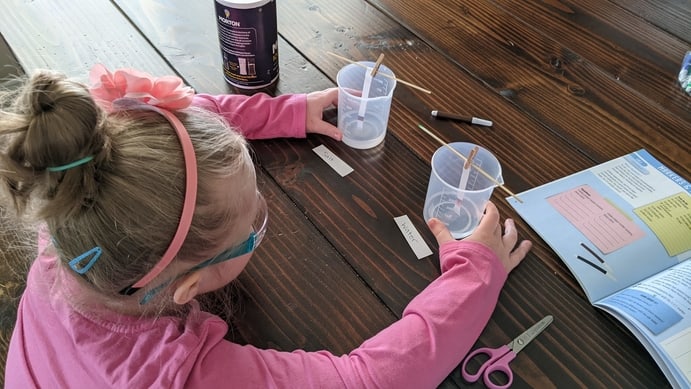 DNA and Traits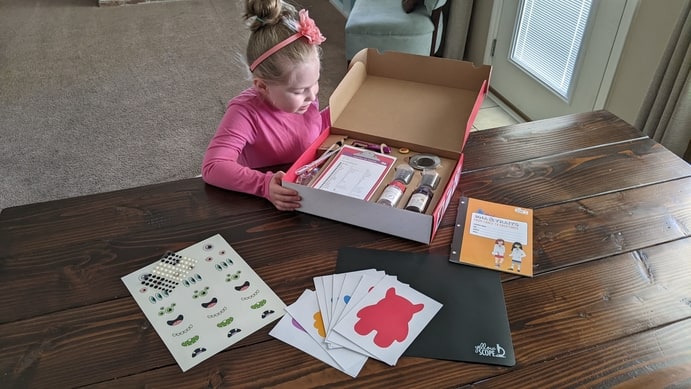 Yellow Scope kit DNA and Traits, from codes to creatures, features three different labs and one of the best experiments from Yellow Scope.
The lab notebook does a great job explaining what DNA is for kids. It also has a section on what makes people and animals different and how many of these traits changed humans over time.
One of the most exciting science experiments my daughter did was break open strawberry cells to pull out long strands of strawberry DNA.
In this lab, you'll need 91% Isopropyl Alcohol. It's inexpensive, and I have a link for you here if you don't have it already.
You'll start by preparing the DNA isolation solution and filling one container with 91% Isopropyl Alcohol. The DNA isolation solution is just a few things you'll have at home. Water, 1/2 teaspoon of salt, and 1 teaspoon of dish soap. You'll want to transfer the alcohol first, as you need to put this in the freezer right away.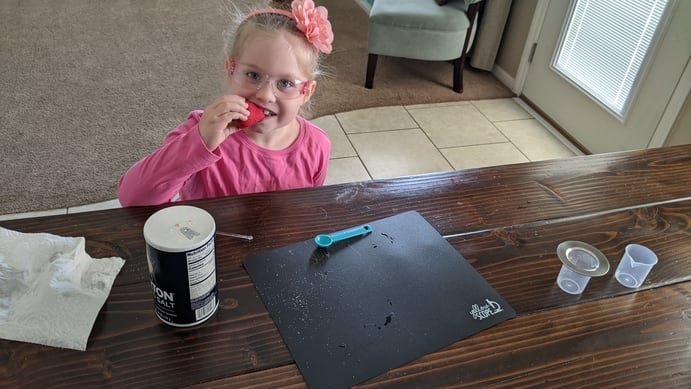 The next step she had to cut up a strawberry into small pieces. Then transfer the small pieces into a sandwich bag to crush them up more. The finer you get the pieces of strawberry, the better.
Included were the beakers and the metal strainer that sits on top. My daughter pushed a little on the strawberry mash to get most of the liquid in the beaker. This will be the strawberry extraction you'll see the DNA separating from.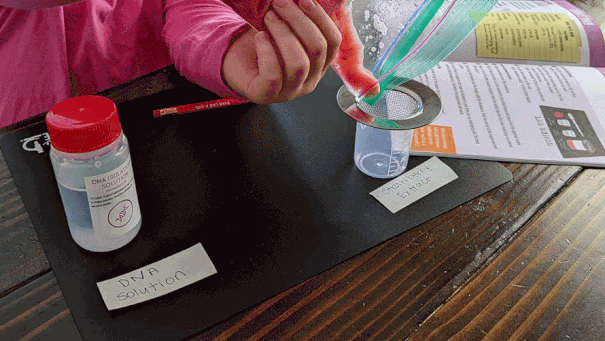 Yellow Scope included a little branded metal flashlight your kids will be able to keep on a backpack or keychain. This helps to see the DNA better separating from the strawberry.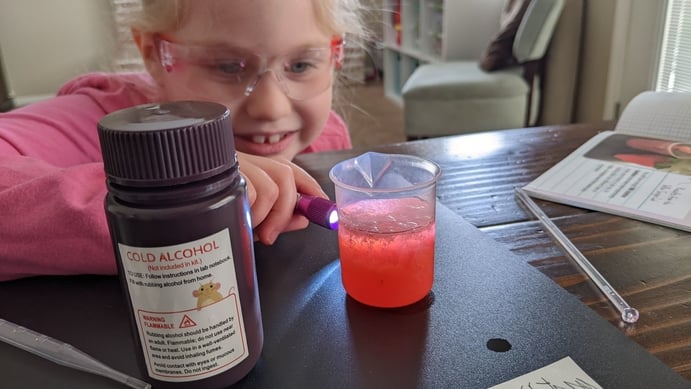 Foundation Chemistry
Foundation Chemistry, beakers, and bubbles from Yellow Scope are what it sounds like, the foundation. This was the last kit we opened because it was the largest, but really we should have started with this one.
In this chemistry kit, you get three labs and nineteen chemistry experiments. There are a lot of exciting, bubbling chemistry experiments in here. Let's go over a few.
This one shows the reaction that chemicals can have when they are mixed. A chemical reaction happens when molecules bump into each other, break apart, rearrange their parts, and make brand new molecules.
She mixed 1 teaspoon of citric acid plus 1 teaspoon of sodium bicarbonate. She then added 100ml of cold water from the other beaker into the mixture.
What we got was a bubbling surprise! We used the blue food coloring for added effect.
The following experiment was to make an at-home fire extinguisher. We used citric acid and sodium bicarbonate to produce carbon dioxide (CO2) gas. This gas put the flame out.
What Else Is Included?
I did not show it that well, but your kids will work through their lab notebooks with each kit. They will write hypotheses, drawings of the experiments, work through problems, and just general fun stuff they will enjoy.
I mentioned above. There are tons of fun science activities in each kit to explore. I really only scratched the surface in this review of Yellow Scope.
What Age Is Yellow Scope For
Offical the recommended age is for kids eight to twelve years old. My daughter in this review is six years old. I agree that six is on the younger side of the recommended age. She wouldn't have been able to set the experiments up herself, but my eight-year-old son would have no problem reading and following the step-by-step instructions.
If your kids are older than twelve, I think they will still get enjoyment out of these kits. If these are for a gift, I think any girl would be happy to receive these.
If you're unsure if your kids will enjoy these, you might just show them the photos in this review to see if they are interested.
How Does Yellow Scope Compare to Other STEM Boxes
My kids and I have reviewed dozens of educational subscription boxes. You can find a list of the best ones we've seen here. Most of these are monthly subscriptions, where you'll receive a new package with exciting activities. Yellow Scope is different in that they don't offer this service.
Yellow Scope kits can be purchased all at once, or you can pick and choose which ones you'd like.
One of the subscriptions that is a good comparison is Mel Science. You can find our full review here. In that review, I praised it for the thought-provoking experiments. Mel Science also has a complete course on chemistry and other subjects.
The difference between Yellow Scope and Mel Science
Yellow Scope allows you to purchase science kits without locking you into a subscription. You can pick out what kits you'd like for your kids; no waiting for next month. If your kids finish all the experiments in one box and want more right away, Yellow Scope has the option to get another one right away.
If you are interested in Mel Science, I encourage you to read my review, and you can also find more information on their site here.
Final Thoughts
As you can see from my review with my daughter, Yellow Scope does an excellent job at making science interesting for young women. The science experiments included clear, step-by-step instructions that were easy to follow.
If you like to find out more information or purchase a kit, click here.