Mel Science Review (hands-on + Coupon Code)
My kids and I have reviewed a few science subscription kits. In this hands-on review, we'll take a deep dive into what makes Mel Science the top choice for a STEM subscription box.
I'll also compare Mel Science to other STEM kits that my family has enjoyed, I'll show everything Mel Science has to offer and what my kids liked and disliked.
I encourage you to read this review, but if you're busy, I want you to know that I give Mel Science my full recommendation. You can find their site with more information here. Use coupon code iLoveMel for 50% off your first box.
What Is Mel Science
Mel Science provides fun STEM courses for kids and adults in science, chemistry, physics, and recently added medical kit.
This isn't a boring science box with plain material. Mel Science makes each kit with fun in mind to keep kids engaged in the topic. Kids will learn with hands-on material by building or experimenting with each box.
Instructions and lesson plans are clearly marked with step-by-step guides. Kids will work their way through problems to find satisfying solutions with an "aha moment" at the end.
What Kind of Projects Does Mel Science Have
In this section, let's look at the different available courses. This will help determine what course your kids will like that aligns with their interests.
Be aware that you can change courses at any time.
Mel STEM
This course is also called "Mel Kids." They have over 30 different STEM activities with this subscription. My daughter wanted to try this crate because she saw all the available STEM experiments. She did the Hydraulic lift STEM experiment; more on that later.
For kids 5 to 9+.
Mel Physics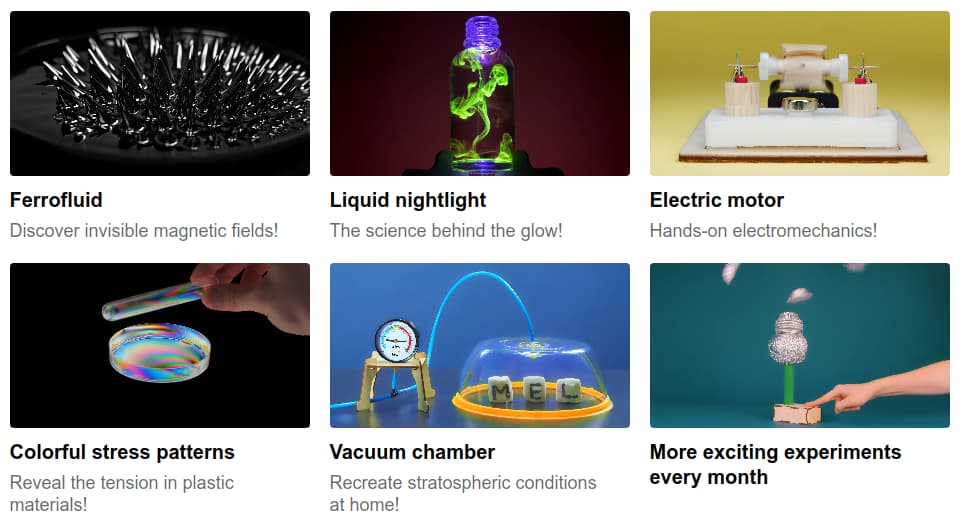 Mel Physics features over 30 different boxes full of experiments. This is the one my nine-year-old son was most interested in. He received the Colorful stress patterns box. This is where he revealed the tension in plastic materials with a polarized film included in the kit.
Mel Physics has some of the most remarkable science experiments; you can see all of them here.
For kids 8 to 14+.
Mel Chemistry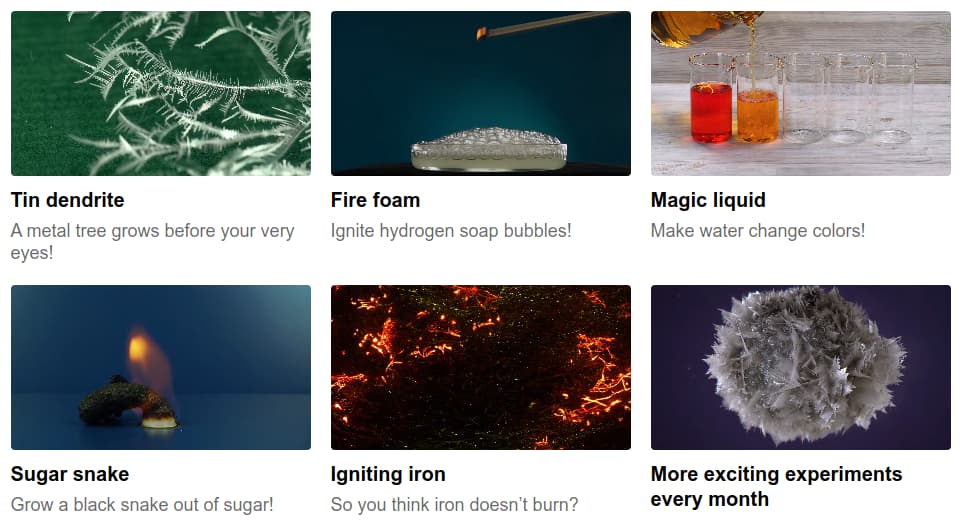 I'd say Mel Chemistry is the bread and butter of Mel Science. They have over 50 boxes available full of different experiments for kids. Some of these we have featured at home in our article, Kindergarten STEM Activities that my kids have done.
Mel Science recommends ages ten to sixteen, but I think if adult supervision kids as young as six will enjoy learning about chemistry.
You can find all the chemistry kits from Mel Science here.
For kids 10 to 16+
Mel Med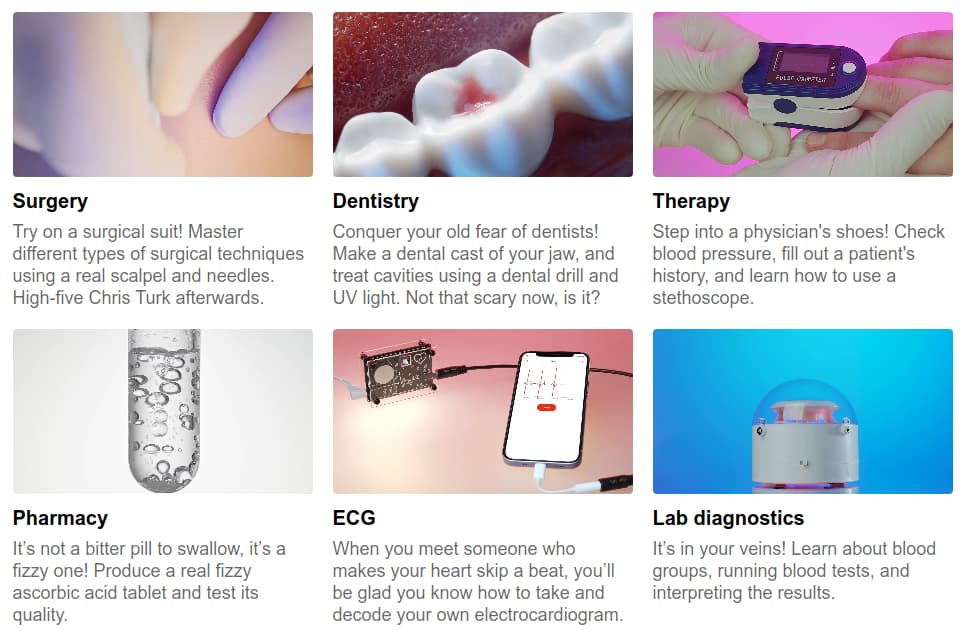 This is the newest kit available. With this kit, your kids will learn about dentistry, blood groups, surgical techniques, and a ton more.
Mel Med is also the most expensive of all the kits. This is for a few reasons. It's geared towards older kids, so the kit includes some costly items they will use. Each month you'll get a new set of tools for diagnosing patients. Medical instruments such as a sphygmomanometer, forehead thermometer, pulse oximeter, and a few other items.
Doctors made everything here to ensure that kids get a real feel of what to expect, working in a doctor's office.
Included are five hands-on science projects every month. A Virtual Patient where your kids will watch pre-recorded patient interviews and use their practical knowledge and guidance from the app to diagnose them.
You can check out all the different activities available in this Med box here.
For kids 14 and up.
As you can see, Mel Science offers a wide range of kits to choose from. I love that you can decide at any time to change to a different box or subscription if your kids want to try something else. If you're looking for a gift or not sure what your kids will like, I'd recommend starting with a Mel STEM or Mel Chemistry.
Who Is Mel Science For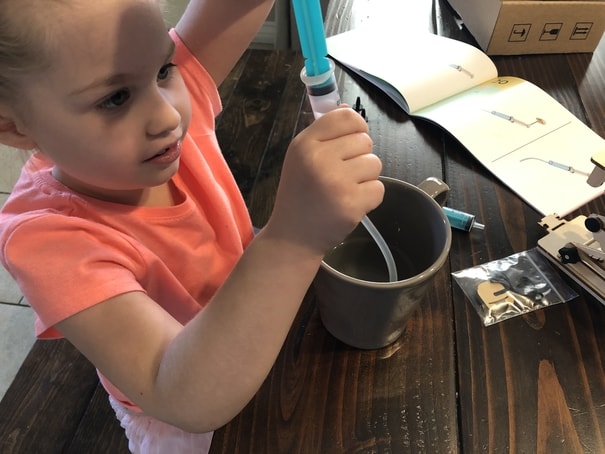 With the wide range of educational topics from Mel Science, just about every kid will find something they like.
Kids are naturally curious, and they will be thrilled by discovering new things involving science. Since they will learn hands-on, kids will have the added fun factor of making the projects themselves. My kids had just as much fun setting up and building the STEM projects as they did complete the actual experiments.
More Knowlage
If it seems your kids are a little more curious about how things work than most, they will be excited to receive a new box every month. They will be able to dive deeper into the topics they find fun.
One of the reasons that make Mel STEM so great is building the experiment and finding out exactly how it works, like a rocket or pneumatic press.
Chemistry can seem like magic to kids. Mel Chemistry would be fantastic if they like mixing colors or are fascinated with how pop rocks explode in their mouths.
What Is Inside a Mel Science Box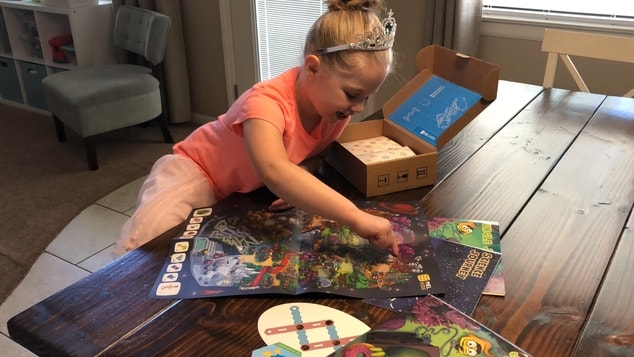 Each month you'll receive one of the many boxes. Each box will have a few experiments included for that month. My daughter was excited about receiving the hydraulic lift in our first Mel STEM box.
The first thing my daughter mentioned was all the pieces she would have to put together. While it seems like a lot, it came with clear step-by-step instructions. My daughter is six, and she could piece everything together with ease.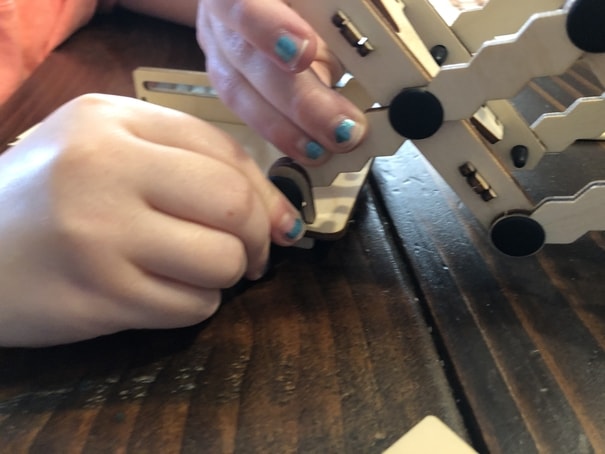 After a few pieces following the instructions, she got the hang of it and was building the hydraulic lift quickly. After it was complete, the fun part came when she could lift the platform using the syringe. She saw the fluid pushing the plunger back and forth, and it clicked for her; she understood how it worked.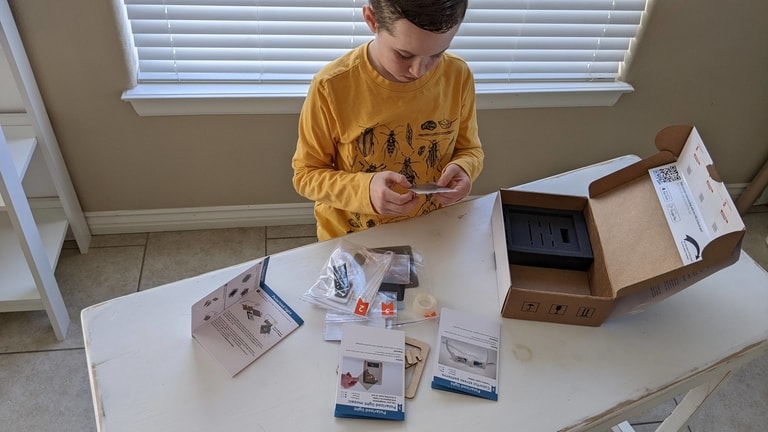 My sons' box was from Mel Physics. The package was about polarization. A few different experiments included a polarized light kit, colorful stress patterns, polarized light mosaic, and a corn syrup kaleidoscope.
This polarization box was one of the more straightforward boxes available. It also had a lot of experiments that we went through rather quickly. This was because they didn't take a lot of setup like my daughter's hydraulic lift.
Following the instructions, the only thing we needed that wasn't included was a flashlight or an old cell phone that we used for the light source. With the light, we were able to see how a lightbulb produces more than billions of photons per second. The more photons meet our eyes, the brighter we perceive light to be.
Using the polarizing filter, my son saw firsthand that we could change the direction of light, letting through only the photons with a particular polarization.
This was all explained in the included booklet from Mel Science. I showed him the polarized sunglasses I have, and we looked at plastic objects with them as well. Now we both know the science behind this filter and how it works.
What Else Is Included With Your Subscription to Mel Science
With each subscription, you also get AR lessons. This is an app for Apple or Android phones and tablets/iPad. With the app installed and your monthly kit, you'll scan the included card to interact with your experiment in the real environment.
My kids have never seen this, and they were excited about this added benefit. This really adds to the overall fun and education with Mel Science that I haven't seen available from other STEM boxes.
Something new for kids is MEL VR Science Simulations. With this, you and your kids will be able to experience a new level of understanding science in VR or 3D. With over 70 VR lessons and tests covering chemistry and physics curriculums, your kids will have plenty to do with their new subscription.
Why VR? Complex subjects and material are easier to understand when explained through interactive VR experiences. The ability for kids to interact with educational material builds up solid knowledge and long-term memory.
The VR lessons aren't too long. I think this hit the sweet spot at around five to seven minutes for each lab session.
How Much Does Mel Science Cost
They keep the prices for subscriptions simple. You can subscribe month to month or one yearly payment. You can cancel at any time, and you can change your subscription box at any time.
For example, if you've had fun with two months of Mel Chemistry, you can change the next month to Mel Physics, or vice versa.
Mel STEM:
$34.90 a month, or yearly one time payment of $310.80. Coming out to $25.90 with a savings of $108.
Includes AR lessons that is normaly $50 by itself.
Free shipping in the US.
Mel Physics:
$34.90 a month, or yearly one time payment of $310.80. Coming out to $25.90 with a savings of
Includes full access to VR lessons that is normaly $100 by itself.
Free shipping in the US.
Mel Chemistry:
$34.90 a month, or yearly one time payment of $310.80. Coming out to $25.90 with a savings of $108.
Free VR headset.
Includes full access to VR lessons that is normaly $100 by itself.
Chemistry starter kit that is a $50 value.
Includes AR lessons that is normaly $50 by itself.
Free shipping in the US.
Mel Med:
$69.90 a month with 5 hands-on science projects every month.
Virtual Patient (Free every month). Watch pre-recorded patient interviews, and use your practical knowledge and guidance from the app to diagnose them! You'll meet a new patient every month.
Mel Med Science kit.
You can see from the pricing above they keep it simple, with each box being the same price except with Mel Med, even though Mel Chemistry includes a few more items than the STEM and Physics box. They do this because they feel the free chemistry starter kit, VR, and AR is some of the best ways of interactive learning for kids.
You can find the most up to date pricing on their site here.
How Does Mel Science Compare to Other Stem Subscriptions
I mentioned above that we'd had a few STEM subscription boxes. My kids and I really enjoyed all of them, but there are a few standouts that I'd like to compare to Mel Science.
KiwiCo vs Mel Science
This is a STEM subscription box many people have heard of. You can find my full review KiwiCo here, plus a coupon code.
KiwiCo is an excellent comparison because I think the fit and finish are the same quality as Mel Science. In my review of KiwiCo and the monthly subscription we still receive, I believe they have some of the most well-thought-out projects for boys and girls that like science.
You really can't go wrong with either one.
Mel Science leans a lot more on the "hard science" side. You can see this with their chemistry kits, as KiwiCo doesn't have this. They both have clear step-by-step instructions and well-thought-out STEM activities for all ages.
Go with Mel Science if your kids are always asking questions, wondering how things work. If they are interested in chemistry, physics or would like Mel Med. They should be more than happy with Mel Science.
As far as price, they are both around the same per month. You can take a look at everything KiwiCo has to offer on their website here.
Groovy Lab in a Box vs. Mel Science
I recently reviewed Groovy Lab in a Box that you can find here. This review highlights how well Groovy Lab makes science accessible to kids. You can see some of the STEM activities in that review, and while my kids and I love Groovy Lab, they don't feel as substantial as Mel Science.
Meaning some of the items from Groovy Lab can be purchased at the store, or you already have the things at home. Not so much with Mel Science; you can't pick up a hydraulic lift kit or a vacuum chamber at the supermarket. All of this stuff will come in the kit every month.
The projects have clear instructions from Groovy Lab, and you get a few experiments with every month. After a full hands-on review of both, I'd recommended Mel Science over Groovy Lab in a Box.
Groovy Lab is a few dollars less a month per box, but not by much.
KiwiCo and Groovy Lab are the closest comparisons. We have a great list in our article here if you'd like to look at a few other STEM subscription boxes.
Pros and Cons of Educational Subscriptions
This section isn't about Mel Science but STEM subscriptions in general. These are the many points for and against STEM subscription boxes.
Pros
Well thought out lession plans: Each month your kids will have a chance to conduct experiments that took months to plan from professionals. This is something difficult to replicate.
High quality materials: The educators that put these STEM boxes together will do so with the best material available, knowing exactly how the experiments will go.
Nothing waisted: Only use what you need. There is no need to go out and buy a 50 pack of straws when you only need one or two. Everything you need will be included for the most part.
Cons
Price: This would be the most significant negative when looking at educational subscription boxes. You know your budget and what you can afford. You don't always have to commit to a year as these are sold month by month to try out.
Too many choices: With all the choices when it comes to subscriptions, it can feel overwhelming. But that's what this review is for. Rest assured, you can't go wrong with any of the subscriptions I've personally reviewed, like Mel Science, KiwiCo, or Groovy Lab in a Box.
Parental supervision is usually required: Sometimes, you want to give the box to your kids and let them explore on their own. Depending on the age of your kids, the experiment might take some guidance and supervision.
There are a few other small things on the pros and cons list, but these are the major ones you should consider. Overall I've been happy with what these subscriptions provide, and I'll continue to subscribe for a long time as long as my kids are getting education and enjoyment from them.
Final Thoughts on Mel Science Review
So, here you have it. This has been our thoughts on Mel Science and all they offer.
To recap, I think they have one of the best, if not the best overall STEM subscription for kids. If you skipped over it, check out of thoughts comparing Mel Science vs. KiwiCo, as I think they both have the best quality kits.
For a strict science education subscription kit, it's Mel Science all the way. Out of all of my family's kits over the years, Mel Science is the best!
Please look at their website here to see everything Mel Science offers.
FAQ
What Age Is Mel Science For?
With such a wide range of kits for everyone, the recommended youngest age is five years old. If you have a young child who likes exploring, then look at the STEM Science kit here.
What if I Need To Pause My Subscription?
You can pause your subscription at any time. You also have the option to change your subscription, meaning, If you find your kid is getting more interested in chemistry, you can move to Mel Chemistry with no additional cost.
When Will My First Kit Arrive?
Within two weeks of ordering. This goes for purchasing a single box to try out or a new subscription.
How Much Does Mel Science Cost?
Boxes start at $25.90 a month. Take a look at my section above, "How Much Does Mel Science Cost," for a breakdown of everything. As a reminder, shipping in the US is free.