Groovy Lab in a Box (Hands-on Review) + Coupon Code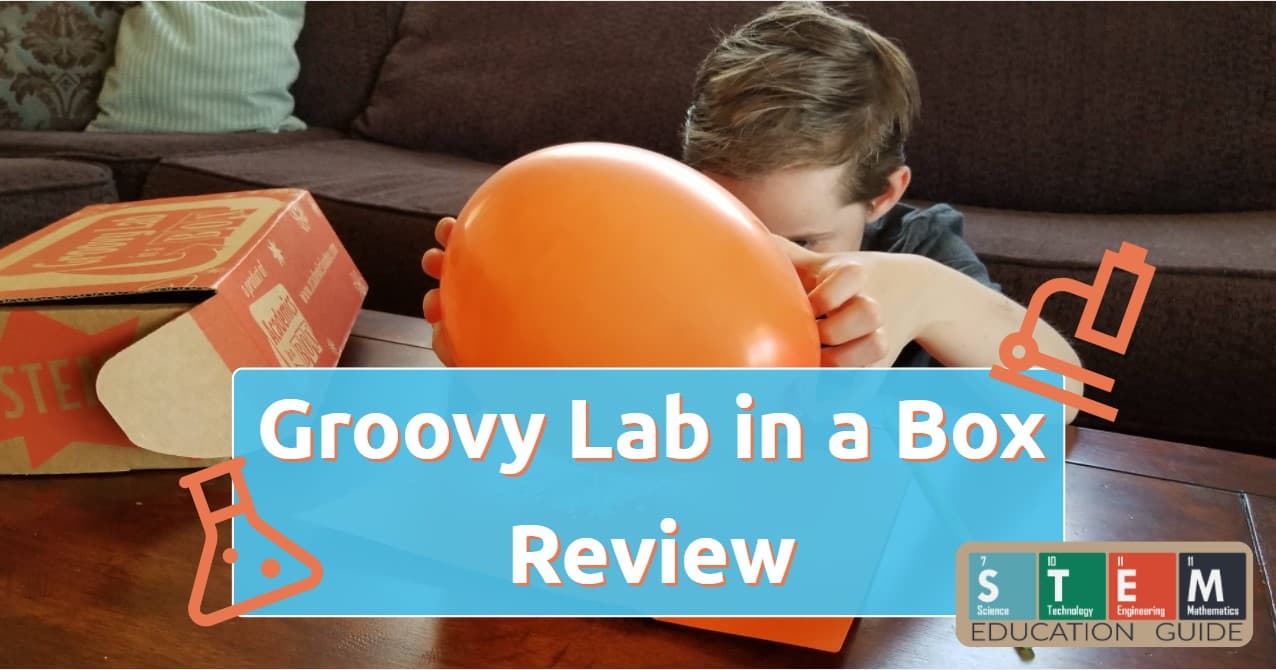 My kids and I have tested and reviewed tons of STEM subscriptions and STEM toys. How does Groovy Lab in a Box compare to other educational subscription boxes?
The popularity of educational subscription boxes, or crates, has really taken off in the past few years. It's easy to see why due to the ease of receiving monthly STEM activities for your kids, with lesson plans laid out and all the needed material.
I've reviewed quite a few of these STEM subscriptions in our article, Awesome & Educational STEM Subscription Boxes for Kids. Every subscription crate featured in that article deserves its spot, and I wanted to take a deep dive into Groovy Lab in a Box to see if it was good enough to get on our recommended list.
So, let's take a closer look at Groovy Lab in a box in this full hands-on review!
I encourage you to read my review, but if you want to check out all that Groovy Lab in a Box has to offer, you can check out their site by clicking here!
Make sure to use Coupon Code GROOVY12 for a month free.
What is Groovy Lab in a Box
They provide fun and educational activities for kids in a subscription service every month. They believe (much like we do and the point of this blog) that STEM education is the foundation of our kids' future. All the material you'll need is included inside the box, along with lessons for one kid or a larger group.
What is STEM?
STEM is an acronym for science, technology, engineering, and mathematics. Stem education is essential as it permeates every aspect of your life. For starters, the world revolves around science. Secondly, the advent of technology is constantly expanding into your day-to-day.
Thirdly, engineering is not only the fundamental design of bridges and roads but also tackles the setbacks of changing global weather coupled with environmentally-friendly changes to your home. Lastly, math is applied in all occupations and daily activities.
Groovy Lab in a Box knows this, and they want to get the word out by making their subscription boxes as fun and engaging as possible.
What's inside the Groovy Lab Box
Each month will be different than the last. Your box will come with an engineering design challenge every month using the engineering design process (free download from us). Each box also has its own theme. I've seen music, weather, and bridges, among other themes.
The box my kids received was about electricity. This is definitely a favorite in our house, and it provided a lot of flexibility after showing how to make a basic circuit loop with the material provided.
The box is well thought out, and everything (including the box) gets used. There's no waste here if you decide to do every lesson in the booklet. The booklet, which is used as a lab notebook, is a very detailed, high-quality instruction/project book that, I could tell, a lot of thought went into.
The lab notebook, is where your kids can read about that month's topic, perform investigation activities, and document their findings.
They will investigate, brainstorm, plan, build, test, and redesign their own creations with their STEM subscription box.
Every piece that is in the box will get used, and a lot of the items will be used for multiple projects.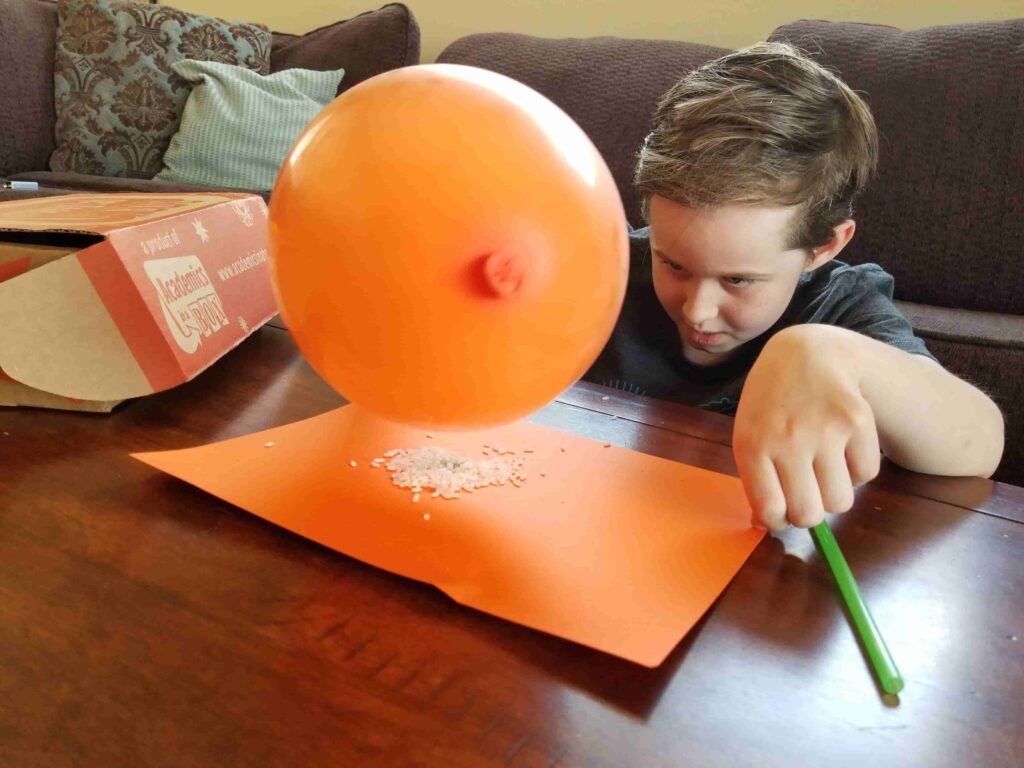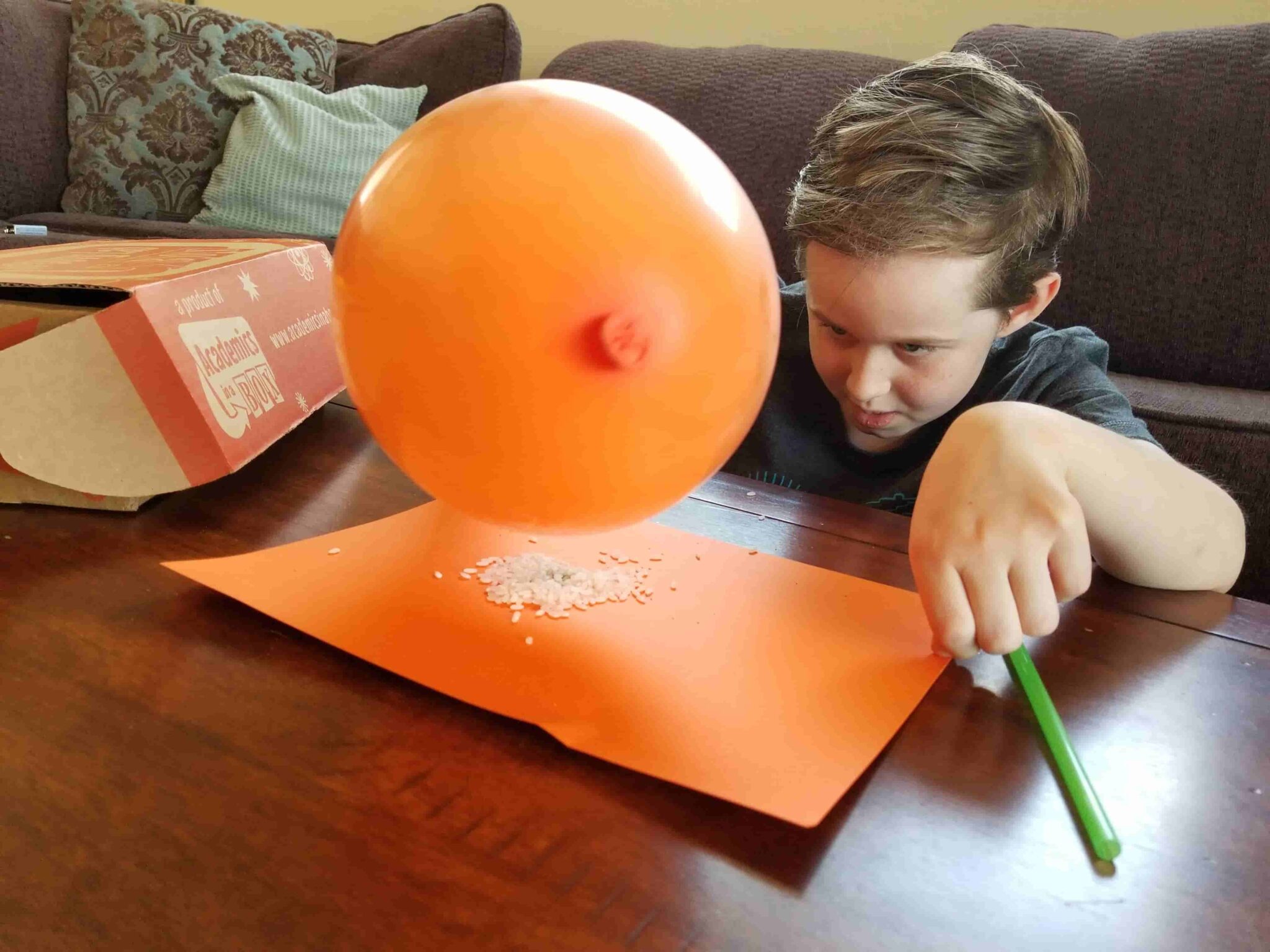 Some of the stuff included are small items you might have lying around the house already. This kind of felt cheap at first until I gave it more thought. Even though there are many items included that don't cost much money, if you were to follow a STEM activities list from a site like ours, you'd have to buy all these in a bundle, like straw, for example.
I have a lot of supplies because I'm always working on STEM activities for this site, but most parents aren't going to have a closet full of educational supplies and STEM toys.
This is a major value point of having a subscription service in the first place!
You won't have to run to the store for supplies after reading a STEM activities lesson plan. You'll spend more time learning and teaching with your kids than worrying if you got everything for the project. I think having less stress and not being stuck with small stuff like a fifty-pack of 5mm LED lights is worth it for the small fee of the subscription box.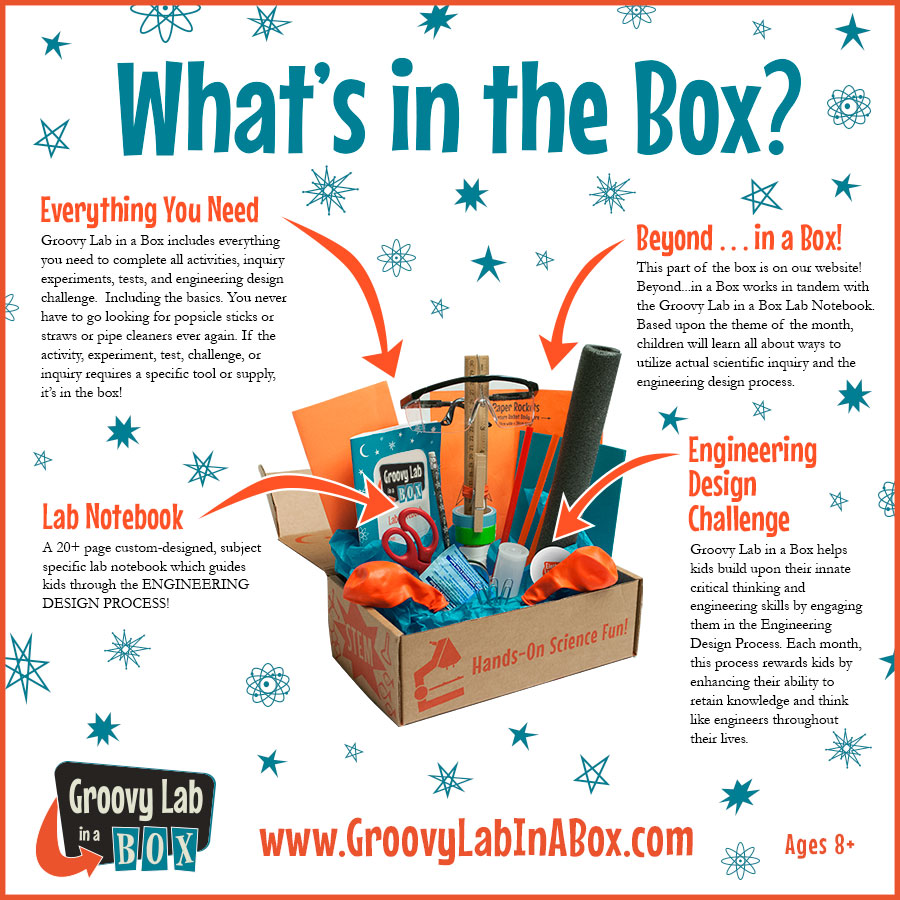 What Else Comes With the Subscription
Along with the physical box and everything inside, you'll get access to "Beyond…in a Box." This is a way to access more lessons and activities on their website.
The area "Beyond…in a Box" is only for subscribers. In this area, they have a great section for grownups and teachers on incorporating STEM lessons in a classroom. Each lesson they provide can be enjoyed individually, but they also work great in a group.
In a group or classroom setting, you'll assign "STEM Team Job Titles." A Speaker, Materials Manager, Timekeeper, and a Recorder. These are roles to keep every student on task, and the roles can be rotated so everyone gets a turn.
Having a STEM team encourages collaboration and strengthens abilities to work together.
With access to this section, you'll also view kid-friendly videos that go along with that month's theme. Most of these are original and produced by Groovy Lab. Some of the videos were from other sources, like YouTube.
The "Extension Activities" are much like the STEM activities I do with my kids. These are extra, and you'll have to get some of the items yourself, but most of the items needed I already had at home. If your kids are still eager to learn more about that month's science lessons, this will be a very valuable section.
The last thing was book recommendations and inventors, or historical figures, for your theme. In the electric lesson, they had a thorough history lesson about Nikola Tesla and Thomas Edison.
There Doesn't Seem To Be Much in the Box
This was my first thought when my son was opening it up. We'll get into the subscription price down below, but part of this review is to see if the subscription is worth the price.
Once I started reading the project booklet, I understood how high-quality and well-thought-out lesson planning Groovy Lab had done.
It's hard to convey, but after reviewing about a dozen educational STEM subscription services, Groovy Lab Box has the most well thought-out lesson plans!
This means a lot, as I'm a huge fan of KiwiCo. As far as overall polish, I'd still go with Kiwico for their presentation and overall subscription feel. If you're looking for a more "hardcore science lesson" your kids will love, Groovy Lab Box has you covered.
Check out my review of KiwiCo in our article, KiwiCo Review: What was inside our first 3 boxes.
With the strategic lesson plans along with their beyond-the-box extras, I think what we received was very well, worth the price.
What Age Is Groovy Lab in a Box For
They offer subscription boxes for two different age groups.
This is created for ages 4 to 7 years old. When I looked into Groovy Box the first time, they didn't have this option. I passed on getting a subscription because my oldest was still too young for the recommended age, (a few years ago). I like that they added it so the younger kids don't get left out. Starting STEM activities and learning toys at a young age will only benefit them while they grow.
As you can imagine, Groovy Lab takes the same care and attention with this younger box as they do with their main feature box for older kids.
Everything in the Young Creator Series suits kids from 4 to 7, keeping their attention and focus on learning science and engineering in ways they will understand. You might have noticed that when presenting educational material that is created with older kids or teenagers in mind, younger kids won't engage, and the material will go over their heads.
This subscription box for young creators includes everything children need to learn about and do hands-on STEM experiments. Including the basics. If the activity, experiment, test, challenge, or inquiry requires a specific tool or supply, it's in the box!
If your child is on the older side for the Young Creators Series, you can decide what's best for them with where they are at in their learning journey and how hands-on you want to be while working on the experiments. My son is eight years old, and has a lot of experience with activities like these, so we went with the STEMist box.
Click here to see the Young Creators Series.
This is created for ages 8 years and older. The STEMist Series is Groovy Lab in a Box premier subscription. They don't say that, but I will. While I love the Young Creator Series and think it's fantastic, STEMist is where they really shine!
I mentioned above that this box, over other educational subscription crates, was really made with science and engineering first. Groovy Lab is more of a science enthusiast STEM box. Just glancing at the booklet for the STEMist Series, I noticed right away its innovative experiments would be great at sparking imagination and thought processes.
The science experiments lead to more questions like how and why. Groovy Lab has thought of this over years of refining its service with feedback from its subscribers, making a very polished product.
The STEMist Series has been polished and refined over the years, to make one of the best education subscription boxes.
Not all results will be the same. I liked that each lesson is not completely structured, and there's wiggle room to let your kid's imagination run wild. My son changed the way the circuit was working and wanted to add more lights. Since he learned how to make a circuit, he changed the experiment to his liking.
This was fantastic! This is exactly the reason for an educational kit like this, teaching your child and letting them come up with their own ideas! 
Click here to see the STEMist Series on their website!
How Much Does Groovy Lab in a Box Cost
Subscription prices: All prices in US dollar.
Three month subscrption – $28.95
Six month subscrption – $27.95
Twelve month subscrption – $24.95
A single box is available at $39.95 with no subscription. Free shipping is offered in the US, and international shipping is available. You can pay upfront for your subscription duration or pay bi-monthly.
Obviously, you'll get the best bang for your buck with the twelve-month subscription, but if you're not comfortable with that, don't shy away from trying it for three months, as I do think Groovy Lab is worth the price.
How Does This Compare With Other Boxes
I mentioned above that my kids and I have tested and reviewed about a dozen other subscription boxes. Most educational subscription services are all around the same price, varying slightly on the plan you choose.
I assume this is the price point where most parents feel comfortable, and with Groovy Lab expanding its line and improving its boxes, they offer competitive pricing with a great experience.
Final Thoughts
I've gone over how I think Groovy Lab is more for kids that want to get the most out of science and engineering in easy-to-understand, step-by-step lessons. I think compared with the other boxes reviewed by myself and my kids, Groovy Lab is at the top spot for what they set out to do, making education fun and engaging. 
FAQ
Does Groovy Lab in a Box Offer Any Coupons or Discounts?
Yes, use GROOVY12 coupon code for the 12-month subscription. Along with this discount, all shipping is free within the US.
How Can I Cancel a Groovy Lab in a Box Subscription?
It's important to remember that your subscription will auto-renew. If you and to cancel, you can email the company or log in and cancel from their website.
What Box Is the Best Value
The one-time payment for an entire year with the coupon code GROOVY12 is going to give you the highest discount at $200 for the 12 boxes.
Can You Skip a Month
Yes, you can choose to skip a box. Say you're going out of town, you can pause the subscription. Once the order you skipped has passed, you will automatically get the next order that is generated. You can only skip one month at a time, and you will still get the number of boxes included in your subscription.