Little Passports Review (hands-on + Coupon Code)
This Little Passports review will focus on Little Passports World and their USA subscription kits.
We're going to go over everything they have to offer and how they compare to other subscriptions like KiwiCo and some of my other favorite subscription kits for kids.
My kids and I have reviewed a lot of educational subscription boxes, services, and crates, so I think I have a good idea of what kids like and how they all compare with each other.
Let's get into it!
I encourage you to read my review, but if you'd like to check out all that Little Passports have to offer, you can go straight to their site right here. Make sure to use coupon code PASSPORT20 to save $20 off any annual subscription.
What is Little Passports Educational Subscription
Little Passports focuses on screen-free box subscriptions for kids 3 to 12.
Their award-winning subscriptions ignite curiosity, explore new ideas and places, and celebrate cultures with globally inspired experiences.
Kids are able to explore the world with never leaving home with hands-on activities. Each month you'll receive a kit of your choice with booklets, stickers, souvenirs, and lesson plans for your kids to dive into different cultures and history. They'll be able to explore the world, one country at a time.
You'll pick the subscription based on your kids' interest, age, and price (I break down the costs below).
What's in the Little Passports Box
We decided on the World Edition and USA Subscription. We've been stuck at home recently, so I thought it would be good for my kids to see other cultures and how people live outside our hometown.
The world edition starts with a suitcase your kids will customize with stickers of all the countries and places they will be exploring. You'll want to make sure you keep the briefcase. Every new month kit will feature a country with souvenirs and activities for your kids to collect.
Some of the souvenirs are activities your kids will do with a theme from the region. Our Japan kit included an origami booklet with paper and instructions. The Egyptian kit featured a fossil exploring kit where our kids dug up a small pyramid.
Each kit included a coin from the country or state as well. These aren't real coins as they would all be different sizes and won't fit in the coin collecting organizer Little Passports provides.
An extensive world map was also included for your kids to hang on the wall and pin (sticker pin included) each area they go to.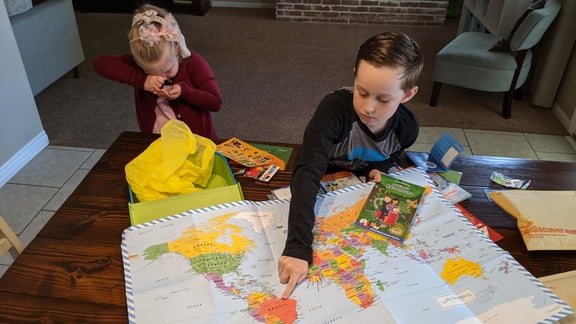 Overall I think there is a lot here for the price of the Little Passports subscription. Everything is well thought out with quality materials and lessons from the booklet. This is only scratching the surface as theirs a lot in each month's box.
Little Details
I mentioned above that my family had reviewed a lot of STEM educational subscriptions. I'm blown away at the level of detail that Little Passports put together. I've previously mentioned in all my reviews that KiwiCo (you can see my review of KiwiCo here) had the best fit and finish, but Little Passports is just a level ahead.
Nothing feels cheap or half done. Down to the stamps on the envelopes for the country of origin. To the well-thought-out letters and stories from the characters Sam and Sofia.
This is how educational subscription boxes should be, and Little Passports nailed it!
We will keep our KiwiCo subscription for its science activities, but Little Passports will be a happy addition.
If you'd like to see other educational subscription boxes I recommend, check out our article, Awesome (& Educational) STEM Subscription Boxes for Kids.
How To Get the Most Out of Your Little Passports Subscription
Most of the content from the kit can be given to your child without much assistance. My eight-year-old would have been fine going through everything on his own. He dived into the booklet right away.
My six-year-old needed some help going through everything that was included. If your kids are young than eight, I think you'll need to prompt them on how to use the subscription to its fullest. This is an excellent opportunity to answer questions they'll have about different countries and states.
Each box is themed around two characters named Sam and Sofia who travel around the world. Included is a letter to your kids from them about the country they're visiting.
This is an excellent story-based learning tool for kids to feel what the country is like. Sam and Sofia make pizza in Italy and take a tour of the pyramids in Egypt.
I leaned into this story with my six-year-old daughter. Her friends Sam and Sofia are fun characters and encouraged her to learn about visiting the countries.
You'll have to decide on the level of evolvement your kids will need. While this can be passive and let your kids do everything on their own, it can also be great for a family fun night, as I found everything exciting and enjoyable.
Extra Online Activities and Games
With your subscription is access to their online section. In here, your kids will be able to watch videos about the countries and areas they're visiting.
It also includes different games, activities, fun and interesting facts, photos, and more. This is included, so your kids will be able to take a closer look at how people live in different areas.
What Age Is Best For Little Passports
They have multiple kits for ages 3 to 12.
Early Explorers ages 3-5:
Introduce your preschooler to the world. The Early Explorers includes,
Hands-on activities and souvenirs
Pen-to-paper activity booklets
Stickers for your suitcase and wall map
Trading cards
A letter from Max, Mia, and Toby
You can find the Early Explorers kit here.
World Edition ages 6-10:
Explore the world, one country at a time. The World Edition includes,
The signature blue suitcase
Your very own passport and a wall-sized world map
A letter from pen pals Sam & Sofia about their adventures.
An original county-themed chapter book, stickers, and activity booklet
A souvenir
An exclusive collectible country coin and coin board
Plus access to country-themed online content
You can find the World Edition kit here.
USA Edition ages 7-12:
Discover the USA with activities, games, and more. The USA Edition includes,
USA field guide
USA scratch book
Wall-sized USA map
A welcome letter from new pen pals Sam & Sofia
A folder to store your monthly activity books
You can find the USA Edition kit here.
Little Passports also has science kits you can find here. I didn't include them here as I felt they deserve their own review (coming soon).
How Much Is Little Passports, Is It Worth the Cost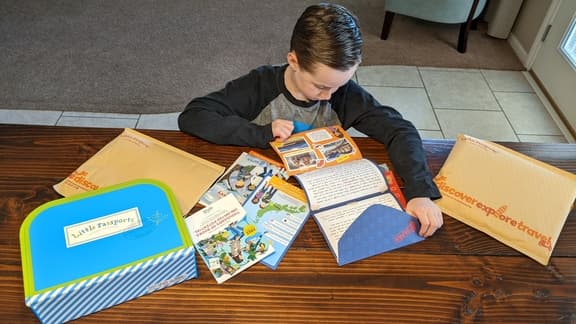 Prices are a little different for each edition you choose. I recommend you decide on the most appropriate age group for your kids. Looking at the age recommendations above for each edition, I think they are spot on.
If you are unsure and you have kids between six and ten, go with the World Edition. My kids were the most excited about these boxes. Also, shipping is free in the US. All prices are in US dollars.
Early Explorers ages:
Three month subscrption – $25.95
Six month subscrption – $22.95
Twelve month subscrption – $20.95
World Edition ages:
Three month subscrption – $27.95
Six month subscrption – $25.95
Twelve month subscrption – $23.95
USA Edition:
Three month subscrption – $20.95
Six month subscrption – $27.95
Twelve month subscrption – $26.95
As you can see, there's not a massive price difference. I'd still recommend the World Edition, and the one-year subscription is a few dollars less than the USA Edition.
How Does Little Passports Compare to Other Educational Subscription Boxes
I mentioned above that I felt Little Passports had the best overall feel of any subscription we've had. High-quality materials and well-thought-out little details make it a great choice.
While this is an educational subscription, most of the boxes we've reviewed are focused on STEM education. If you're looking for hard-core science lessons, this isn't it. For something like that you should check out our review on Groovy Lab in a Box.
Little Passports does provide education and cultural lesson, and that's where they shine. If your kids are bogged down in STEM sessions from their school work, this will be a nice way of breaking up lessons in a fun way.
If you're on the fence about it because you don't know if your kids will find enjoyment from it, I can only say my kids went crazy about what they received.
Little Passports vs. KiwiCo Atlas Subscription
KiwiCo Atlas is the best comparison to Little Passports. My family subscribes to KiwiCo for their science crates, and I think they are one of the best. KiwiCo Atlas is high quality as well, but they are more focused on crafts and activities without as much focus on culture.
I'd still choose Little Passports if you're looking for cultural significance and the overall feel of visiting a different country.
This review is just about Little Passports, but if you'd like more information about KiwiCo Atlas, you can find that here.
Final Thoughts
For everything included and the Little Passports' overall presentation, I'd definitely recommend this subscription to any family. I've reviewed dozens of educational subscription services, and honestly, they can charge a lot more for the kits and justifiably so for the attention to detail.
In this Little Passports review, I only went over the main points. There's a lot more that I wasn't able to include, but you can find all the details on the Little Passports site here.
FAQ
What Else Is Included With the Little Passports Subscription?
When you've subscribed, you'll access special online activities, photos, fun facts, music, videos, and more. You can find more on specific subscriptions you choose here.
How Does Little Passports Develop Their Content and Materials?
This is interesting. They use a diverse mix of talents in their products, drawing from their experiences designing museum interactives, studying childhood literature, teaching Montessori, living in different countries, and growing up in mixed culture households. They also contact experts in the areas to get the feel of the culture right.
Can Siblings Share a Subscription?
Yes, and that's what we do. I think there is enough material included for a few kids in your family to share and work together. Make sure you include all your kids' names when you order. The characters from the kit you choose will write a letter to them. If you don't want to include each kid's name, you can make the name to your family, such as "The Smith Family."
How Much Does Little Passports Shipping Cost?
| | | | |
| --- | --- | --- | --- |
| Subscription Plan | USA | Canada | AU, HK, IL, JP, NZ, SG, KR |
| Monthly Plan | Free Shipping | $4.95/mo | $6.95/mo |
| 6-Month Plan | Free Shipping | $29.70 | $41.70 |
| 12-Month Plan | Free Shipping | $59.40 | $83.40 |
To find out more information and ask specific questions about Little Passports, go to their website here. Make sure to use coupon code PASSPORT20 to save $20 off any annual subscription.