7 Educational Science Games for Girls
If you're looking for something that can help develop your girl's interest in STEM, you can't miss these science games.
Indulging in a fun educational game with them will not only enhance their skills like planning, problem-solving, and critical thinking but will also open up opportunities in science, technology, engineering, and math right from a young age.
With the right learning game, young girls can grow up to dominate the stem fields, thanks to learning critical skills in their early education.
So, are you ready to explore these amazing science games for girls? Let's begin.
1. Scientific Explorer Mind Blowing Science Kit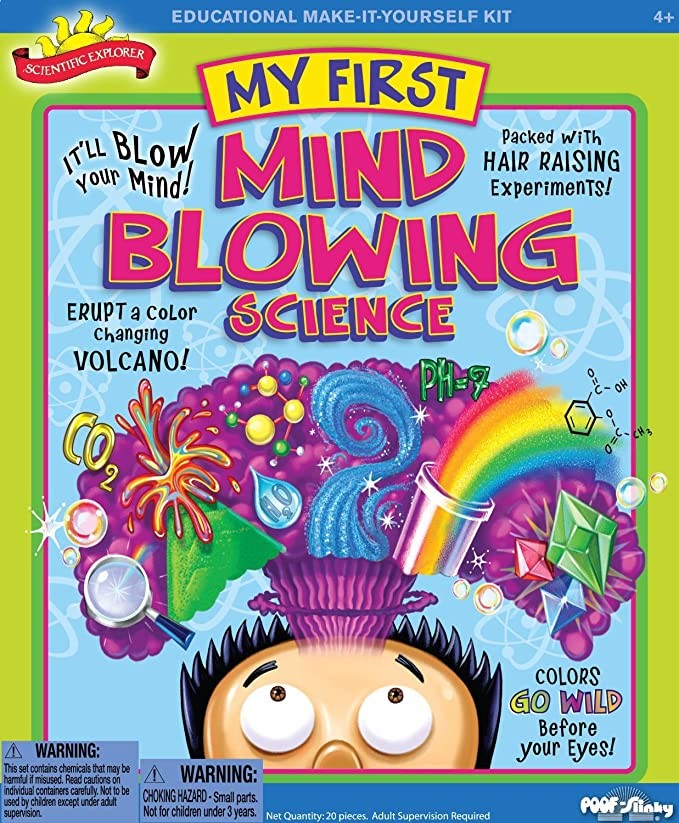 Getting this kit can be one of the best ways to increase your girl's interest in STEM as it comes with 11 impressive activities.
This 20-piece kit focuses on the basic concepts of science. It encourages them to indulge in exciting experiments like growing beautiful crystals, a color-changing volcano, a sunset in a test tube, and much more.
While it is best to carry out these experiments under adult supervision, girls of age 6 and up should be able to complete at least some of them with minimal supervision and help.
This kit provides not only detailed instructions for every experiment but also detailed activity guides for adults. So, even if you are not into science, you'll be able to explain the results of each experiment accurately.
Key Features:
It comes with almost everything your girl will need to carry out the experiments. You may only need to arrange basic supplies like water, grape juice, measuring spoons, and pens.
This kit is suitable for girls aged 6 years and up. It's best to carry out these experiments under adult supervision.
It lets you create your science lab in the comfort of your home.
Your kid will be able to explore and experiment with science in a fun way.
Interested in getting this kit for your girl? Check it here: Poof Slinky Scientific Explorer Science Kit.
2. ThinkFun Gravity Maze Marble Run Brain Game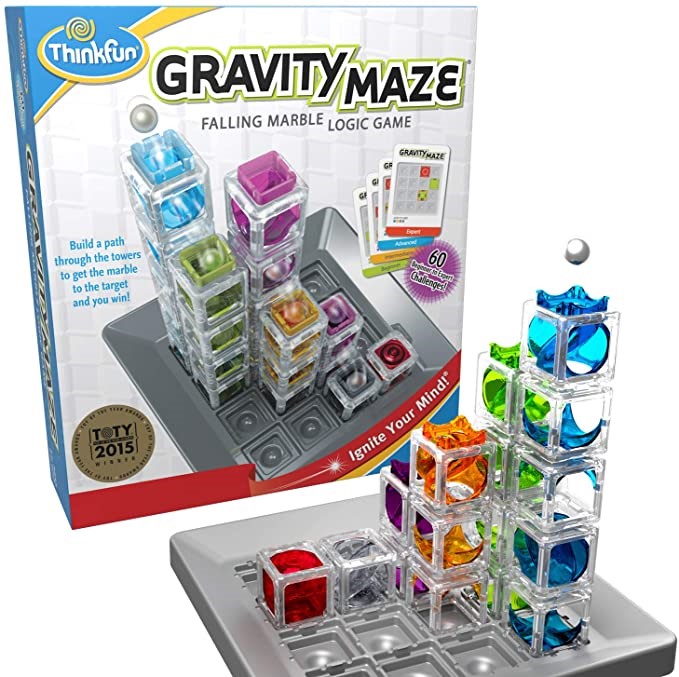 This fun game comes with 60 challenges ranging from beginner to advanced levels and aims at enhancing critical thinking skills.
The challenge is to carry the marble to the Target Tower while creating a path. So, as soon as you select a challenge, the card will show the way to set up the tower on the game grid. You'll also need to position the towers in a way that allows the marble into the Target Tower.
If you want something fun, challenging, and that can enhance STEM skills in your girl, then this is a great choice. Completing the challenges at every stage will develop their visual perception, logical reasoning, and critical thinking.
Key Features:
This game is suitable for girls aged 8 years and up.
It comes with a game grid, 1 target piece, 3 marbles, and 9 towers.
It is an award-winning game with overwhelmingly positive responses.
It promotes skills like logical reasoning and critical thinking.
For more information, click here: ThinkFun Gravity Maze Game.
Are you looking for a STEM toy as a gift? Please take a look at our article on how to choose a STEM toy for every age kid. It's broken down by age and category to find what you're looking for quickly.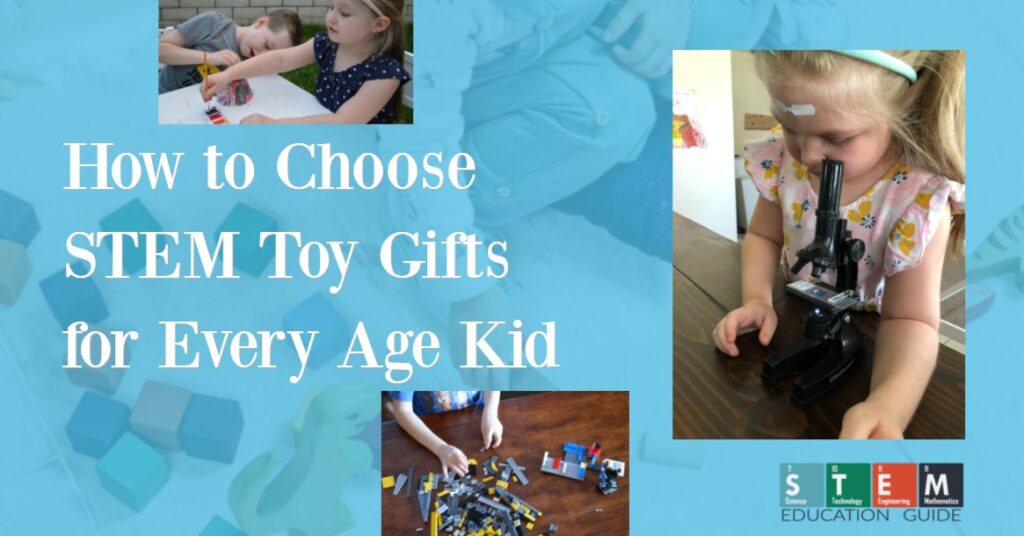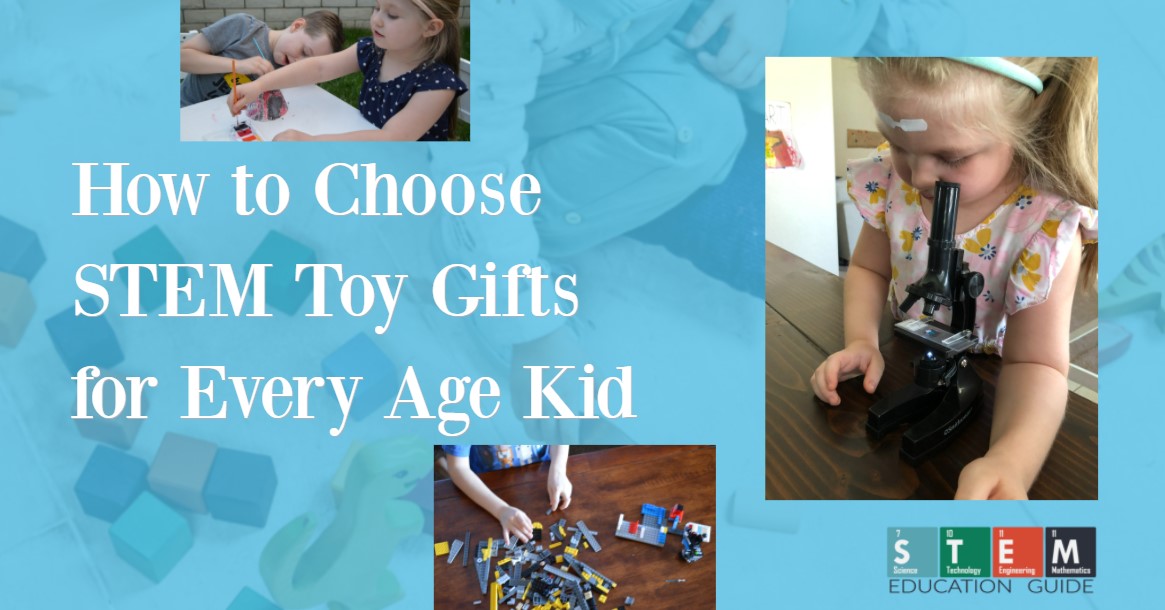 3. Klutz LEGO Chain Reactions Craft Kit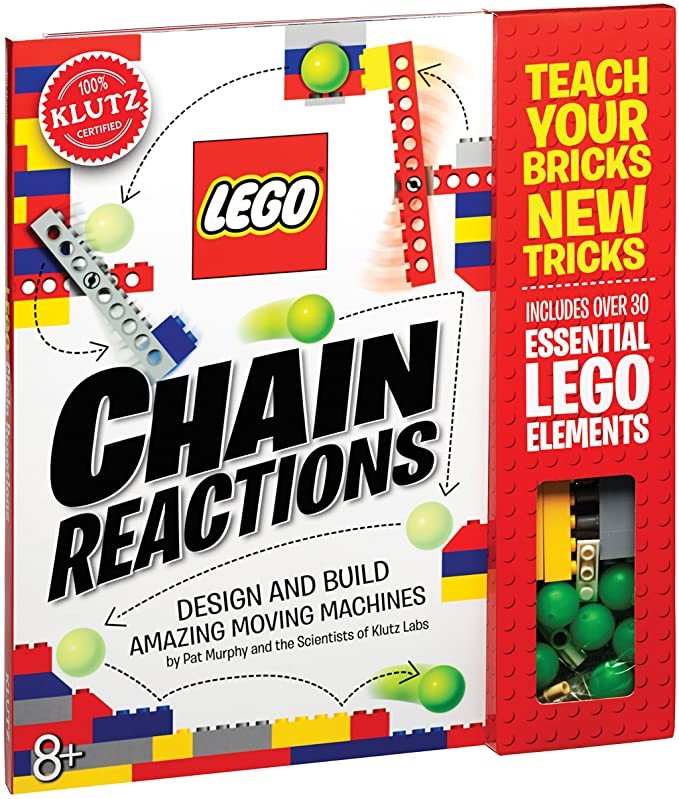 If your daughter is a fan of LEGO, this kit can be a great choice! It allows you to build 10 great machines with moving parts. You may ask her to create various simple yet innovative machines or simply leave her to experiment and see what she invents.
This wonderful kit comes with a detailed instruction manual to get your child started with incredible inventions. It lets her explore various scientific concepts like energy, how it works and how it is transformed from one form to another.
The manual also assists with ways to fix problems while providing explanations of how a machine works. The best part is, it allows them to engineer their designs and provides enough opportunities to explore their creative minds.
Key Features:
It comes with a detailed instruction manual to assist your daughter with experiments.
This kit includes 33 LEGO pieces.
This science game for girls is a NAPPA Silver Award winner.
It is suitable for girls aged 8 and up.
For more information, click here: LEGO Chain Reactions Activity Kit.
4. Botley the Coding Robot by Learning Resources

If you're keen to introduce coding to your daughter, go with this activity set. It teaches girls to code using screen-free play which means, you don't need a phone or tablet to play this game.
It promotes skills like problem-solving and critical thinking. Using a remote programmer, she'll be able to transmit her commands with Botley efficiently.
You get 40 coding cards, 27 obstacle-building pieces, 6 double-sided tiles, and a starter guide to help your daughter with the instructions. While this science game provides a fun and engaging way for young girls to learn to code, it will also provide challenges along the way.
Key Features:
Doesn't require a phone or tablet to play, providing screen-free coding.
You can start coding as soon as you get the kit.
It comes with hidden features that your girl can unlock as she proceeds with the game.
It is recommended for girls of age 5 and up.
Get the details about this game here: Learning Resources Botley the Coding Robot Activity Set.
5. Rush Hour Traffic Jam Logic Game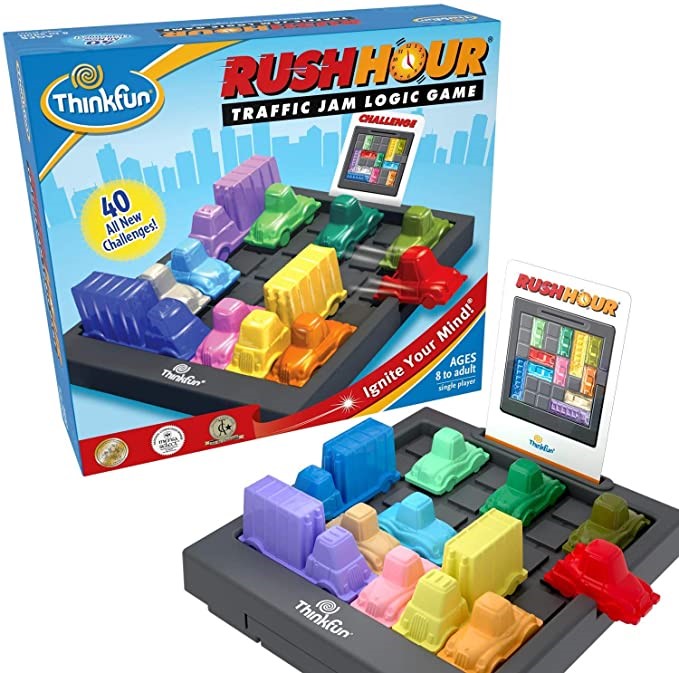 This is another interesting STEM game you can consider getting for your daughter. This is a logic game that is based on sliding blocks. Here, the cars and trucks will block the path, and your challenge is to bring the red car to the exit.
You need to follow the diagram presented on the challenge card. If you need help, you can find solutions printed on its back.
This game helps the girls with improving their reasoning and planning skills. It includes 40 challenge cards – so they can explore varying degrees of challenges while playing this exciting logic game.
Key Features:
This is an award-winning game.
It is recommended for girls of age 8 and up.
It comes with a storage bag, making it travel-friendly.
It is suitable for single as well as multiple players.
Buy this game here: ThinkFun Rush Hour.
In our article, Best Chemistry Set for Kids. We show the top STEM projects kids will love to learn about.
6. Science Ninjas: Valence Card Game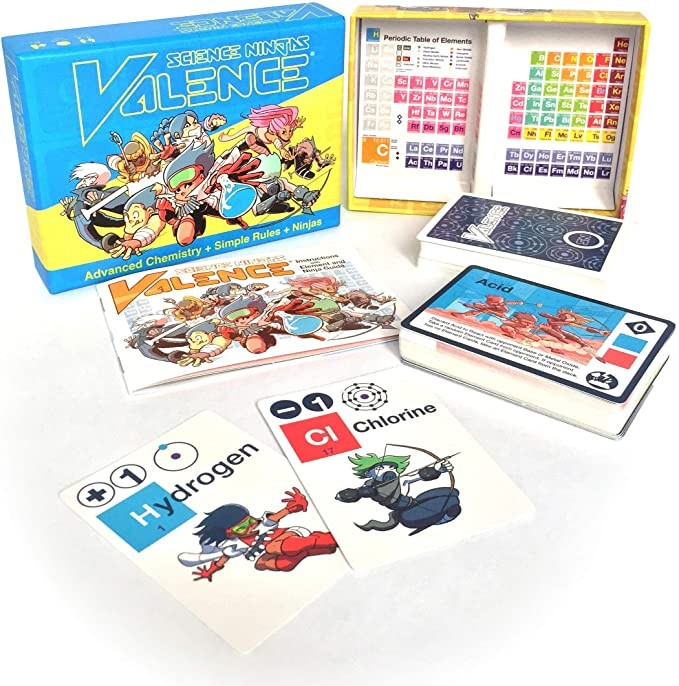 Some kids show interest in chemistry right from the beginning. If this is your daughter, getting this card game will allow her to learn chemistry concepts like acids and bases, molecule formation, and chemical reactions – all in a fun and entertaining way.
Here, you need to combine the elements to create molecules. While doing so, you earn points. However, the challenge lies in ensuring that the combinations are correct, or else it can lead to unexpected results.
The interactions that occur using this card game exist, so your girl will be ready to utilize this game knowledge in real-world science.
This game includes a linen-finish sturdy box that has 86 illustrated cards. With this arrangement, it can stand up to the normal abrasion that you can expect out of an 8-year kid.
Key Features:
It lets your kid learn basic and advanced chemistry concepts.
The reactions happening in this game exist, so your girl will get real-world science knowledge.
It is suitable for girls of age between 8 and 12 years.
It's built to last long.
Planning to get this wonderful science game for your girl? Click here: Science Ninjas: Valence Card Game.
7. Elenco Snap Circuits Jr.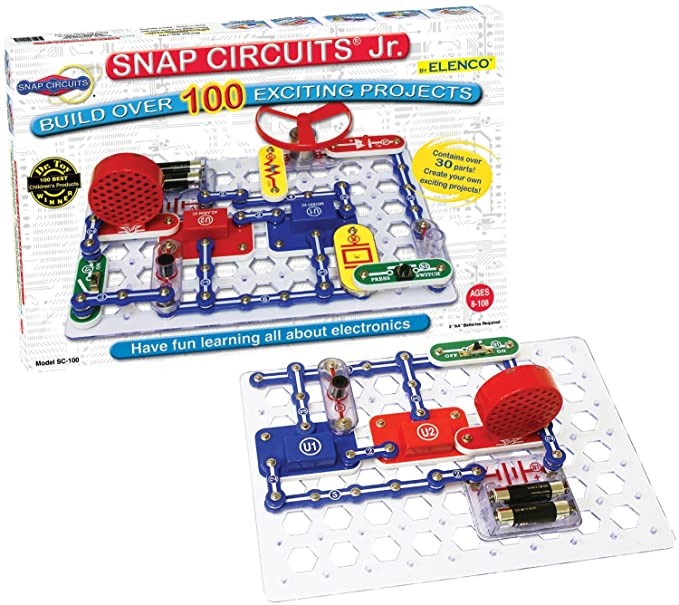 Want to give a hands-on experience on designing and building circuits to your girl? How about indulging her with this electronic circuit project?
It comes with 30+ electronic parts through which your kid can explore and experiment with over 100 electronic circuit projects. She can further let her creative juices flow by constructing a flashing light model, a photosensor, and much more.
The best part of this kit is you don't need any tools, as all the parts that come within click together and support great educational learning for your girl.
Additionally, the clear, easy-to-understand illustrated instruction manual will guide her in the best way possible to explore and create wonderful models.
Key Features:
It is suitable for girls aged 8 and up.
You don't need any additional tools for this activity.
It requires 2 AA batteries to operate.
Your kid can build more than 100 projects from this kit.
Need more information about this game? Click here: Elenco Snap Circuits Jr.
Wrapping Up
Are these science games for girls worth a try? Choose one or more from the above list depending on what your daughter is interested in to engage in some game-based learning.
She won't only learn amazing science concepts along the way but is sure to have a fun-filled time while carrying out these beautiful experiments.
If you're interested in more STEM toys for girls, please take a look at our article, The Best STEM Toys for Girls (for Learning & Fun!), for more suggestions.