The Best STEM Toys for Girls (for Learning & Fun!)
You've seen the Goldie Blox commercial of three engineering girls building a contraption throughout their house, right?
If not, definitely watch it (link down at the bottom of this page).  
Goldie Blox isn't the only STEM toy focused on encouraging girls to explore science, technology, engineering, and math.
There is a significant uptick in engineering-focused toys to appeal to girls. While your young ladies are still going to love the classics like Legos and K'Nex, if you want to mix it up with a STEM toy with a feminine twist to improve critical thinking, here's our top list of best STEM toys for girls.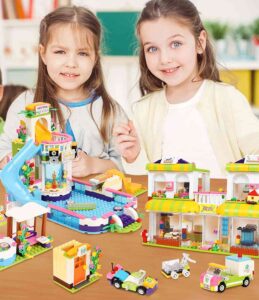 Inspire the next great architect with this pool set! Build and design your own outside areas with these kits. They are more than your average building toy. The kit comes with 1375 pieces that will encourage your daughters to create their very own unique design and shape.
Let your children's imagination run wild as they design, create, and role-play different scenarios and experiences as they play. You can look at all the features and everything that can be done with the pool set here. 
Age Range: 6+ Years Old
Lego came out with a series of sets focused on girls. Lego Friends are filled with bright colors and exciting projects. I love this particular set where you build your own sports arena! But kits also include creating your own store, treehouse, and more.
Note: the manufacturer discontinued this set, but I see they still have a few left. You can check if they still have more collections here. 
Age Range: 6-12 years old
Two female PHDs designed this award-winning science kit to inspire girls like themselves!
It includes a full 28-page lab notebook to learn the principles behind the experiments, like chemical reactions or effects of temperature. This kit also includes instructions for 19+ science experiments with easy instructions inside the included lab notebook.
See if the Yellow Scope Chemistry set is still available here.
Age Range: 8-12 Years Old
If your kids are interested in chemistry, make sure to look at our article with the best chemistry kits we've found.
A science lab at home that everyone will love! Make your own lip balms in this easy-to-use kit. The lab notebook walks through each step, plus it includes easy-to-understand directions.
This is a one & done kit. It says the supplies are reusable, and you can re-use the containers, but you'll need to purchase the basic ingredients again.
Check the current price here.
Age Range: 8+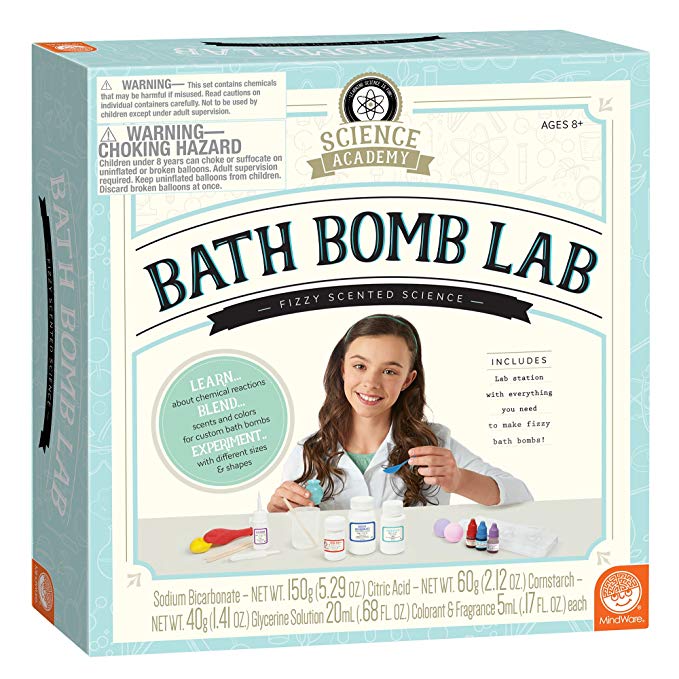 If lip balm doesn't interest you, check out this kit to make your own bath bombs. There are various recipes here so you can experiment with your favorites fragrances and colors – even create a fizzy bath bomb. You can check if this kit is still available here.
Age Range: 8+ Years Old
Check out our article on Spa Day Science. This article goes over how to make bath bombs, lip bombs, and much more!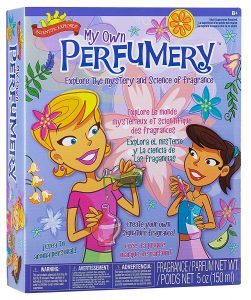 It's easy to neglect just how much science & design surrounds us. When inspiring girls to work in STEM fields, remember that STEM careers are vast! It isn't limited to computer programmers or researchers in a lab.
Even creating perfume and other beauty products fall into the STEM category! Scientists and product designers understand how specific molecules react to create a particular fragrance or effect.
This perfumery kit is an excellent way for girls to explore the vast world of "STEM" opportunities.
You can see if this perfume chemistry set is still available here.
Age Range: 8+ Years Old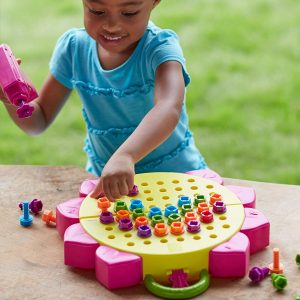 This is our favorite girl STEM toy for toddlers! Get drilling and building with this drill studio. It's an excellent toy for practicing hand-eye coordination, logic, and patterns. The pieces are small, so this toy really helps improve fine motor skills. That's another reason why this is recommended for young girls around the age 3 and up. 
Young girls will get a lot of playtime out of this. Not only does this help with basic tool usage, but they can also sort by colors and shapes. 
See the current price of this STEM toy for girls here. 
Age Range: 3+
The K'Nex building series will be loved by boys and girls alike, but K'Nex launched it specifically for kids that love building exciting things! I love K'Nex; they have always been the "smarter" toy to me than Legos ( I don't mean to knock Legos, I love those too).
Check the availability of this K'Nex building set here. 
Ages: 7+
GoldieBlox is our final (and one of our favorite) STEM toys for girls. The female-founded company has won several awards for their toy designs. My favorite part is that each GoldieBlox set is story-focused. Build your creating, read the story, and let your imagination run wild.
See all the GoldieBlox kits here.
Age: 4+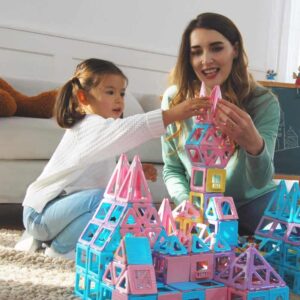 I love the soft colors on these magnetic building blocks. If you've ever used this with your kids, you already know that they are the perfect STEM educational toys.
These magnet sets remind me of playing with Lego when I was little. It's fun creating structures, but you can build things and clean up much faster with magnets. They connect by just getting the pieces close to one another.
This makes them especially great for younger kids as they don't have to fumble around with putting small parts together.
All the sets have different peices, you can find the best STEM magnets building sets here.
Age: 4+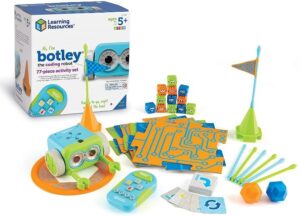 We love robots around here! Learning robots have such a variety; kids can learn to code, mathematics, computer science, and of course, robotics. We should always encourage our children to find new interests, and robotics is an outstanding choice.
I've done a few robots reviews; you can find my hands-on review with Marty the STEM Robot here. I highly recommend Botley coding robots. They have a lot of experience making learning fun and easy what a lot of activies screen free. 
See if Botley, the coding robot is still available here.
If you'd like to read more about this robot and what it can do, take a look at our article, 7 Fun Activities with Botley the Coding Robot.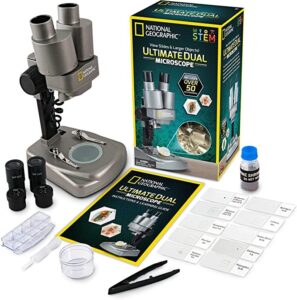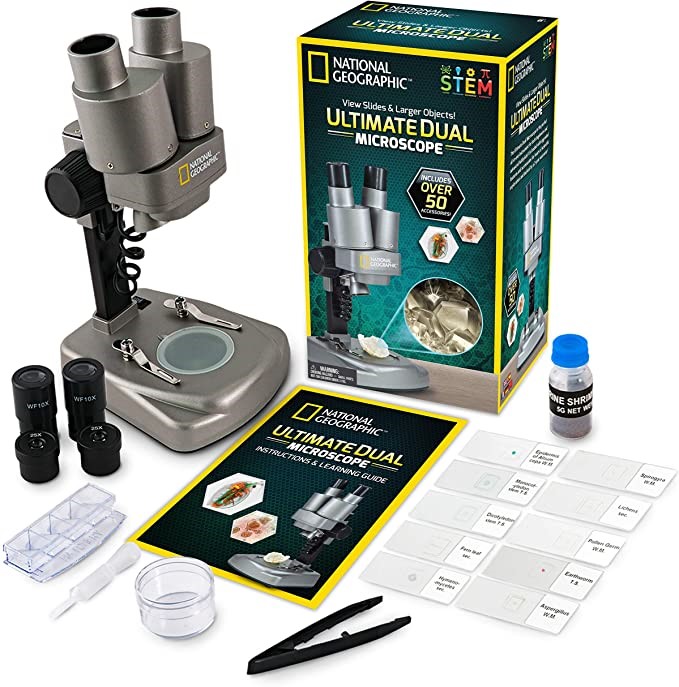 There are so many activities that can be done with a microscope. They really open up a new world for kids who want to explore everything around them and see what everyday objects look like microscopically.
Before buying a microscope for your child, do you know what ins and outs to look for in making the right choice? There are two primary considerations: simple to use and durable construction.
Typically for young girls under the age of 10, microscopes that magnify between 5X and 400X are suitable. This microscope from National geographic is perfect for that range. You can find the current price here. 
If you'd like to find STEM activities for microscopes, I did a few with my daughter and son in our article, Microscope Activities for Kids – Fun Experiments Kids Will Love.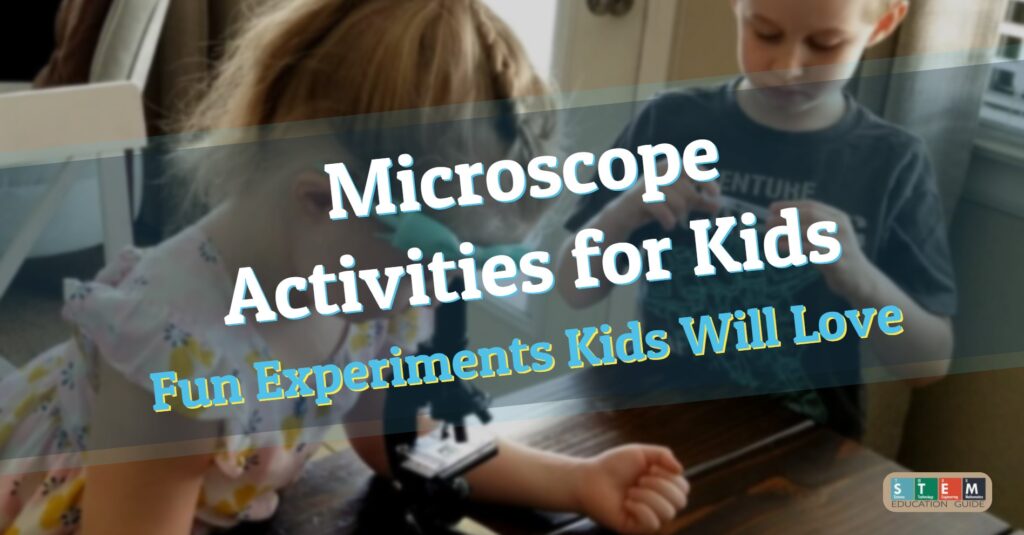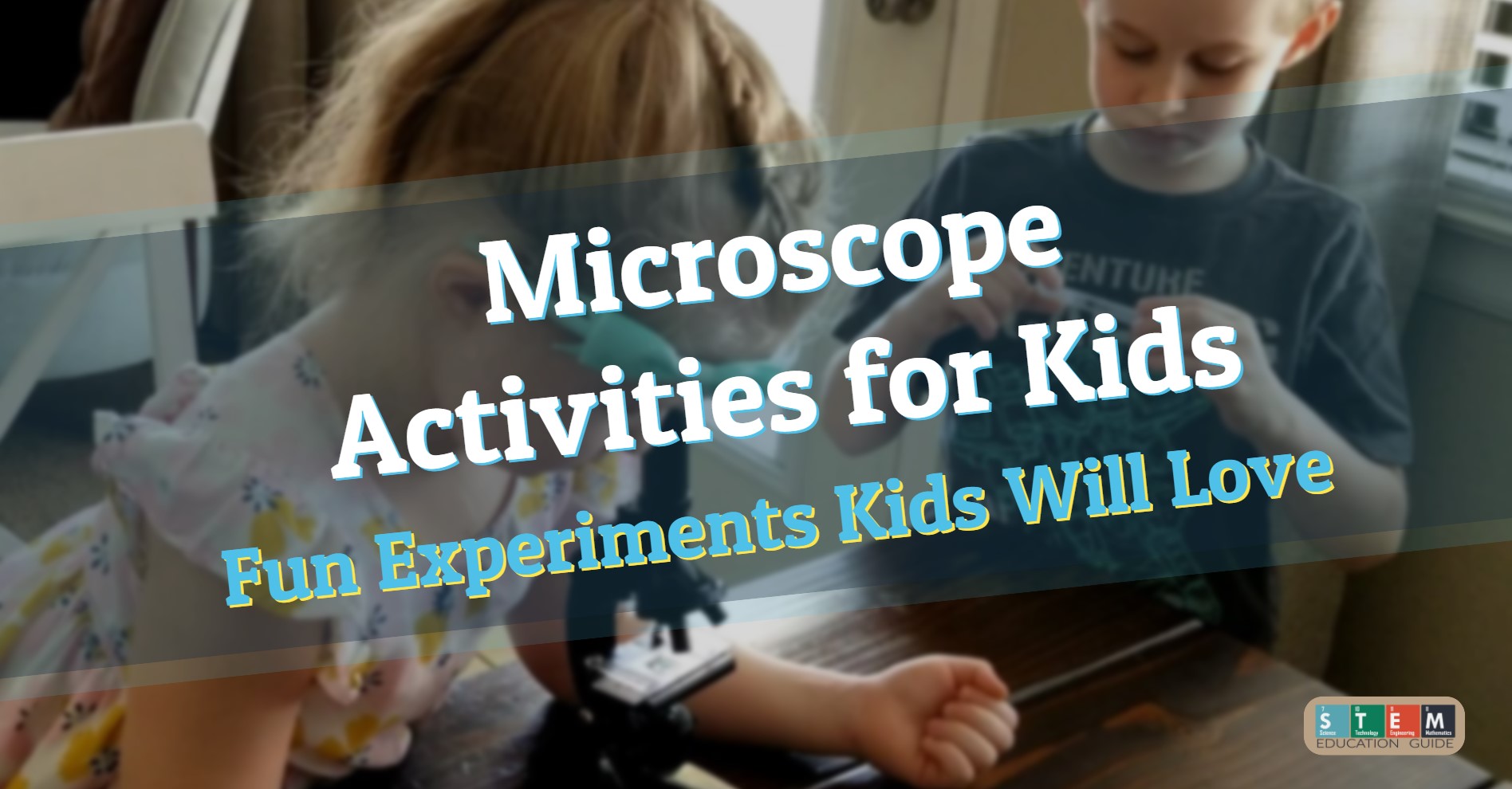 Buyers Guide for the Best Stem Toys for Girls
Before wrapping up, I wanted to go through what you should look for when buying STEM toys for girls. There are so many options on the market that it can help to simplify your decision based on a few factors:
Skill Level
You know your child best. If a recommended educational toy says, it's only for kids eight years old and up, but your little girl is six, use your best judgment if your kids are ready or not. Don't get too stuck on what the box recommended age is.
If you're looking to get your daughters into coding, we have quite a few resources for you. You can look at our article, Coding for Kids: How Long Does It Take to Learn to code?
An important thing to remember about coding is to keep it as fun as possible and never push your kid. If someone enjoys coding, they will make time to learn more, and then it becomes fun as you learn new skills.
The STEM Toy
Sometimes, as you're looking at getting an educational toy, we get so swept up in the "learning" aspects of these toys that they forget what they are actually buying – a toy! At the end of the day, if you want your child to benefit from the STEM aspects, it has to be a toy that will hold their interest.
Luckily, these toys on this list come in all shapes, sizes, and forms. Robots, building toys, Legos, and chemistry kits – our list shows the true versatility of this product category. Focus on getting a toy that your child will have fun with, and the learning skills will naturally flow from there.
Get Your Daughter Involved
If you don't know which toy is right for your child, just ask them! Kids are a lot more engaged in a process if they are involved from the start. Ask them which toy seems coolest, and let them know about the options and features as well.
Go with a toy that piques their curiosity, and you'll find that they will actually be excited to learn.
Wrapping Up
I hope this toys list and guide has helped you find something for your daughter or as a gift for someone. If you see something that you like and it isn't on this list, please leave a comment below, and I'll add it to this list.
This is the commercial I mentioned at the beginning of this article.
Looking for a great STEM activity for girls too that you can do at home without a toy or kit? Take a look at our article, 5 Amazing & Fun Sci Tricks with Common Household Items.