Best Chemistry Kits for Kids (for Every Age!)
Science. Chemistry. These are the building blocks that help us answer questions about the world around us. If your child is asking, "Why does a volcano explode or "How do leaves change color?", then you have a scientist in the making.
Help your child answer these questions by introducing them to the world of chemistry.
The best way to do that is by using chemistry kits! Chemistry kits are a wonderful way to explore and learn without it being "boring".
Top 8 Chemistry Kits for Kids
With a whole range of chemistry kits, we have found what we consider the best eight chemistry kits for your elementary and middle school-aged children.
If you'd like to dive deeper with your kids with chemistry we found a great resource for teaching chemistry to kids over at, Chem4kids.
Explore science the way it is intended – hands on. With the Wild Science Chemistry lab, your elementary student will explore STEM in fun and unique ways.
With over 50 experiments, exploring all kinds of natural phenomena, your child will have fun for days. Create a greenhouse or design a lava lamp. There is something for every child.
This kit was designed by real scientists who know how to take complex concepts and break them down. You won't have any more boring rainy days with this kit around.
Check availability of the Test Tube Chemistry Lab on Amazon here.
Why We Love It:
Authentic science experiments
Easy to read instructions
Over 50 fun experiments
Enjoyable science for ages 8-12
Introduce the young girl in your life to the wonders of science. The YELLOW SCOPE Chemistry Kit shows that girls can be scientists, too. With engaging and creative experiments, you won't get bored.
This kit is the perfect guide to exploring chemical reactions, molecular motion, temperature, and so much. With high-quality supplies and a real lab notebook, you will become a full-fledged scientist in no time.
The lab notebook gives you the opportunity to combine your passion for art with the engaging world of science. Join hundreds of other girls as they grow as scientists.
See the current price on Amazon here.
Why We Love It:
Won the Parents' Choice Aware AND the Best Educational Award Toy
Over 19 colorful experiments with the ability to even create their own
Builds your daughters confidence
Perfect for girls 8-12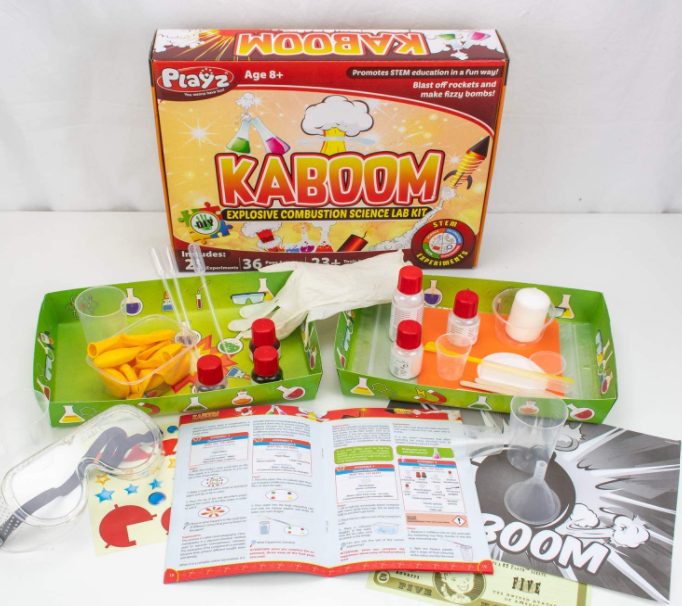 Ever wanted to see a volcano explode? Maybe shoot off a rocket into space? With the KABOOM Lab Kit, you can do just that. With over 25 exploding experiments, you will never be bored.
This lab kit is a fun and safe way to get all that pent up energy out. Head outside on a nice day and build a rocket or a fireproof balloon. All these experiments will teach you about chemical reactions and transformations in the most fun way.
Science doesn't have to be boring with this kit around. Plus, parents love that this kit explains the why behind each experiment. This is more than just a toy; it's an education.
Check availability of the Kaboom Lab Kit on Amazon here.
Why We Love It:
A super detailed lab guide
High-quality experiments and materials
Use it at home or school
Recommended for children ages 8 and older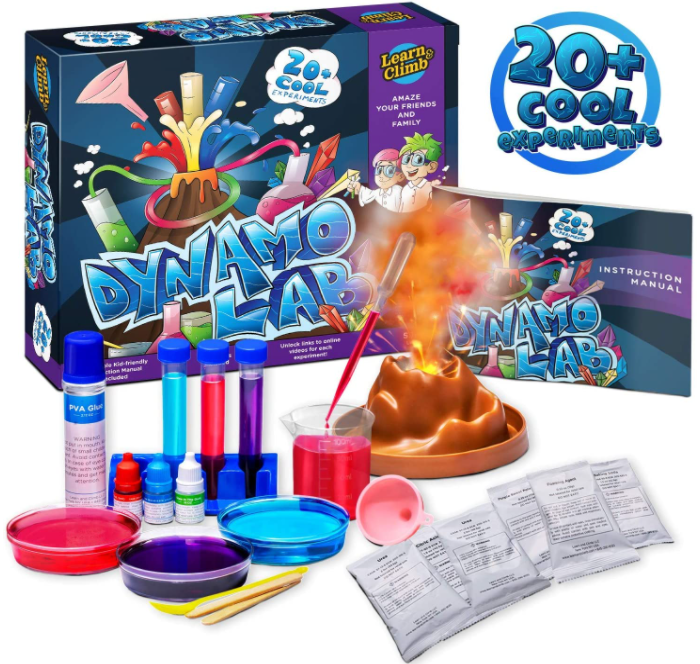 Learn & Climb isn't just a science kit, it is hours of fun that promotes critical thinking and science in unique ways. Be prepared to have your mind blown, this 21 hands-on, high energy experiments.
Grab your lab coat and goggles because you are going to need them. Whether you're building a lava lamp or growing crystals, learning has never been so fun. The detailed, colored manual and online demonstration videos, mean you won't get overly frustrated.
Get the whole family involved and see who can figure out "how" the experiment works. Learn & Climb beliefs in safety, which is why all the material is plastic and comes with safety twist labs.
Check out the current price on Amazon here.
Why We Love It:
21+ experiments that are engaging for all kids
Comes with everything you need
Clear and colorful manual, plus online videos
Great gift for children 5+
The Ooze Labs is the perfect kit for your chemists in the making. Its slime, fizzing reactions, bubbles, and colorful creations will capture every imagination. Get your children engaged with real chemistry in a way that makes learning fun.
Inside this kit, you have 57 pieces that real scientists use such as beakers, Petri dishes, and funnels. These pieces come together to build over ten different experiments ranging from making a rainbow to creating a balloon that self inflates.
Each experiment comes with a full-color manual that walks you through each step, so you don't have to afraid of making major chemistry mishaps. This kit is a safe and fun way to learn the basics of chemistry.
Check availability of The Ooze Labs on Amazon here.
Why We Love It:
Non-hazardous experiments
Real scientist equipment: beakers, test tubes, and more
Clip-on experiment cards for easy reference
Fun for ages 6 and up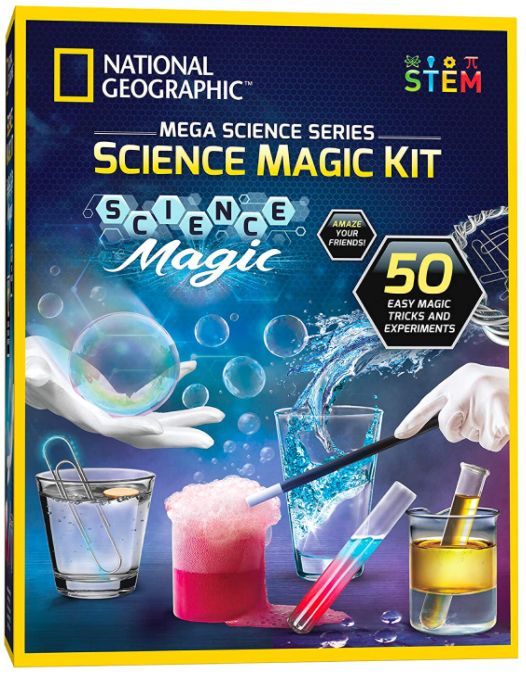 Turn magic into reality with this chemistry kit. Learn how to make coins float, change the color of water, and make snow magically appear with the help of a little chemistry. With these 10 experiments, you can put on a mind-blowing show for family and friends.
National Geographic created this kit to inspire the next generation of scientists. You will have everything you need to conduct 10 experiments at least 2-3 times, so you can practice before putting on your performance.
The instruction is kid-friendly, so children of all ages can have fun exploring the chemistry and physics behind each trick. With this one kit, you will be sure to have hours of fun.
See the current price of the Science Magic Kit on Amazon here.
Why We Love It:
20 fun and mind-blowing experiments
Kid-friendly instructions and insights into the science
A bonus experiment guide
Combines magic and chemistry
Whether your child (or you) is just learning about chemistry or is already on their way to min-scientist status, this kit has something for every level. You will feel like a real chemist as you mix chemicals with your pipette and test tubes.
This Discovery Chemistry Kit was awarded "The National Parenting Center: Seal of Approval," meaning you can be sure it's safe for the whole family.
Your upper elementary and older children will gain real-world knowledge about the simple chemical reactions that happen around us every day. The glowing slime and eruptions are just extra perks.
The 40 experiments cover a whole range of chemical reactions meaning you won't get bored. Read the instructions carefully as you might need additional materials to make the experiments work.
Check availability of This Discovery Chemistry Kit on Amazon here.
Why We Love It:
A great introduction to simple chemical reactions
Awesome ingredients: zinc sulfide, sodium alginate, and more
20 hands-on fun experiments
Recommended for scientists 12 and up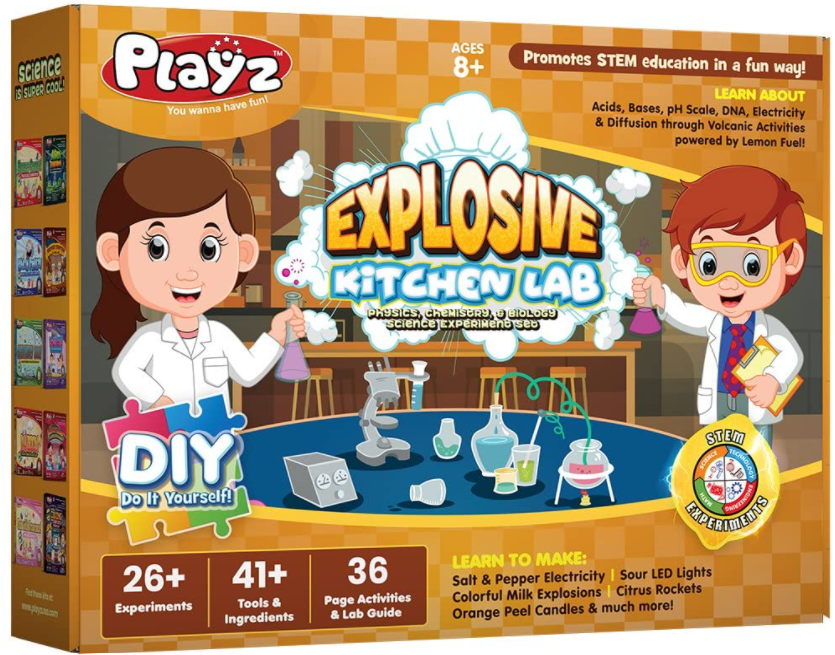 Turn your kitchen into an explosive's laboratory with this chemistry kit by Playz. With a lab coat and goggles on, you will learn how to create light with lemon and make milk explode.
With its combination of materials and at-home supplies, the fun will last for days!
With a whole host of experiments, over 26 in fact, you will find an experiment that interests every kid. Pick one of the many options and follow the easy-to-use lab guide to set it up.
Most of the materials needed will be found in the box, but you will need to gather some other supplies. Use this kit to back up what your child is learning in school or just a fun Saturday morning activity.
See the current price of this explosive's laboratory on Amazon here.
Why We Love It:
An exciting gift for ages 8+
The fact-filled and colorful guide makes it easy to use
Introduces a ton of real-world science concepts
High quality and safe materials
Wrapping Up
I love that there are so many chemistry kits out there that fit every age group and a wide range of interests. I hope you've been able to find a great kit, if you have a favorite leave a comment down below and I'll add it to the list!
Make sure to check out our list of the Best Science Kits for kids!