Best Science Kits for Kids
Many of the best science kits for kids have stood the test of time.
These brought back memories of my own childhood days of Ant Farms and rock tumbling. These science kits help develop science skills and curiosity without even realizing the toy would be categorized as "education".
While there are so many great science experiment kits, I wanted to show a variety of the best science kits across multiple scientific categories  — biology, chemistry, anatomy, etc.
Here are some great science kits we found for your child to learn and explore an interest in science.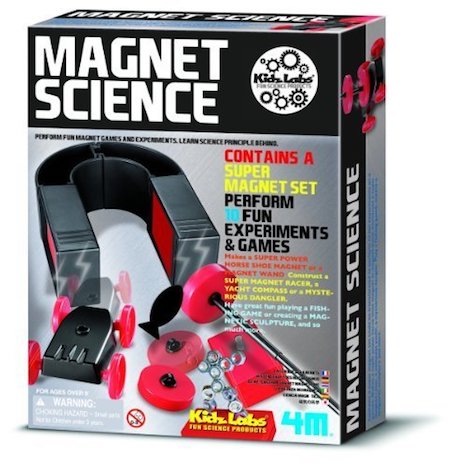 Who didn't love magnets as a kid, right?! This affordable science kit has multiple games and experiments to teach fundamenals of magnetism . Create a compass and a race car powered by magnets.
Retails: $13.63
Start with some of the classics if your child has not experienced the joy of taking care of their very own creatures! Teach them the ways of ant life and how they work together. Watch the ants tunnel before your very eyes…knowing that they can lift up to 5,000 times their body weight! Recommended age 6-15 years. Retail: $22.00
Another classic for the kids! They will love watching their caterpillars turn into beautiful butterflies. It is also a great opportunity for your future entomologist to learn about the life cycle of a butterfly. Teach them the steps of metamorphosis! Recommended age 4-15 years. Retail: $19.99
Here's a fun science toy for your future microbiologist! Take the prepared slides in this kit and show them how to use a microscope to view them. For ages 8-15 years. STEM recommended. Retail: $39.00
This science kit is designed for young kids. The book has over 40 pages of experiments as your kid work to identify different chemicals. Get it now to begin a fun educational experience! Retail: $24.40
Have your little "geologist" dig up some really cool gemstones and crystals. This is an excellent STEM science toy that includes information about each of the 15 stones included. Recommended age 6-15 years.
Got any future botanists in the family? This is a nice, simple terrarium that your child will enjoy growing plants in. It includes a jar for your child to decorate and some very cool glow-in-the-dark stickers! This is an educational yet fun science toy as your child must learn about the importance of providing plenty of water and sunlight. Another kit to fit the 'S' in STEM! For ages 6 and up.
Last, but not least, this is another option for your older kids (ages 10-15 years). This science toy includes multiple science kits. Build a volcano, learn about the weather, grow crystals, dig for dinos, and more.
Let us know about your own experiences with these science kits and what you think we need to add to our list of best science kits for kids!