Microscope Activities for Kids – Fun Experiments Kids Will Love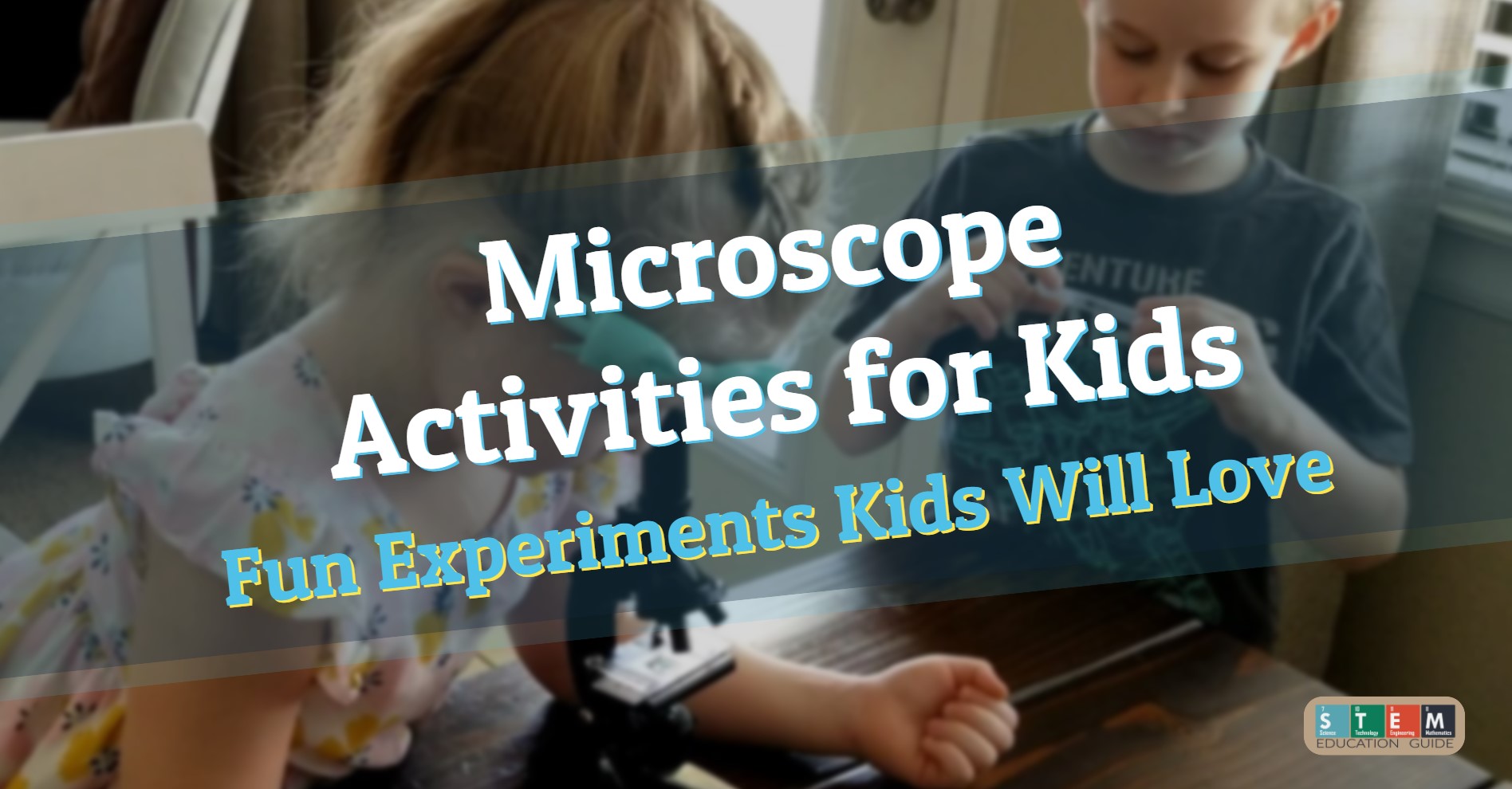 Just about every child has wanted their own microscope!
Before buying a microscope for your child, do you know what ins and outs to look for in making the right choice? There are two basic considerations: simple to use and durable construction.
Typically for kids under the age of 10, microscopes that magnify between 5X and 400X are suitable.
We have researched and compiled a list of recommended kid-friendly microscopes at the bottom of this page, but the best one we've found is the JounorScope, Kids Microscope Science Kit available on Amazon.
Let's get into the microscope activities!
Microscopes – Learning Through Exploration
Little ones can have lots of fun exploring things around them with a microscope. Using a microscope can provide a fun learning experience for both the child and the rest of the family alike.
Read on to check out some fun activities that you can do together with your family once you get your hands on a microscope!
Common Household Item Analysis
You don't need to go far to find things to check out under a microscope. Take small items from around the house. Start in the room where the microscope is set up.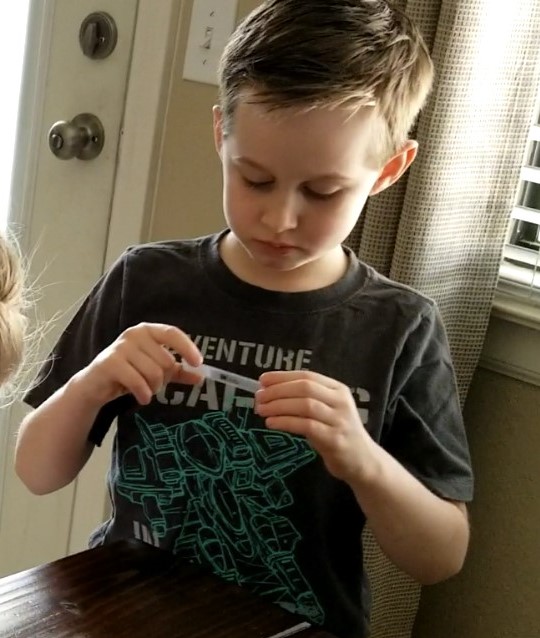 If it's in the living room, find a little toy or coin under a couch cushion, or something from inside your pocket, and check each of them out under the microscope.
Before putting them under the microscope to evaluate, have your child predict what they think it will look like magnified. They may be surprised to find something that feels smooth by touch, has ridges in it that the naked eye cannot see!
After checking things out from one room, choose items from a different room. The kitchen is a great place to find something to investigate (remember… make sure an adult is always present).
Taking different samples of food or a drink is a fun and tasty way to use the microscope. Even cooking materials like sugar, flour, or salt can be fun, and the microscopic results may be surprising!
Bring the Outdoors Indoors
Another fun way to explore the world around your child is to bring in items from outside. Things like grass, twigs, and different leaves are fun to explore.
Plus, using natural, organic items during different seasons adds another fun and exploration element for kids. For example, placing a fresh leaf under a microscope in the spring may look different than one that is changing colors or a dead and brown leaf in the fall,
When it comes to snow, microscopes can provide a world of learning. Kids can explore the patterns, shapes, and intricate designs in every snowflake they collect.
We have an article just for Snowflake Science you might want to check out here.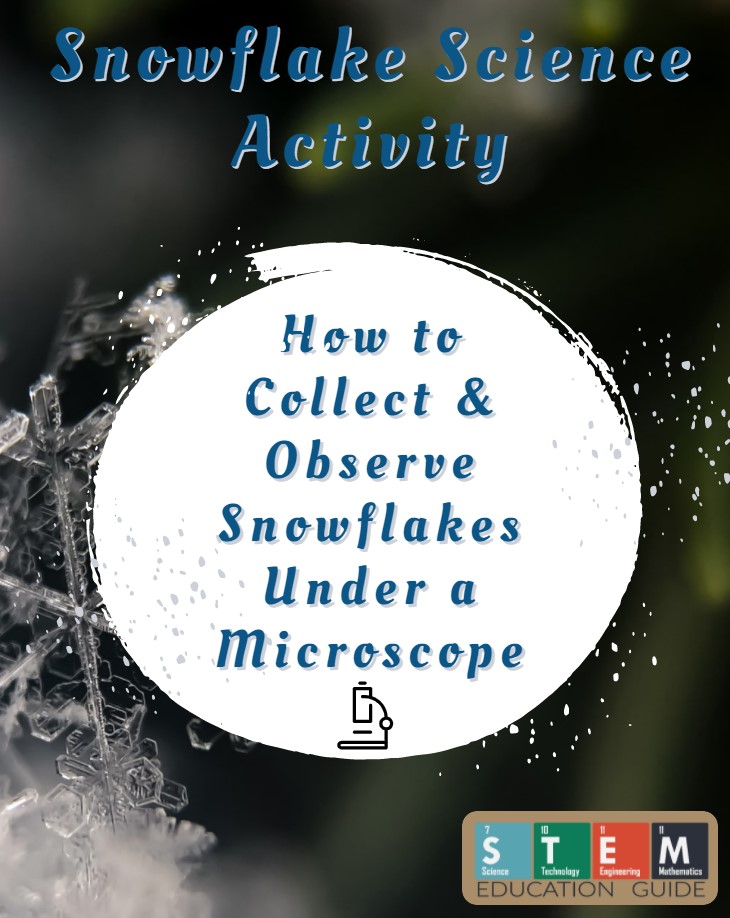 Kids can then try to draw or sketch recreations of what they observed under the microscope. Just make sure when exploring snowflakes, be prepared to work quickly, or you'll end up observing water.
Even kids who do not live around a vast amount of grass and trees can still explore their world at the microscopic level. Taking things like a particle of pavement, concrete, or another human-made item can provide magnification opportunities.
Kids can compare what they observe between various materials. They can also generalize what kind of items would work best to use for certain types of building projects.
Taking a look at something on the smallest scale can provide opportunities to learn about the big things around us.
Explore the Human Body Under a Microscope
That is right! A microscope can allow a little one to learn about their bodies. Have your child check out what their fingerprint looks like under the microscope.
Then, have other family members do the same thing. Talk about the similarities and differences between the different fingerprints you have explored.
Other items from the body can also be explored. Take hair from a brush and see what it looks like; compare each end and what they look like.
For kids, that like an EWWWW factor, fingernails and toenails are also things that can be explored and magnified. You can even take a spit sample and check it out under the microscope. The results may gross them out but they also find it fun.
Art Under a Microscope
Kids love painting, drawing, and coloring. Have your child explore their art tools at the microscopic level. What does a dollop of paint look like under the microscope?
Have your child compare the tips of crayons, markers, and colored pencils. Kids can also explore how things like different types of paint brushes appear when magnified.
Allowing kids to understand how things look at a microscopic level can help them appreciate and value their own items because they can see how intricate and extraordinary each item is.
Explore Gross Stuff With a Microscope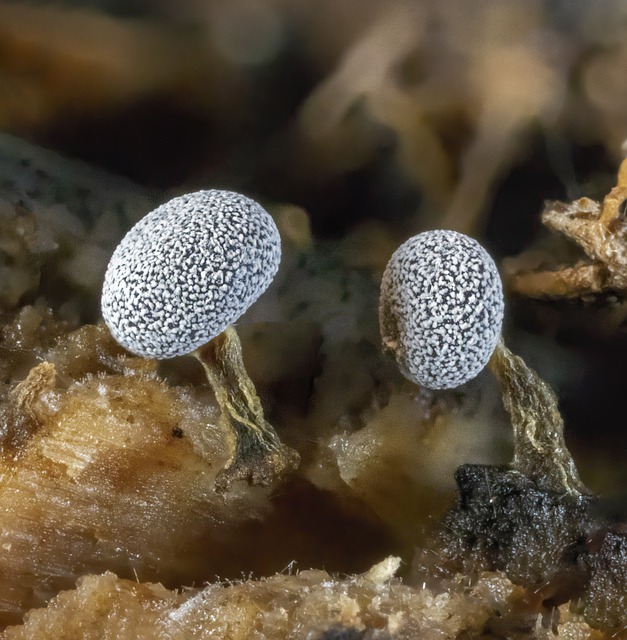 Yes, kids love icky things. Now, imagine how a child will feel exploring gross things up close under a microscope!
Again, a person does not have to go far to find something to put under the microscope.
Take a moldy piece of bread and observe what the mold looks like magnified. If you are daring, you may even want to allow your child to explore what boogers look like when magnified (remember to wash those hands with soap and water)!
Kids can also explore things like worms, mud, and dirt under the microscope. Even taking a water sample from a dirty puddle of water can provide your child with loads of opportunities to explore the world right outside their door.
What to Do with Your Observation?
Observing a variety of items under a microscope is so fun and exciting. However, parents can incorporate other areas of the child's interest into this expiration time.
A simple way to do this is to have the child draw what things look like under the microscope. This allows the child to have something tangible to hold onto after the item magnified is put away or thrown out.
Simply being present and asking questions about what your child is observing can also be valuable.
When kids find something of interest to them, they will talk. Engage your child in a discussion about what they are observing.
Make comparisons for things observed. Make predictions together for what they think will be seen.
Children who love to write may wish to keep a journal or log of what they observe under the microscope.
The log kept can vary from child to child: it can show the date, name of the item, and a drawing of what the magnified object looked like under the microscope, or it can have sentences and descriptions written by the child (or together with the family).
Family Fun: Magnified!
Having a microscope can provide hours of fun for your child and you too!
Using a sturdy and simple microscope can allow you and your family to spend time together exploring things around you.
The family does not need to leave home to learn new things that can literally be explored right under your noses! Get a microscope, learn new things, and have fun together!
Best Microscopes for Kids
We've looked for microscopes that will fit the needs of kids getting started in exploring their microenvironment. These are durable, with plenty of options for hours of fun. Microscopes really open up the world for kids by seeing that there's always more than meets the eye.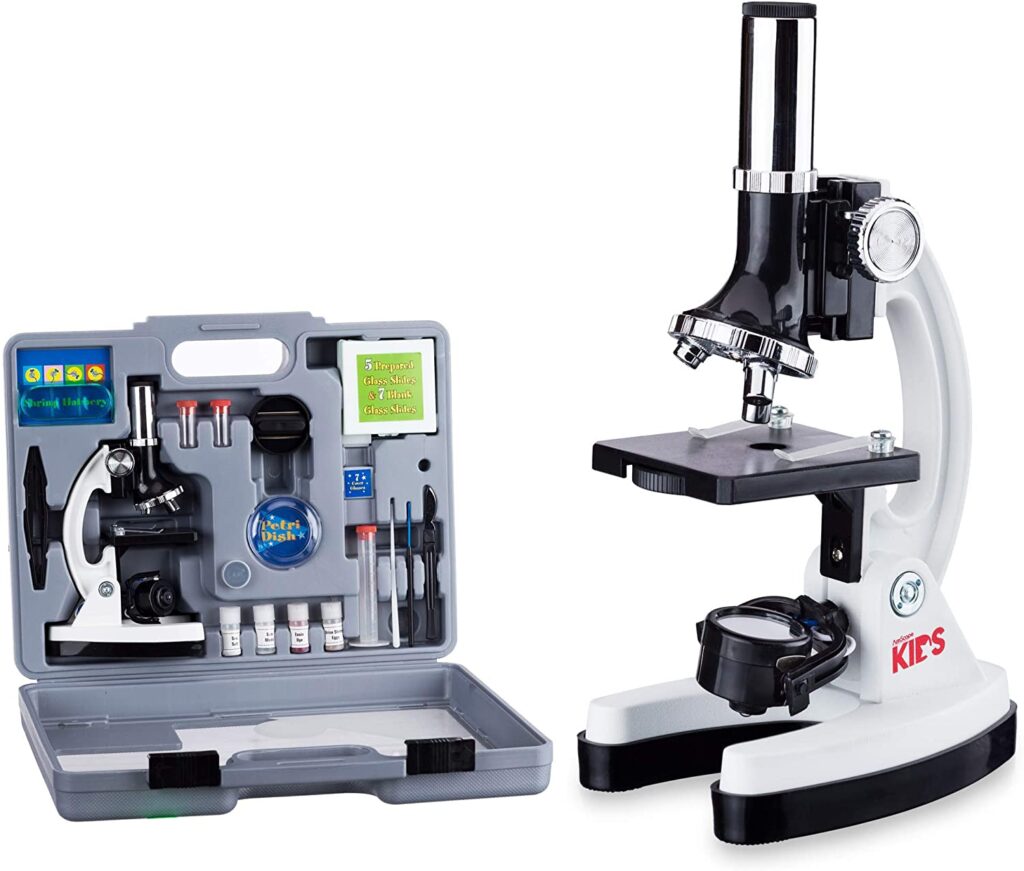 This is a full microscope kit that provides everything you'll need. The kit, along with the microscope, provides high magnification for educational applications and anything your kid finds around the house that they want to see close up.
The kit includes a 52-piece accessory kit and hard-sided plastic ABS case. The arm and base are metal for durability and will last while your child grows into more complex experimentation.
Check availability of the AmScope microscope on Amazon here.
Why We Love It:
Durable body is made from metal.
The kit includes 52 pieces.
The rotating turret provides 120x, 240x, 300x, 480x, 600x, and 1200x magnifications
Comes in its own case for easy storage.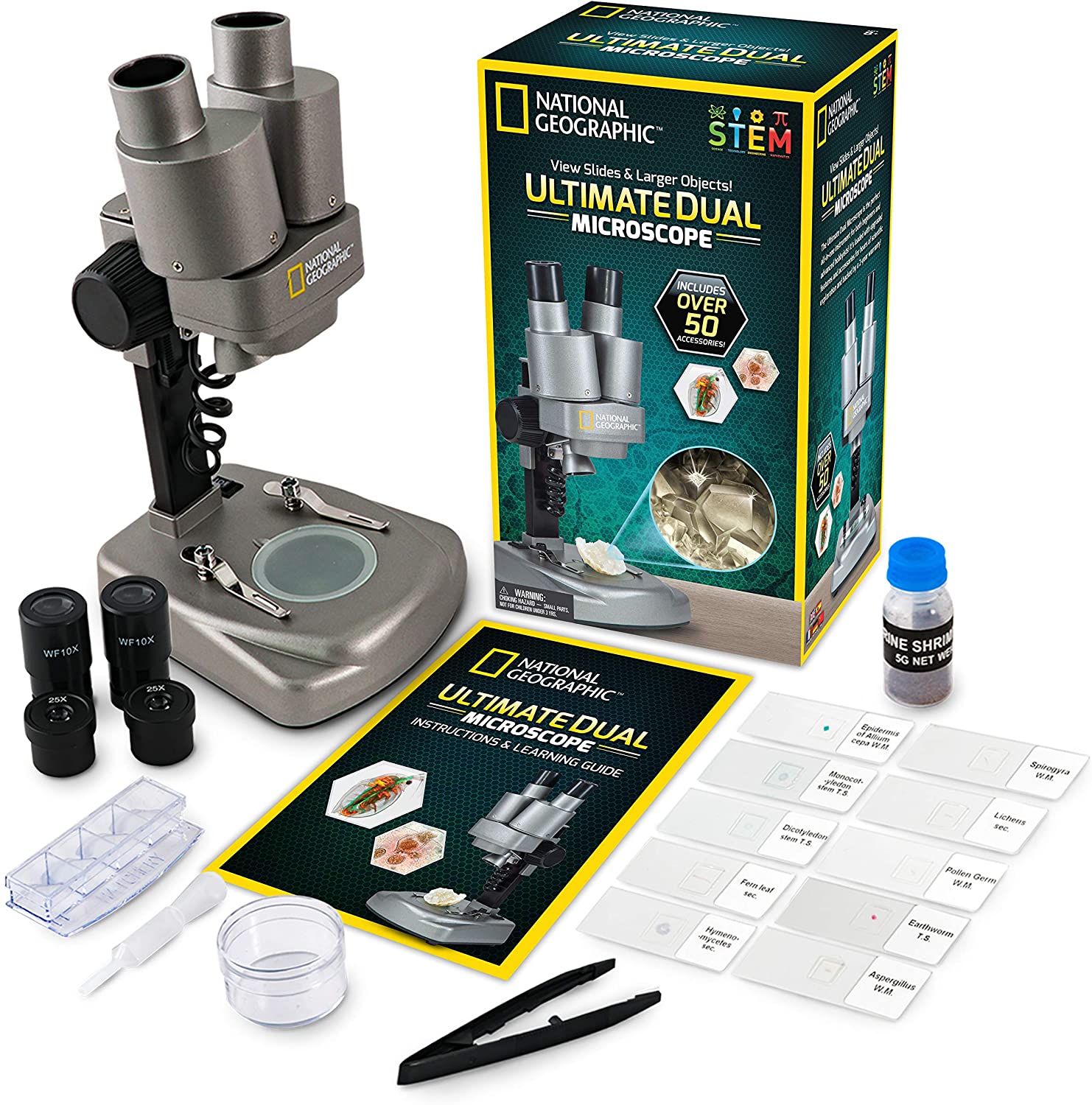 This National Geographic dual-LED microscope is a little more robust than the one above. This kit also comes with prepared slides as well as 10 blank slides for your own specimens.
It's been noted that it surprisingly clear lens for an inexpensive microscope. As well as interchangeable 10x and 25x lenses that are easy to change out. Two AA batteries are required for the LED light.
Check the availability of the National Geographic microscope on Amazon here.
Why We Love It:
Two microscopes in one.
Has a powerful LED that shines bright. One on the bottom for slide and one up top that will work better for rocks or other 3D objects.
Ocular lenses can be changed out in seconds.
This is something a little different from the above microscopes. This one is made to be taken with your child as they explore the outdoors or from room to room throughout the house.
As you can see from its form factor, this microscope does have its limitations. Focus only zooms in, and zooms out; it doesn't have a highly adjustable focal distance. On the bright side, it's lightweight and only takes a single AAA battery.
Check availability for the Celestron, Explore The World Microscope on Amazon here.
Why We Love It:
Lightweight and easy to use.
Encourages kids to get outdoors and explore.
Uses only one AAA battery.
Very cost-effective.
Wrapping up Kids Microscope Activities
These are some of the ideas and activities we've found that kids really like. If you have some of your own that will go along great with this article, feel free to leave a comment down below and we'll add it to the list.
If you're looking for a microscope for teenagers or even adults, please take a look at our full guide to microscopes.