Best Robotics Kits for Adults: Beginner to Advanced
Whether it's a fun weekend project, a dedicated hobby, or crafting a specific skill, building robotics as an adult helps stimulate the brain.
It allows you to strengthen your STEM-based skills in an engaging way.
STEM stands for science, technology, engineering, and math. STEM's purpose is to blend these four subjects actively. That is why I always say the characteristics of a STEM classroom are more about these subjects being integrated into classroom structure rather than it being a curriculum teachers use.
There is no better way to engage with a blend of STEM-based skills as an adult than building with adult robotics kits at your own home!
Why Robotics For Adults
Technology is growing and evolving at a fast rate. A robotic kit can help simultaneously expand skills and sharpen certain parts of the brain, which we know as we get older need to be exercised more frequently. All of these benefits support our ability to grow and evolve with technology.
A robotic kit exercises research, design, critical thinking, and problem-solving skills. As adults, we are not often actively applying these skills in hands-on, engaging ways. A robotic kit is experiential learning.
When I find a product that supports engaging learning, especially as an adult, it feels like finding gold. We researched some of the best adult robotic kits out there. Now, let's take a look at the best robotics kits for adults!
Best Robotics Kits for Adults
These are the best robotics kits we've found for adults. Some robots feature coding and other robotic kits you'll have to build. We think these are great starting points for anyone looking to get into robotics.
Clickbot Coding Robot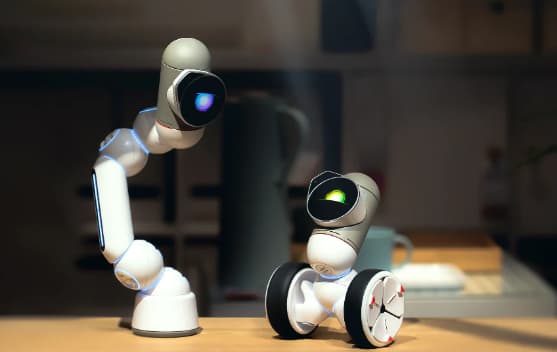 Do you want a robot that can do everything?
The looks might throw you off, but Clicbot is one of the best adult toys for learning robotics and coding.
It's not explicitly made for adults, but this robot scales in functionality from easy to pick up, to digging in deep and mastering robotics.
So, what is Clicbot?
Clicbot is a unique robot that is powered by AI and robotics. It was designed by a Pixar Animator to introduce and keep people engaged in technology and robotics.
Unlike most robots that only have one function, Clicbot is modular, meaning that just a simple "click" will change Clicbot to a different configuration. No wires or screws are required.
If this awesome robot sounds interesting to you, please have a look at my full review of Clicbot, where you can take a closer look at how it works.
Why We Love it:
Uniquely modular. Just snap and click to configure into a thousand different robots.
Coding Clicbot can be done on your computer, but there is also an app to try new movements and configurations for your robot.
See the current price of Clicbot here.
Check out our article on the best coding robots!
OSOYOO Robot Car – Starter Kit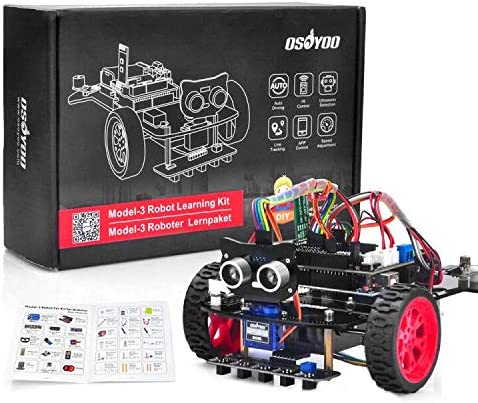 This first kit is not specially designed just for adults. Amazon lists it as a robotic kit for ages 16258 and up. Their point being is that this product is for anyone at any age. If you are new to robotic building, we think it might be good to start with a product like this educational DIY starter kit.
If you have a teenage or primary school-aged child, you can do this kit with them. This kit helps you to learn how to create circuits, hands-on programming, coding, and electronics. Build and watch your robot car come to life.
Why We Love it:
It offers an easy-to-follow step-by-step tutorial on assembling, programming, and operating your robot car.
We mentioned it is for any age, but it is also for any skill level—beginners, experts, and enthusiasts alike.
You can control your robot car through an application on your phone!
See the current price of this robotic car here.
ELEGOO Mega R3 Project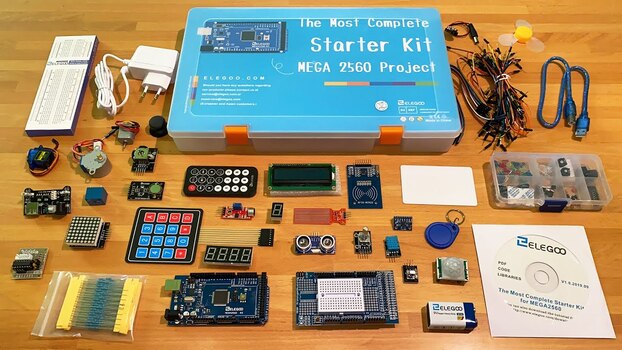 This kit does not have a final design to work towards. This kit is a starter kit that allows you to explore the land of electronics and robotics. There is a list of several different tutorials that guide you through multiple projects.
You'll get a taste of how to work with cables, resistors, motors, and LED screens, just to name a few. Have a friend or family member who is interested in getting started on robotics or already loves electronics? This is the perfect gift.
Why We Love It:
The company values quality products, so they run everything through strict high-quality control. This minimizes faulty parts!
You can create various projects with so many parts, from simple to complex.
ELEGOO has a mission to make STEM learning easy and accessible. Of course, we are supportive of that!
Check to see if the ELEGOO Mega R3 Starter kit is still available here.
Makeblock mBot Ultimate Coding Robot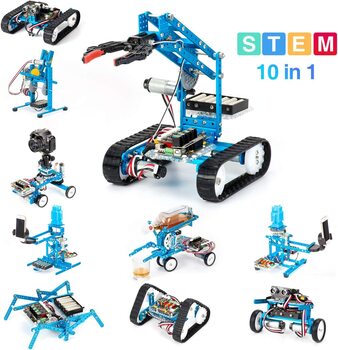 While this one might be pricey, the number of projects in this entire kit could feel endless to its users. This kit comes with 160 parts to make up to 10 projects. This kit helps you learn mechanical structure, electronic modules, and programming skills.
Types of projects included in the kit are a camera dolly, a robotic arm tank, a robotic ant, detecting robot, rolling tank, self-balancing robot, and much more!
Why We Love It:
Block and text-based programming is excellent for new and advanced programmers.
There are 10 projects included, but the parts can also be used for your inventions.
We think this kit can create an endless amount of engagement. You may not need to buy another one after this one.
Check the current price of this robot here.
Robotic Arm Kit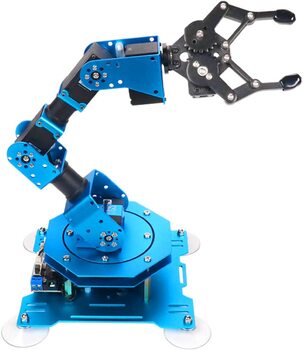 This is a programmable robotic arm. Once built, you can use the robotic arm to grab and drop objects in different directions using a remote app on your iPhone or Android.
It comes with 3D video instructions that provide detailed step-by-step guidance. Who doesn't want an extra hand around their house?
Why We Love It:
It is a straightforward project with an end goal that users can easily visualize.
The frame of each piece is made of metal and aluminum, making it highly durable.
The detailed 3D video instructions make building a smooth process. 
Check here to see the current price.
Bittle Robotic Dog by Petoi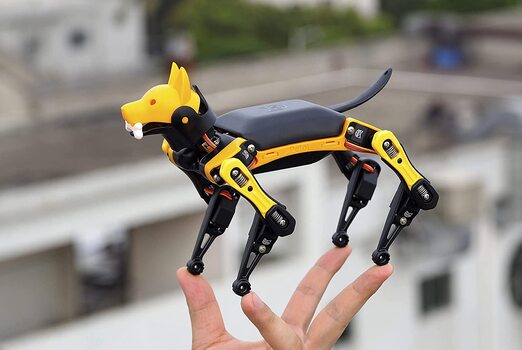 Bittle is a 3D robotic dog capable of all the tricks your family dog shows off! Building Bittle helps build your problem-solving skills. As well as your moto, physics, and engineering skills.
You can fit Bittle in the palm of your hand, but it's full of many tricks using Scratch block programming. You can program Bittle to see, listen, sense, and explore the environment around them. Have a family member allergic to dogs? Bittle is the next best thing!
Why We Love It:
It can be built in 2-3 hours with the help of video instructions.
Open source coding framework allowing you to add on whatever you like!
Includes camera and microphone for recognition and commands.
Check here to see if this robotic dog is still available here.
What is a Programmable Robot
A programmable robot comes with several parts and programming software. Once you've built your robot, you can control and manipulate it through a controller. Like many of the ones we researched for you, some can be controlled through an app on your phone. Pretty cool, huh?
While many kits come with their own instructions. Programmable robots require a lot of concentration, planning, critical thinking, and problem-solving. Through each step, you can engage a different skill.
From the building and designing phase, to the completion stage, where you can roam your creation around the house! Programmable robots create endless amounts of fun.
How Can I Learn Robotics at Home
The best way to learn robotics at home is by experimenting. We recommend one of the starter kits listed above. Try not to set your expectations too high in the beginning. Start by getting yourself familiar with the parts and how everything operates.
Once you get familiar, then use the step-by-step instructions that many of these kits provide. The more you build, the more it will come with ease. Be open to learning something new each time. It may require time and patience, but it can ultimately become a fulfilling hobby! 
Wrapping Up
In conclusion, we think a hands-on, screen-free hobby is so beneficial for adults, which is one of the many reasons why we love robotic kits.
It is the perfect way to bring your STEM skills to life while sharpening your mind simultaneously. We consider that a win, win!
If you like our adult robotic kit recommendations, check out our guide to the best robotic kits for kids!