Guide to the Best STEM Robotics Kits (2023)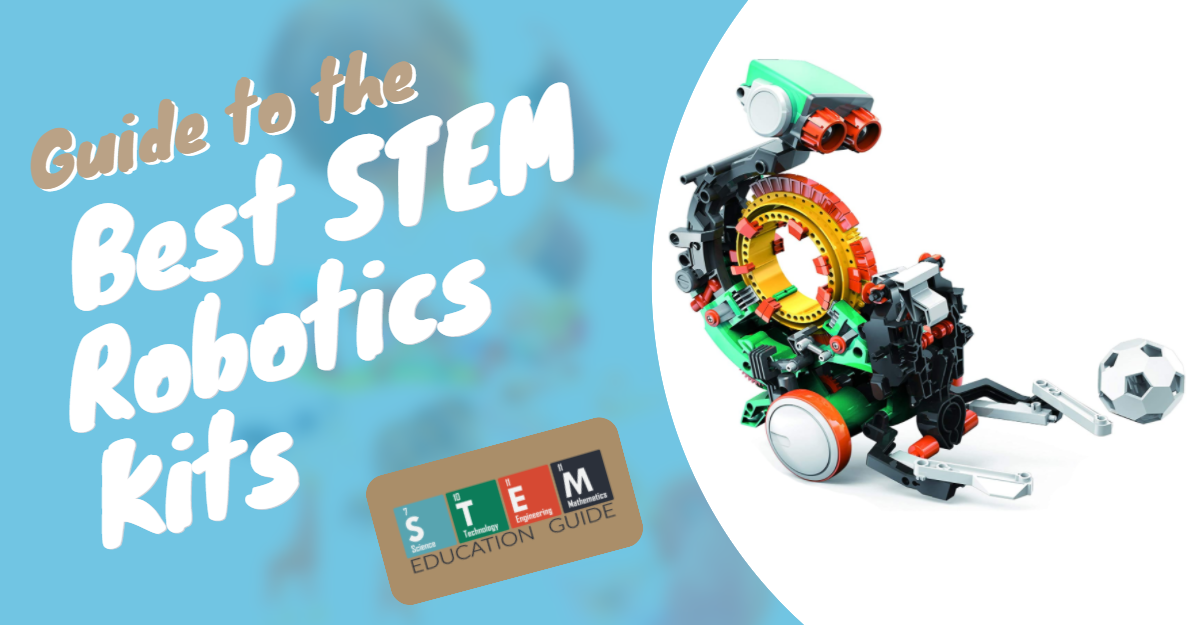 Kids and adults learn best through hands-on and applied learning scenarios, which is where the robot kits come in.
You know that STEM Education is science, technology, engineering, and mathematics. It is the idea that schools should be teaching these four subjects together rather than separately.
People learn best through hands-on and applied learning scenarios, which is where the robot kits we recommend come in.
STEM-friendly robots teach kids fundamental engineering concepts such as design, building, testing, development, and coding.
By engaging with a fun subject such as robots, children are naturally learning and applying skills that will benefit them in our technology-driven world.
Here we take a look at the top 10 robot kits on the market that will help inspire your child and help them learn essential skills through play.
Top 10 Robotic Kits for Kids
Learning while having fun, and not necessarily thinking that your learning is the best way on expanding skills.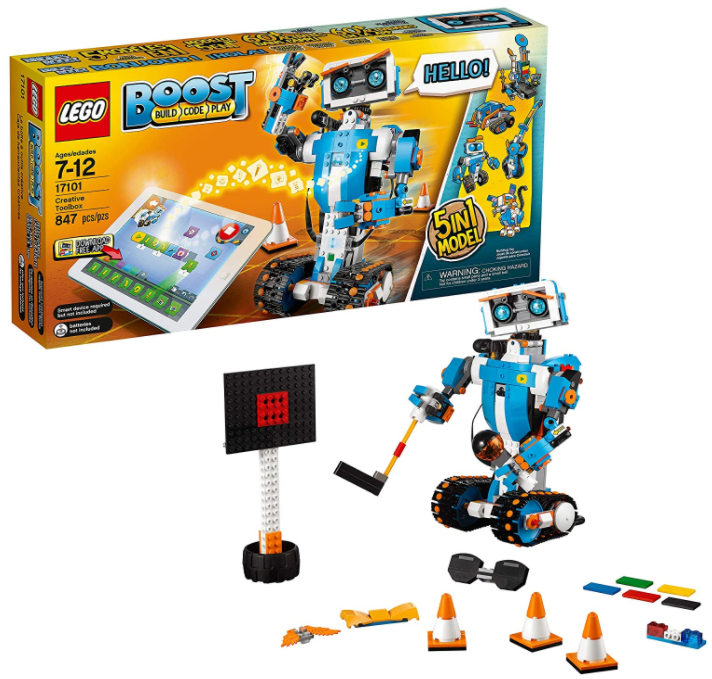 If your child is already obsessed with LEGO building blocks, it might be time to upgrade to LEGO Boost. A robot kit where your child learns to code behaviors into any one of the possible builds.
With five different models to build, all ranging in difficulty, your child will have fun for days putting together and playing with LEGO Boost. Design a robot that dances or an interactive pet.
For advanced builders, you can create an automated builder that creates its own LEGO creations.
Connect these fun models to an iPad, and you can program straight from the connected app — a perfect kit for developing STEM skills and finding creative solutions to tricky building problems.
See the current price of the LEGO Boost Creative Toolbox on Amazon here.
Why We Love It:
Over 847 pieces that build 5 different models
Perfect gift for beginner coders
Pairs with a free app and other LEGO toys
Great science introduction to 7-12 year-olds
The joy of STEM is seeing your child's creativity run wild, and the Nintendo Labo kit taps into that artistry.
They will get to build and personalize their Toy-Con creations with markers, stickers, and more. Your child will start by engineering their project with cardboard (very eco-friendly), before grabbing your markers to customize it.
Each project connects to the Nintendo Switch, where they get to bring their creations to life in mini-games. For your advanced engineer, this kit gives them the option to be creative and build their design out of items around the house and connect it to the game.
You will see their imagination grow to the next level.
Check availability of the Nintendo Labo variety kit on Amazon here.
Why We Love It:
Kids can fully customize with markers, stickers, paint, and more
Over 6 different creations ranging from cars to a piano
Encourages recycling: use cardboard and plastic cups in your robotic creations
My favorite for 6-12 year-olds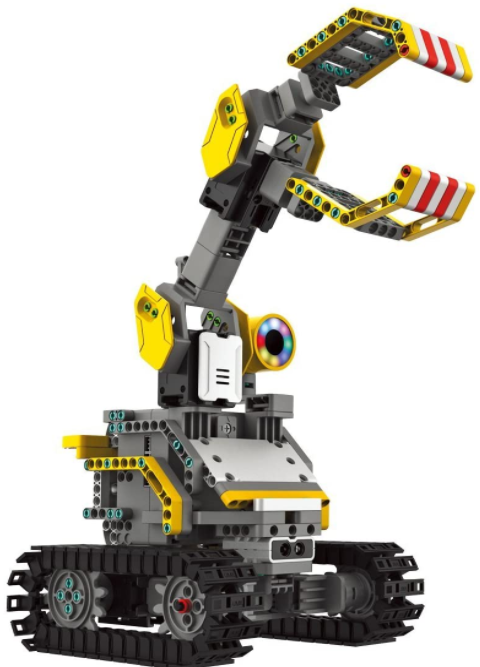 Take your programming and engineering skills to the next level with JIMU Robots. With no tools needed to assemble, you will have a rolling, navigating robot in no time.
The JIMU Robot gives you the option to build two types of robots: the GrabberBot and the DigBot.
This kit comes with a 3D animated instruction that will guide you through the entire building process. After construction, your child will have fun programming the robot to move around the room, pick-up objects, and so much more.
The coolest part might even be it's servo motors that allow for the flexible and fluid-like movement of your JIMU robot.
Downloaded the connected app to share your discoveries and creations with an entire global community or young engineers.
Check out the current price of this robot kit on Amazon here.
Why We Love It:
A fun introduction to engineering
Works with both iOS and Android devices
An award-winning toy: Innovation Awards Honoree and IFA Awards Best of Show
Robot perfect for kids 8 and up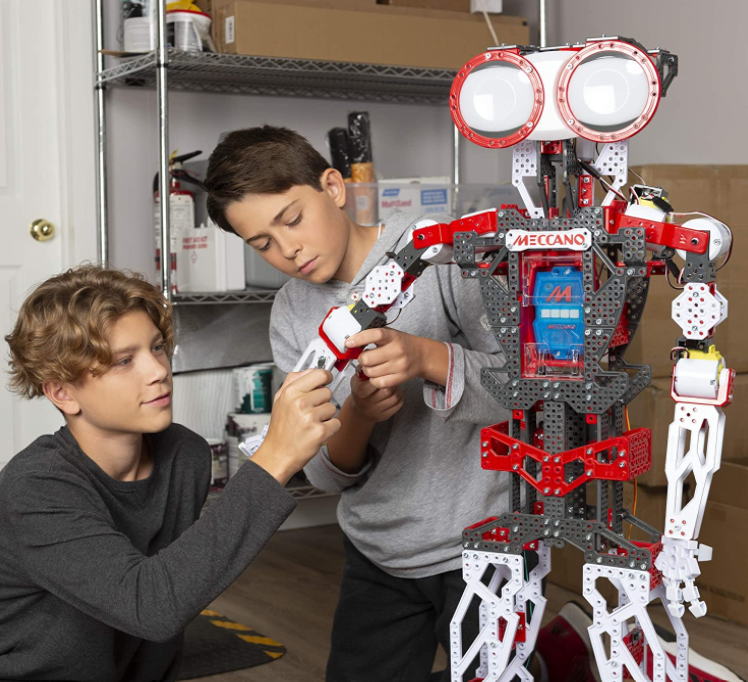 Is your kid obsessed with being on the phone or the computer? Do you want them to get out and make some friends? Well, how about building their very own?
Meccanoid is a fully programmable robot with over 3,000+ programmed phrases, LED eyes, and the coolest dance moves.
This robot toy is the perfect introduction to engineering for your fifth grade or middle schoolers. This kit comes with over 1,000 parts making it a challenge that will keep your child entertained for hours.
Also, the final result is a funny, robot-friend that will be the talk of your house and your neighborhood.
This kit is a great value, see the current price on Amazon here.
Why We Love It:
The coolest 4 ft. tall, speaking robot
Combines technology, engineering, and science for a perfect STEM combination
A challenging build that results in a personalized robot
Great gift for girls and boys ages 10 and up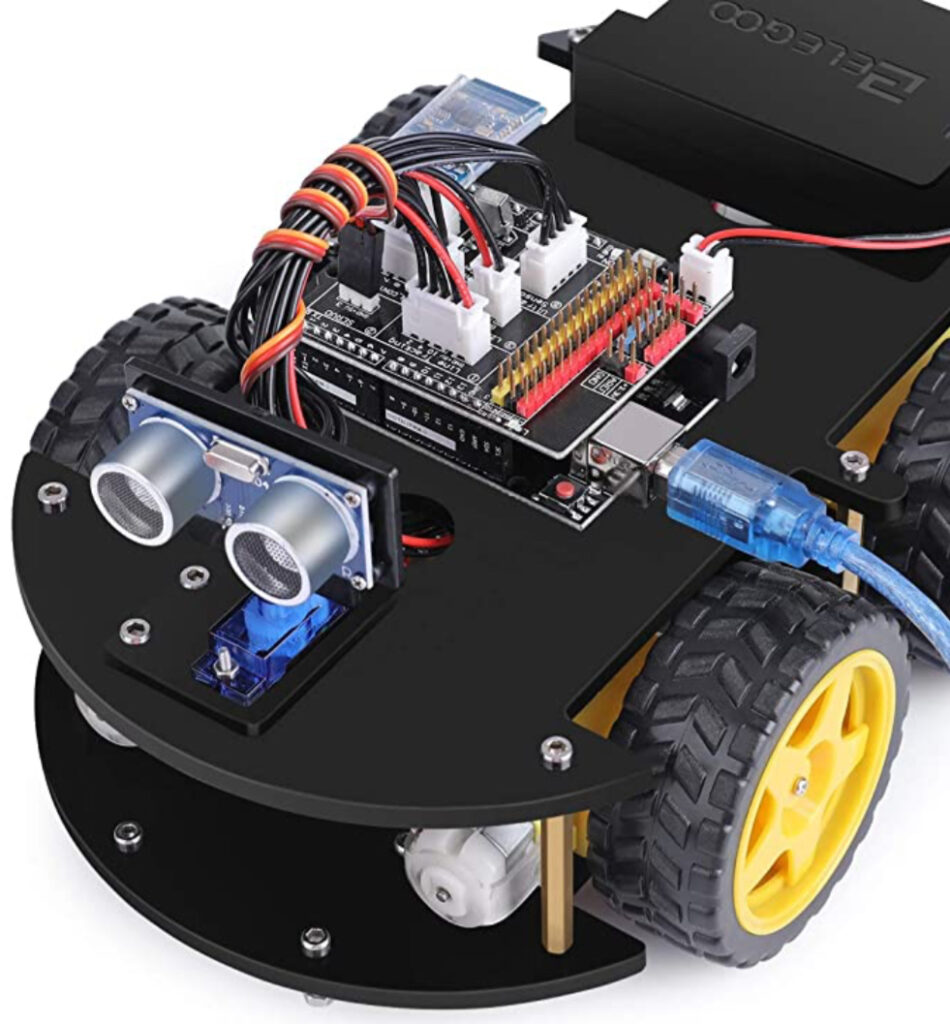 If you are looking for a more advanced robotics kit, then the ELEGOO robot car is for you. The updated design makes it user friendly and a perfect starting place for a child interested in robots and engineering.
The Smart Robot Car has multiple modes to keep you or your child entertained for hours. Whether its infrared, obstacle, or line tracking mode, you will learn how to create, load, and run the car's programming.
With so many options to explore, your child will find something to love about this kit. The package comes with 24 different parts for easy assembly.
Soon after assembly, your child will be beginning to use your Android or iOS phone to control their new smart car remotely.
Check the current price on Amazon here.
Why We Love It:
Comes with a CD containing HD instructions, codes, and tips for your robot car
Tons of different options and programs to personalize your project
A perfect way to cultivate an interest in STEM
Engaging for kids 12 and up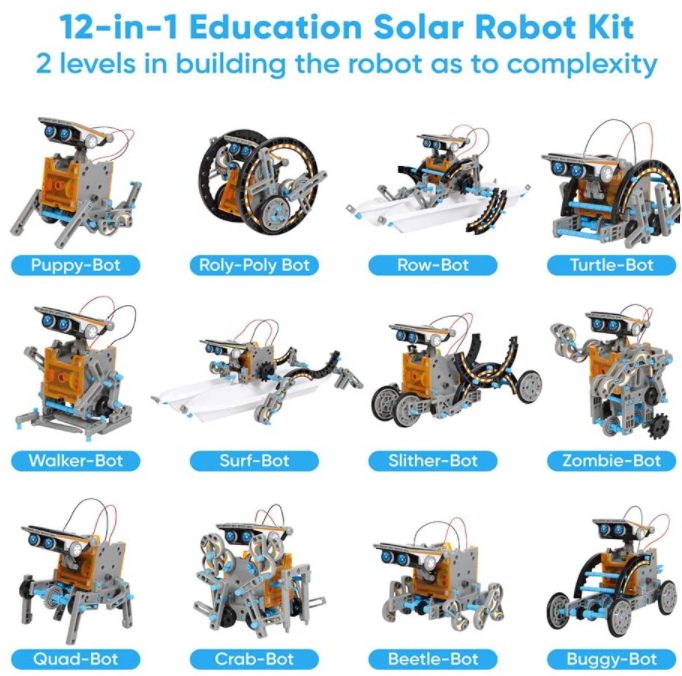 The Sillbird Robot kit is the perfect gift for your child as its two difficulty levels, and 12 design options mean this toy won't be related to collecting dust on a shelf.
Now is the perfect time to introduce your child to caring for the planet through green technology.
This robot is unique because it is completely solar-powered and doesn't require electricity or batteries to run.
Your child will learn how to assemble a gearbox and a solar panel, and how to run tests on a motor. But the coolest part is that this robot can move on land and in water.
A perfect mix of education and challenge, your child will naturally develop engineering skills through play.
See the current price of the Sillbird STEM solar robot on Amazon here.
Why We Love It:
No more running to the store for batteries, as this robot is powered by the sun
All the pieces for this robot are sturdy, durable, and non-toxic plastic
Has two difficulty levels so that the robot will grow with your child
Encourages learning through play, a perfect fit for kids aged 8-10 and older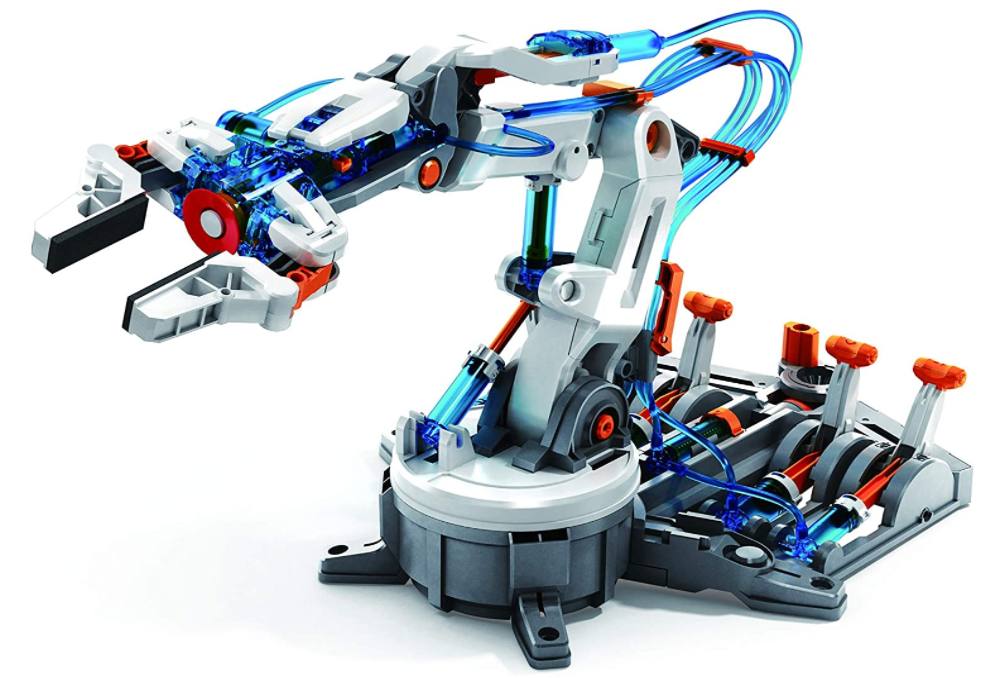 If you ever wanted your own hydroBot arm, then look no further than this Elenco kit. With its 270-degree arm rotation and hydraulic plungers, this robotic toy will quickly capture your attention.
Teach Tech believes in the power of renewable energy and coding. They have combined them to bring you a robotics kit that is education while boosting confidence and critical thinking skills.
Your child will play for hours as they learn how to make this robot arm move, twist, and grip objects — a perfect introduction into the power of engineering for kids who love tinkering and exploring how things work.
See the current price of this robotics kit arm on Amazon here.
Why We Love It:
You can use this robotic arm to move, grip, and pick up objects
You'll learn about the power of water and how it can be used in robotics
With a focus on green energy, your child is introduced to an eco-friendly side of technology
A favorite for kids 12+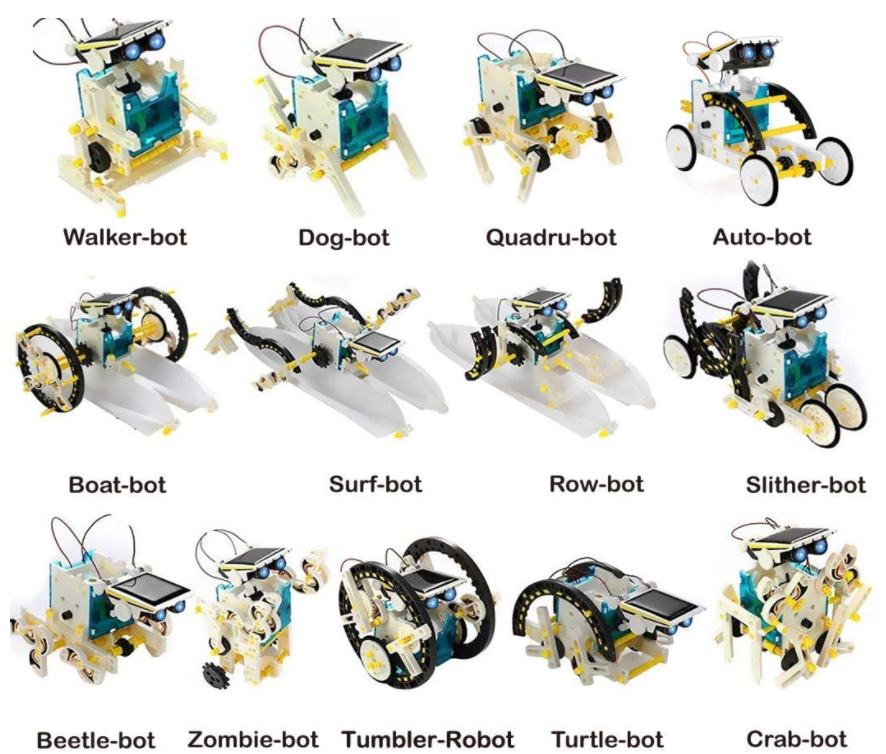 This STEM solar robot skit will inspire your child's interest in science and help them explore the world and technology. Get your kid outside by teaching them the power of the sun in this fun and unique way.
This robotics toys kit includes 190 building block pieces that are the highest quality plastic to help you create an original robot.
With 13 robot options to choose from, some of which move on water, you won't run out of ways to play.
The solar panel generator creates instant power, perfect for sunny days. Parents will have to pull their children away from building with this kit.
Why We Love It:
For the price of one, you're getting 13 types of robots
No need for batteries as its solar-powered
Kids can even use the pieces to build their own unique robot
A great gift for boys and girls age 8 and up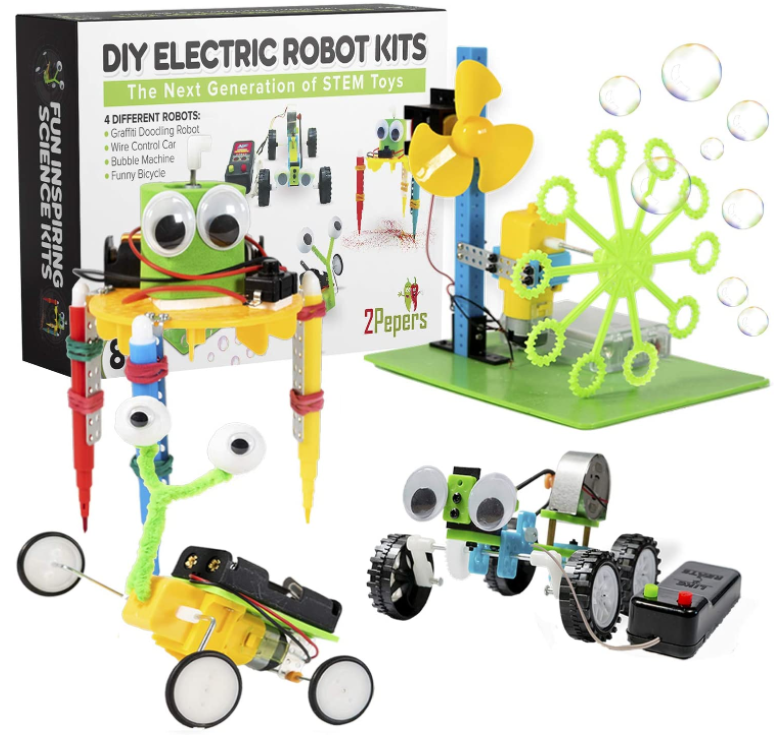 This kit is the perfect opportunity to introduce your child to the world of electronic toys while building their creativity and imagination. Take a day to build right along with them for perfect family fun.
With this robotics toy, you are getting four unique robotic kits in one. You can choose to build a car and motor that you can drive around the home with a remote control or a robot that blows bubbles.
It even comes with the option to build a drawing robot for fun sketches. So no matter your child's passion, this kit has a robot to match. Have fun watching your kids build these robots.
See the current price on Amazon here.
Why We Love It:
Kit includes 4 mini motor robotics kits, well-written instructions, and child-sized screwdrivers
A chance to build their own electric motor
The robotics kit comes with 24 hr response from the company
Perfect gift for kids 8 years and up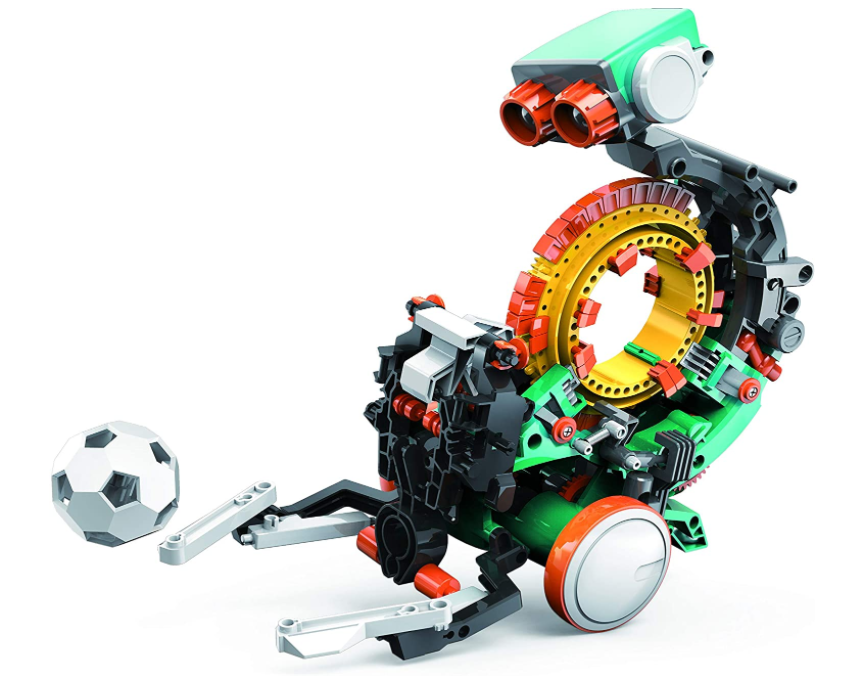 Are you looking for a next-level robot? Then Mech-5 is perfect for you! It kicks, throws, draws, lifts, and spins. These advanced movements will keep your child engaged for longer.
Inspire your young budding engineers with this robot. A great opportunity to learn basic coding, plug in the code on the coding wheel and watch your robot come to life.
Develop problem-solving skills by tinkering with the code and find joy in meeting the challenge. Multiple learning opportunities that your kids won't mind. This one of a kind robot will not disappoint.
Check availability of this robot kit on Amazon here.
Why We Love It:
This robot can kick a soccer a ball and draw a picture
Great STEM introduction to coding
Powered by 2 (AAA) batteries
Geared for kids 10+
Why We Choose These STEM Robotic Kits
While there is a lot of these robotic kits on the market, we choose these because we think your child will learn and grow with these kits. Learning while having fun and not necessarily thinking that your learning, is the best way on expanding skills.
One of the most important things when looking at stimulating toys is that YOUR child will be interested, so it's merely a matter of picking the one that best suits your child's needs.
These are the best kits we've found but, this list will be updated from time to time as new kits come out, or from your suggestions.
If you've found one that's been an excellent fit for your child let us know down in the comments and we'll check it out!