Toys for Mechanically Inclined Toddlers
Is your child curious for mechanics and building?
How to Identify a Mechanically Inclined Toddler
Whether your child simply has an innate knack for mechanical construction or they see you busily repairing household items, a curiosity for mechanics can most certainly happen to any toddler.
If they treat every object like a building block or simply stare at you in awe when you're completing DIY projects, they may very well be mechanically inclined.
Even if they knock those projects down at the end, your child's mechanical intuition is craving attention. The best gifts are to provide them with safe outlets for them to progress and advance this appetite for building.
Importance of STEM Activities
STEM toys are the perfect outlet for kids to express and develop this mechanical inclination. Even if they aren't completely mesmerized by building or putting things together, STEM toys can help initiate that curiosity for a hearty life of construction.
STEM toys are an excellent way to blend fun with the development of all major subjects including Science, Technology, Engineering, and Mathematics.
They are typically a safe way to express their curiosity and can develop crucial learning skills such as critical thinking, creativity, and problem solving.
How to Develop Their Curiosity
Depending on the age of your toddler, you may want to develop their STEM capabilities, but can't seem to get them glued off of your iPad or television set.
Start by engaging in a multitude of questions that are difficult for almost any child to ignore, such as "Which car do you think will go faster?" or "Do you think you can make a tower made of plastic cups?"
Continue to use terminology that embraces their curiosity, and when you're ready to get your own chores completed, allow them to play with a safe set of toys to continue this imperative development.
Best Toys for Mechanically Inclined Toddlers
This list attempts to pique the interest of your child with toys that can be expanded on and not just sit on the shelf collecting dust when your child outgrows them.
Some of these are the more affordable smaller packages, so feel free to purchase a bigger set if you're confident your child will enjoy it, or maybe you'll find yourself doing it after you see how much they love it!
If you're looking to develop spatial and constructional thinking while refining their motor skills, then look no further.
This one of a kind construction set allows your toddler to experiment in building shapes, animals, and towers with ease.
This widget-like STEM novelty is very aesthetically pleasing with vibrant colors leaving you and your toddler amazed at what they can create. With its own unique design, it is sure to leave your child's curiosity thriving. See the current price on Amazon here.
Can anyone get enough of Legos? The correct answer is no. Legos are the quintessential engineering toy for kids of all ages, including those adult kids.
With the expansion of Duplos, or legos, but twice the size, these have become much more accessible and enjoyable for toddlers.
They are easier to handle and don't cause as much of a safety hazard while also being compatible with legos for when they do transition into the next phase of their lego experience.
With countless projects to utilize, legos/duplos are a must-own for a mechanically inclined toddler. Check availability on Amazon here.
This is a perfect toy to fine-tune toddlers' motor skills or to develop their engineering building mindset. Simply put, your child will love the beautiful colors and enjoy stacking the pegs as high as possible.
Feel free to use it as a learning opportunity engaging in Mathematics such as counting, adding, or subtracting. With a very affordable price, this board is made of foam, but plastic sets are also available for durability and ease with construction.
They come with an organized bag to keep yourself sane with organization because they are guaranteed to go crazy with fun. See the current price on Amazon here.
Nothing beats some good old fashioned building blocks. We all remember building blocks at a young age, so it should be at no surprise that these are featured here.
With 150 blocks in beautiful colors, toddlers will thoroughly enjoy the endless amounts of possibilities they can design with this set. It comes with an easy-to-carry duffle bag making it transportable.
Spark their imagination to let them construct at their own pace, or help them design a blueprint to construct a palace, towers, or animals! See the current price on Amazon here.
K'NEX is a ridiculously popular toy that tasks children with building simple or complex designs. This set comes with 66 plastic-chunky pieces, not making them a safety hazard like the traditional K'NEX toy, and still gives you a wide range of project designs.
Construction projects include airplanes, bugs, trains, and many more making this the perfect multi-faceted learning experience.
Albeit plastic, they are soft and colorful making them perfect for toddlers of all sorts. It's the perfect combination of stacking mixed with connection gears to truly develop that engineering mindset.
Check availability on Amazon here.
With this massive 109 piece set, your child will flourish in mechanics, science, engineering, and mathematics. The building blocks are almost a misnomer as this is much more advanced than that including wheels, axles, nuts, bolts, and even a child-sized socket wrench.
This STEM toy will help develop their critical thinking, motor skills, and reinforce their creativity. These bright objects are very easy for a child to assemble helping them maximize their constructive intuition.
They do provide 19 project ideas, but a lot of it is left to you and the children to develop their own ideas and optimize their problem solving capabilities. See the current price on Amazon here.
This beautifully translucent magnetic building set adds an element of the arts to STEM learning. These pieces attach to each other, or other objects, magnetically to help your child develop spatial, tactile, and mechanical skills.
With 30 colorful shapes including different sized squares and triangles, the possibilities of engineering can fully help their creativity flourish.
If you've heard of Magna-Tiles, these may be a bit more expensive, but they are more durable and do not fall apart as easily, making it worth the value.
See the current price on Amazon here.
If you'd like to see the difference between Magna-Tiles vs. Picasso Tiles, I have a comparison in that article. I go over strengths and value so you can make the best decision between the two.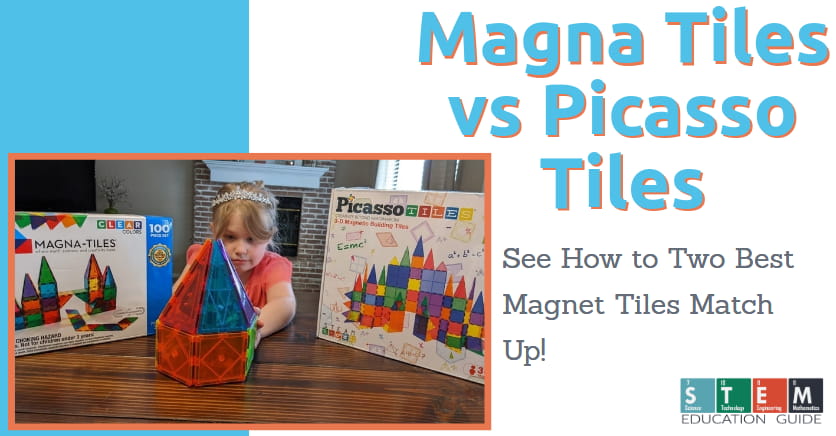 Racing marbles. That's right. This racetrack is easy-to-setup developing their mechanical skills and is a continuous cycle of fun, literally.
They can rebuild this track to be designed however they please and maximize speed or difficulty. Kids learn basic elements of physics by having different elements that either speed up the marbles or have them come to a complete stop.
Add different levels of fun by exposing them to collaboration and competition as it is a racetrack! Check availability on Amazon here.
If you want a true bonding experience, nothing screams nostalgia more than a good old fashioned wooden train set.
This comes with multiple types of features including curved tracks, passenger cars, people and a bridge to make an entire train town.
Even better, they are compatible with other train sets that can help you expand on this one including "Thomas and Friends." The craftsmanship is second to none and at this price, you cannot go wrong! See the current price on Amazon here.
This innovative toy set allows you to put together and take-apart toys utilizing seven child-sized screwdrivers. This makes them the perfect set for collaboration and endless fun.
Instead of simply playing with toys with their imagination, they'll have to create the characters that they can tell a story about including dinosaurs, trains, and helicopters.
Another excellent option to develop their motor skills, mechanical engineering, and to develop their problem-solving skills. Once your children get hooked on this, it will be hard to take it away from them.
See the current price on Amazon here.
This is the ultimate STEM toy to develop hand-eye coordination, motor skills, and to reinforce their creativity all while remaining at a very affordable price.
It features a massive 176-piece set which gives you much more versatility to develop their curiosity and enhance their imagination. It comes with a guide to help you get started on 42 ideas, that's more than other sets have in pieces.
With the adaptability comes more options for beginners, intermediate learners, and more experienced constructors to design and help their minds flourish!
Check availability on Amazon here.
Reasoning Behind these STEM Toy Choices
The options in toys are endless, so it's simply a matter of picking the one that best suits your child's needs. Also, it should be noted that all of these toys are made with the best safety of the child in mind so I didn't add in those features in the brief reviews.
However, you know your child best; if you think they'll put marbles in their mouth which becomes a choking hazard, then stray away from that set!
If these toys don't work for you, I would strongly suggest for you to keep trying. Continue to find ways for them to expand on the toys that they do love like adding another set of legos, blocks, or K'Nex for when they do grow out of them.
The number of possibilities for these toys is endless, but if you really want to get the best use out of them, you'll have to do your research, invest in an activity book, or discover more designs online!
With these toys at the forefront of their minds, you'll be amazed at the intelligence and mental growth of your child. Enjoy!
Wrapping Up Toys for Mechanically Inclined Toddlers
There is so much value in having your kids play and explore these mechanical toys. STEM toys are crucial to developing their traditional skills while opening their minds to the endless possibilities of science, engineering, mechanics, and mathematics.
They'll find enough technology on their own, but at this age, it is important to develop their love for these other subjects and use technology as a supplement instead of an addiction.
Do yourself and your kids a favor and invest in these toys to have an elongated development of learning and fun.
Be sure to take a look at our article, the best subscription boxes for toddlers. Subscription boxes are a great way of finding new educational crafts and activities sent to your home monthly.