The Best Subscription Boxes for Toddlers: 2023
Subscription boxes for toddlers have been hot on the market for the past few years.
From clothing boxes to snack boxes. Picking up your new box each month from your doorstep can feel like the equivalent of Christmas morning. My kids beam with wide eyes whenever we have a new box to unveil.
With the rise in subscription popularity, there is a plethora to choose from. Especially in the early development sphere. Since there are so many options to choose from. We have decided to break down the best ones we've found.
Make sure to check out our Best Subscription Boxes for Toddlers buyers guide down at the bottom.
I encourage you to read my article, but if you're short on time and looking for my number one pick as the best subscription for toddlers, you'll want to check out the KiwiCo Koala Crate here.
Best Subscription Boxes for Toddlers
Lovevery
Lovevery (pronounced "Love-Every") began after one of the co-owners read about the magic behind neurological development in infants. This sparked an idea to support parents and children by creating play-based experiences that show children how the world works.
Lovevery is recommended for children 0-4. There are two subscription options. One that ships every 2 months (for 0-12 months), or a subscription that ships every 3 months (for 1 to 4-year-olds).
Why we love it:
While many subscription boxes are monthly, we love that Lovevery stretches theirs out. Their boxes come full of open-ended activities to use in multiple ways that last.
Their instructions are clear and support parents. They provide info on how specific ways the box supports your child's development, and gives useful tips. This can help parents feel more confident!
The materials are well crafted, built to last, and sustainable. These materials will be used even after the next box comes.
My kids and I did a full review of Lovevery, and trust me, you'll want to see the deep dive.
We were very impressed with the quality of the products, as well as how supportive it is for parents. You can also see on their website all of the advisors and key researchers that go into building their products.
There is a lot of thought put into each product, and each box. You can find more information and sign-up on their site here.
KiwiCo Kola Crate
If you've been reading our blog for a while, you might know that KiwiCo is one of our go-to subscription boxes. We love KiwiCo and still receive their boxes to this day. KiwiCo offers multiple different crates for different age groups.
They have their panda crate (0-36 months), koala crate (3-4 years old), kiwi crate (5-8 years old), atlas crate (6-11 years old), yummy crate (6-14 years old), doodle crate (9-16 years old), tinker crate (9-14 years old), maker crate (14-100 years old), and their eureka crate (12-100 years old).
As you can see, they have multiple crates that offer different areas of learning for different age groups. You pick a delivery schedule that works for you, and can cancel at any time!
Check out our review of KiwiCo here, where everything KiwiCo offers is broken down further.
Why we love it:
They have so many box options that support your children's learning even as they get older. They have boxes for all ages.
You can shop their crates by age and interest.
For the quality of engagement, my kids get each month with a KiwiCo box. I'd say you can't beat the price.
You can check the current price of the KiwiCo Kola Crate here.
The Preschool Box
The Preschool box was created by former early childhood educator, Tina Schnell. With her experience in mind, she includes all of the skills and concepts taught in early childhood classrooms in all of the subscription boxes offered.
The Preschool Box offers two types of subscription boxes. The Preschool Box and The Little Readers Book Club.
The subscriptions are delivered monthly. The preschool box is delivered at the beginning of the month, and the readers club is delivered at the end. You can pause or cancel your subscription at any time.
Why we love it:
Includes materials you'll find in a classroom. Great for parents who may choose to homeschool their preschool-aged children.
There is a detailed parent guide that helps parents support their children's learning. From phonetics, and counting, to simple patterns. Your child will learn like they're in the classroom.
The provided materials cuts down on wasting materials you'd have to purchase on your own. They give you exactly what you need.
You can find the current price of The Preschool Box on their site here or on Cratejoy here.
Bookroo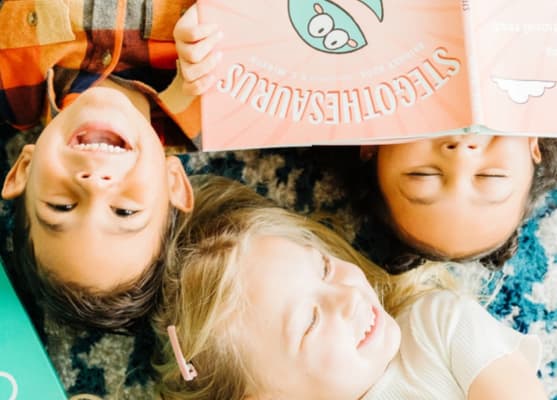 Bookroo is a readers club subscription service that helps you build your at-home library. There are four different subscriptions that are geared towards your child's age group.
The first is the board book club (ages 0-3). Then the picture book clubs (ages 3-6). Next, is the junior chapter book club (ages 7-10), and last is the middle-grade book club (ages 9-12).
For each club, your reader will receive about 2-3 books every month. The scheduled delivery is flexible, and you can cancel at any time.
Why we love it:
Bookroo uses feedback from its readers to find books that best suit its audience!
Bookroo also includes a digital book platform that allows you to learn more about the characters and authors of your books!
We love their motto of encouraging parents to spend more time reading with their littles.
You can see the current prices and check the availability of Bookroo here.
Little Passports Early Explorers
A lot can be said about Little Passports, as this is one of my kids' favorites. They have a wide range of kits available for all ages, but their Early Explorers kit for toddlers is one of the best.
What does Little Passports specialize in?
They are an adventure, cultural subscription for kids. Each month you'll receive a new adventure around the world. Storys from pen pals, games, educational activities, and even souvenirs of the places you'll visit.

One of the things I loved most about this subscription as I was going through it with my kids was how well everything was put together, all the activities flowed perfectly, and my kids loved every minute of it!
There is too much to go over here, so please take a look at my full review of Little Passports here. Or, head on over to their site and see current prices and everything that's included.
Why we love it:
It's a cultural adventure box.
One of the most well-thought-out and highest-quality subscriptions I've seen.
Little Passports makes learning history and geography fun!
Click here to see the current price of Little Passports Early Explorers.
Raddish Kids
Does your toddler ever want to help you cook? My son loves to grab my ingredients out of the pantry or just get the stool to watch me cook.
You'll have more fun with Raddish Kids, and create true love for cooking with your toddler and all your kids. Included are recipes they will love, step-by-step educational recipe guides (these are laminated to not get messy), kitchen quality tools, and a shopping list for cooking recipes.
You can also take a look at my review with my daughter here.
Why we love it:
Teaches kids step-by-step how to cook their favorite foods.
Shows kids how much time is needed in the kitchen while mixing and cooking.
This is a great way of low-pressure learning, and time well spent.
To see the full list of everything that's included, make sure to check out the Raddish Kids site here.
Tinkering Toddler Crates
Tinkering Toddler Crates is for children ages 3 to 5. Each crate comes with three engaging and fun activities, and all materials needed to complete the activities are included.
Plus step-by-step directions & suggestions for use. Sensory play, art, science, early math, and early literacy can be found in the Tinkering Toddler Crate activities.
Why we love it:
Created by a teacher and mom specifically for toddlers.
No pressure learning, kids will have fun and learn at the same time.
Themed Monthly Crates.
You can see the current price of the Tinkering Toddler Crates here.
Green Kid Crafts Junior Box
I saved one of the best for last!
This was another box that my kids loved. While we usually go for STEM and educational subscriptions, Green Kid Crafts has a fantastic mix of STEM and art.
The Junior Box is made for kids 3 to 5 years old. You can develop your preschooler's fascination in the world around them through our fun experiments, creative engineering, and science activities – all packed in one unique box!
I love that you can purchase individual boxes as well.
You can find my review of Green Kid Crafts here.
Why we love it:
A great mix of art and science.
Crafts with learning, perfect mix!
The crafts in our box were things my kids made and held onto for a long time. This made if feel like we made the right choice.
Check out the current price of Green Kid Crafts Junior Box here.
Best Subscription Boxes for Toddlers Buyers Guide
I made this guide to find the best subscription boxes for your toddler. It goes over a lot of information, but it will be beneficial for finding the best fit for your family.
First, let's touch on how your toddler will benefit.
It is known to most parents how important the early years are for development. Just in the first year a child goes from needing around-the-clock care. To learn how to communicate verbal sounds, pick things up with their fingertips, to maybe even start walking on their own.
It can be exciting watching your little one learn so much in such a short time span. It can also leave you questioning, what are the BEST ways I can support this pivotal time?
Cue subscription boxes! Subscription boxes are an affordable way of seeing what is on the market for toddler development. All of the different toys, books, and activities that can best support them for where they are in their learning. The key part here is where they are in their learning.
Every child develops at a different pace, which is a key foundation for most toddler subscription boxes.
Here are a few key things to look for when choosing a subscription box that fits your toddlers' needs.
Open-ended: Are the materials provided open-ended? Meaning, can your child use the materials in multiple ways? Children thrive when they are able to utilize materials to create something that they have envisioned on their own. It supports creativity, problem-solving, and imaginative play.
Customizable: Does the subscription company provide boxes that fit multiple age groups? Once your child ages out of one, can they transition to another box?
Can you adapt your order frequency? Maybe your child is still getting so much out of their first box. The option to pause allows them to go at their own pace before introducing something new.
Well-Researched: Do your research to find out how well-researched the box is. A subscription box is an investment.
Therefore, it is important to find out how the company has researched its approach in support of early brain development. Check out other reviews from caregivers as well to hear their thoughts!
Which Box Is Best for Kids?
Some other thoughts about subscription boxes for toddlers while we're wrapping up.
Since my own family loves subscription boxes. We have experimented with so many different ones. Check out the list we compiled of STEM Educational Subscription Boxes for kids.
Crate Joy is another great website that is a resource for all things subscription boxes. You can use their filters to find boxes with specific themes, age groups, and more.
Subscriptions can bring relief to us parents. We always want what is best for our kids, and all of these companies support that notion.
Lastly, It gives your children something new to look forward to each month, and exposes them to how the world works in many ways.
For us, these are wins, wins all around!