How to Keep Kids' Crafts Organized: 9 Ideas
No parent has escaped it.
We've all watched our beautifully organized craft areas turn into a sticky, giant mess overnight as our kids play with all their crafts. This is obviously a distraction for you, but working in a messy space can also hinder your child's learning and creativity.
Listed below are tips and materials that will help you keep your children's crafts organized so that learning in the space will be a fun experience for them, rather than a stressful one.
Shelf With Labeled Bins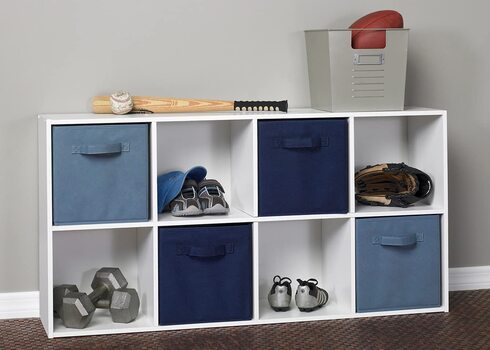 Do you want organization and your space to look nice?
Everything must have a place in order for your craft area to stay organized. Invest in a good shelf, preferably a big one with drawers or bins that can be labeled and easily accessed by your children.
This shelf is a favorite of mine because of its versatility; I can add storage cubes to keep things contained, use the whole thing as a bookshelf, or mix it up in any other way I want.
They also have a ton of options for different color storage cubes. You can check out all the color options here.
Why We Love It:
It makes your play area look organized while providing some style.
It's easy to move around the storage cubes for more flexibility.
You can see if this shelf is still available here.
Storage Cubes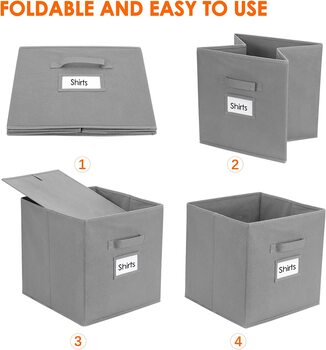 These fit inside the shelf that is linked above. They have slots for labels, but if you do not want to change a paper label out every time you reorganize, you can use a blank label and a dry-erase marker on the plastic covering.
You can find these storage cubes here.
Craft Trolley
If you don't have room for an entire shelf just for crafts in your living space, a trolley can serve a similar purpose.
The one listed above has built-in drawers of a variety of sizes that can sort any number of craft supplies and tools. Best of all, it can be rolled into a closet or storage area when crafts are not being made.
Why We Love It:
This makes it easy for kids to grab their crafts (and put them back).
We like that it's on wheels to move to the area where kids will need it.
You can see the current price of this craft trolly here.
Please take a look at our list of Basic (And Not So Basic) Kids Crafting Supplies List. This can give you some ideas to have on hand at all times.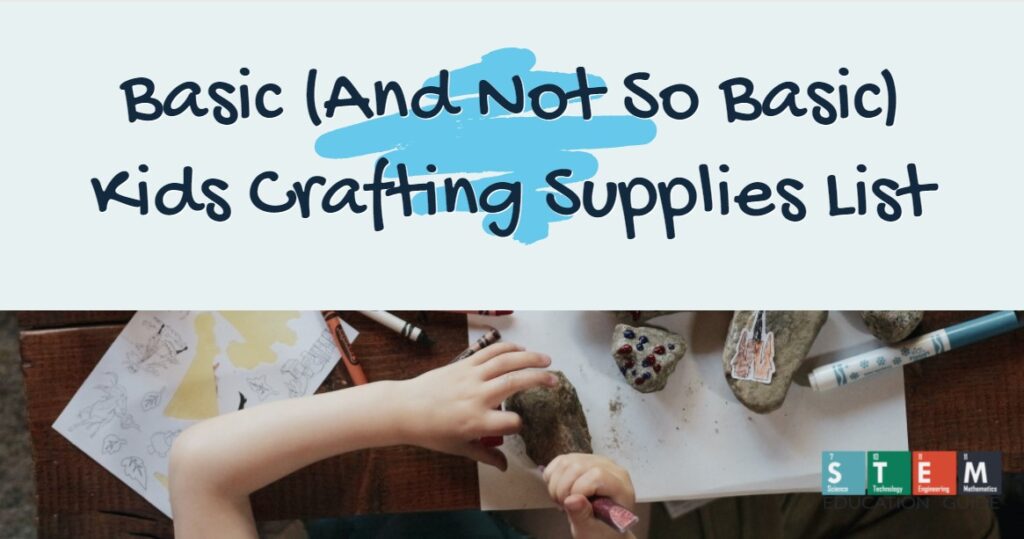 Move Boxes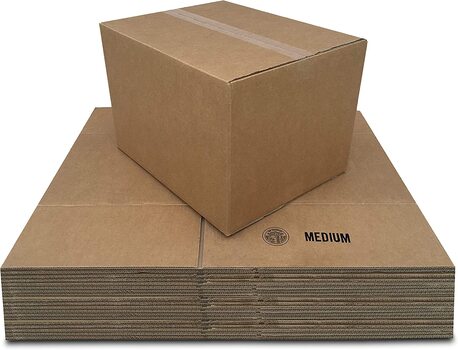 Ok, don't laugh at this one. It helps me get organized with my kids' toys and my own stuff!
My kids have a lot of toys and crafts. I like to keep them in rotation, so they don't have everything to pull out and thrown on the floor. I pack a few toys up and hide them in the garage until they forget about them. Then, I bring them back out when the seasons change.
Or, you can cut down on all the stuff!
No matter how good you are at organizing, clutter is inevitable if you have too many things in one place.
Consider donating craft supplies you don't use anymore to a creative reuse store. Click here for a list.
You can find the perfect-size moving boxes that I use here.
Large Sturdy Craft Table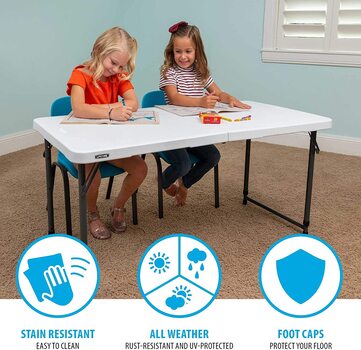 Even if you don't have enough space where you live for a separate "schoolroom" or "craft room," try to designate one area of your living space for crafts and/or school.
Set up a sturdy table that can be cleaned easily (or perhaps one that can afford to get a little paint on it), and let your kids' imaginations go wild there.
I'm a homeschool mom, so this is especially important. It is difficult to create a balance between home and school atmospheres, but having a place set aside specifically for school will help ease the ambiguity.
When your children are sitting in one specific room or area, they will more comfortably enter into a studious mindset; when they are in other areas of the living space, they will feel freer to play. If children do school work throughout the whole house, children may feel like they are either always at school or always free to play.
You can see if this craft table is still available here.
Tiny Craft Bins
If you decide to use drawers or storage cubes to hold craft supplies, you may need to organize items within the drawers as well.
This especially applies to smaller craft supplies such as beads or any little crafts that seem to roll away. These bins can help prevent a layer of small items from collecting on the bottoms of your drawers. 
You can find these little craft bins here.
An art subscription was one of the best choices for my family. We receive new projects month, at our doorstep. No need to come up with new crafts or gather materials, everything is included. You can find our list of the best Arts & Crafts Subscription Boxes Kids Will Love.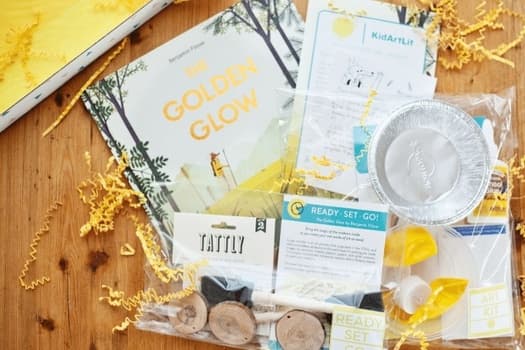 Pencil Holder
For upright things such as pencils, pens, paintbrushes, knitting needles, and crochet hooks, you can use cylindrical containers such as pencil holders. You can even turn these plain holders into a fun art project by weaving yarn or pipe cleaners through the mesh.
Always put things in containers; don't stack or just leave materials lying around! I always tell my kids, "put things away, not set them down."
This will decrease visual clutter, which will promote a creative and learning mindset for your children. You can use all 6 holders in this set for different writing utensils, so that none of them are left loose, and so your child can always find the tool they need. 
Also, it's better to have containers that are too big than containers that are too small (maybe those colored pencils fit when they're all perfectly lined up, but when they inevitably get jumbled, they'll be spilling everywhere like before)
I like these metal ones. You can see the current price of them here.
Paper Organizer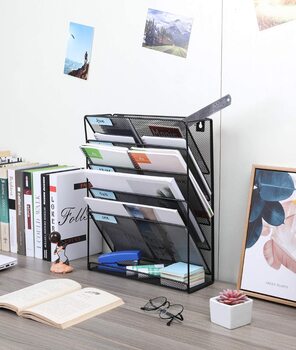 I have a few of these. One for my workstation to keep organized and another for the kids.
Paper accumulates, especially those little scraps that get left behind when your kid breaks out the scissors. This wall-hanging organizer is mesh, so you can see the color of the paper inside it, and so little paper scraps can't fall out.
It is also slanted, which makes it even easier to keep paper from slipping out and returning to chaos. 
You can see if these metal file organizers are still available here.
Accordion Folder Organizer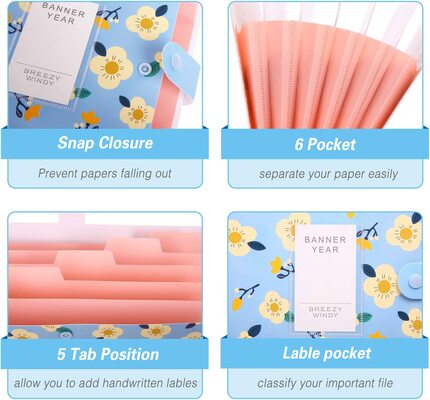 Finished art projects can overwhelm a space, too.
When the refrigerator runs out of room, you can file your child's art in an enormous folder like this. You can use the separated folders to organize the art by month, by theme, or by any other criteria you want. 
I like this pattern on this Expanding File Folders, but they have a lot of designs you can find here.
Wrapping Up
To recap, you can begin organizing your children's crafts by cutting down on the number of supplies and tools you own. Next, it is a good idea to designate a room or area of your living space to be the 'craft area' in order to foster a creative atmosphere in your children.
A sturdy, multi-purpose table and a large shelf can help establish these areas, or a trolley if space is limited.
Once the area has been established, and basic furniture has been set up, you can sort supplies and tools into cubes or drawers. Small boxes can be used to stop tiny pieces of clutter from accumulating, and tools such as paper organizers and pencil holders can help reduce visual clutter and help ensure that everything has a place. 
For finished projects, an accordion folder can be helpful in organizing finished projects into appropriate categories. You and your child can look through old projects to get inspired or to reminisce. 
Children are wonderfully creative and artistic, and these traits should be encouraged. Having a cheerful, organized place where they feel comfortable creating will help. 
Green Kid Crafts is the perfect blend of art and science. Make sure to check out our full hands-on review of Green Kid Crafts here.