Green Kid Crafts Review (hands-on + Coupon Code)
With so many STEM and STEAM subscription boxes out there, my kids were thrilled to check out the Green Kid Crafts STEM subscription. I'm happy to say Green Kid Crafts stands out as one of the best!
In this hands-on review, we put Green Kid Crafts through the test. I'll compare what makes them different from other STEM boxes like KiwiCo and Groovy Lab in a Box.
So, let's take a closer look at Green Kid Crafts in this full hands-on review!
I encourage you to read my review, but if you want to check out all that Green Kid Crafts have to offer, you can see their site by clicking here.
Make sure to use the coupon code GUIDE15 for 15% off.
What is Green Kid Crafts?
They have been around for a long time providing STEM activities for kids of all ages. Green Kid Crafts started ten years ago, empowering the next generation of environmental leaders using creative, nature-based STEAM activities.
It was started by a mother and environmental scientist, Penny Bauder. She wanted to provide boxes specially designed to help children exercise creativity, develop a love of discovery, and learn about the world around them.
As the subscription boxes imply, Green Kid Crafts will send you STEAM activities with all the materials to your doorstep every month. You can choose the age and what subjects you want your kids to focus on.
What is STEAM?
You can take a look at my article, STEM vs. STEAM here, but essentially STEAM stands for science, technology, engineering, arts, and mathematics.
Both educators and professionals involved in STEM-related fields advocated for introducing STEAM (Science, Technology, Engineering, Art, Math) to the K-12 curriculum.
This is where Green Kid Crafts comes in by providing step-by-step instructions and materials in a well-thought-out subscription service.
What's Inside the Green Kid Crafts Box
Each month will be different than the last. Your box will come with what your kids are interested in. From science to art supplies.
With 4-6 STEAM projects in each box, their 12-page magazine (booklet) with open-ended activities boxes have a range of simple to sophisticated projects. Theirs more than meets the eye from these pictures.
The first box was all about kitchen science. We made homemade soap, a volcanic field, volcanic fissures, and some fizzy bath bombs in this activity box.
This first box was for kids older than five years old. The second box was for younger kids. This Junior Box was all about numbers. We made play-dough, used the dough for some numbers activities, DIY flashcards, and a few other things you can see from the pictures.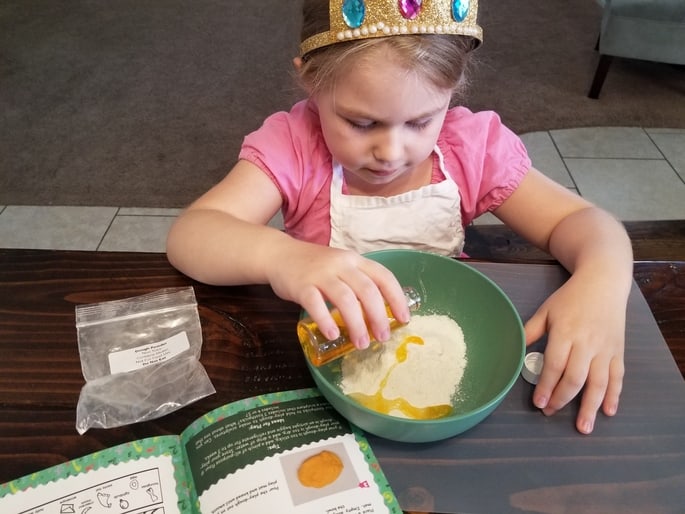 The boxes are well thought out, and everything (including the box) gets used. There's no waste here if you decide to do every lesson in the booklet. Green Kid Crafts is aware of a large amount of trash from doing arts and craft projects.
You can cut down on waste with a subscription because everything will be used, nothing wasted.
You won't have to run to the store to pick something up like a giant bag of baking soda.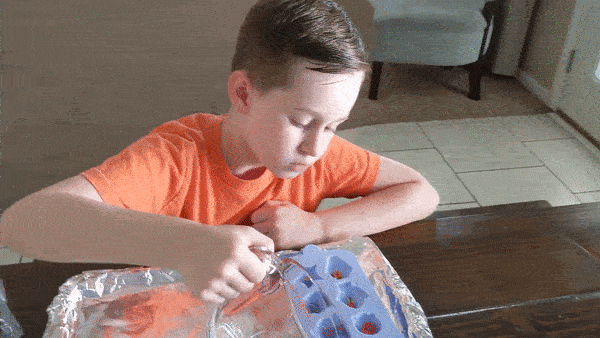 The activity my son liked the most was making soap as we've never done that before. The other one he liked was the volcanic field. We have done this, but it never gets old. You can see my article about baking soda and vinegar experiments here.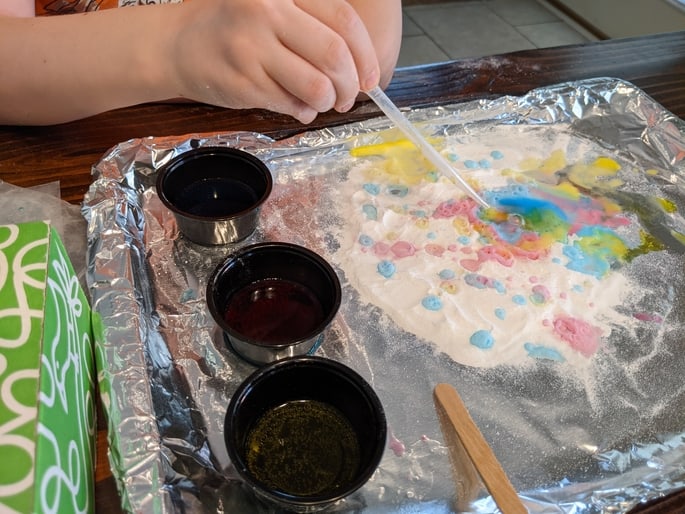 My daughter loved the numbers box as she is working on telling time right now. She didn't realize that making play-dough at home can be so easy.
There are a ton of activities with play-dough if your kids are working on their numbers. From rolling it out like a pizza and cutting it in slices to actually forming numbers with it.
The mat they provided is clear, included are a few worksheet activities that you place under the mat. One of the worksheets had her rolling up the dough in small balls and placing them in the correct spots.
Another worksheet was a clock with no hands, with questions to make the play-dough hands tell the correct time.
Overall I'm happy with the number of STEAM activities provided in the boxes.
What Age Is Green Kid Crafts For
As I mentioned above, there are four to six STEAM activities for your kids. Some will be more sophisticated than others. So, even if the age for a box is designed for five-year-olds, an eight-year-old like my son will still find something he likes.
You don't have to buy a dedicated box for each one of your kids. I'd recommend getting one box, mid-age of your kids to try out. If you find they enjoy and learn from one, maybe expand to more boxes next month.
Junior Box
The Junior box is for little scientists to prepare them for a STEM-filled future. This box is for kids 3, 4, and 5 years old, with 4 to 6 activities included in the package. Included in each subscription is the 12-page magazine that encourages creativity and learning.
Develop your preschooler's fascination with the world around them through fun experiments, creative engineering, and science activities.
Since the Junior box is for kids 3 to 5, they are more bit size experiments that you'll have to set up. You can see from my pictures, once set up, you can let their imagination run wild with what they want to do.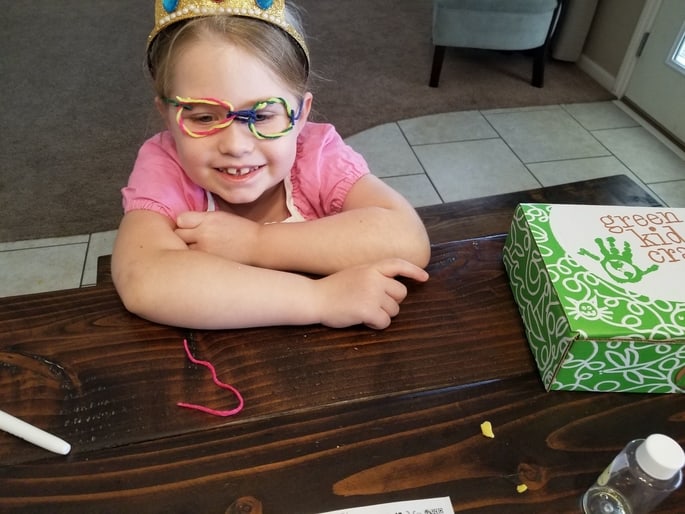 Overall they have some solid kits for younger kids. If you'd like to see all the kits available for the Junior box (you can also purchase them separately), you can see them all here.
Discovery Box
The Discovery Box from Green Kid Crafts is for kids 5 to 12 years old. Like the Junior box, each kit contains 4-6 Science and Art activities, plus a 12-page magazine.
Most of the science experiments in this crate are going to be more involved. If your kids are a little older, they should be able to handle most of the projects themself.
You can see this from the picture below. My eight-year-old son was able to make bath bombs after reading the instructions.
You can look for yourself at all of the boxes available for the Discovery Box here.
What Else Comes With the Subscription
Besides the boxes, there are a few other things included in your subscription.
Green Kid Crafts set up what they call Kitchen Table STEAM. They brought this program to all of their subscribers last year.
Kitchen Table STEAM is supplemental learning materials aligned with the box themes. While there are multiple ideas for other STEAM activities every month, this is more for the parents who want to do a little more.
Subscribers also receive their "subscriber-only" newsletters that include DIYs and sneak peeks in addition to other specials when possible.
You'll also be part of a community with like-minded parents that put a priority on their kids' education.
How Much Does Green Kid Crafts Cost
The prices are in line with the dozens of subscription boxes we've tried out. These are all in US prices, but they do ship internationally.
1 Month: $29.95 Save $5
3 Months: $27.95 Save $21
6 Months: $26.95 Save $48
One year: $24.95 Save $120
You can also purchase individual boxes at $34.95 if you want to try one or send it as a gift. If you'd like to stop your service, you can cancel renewals anytime.
These prices are at the time of writing this article. You can find all the up-to-date prices right here.
Green Kid Crafts Coupon Code
You can use GUIDE15 at checkout for 15% off your entire cart. This excludes subscriptions, gift cards, and on-sale items.
What if I Want To Change to a Different Box?
I thought about this as I was thinking about buying a subscription for my niece. She might be a little old for the Junior Box and a bit too young for the Discovery Box. I wanted to start with the box for younger kids then move up after six months.

I contacted Green Kid Crafts to ask if I'd be able to change boxes midway through my subscription. They emailed me back right away, saying that it was fine to change boxes at any time.

This is excellent news if your kids outgrow the Junior Box and need the one for older kids.
I also asked about changing subscriptions anytime. They assured me that this was also OK.
If your monthly box has shipped, the changes will be effective for the following month and the remainder of your subscription. You can also update the subscription to renew as a different term if needed.
For example, if you are a 3-month subscriber but want to switch to a 12 month, they can make the update, and it will renew as a 12-month subscription.
As you can tell, they are flexible with your needs and will work with you.
How Does This Compare With Other STEM Subscriptions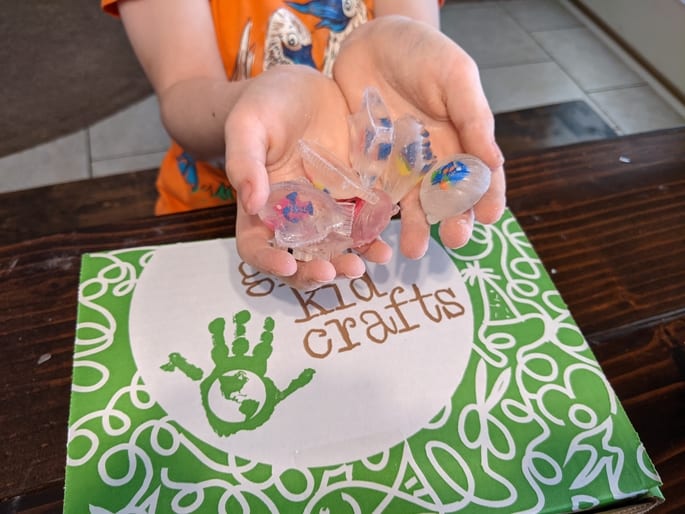 Green Kid Crafts has been offering educational subscriptions for kids for a long time, so what has made people renew year after year?
I think it's their variety and professionalism from ordering, receiving, presenting, and activities to performing the experiments step-by-step.
Everything is really well done. I never got the sense that any corners were cut.
While many other education offerings have a niche cut out for them, Green Kid Crafts has something for everyone, any subject a kid will like or topic they want to learn. They also do a great job of blending art and science to keep kids engaged.
Final Thoughts
Overall I'm delighted with Green Kid Crafts and will recommend them as one of the best kids education subscription boxes.
I like how they blend art and science and have a variety of projects to keep kids interested. I think you should be able to find a box for the age of your kids, and as I mentioned above, they are flexible with changing your subscription to meet your needs.
I only scratched the surface of everything they have to offer. If you'd like to find more information, take a look at their website here.