Curiosity Box Review (hands-on + Coupon Code)
Curiosity Box provides a different take on STEM subscription boxes.
Curiosity Box provides science experiments for kids and adults but does so in a grand fashion. We've tested and reviewed a lot of STEM boxes, but Curiosity Box goes above and beyond the traditional monthly science subscription.
I encourage you to read this review, but if you're busy, I want you to know that I give The Curiosity Box my full recommendation. You can find their site with more information here. Make sure to use coupon code BRAINFOOD for 10% off a quarterly or annual subscription.
What is Curiosity Box
Curiosity Box is a subscription-based science, technology, engineering, and mathematics (STEM for short) and educational service. In these subscription boxes are mesmerizing science toys, brain-busting puzzles, and exclusive T-shirts made for Curiosity Box customers.
Every item is hand-selected by the creators of Vsauce, the award-winning science education network with over 3 billion video views.
It is NOT a monthly subscription like most STEM boxes. They are seasonal, breaking down into these dates:
Spring Season – February 10
Summer Season – May 10
Fall Season – August 10
Winter Season – November 10
Why Seasonal
By making your STEM subscription seasonal, they can cram more lessons and science experiments in one box. With each box theme, experiments are longer and more enjoyable with better focus.
Another thing I've noticed after being subscribed to many educational boxes is they can pile up. Kids get busy with school or after-school activities. With only one "large" box a quarter, your kids will be able to focus on it for longer, getting all the education and fun without rushing to the next one.
What is Vsauce
Vsauce is a YouTube brand created by internet celebrity Michael Stevens. The channels feature videos on scientific, psychological, mathematical, and philosophical topics.
In a nutshell, Vsauce answers and explores interesting questions in a deep and meaningful way.
My kids and I have watched the channel off and on for years, and many of the topics I find interesting because I've never thought of them before.
The creators of Vsauce made the Curiosity Box so everyone can have engaging hands-on experiences with science. They do this by creating exciting science toys, and surprising puzzles sent to your door.
Who Is Curiosity Box For
From exploring our first Curiosity Box with my nine-year-old son, I feel this is for older kids and adults. If you're looking for an age range, I'd say 10+. Officially, it is for everyone 13+. Younger kids will still enjoy some of the activities, but they might not really get what they are doing.
My six-year-old daughter thought the science experiments were fun but didn't fully grasp some ideas like the solar can (more on that down below).
That's not to say that younger kids won't find Curiosity Box interesting. Some of the science toys included were fun for everyone. My son especially liked showing off one of the puzzles to his younger sister.
If your kids are on the young side and you want to check out some of their science and puzzle toys sold separately, you can find all of them here.
What's in the Curiosity Box
You might notice a few strange things inside. I haven't seen some of these items before, so we'll go over everything.
Solar Can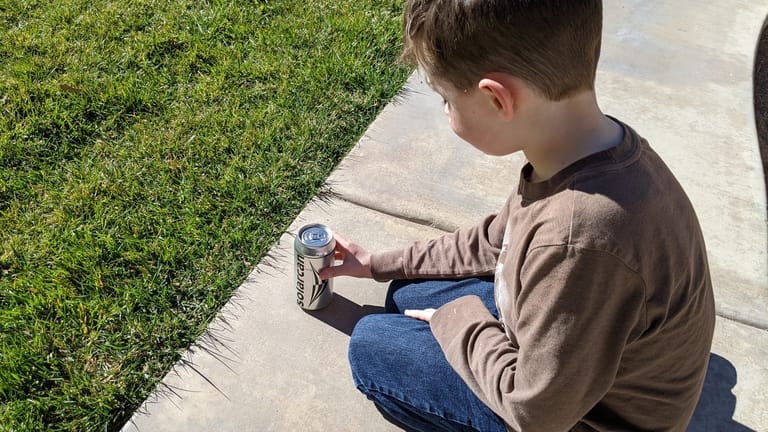 This was something I'd never heard of before, and we had to read the material to find out what it was. It's fascinating and was fun to set up.
A Solar Can is a photography tool; it's a unique camera designed to produce extreme time exposures that capture the Sun's path across the sky. Essentially, a tiny hole in the can that captures sunlight onto the film inside.
We set this up outside in our backyard the following day. It took a long exposure of the Sun's path across the sky. Then, we removed the film inside and made a copy of it in our scanner. We then use a free program on our computer called Gimp (gimp.org) to invert the photo. Gimp is free, open-source software similar to photoshop.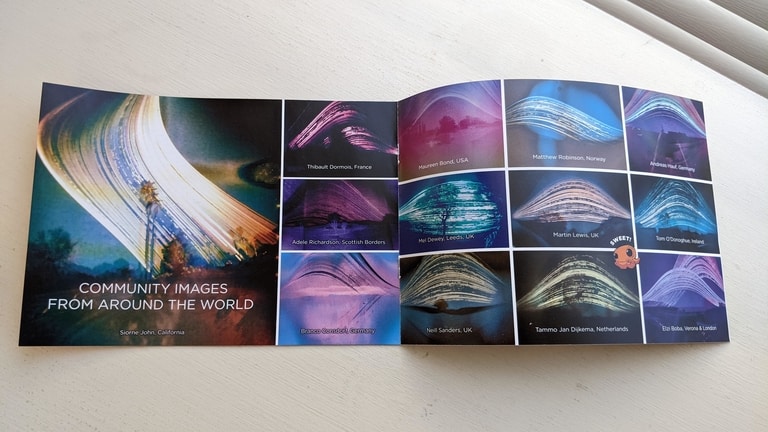 If you don't have a scanner, you can also take a photo of it with your phone.
Heat Sensitive T-Shirt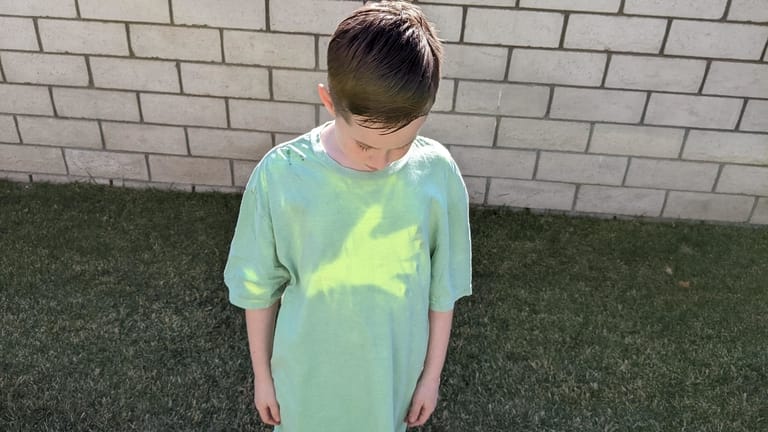 All my kids got a major kick out of this! Each box will have a unique T-shirt in the size you request. For this box, it was the heat-sensitive or Hypercolor shirt.
The t-shirt will change colors when exposed to a bit of heat from your hand or breathing on it.
Rattlesnake Eggs Magnets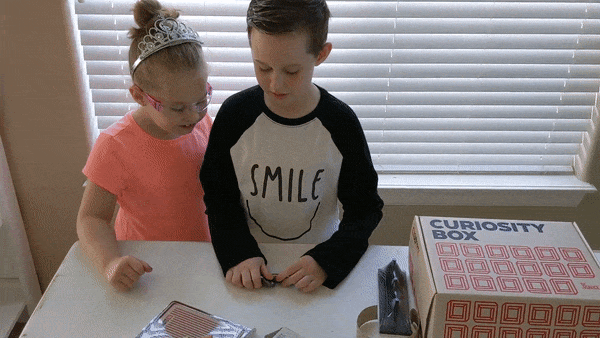 These are ellipsoidal magnets, also called rattlesnake eggs, because of the rattler-like buzzing sound they make when they slam together.
These magnets were strong enough to attract each other through the table, making the one on top follow the other underneath.
Rattlesnake egg magnets are also a survival tool. You can use them to make a compass by floating them in a bowl of water. The magnetic poles will align with the Earth's magnetic field.
Lucas' Tower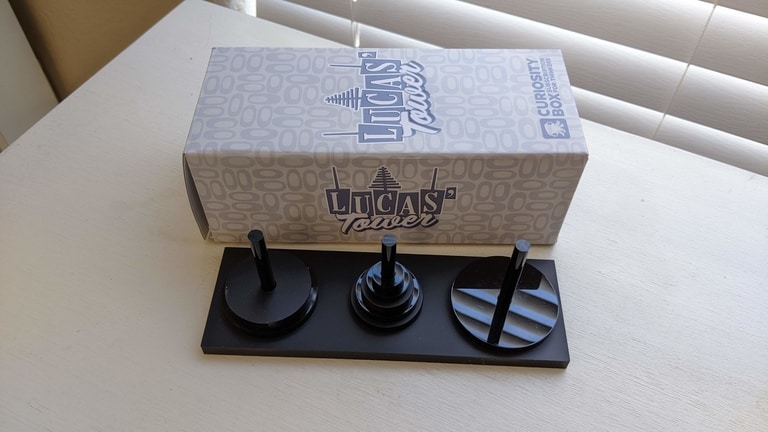 This was another thing I had never seen before (seems to be a theme with this box). A Lucas' Tower is a puzzle about stacking disks. The rules are:
Only one disk may be moved at a time.
A move is taking the top disk from one needle and putting on another needle.
You can never put a larger disk on top of a smaller one.
So, how did we do on this puzzle? We had to look it up because we weren't getting it. No shame though, it's a rather lengthy puzzle, but once we found the pattern, it's rinse and repeat.
That's Not All
Other things were also included in the box that you can see from the first picture in this section. A book, different puzzles and optical illusions, and much more that we haven't covered.
You'll find plenty to do while exploring everything that The Curiosity Box has to offer.
How Much Does Curiosity Box Cost?
The plans are simple as we only have two options, per box or a yearly plan. An added benefit is a portion of all proceeds is donated to fund Alzheimer's research.
$49.90 per box – seasonal plan.
$45.90 per box – yearly plan with one payment of $183.60. Use coupon code BRAINFOOD for 10% off a quarterly or annual subscription.
As a reminder, these are seasonal, so you'll only receive four boxes a year. $8 flat rate U.S. shipping. They provide international shipping, but the cost will be calculated during check out.
When Will Your Box Ship
I wanted to include this section because it was a little confusing at first. Most other educational subscription crates and boxes are monthly, but The Curiosity Box is seasonal. This means there might be a bit of a gap when you receive your packages.
How will shipping work, and when will I get my Curiosity Box?
The newest Curiosity Box will begin shipping within the first week of the following Months: March, June, September, and December.
For example, if you purchase a box in June (summer box), your first package will ship right away. Your next package won't ship until August (Fall box) when shipping for that season begins.
This is the same for the seasonal plan (purchasing single boxes) and the yearly plan.
For another example, if you order during the winter season, say in January, you'll receive the winter box immediately. Then, if you continue for your next order or sign up for the yearly plan, you'll receive your spring box in March. So depending on when you order, you could be charged for two boxes in a short amount of time.
If you'd like to look at the FAQ on their site, click here.
How Does Curiosity Box Compared to Other Subscription Boxes
My kids and I have reviewed about a dozen or so subscription boxes, and each has its particular way of making learning fun. Some are more focused on science and engineering, while others teach kids about different cultures.
You can find our list of the best subscription boxes for kids here.
The best comparison for Curiosity Box is KiwiCo and Mel Science. I have reviewed all of these with my kids, with Mel Science being the most recent and fresh in my mind.
Curiosity Box Vs. KiwiCo Crates
KiwiCo seems to be the most popular education subscription box for kids. While they are popular (for good reasons), I wouldn't say they are necessarily the best subscription box for kids.
This is because it depends on why you're looking for a science subscription anyway. KiwiCo has excellent STEM boxes that are creative experiments and activities.
After testing and reviewing both, I'd say Curiosity Box leans more on the science side of things. They also do a great job at including exciting experiments, stuff my kids and I haven't thought of before. KiwiCo is a little more straightforward with what's included in their STEM crates.
I recommend both, and your kids will be happy with either one. You can take a look at the KiwiCo site here.
Curiosity Box Vs Mel Science
We recently did a review of Mel Science you can find here. I concluded that they were one of the best subscription boxes for kids that we've tested.
You'll find a lot of similarities in that review with Curiosity Box. I like that both were focused on science which will be interesting for older kids. They also both maintain a very high standard with their boxes and all the included material.
The area that Curiosity Box is better at than Mel Science is raising some of the different and strange thought joggers to its subscribers. Watching Vsuase and reviewing all of the material in their box has brought up questions I didn't know I needed answers to.
I encourage you to read my review above, and you can also check out the Mel Science site here.
Final Thoughts
The Curiosity Box has a lot to offer for someone interested in science and all things fascinating. We like that they offer a seasonal box for older kids and adults looking for different experiments, and the parent company Vsause thinks outside the box with unique questions for their subscribers.
Visit The Curiosity Box website here for additional information and see all of their subscription plans.
FAQ
How Often Does the Curiosity Box Come?
The boxes come seasonal, meaning four times a year. This is different than other educational subscription boxes that are usually delivered monthly. They do this so their boxes are higher quality and well-thought-out, with plenty of puzzles and science experiments.
Is the Curiosity Box Worth It?
From testing and doing a hands-on review with my kids, I'd definitely say Curiosity Box is worth it. You can see everything they have to offer on their site here.
When Will My First Box Arrive?
Your first box will be sent right away. After that, you'll receive seasonal boxes (four times a year). For example, if you order your first box in March, you'll receive the Spring box. Your next box (summer box) will come in May.
What if I Need To Change My T-Shirt Size?
When you first order, you'll give your shirt size. If you need to change this in the coming months, just reach out to them with their login, and they will update it.
Please check out their website here for any additional information or purchase your first order. Make sure to use coupon code BRAINFOOD for 10% off a quarterly or annual subscription.