Genius Box Review (hands-on + Coupon Code)
Genius Box is a well-balanced STEM subscription for kids.
Most educational subscription boxes focus on one subject, such as science, engineering, or physics. Genius Box approach is a practical subscription box for kids that touches on four main subjects.
I encourage you to read this review, but if you're busy, I want you to know that I give Genius Box my full recommendation. You can find more information about them on their site here.
Make sure to use coupon code KRYSTAL for 50% off your first box!
What is Genius Box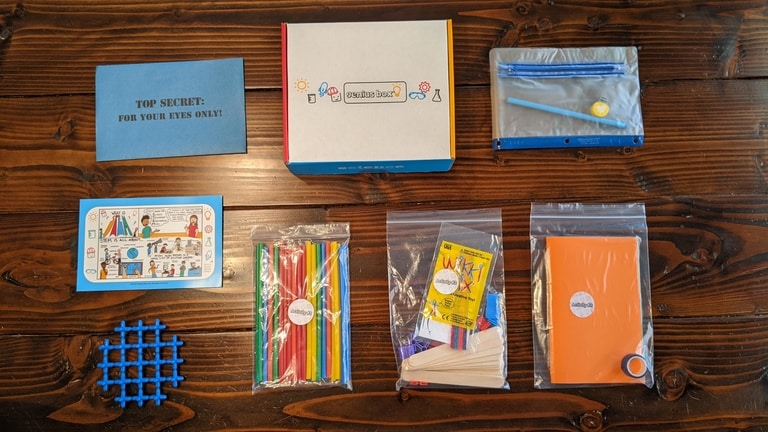 Genius Box provides monthly STEM-based subscription boxes for kids. Each kit includes activities related to science, technology, engineering, or math to engage their minds and develop new skills.
These boxes are screen-free and hands-on education where your kids will be able to perform science experiments that will captivate their imaginations. Genius Box takes the guesswork from putting together after-school activities for your kids. All the material is provided with detailed instructions.
Genius Box is made by Annie's Kit Club. I've featured this company in the past because they also provided popular woodworking kits you can find here. Annie's Kit Club has a lot of experience putting together the best subscription boxes for kids, and their Genius Box also reflects this.
What is STEM
As an acronym for science, technology, engineering, and mathematics, stem education is essential as it permeates every aspect of your life.
Unlike traditional education experiences in which subject areas are concentrated on separately, STEM education emphasizes technology and integrates subjects in ways that connect disciplines and relate them to each other.
This is why Genius Box doesn't separate subjects into different subscriptions like other education subscription services. Blending subjects gives a more realistic representation of what kids will face as adults in their careers.
What Is Inside the Genius Box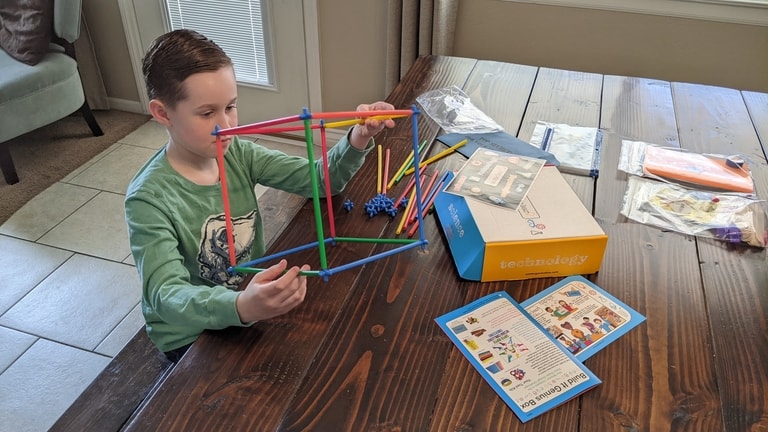 For this month, most of the activities were on the engineering side. This was a nice change because most STEM subscriptions rely heavily on chemistry. Nothing wrong with that, kids love chemistry experiments, and they are fun for adults as well.
My son was excited to receive a letter labeled "Top Secret." In this letter were the instructions on how to complete the challenges for this month.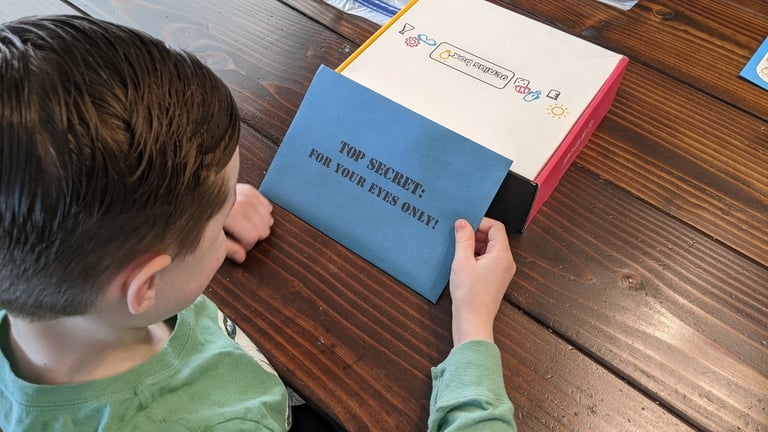 The first STEM activity was Straw Structures.
My son used straws and blue connectors to complete a few tasks in this challenge. They have images of a few different structures to make. I really liked that they categorized these structures in three ways, easy, medium, and hard.
Genius Box also encourages kids to come up with their own designs, but I like the examples given as well.
The second STEM activity was Craft Stick Construction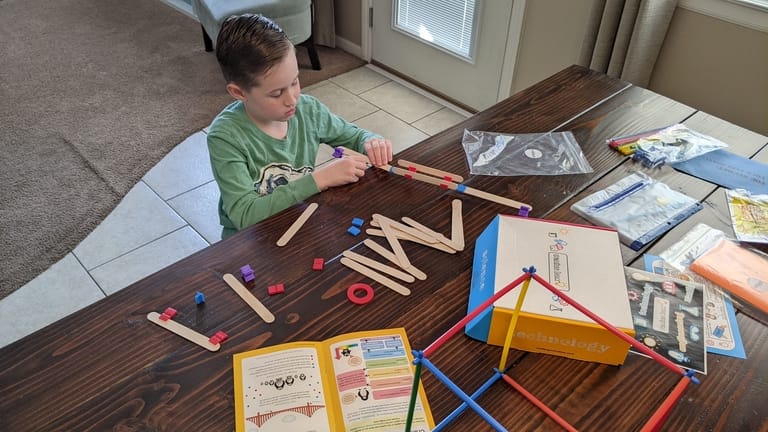 This challenge was to build a basic yet versatile bridge with craft sticks and various connectors. Your kids will be using the Engineering Design Process and the Scientific Method. I have free downloads of both on my site here.
I like that the booklet explores the challenge by teaching kids about bridges. It goes over the foundation and the deck of a bridge and the importance of both.
My son liked this bridging activity, but it was on more of the challenging side, I think when he is a little older, he won't have a problem with it. I think Genius Box tested this out because they have a reminder that there is more than one way of solving this problem.
The third STEM activity was building a Paper Tower.
This third challenge from Genius Box was a lot like the one above. Meaning there are multiple ways of completing it.
The challenge is just using two different materials to work with, paper and tape. My sons' task mirrors the challenges builders often face in the real world—requirements, and constraints such as budgets, material limitations, and deadlines.
The first activity of the paper tower is to use five pieces of paper and tape. How tall can you build a freestanding structure? My son only had ten minutes to complete this for some added pressure. His little sister was happy to hold the stopwatch, reminding him of every minute that passed!
The second activity of the paper tower is to build a structure on a windy day. Engineers must think about various weather conditions when they are designing and building structures. It wasn't windy today, so his little sister once again "assisted" in trying to blow his building down.
That's not all!
Those were the main activities included above. There were also a few other things, like extra challenges with ideals of building different things with the material included.
Along with stickers, Wikki Stix (that are fun just to have around), a small comic strip for kids explaining what STEM was, and a vocabulary chart about everything your kids will learn.
What Age Range Is Genius Box For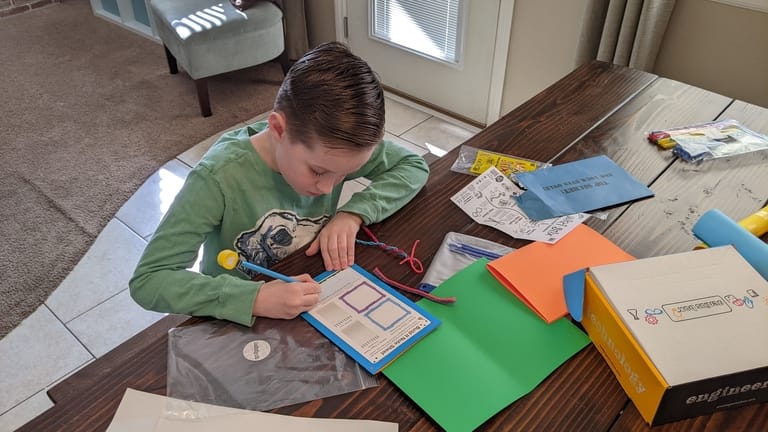 Genius Box says it is designed for kids ages 7-12, and I agree with that for the most part. My son in these pictures is nine years old, and a few of the challenges were a little hard for him. I had to prompt him on how to get started for the bridge build.
Like I mentioned above, I like that Genius Box categorized them from easy to hard. That can be a good starting point if you decide to give Genius Box a try.
How Much Does Genius Box Cost
Nothing complicated; the subscription is straightforward. The Genius Box is $29.00 a month. You'll receive a new box with a new theme every four weeks.
What About Shipping
Genius Box currently only ships to the U.S. and Canada. They are looking into expanding in other areas but for now, only two countries. When this changes, I'll update this article.
Shipping in the U.S. is free.
How Does Genius Box Compare to Other Subscription Boxes
I've reviewed a lot of subscriptions with my kids, more than a dozen. I believe we've found the best subscription boxes for kids and wanted to compare Genius Box with KiwiCo.
Genius Box Vs. KiwiCo
I chose to compare Genius Box Vs. KiwiCo for a few reasons.
KiwiCo is a very popular STEM subscription for kids. Probably the most well-known to the public.
KiwiCo is also well-rounded when it comes to what comes in its boxes.
In my hands-on review of KiwiCo, I praised them for their high quality and overall presentation in their STEM crates. They make fun projects for kids, and my kids love their science experiments. We still subscribe to this day along with other companies' subscriptions.
Both Genius Box and KiwiCo do a great job at making easy-to-follow instructions. My nine-year-old son has no problem figuring out how to complete experiments from either company.
You really can't go wrong either way.
My best advice is to look at boxes and crates and decide what your kids will be more interested in. You can also make a single purchase from both and then subscribe to the one your kids are drawn to most. Prices are within a few dollars of each other.
You can see everything KiwiCo has to offer on their site here.
Final Thoughts
Overall, my kids loved this box! They liked that Genius Box was a little different in that it focused on engineering by building structures, at least for this month. Another significant part was that the instructions were clear, and they gave examples that were easy, medium, and hard.
I'd recommend that you give Genius Box a try. You can find more information or order your first package on their site here.
FAQ
Can I Delay or Postpone My Delivery?
Yes. If you're buying this for a gift, you might want to delay an order. Once you've signed up on their website, you can reach out and let Genius Box know that you'll need to delay an order.
Will All My Boxes Be Different?
You'll receive a different box every four weeks. Anne's Kit Club, the producer of Genius Box, has been making subscription boxes for years and knows the importance of variety their customers have come to expect.
What if I Want To Send a Box as a Gift?
You have the option to send a single box or a subscription as a gift. When filling out the order form, there is a gift option section.
Do They Accept International Orders?
Not currently. They can only ship orders to the U.S. and Canada at this time.
Please check out their website here for additional information or purchase your first order.