The Young Woodworkers Kit Club Review (hands-on + Coupon Code)
Annie's Young Woodworkers Kit Club builds hands-on life skills for kids.
In this wood crafting and building kit, your kids will gain skills by hammering, sanding, gluing their own handmade toys. In this review with my kids, we'll go over everything included and how well this woodworking kit stands up to the competition.
I encourage you to read this review, but if you're busy, I want you to know that I give The Young Woodworkers Kit Club my full recommendation. You can find more information about them on their site here.
Want 50% off your first box? Use coupon code KRYSTAL at checkout.
What is The Young Woodworkers Kit
Annie's Young Woodworkers Kit is a monthly subscription that provides woodworking kits for kids. The kits are for kids 7-12 years old, but depending on your kids' interests, I'd say teenagers will have fun building these before they try and do their own projects.
Your kids will receive a new project every four weeks. The first three kits will include five kid-sized, high-quality tools that they will use again for the upcoming boxes/projects. The included tools are a tape measure, screwdriver, jeweler's screwdriver, carpenter's square, and hammer.
While building the woodworking kit, your kids will sand, hammer nails, learn the importance of making careful measurements, paint, and so much more. These are life skills they will be able to use over and over.
Annie's Kit Club makes the Woodworkers Kit. I've featured this company in the past because they also provided popular educational STEM kits you can find here. Annie's Kit Club has a lot of experience putting together the best subscription boxes for kids, and this woodworking kit also reflects this.
What Was in The Young Woodworkers Box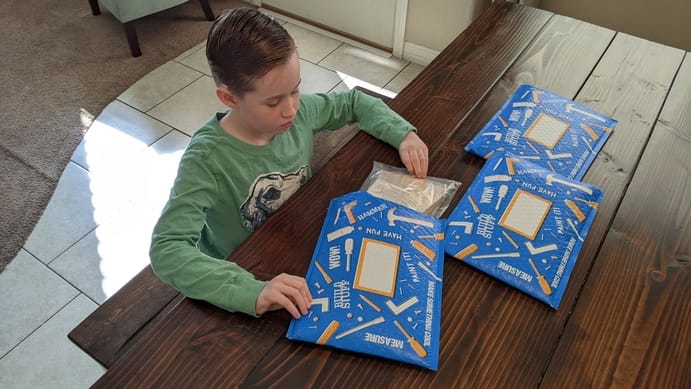 Out of the three projects, the first one my kids wanted to put together was the catapult. They were excited to launch marshmallows with it, which sounded pretty cool.
All of the wood projects follow the same instruction for the most part.
Lay out all the pieces.
Sand down the rough spots.
Follow the instruction to put it together with nails and screws.
Then, add some finishing touches with paint.
Thankfully all the instructions have pictures to follow. Make sure to have a good look at them. The wood pieces need to go the right way, or you'll have to disassemble them to flip them over. It really is step-by-step, so even my son, who is a little young for this, could follow along.
It was going to get a little messy when we started painting, so we took it outside. This is where my daughter wanted to help out. If you have a younger kid that won't be able to put the woodworking kit together, having them paint it is a great compromise.
The kit only came with one color to paint it. Since my kids wanted to use a different color, I was glad we had some spare paint from various STEM activities we've done in the past. This is a cheap paint set my kids have used. I always recommend having some supplies around, and I made a list of Basic (and not so basic) kids crafting supplies.
Also, note it was recommended to glue down some wood pieces before nailing it down. The glue was not included, but you can find some wood glue here.
Now for the fun part. Launching marshmallows with a catapult!
Those marshmallows really moved! They flew about thirty feet. This was also a great lesson in leverage. How the rubber band pulls on the arm creates tension.
Next up was the candy machine.
My kids were excited about this, but what kid wouldn't want to make their own candy machine?
Just like the catapult, we started by laying all the parts out on the table. From there, my son read the instructions and looked at all the pictures of how to put it together.
This one was a little trickier. I mentioned above to make sure to look at the pictures in the instruction to ensure you don't install a panel upside down; well, we did that. And we had to pull a few small nails out to flip it over. It looked like it had never happened with some fresh paint in the area.
wood building
We also could have let the paint dry a little longer. A lot of paint ended up on their hands and a little bit on their play clothes.
Overall my kids really enjoyed doing these wood projects and are looking forward to more.
Benefits of a Woodworking Kit for Kids
Crafts for kids are enjoyable and a great way of building skills. Woodworking kits break the monotony of doing schoolwork or just learning about educational topics.
A benefit of working with wood is that it enhances their fine motor skills, such as hand-eye coordination and hand dexterity, especially since building something with wood requires precision and focus.
Following instructions and handling smaller objects will help kids be patient and allow their focus and concentration.
If you're looking for more crafts, you can find our helpful guide on the best Arts & Crafts Subscription Boxes Kids.
How Much Does The Young Woodworkers Cost
Pricing is simple for this subscription at $19.99 a month. Looking at other subscriptions, I think you get a lot of value with this kit. As a reminder, you'll also receive all the tools needed in the package you'll receive. These will be used for future kits every month.
If you'd like to find out more information or order a kit, you can do so on their website here.
Shipping
Shipping is free, but currently, they only ship to the US and Canada.
Woodworking Kit Vs. STEM Box
My kids and I have reviewed a dozen or so science, technology, engineering, and math (STEM) subscriptions over the years. In this section, I wanted to highlight the differences between a craft subscription and a dedicated educational subscription box.
Anne's Kit Club has its own STEM box called Genius Box we reviewed here. In this review, I praised the science experiments and the overall feel of the projects. If you're on the fence about a STEM box or a craft box like a woodworking kit, these are a few questions to ask yourself:
Are my kids more interested in chemistry and science or hands-on crafts?
What would they get more enjoyment out of, and be happy with the finished project? (An experiment or building there a toy out of wood).
Will my kids need my involvement the whole time? (This is going to depend on age and how excited they are working on a project themselves).
There are benefits to both, and the best of both worlds would be to subscribe to Genius Box and The Youngs Woodworking Kit, but I understand that's not always an option for everyone.
We put together a great list here if you'd like to see a list of all the educational subscription boxes we recommend.
Final Thoughts
My son told me these are his favorite activity boxes during and after building these woodworker kits. That means a lot, as we've tried over a dozen or more subscription boxes.
I liked how explicit the instructions were, along with detailed pictures of how to put the wooden toys together. I like how the wood projects were interesting, something any kids would appreciate if you told them that's what they will be building.
The only knock on Anne's Woodworking Kit would be the lack of more paint. The kits only came with one color. Not a big deal, but worth mentioning.
If you'd like to take a look at the kits or purchase your own, you can do so on their website here.
FAQ
What Tools Do I need?
Kid-sized, high-quality tools will be provided to you with your first order. Your kids will use these tools for new woodworking projects every month.
What Woodworking Projects Will I Get?
Mostly toys that your kids will be able to play with afterward. Some of the wood-building projects I've seen are a race car, a catapult, and a candy machine.
Can I Delay or Postpone My Delivery?
Yes. If you're buying this for a gift, you might want to delay an order. Once you've signed up on their website, you can reach out and let The Young Woodworkers Kit know that you'll need to delay an order.
What if I Want To Send a Box as a Gift?
You have the option to send a single box or a subscription as a gift. When filling out the order form, there is a gift option section.
If you'd like to find out more information or order a kit, you can do so on their website here. Make sure to use coupon code KRYSTAL for 50% off your first box.