Womple Box (Hands-on Review) + Coupon Code
With all the educational subscription boxes for kids out there, it can be challenging to find one that's the right fit.
In this Womple Studios review, I'll go over everything Womple has to offer and how they compare to other STEM subscription boxes.
I encourage you to read my review, but if you want to check out all that Womple box has to offer, you can see their site by clicking here.
What is Womple Studios
Womple Studios is a culture subscription box that lets your kids explore the world without ever leaving home.
Each month you'll receive a box focused on a country to explore. Kids will learn about the country through activities, maps, books, and interactive session plans.
Your monthly box will include:
A book from a Womple pen pal.
2 unique, culturally-significant craft activities.
Fold-out map & country guide with facts, recipes, and activities.
Collectible keychain, re-stickable stickers, & more.
The boxes from Womple Studios are well thought out, and the book is exceptionally high quality with a story that leads kids on a journey in that country. The material is excellent at telling a story to teach kids without feeling like a chore to learn.
Womple Studios boxes are put together by a global team of storytellers, educators, and designers.
These are just a few things about Womple box and what's included. Let's get into more specific detail about what came inside the Womple Box.
What's Inside the Womple Studios Box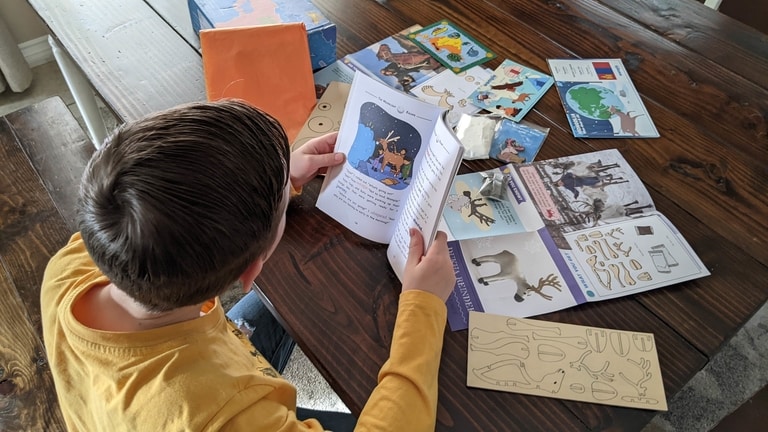 This month's box theme was Mongolia. My son started by flipping through the book.
The chapter book is written to your kids by their pin pal Womple. In this book, you'll follow Womple as he travels the country, meets interesting people and explores the area.
This is a fantastic way of learning that's interesting for kids. The story was exciting and well-thought-out. This kept my son's attention as he went page to page.
The book is one of the best items included, and I think they should sell all of the books in a series. I know that's high praise, but I really feel a lot of care and attention when in the story.
Two Womple Box Crafts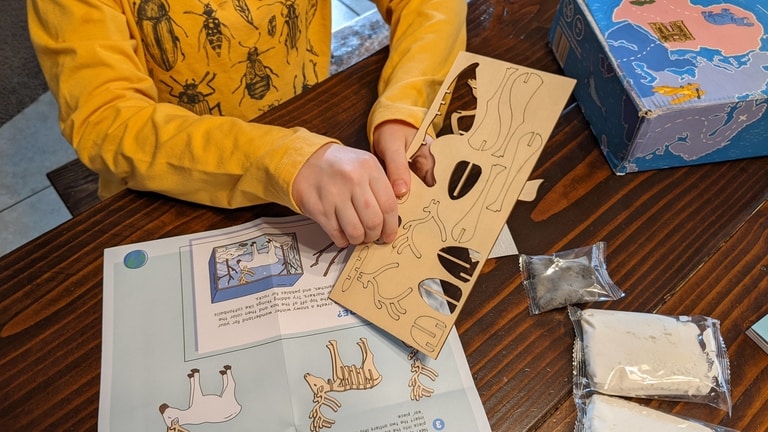 Two hands-on STEAM projects are also included with your monthly subscription box from Womple. Each project will be culturally-significant to the box theme. I definitely like that they had two crafts in each box.
This is perfect as two kids can share one box.
The two projects for this month are about reindeer and eagles. Both of these projects are made from laser-cut wood with simple step-by-step instructions on putting them together. Both my six and eight-year-old kids had no problem with the projects.
The reindeer was a little more challenging, so my older son decided that was the project he wanted to tackle. The skeleton of the reindeer is made from the included wood, with the rest of the body from air-dry clay. If you're unfamiliar with air dry clay, it is easy to mold non-sticky dry clay.
Theirs no mess with this clay, and I was glad Womple sent more than enough to complete the project.
The second activity was also made from laser-cut wood.
This one was a wooden eagle that balances on a stick with its beak. She wanted to make this one because she likes birds, and there were fewer parts to put together.
The project guide for this explained that the balancing bird with its center of gravity is located at the tip of the beak. The center of gravity (also called the center of mass) is a special point on an object. It's the point at which the body's mass is perfectly balanced.
The projects and activities are another area where Womple Box shines. Mixing fun and learning together in an exciting way.
My daughter is excited about the bird she put together. This was a toy she had never seen before, and it now sits next to her bed.
Fold-Out Map & Country Guide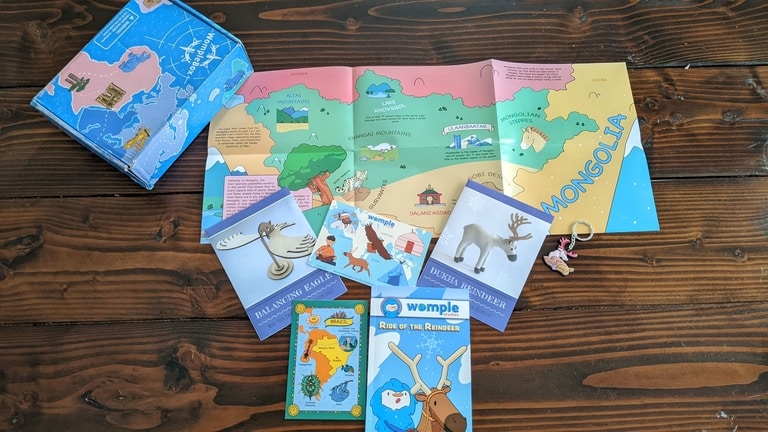 The included map shows kids all the important locations inside the country they are visiting. In the case of Mongolia, the map shows mountain ranges, historical sites, as well as where some wildlife lives that is native to Mongolia.
This map or the backside with the country guide will go on my kids' wall as a friendly reminder of the activities they did. As we receive more Womple boxes, more maps will be added.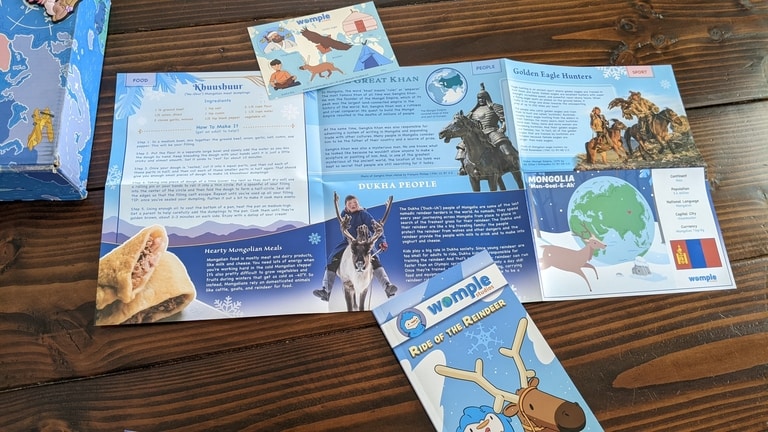 The picture above is of the country guide. This is on the backside of the map and has facts that kids will find interesting.
I love that Womple includes a food recipe native to the location. This is a nice touch that adds to the overall experience.
Having a recipe to try is another example of the care and attention Womple puts into their boxes.
Keychain Souvenir
Along with the country, your kids are visiting, they also get a souvenir. Each keychain is unique to the area they are visiting.
My kids were excited about collecting new keychains that are included. This adds to the experience and the fun of learning about other cultures worldwide.
Along with the keychain, you'll get some stickers that match the region. This was a nice little touch; kids love stickers, and mine are no different.
You'll notice the postcard has a different country theme. This is a sneak peek for next month's box. My kids were already excited for next month and asked questions about Brazil, wondering how close it was to the US.
How To Get the Most Out of Your Womple Box Subscription
There are so many educational subscription boxes options for kids. I like Womple because they are not traditional science and chemistry box. They do something different; they let your kids go on an adventure around the globe.
This is a unique position Womple is in because they stand out with high-quality projects and materials.
Most of these types of subscriptions are about hard science. Womple breaks up traditional studies, making learning fun again.
If you are looking for kid science boxes, check out our article about kids' best educational subscription boxes.
Can My Kids Do This on Their Own
Most of the material in the box can be explored by your kids without adult supervision. My eight-year-old dived right in with the book and read the instructions on the STEAM projects.
My six-year-old daughter would have a little trouble working on everything by herself. This is fine, as Womples' minimum age suggestion is six-years-old.
My daughter was able to put the bird together and balance it on the stick from looking at the pictures in the booklet. She even decided to color the bird with markers to look like an eagle in the booklet.
So, if you're looking for a monthly subscription you'd be able to give to your kids and be self-directed, I think Womple is a good choice.
What Age Is Best for Womple
Womple age recommendations are on their site here. But I think you'd be able to go a little younger than the minimum age of six. That said, kids younger than six aren't going to get the most out of Womple like an eight-year-old and up.
Little kids will be able to help with projects or color them after you put it all together. You'll still need to read the book with them and show them the locations on the map and material relative to where you're located. If you're looking to spend quality time with your kids, then this is a slam-dunk.
Each country your kids' visit will lead to more questions and more discoveries.
Womple says their box is for kids six to eleven. You know your kids, and if you think your teenager would be okay with what you've seen here, then don't let the age recommendations deter you.
How Much Is Womple, Is It Worth the Cost?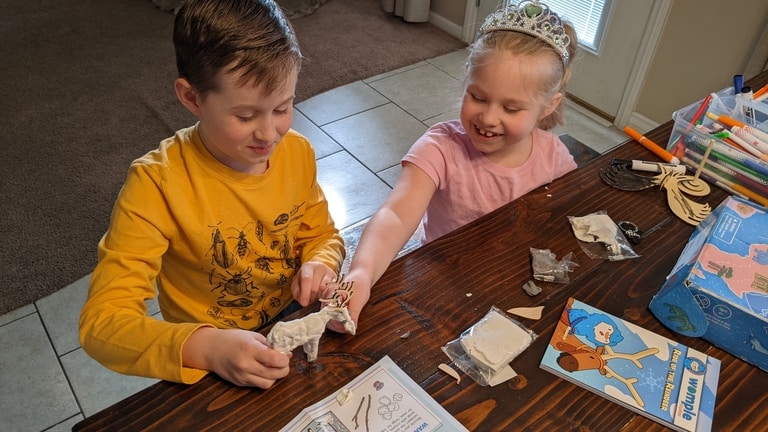 Womple is in line with their pricing compared to other subscription boxes. We'll get into how they compare to others but let's look at pricing first. All prices are in US dollars with free shipping in the US as well.
Monthly:
3 Months: This is their most popular option. This is probably best as a gift subscription for grandkids, nieces, or nephews.
6 Months:
12 Months: Best value/most considerable discount. You'll save $5 a month if you decide on this option.
I'll keep these prices up to date, but you can always check Womples' website here. Don't forget to use this coupon WOMPLEMANIA code too.
How Does Womple Compare to Other Subscription Boxes
I mentioned above that I had reviewed quite a few learning crates with my kids. Most of those have been geared towards science, chemistry, and engineering activities. It's a breath of fresh air to see Womple doing something different, focusing on Intercultural learning.
The closes comparison to Womple is Little passports. You can check out our hands-on review of Little Passports here.
I praised Little Passports for their overall presentation and polish in that review.
Comparing Womple vs. Little Passports, I'd say Womple has better STEAM projects and book that's included. Little Passports is better at storytelling with their pin pals writing letters to your kids.
Since the cost of each subscription is around the same, and I think both are fantastic for the money, you'll have to decide what's more important to your kids: the projects or the learning booklets.
Whatever you decide, you can't go wrong with either one. Any kid would be delighted to receive one of these boxes each month.
Why Is It Important for Children To Learn About Other Countries
Being exposed to different cultures helps kids embrace and appreciate people different from them. Learning about kids in other places, they will understand that while we do some things differently, we are all alike in many ways.
It also exposes them to new experiences. This allows kids to understand and appreciate other people's ethnicity by learning about art and hearing foreign stories.
Kids are better prepared for a constantly changing and unpredictable future by learning about new areas.
Final Thoughts
Overall I love Womple! For everything included and the Womple Studies overall presentation, I'd definitely recommend this subscription to any family.
On their website, they make a point of saying that the creators of these boxes are passionate storytellers and educators. It really shows after digging in deep with my kids.
If you're looking for more information or want to purchase a subscription for your kids, click here to go to Womple Studies.
FAQ
What Countries Will My Kids Visit?
Each month is a different country to visit, so far there has been Argentina, Australia, Brazil, Canada, China, Ethiopia, France, Greece, Iceland, India, Indonesia, Japan, Mexico, Mongolia, Morocco, New Zealand, Nicaragua, the Philippines, Rapa Nui, Russia, South Africa, Sri Lanka, Tanzania, and Scotland.
Womple Box is always looking into new areas to keep things fresh!
Can I Use One Box for Both Kids?
Yes! One box is excellent for two kids. You can see from my pictures that both my kids had plenty to explore with their Womple Box.
What Is a Culture Subscription Box?
A What Is a Culture Subscription Box is a collection of objects that define social identities. Womple put these boxes together with expert historians, teachers, and people native to the area.
Can I Skip a Month if I'm Out of Town?
Yes! From time to time, things come up, or you're not able to receive your box. You'll be able to pause at any time. Once you sign up with a login, you'll be able to see when your next box is coming and pause if needed.