lovevery Review: Everything You Need to Know
Experts design lovevery Play Kits for your child's developing brain.
My family has reviewed dozens of STEM and educational subscription boxes for kids. I've never seen an approach like Lovevery has taken to develop a perfect system for little kids.
I encourage you to read my article, but if you are short on time and want to see everything Lovevery offers, you can go to their site here.
What is Lovevery
Lovevery is an educational subscription to help your child develop their brain through stage-based play. These kits are designed by experts for young children.
There are many subscriptions for kids of all ages, but I like that they focus on babies to toddlers; that's their specialty.
Made for Learning: They design their products with a team of experts, academics, researchers, and specialists to make sure they are exactly what your child needs and loves.
Stage-Based Play: These are award-winning play products to support brain development for each stage of learning.
Thoughtfully Crafted: All of their material is sustainable, organic, and natural.
As you go through my review of Lovevery, I'll get into more detail about how I think all the materials are. You're going to be surprised as I was!
As you'll see, these aren't just "kids' toys." I can tell a lot of love and care went into every aspect of creating their subscription boxes. From the package to everything your kids will touch and learn about.
The subscription is every other month or quarterly, depending on the age of your little one. I have more details about that below.
What is in the Lovevery Box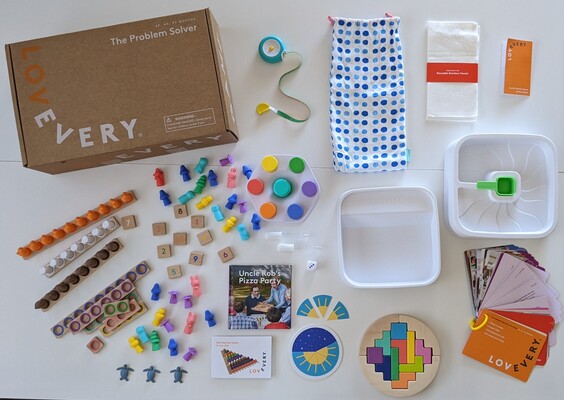 Once our large box was delivered, I opened it up with my toddler. I started reading the instruction to understand all the STEM activities we would be doing.
The manual is laid out nicely with clear, easy-to-read instructions. This isn't the standard instruction booklet we've received from other STEM boxes.
It covers a few areas:
Ways to play
Expert Tips
Development info
At-home activities and how they help
It also has a section on where your child might be in devolvement while reminding the parent that everyone's development path is different. Some kids pick things up more straightforwardly than others, so it's important to be patient.
Then the manual gets into the fun part!
Each activity has its own card. This will set up the games and how to play them with your little one. Something different that I've never seen from other STEM kits is the "trigger words" to say to your kids while they play. This will get them to think of a way to solve a problem and build their vocabulary in the process.
While looking at the instructions, I wanted to see what my toddler was attracted to first and what he wanted to do.
Underneath the lid is a large picture of all the STEM activities. This is kind of a quick start guide for everything included.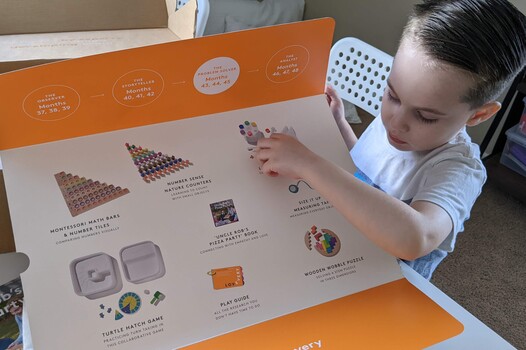 The first thing he wanted to dig into was the finger puppets, as he called them. This toy is officially called the Number Sense Natural Counters. He was excited when I pulled them out of the box and grabbed the toys immediately. These toys can be used for a few things, but they are really counters for kids learning their numbers.
The Problem Solver Play Guide has a quick Getting Started Guide with ideas for using these. These are math problems, but they are presented in a playful way that my son got a kick out of.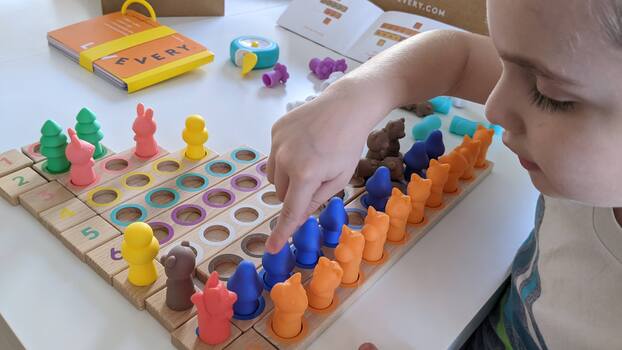 He put all the colors in the right spots from one to ten. I like this activity from Lovevery because your kids will learn a few things: colors and numbers.
You'll also notice the numbers on the side, so young kids will start associating the numbers with how many objects are in the set. I thought this was a clever way of learning while you play!
Next up was the colorful wooden wobble puzzle.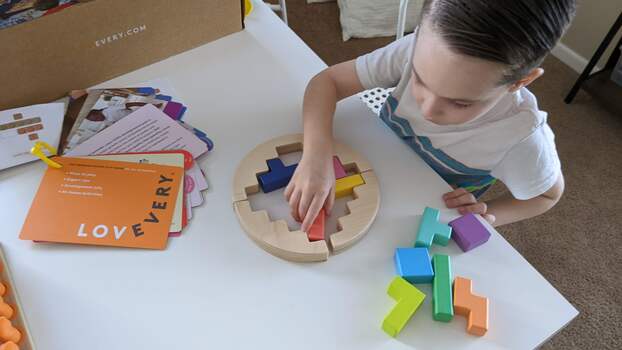 It's straightforward, but he was having some trouble with it. He tried a few combinations to make all the wooden blocks fit, but at his age (4 years old), it was a bit too challenging. I showed him where some of the blocks go; then, he started to understand how all the puzzle pieces fit.
My son also received a measuring tape of his own. Why a measuring tape?
Kids love to practice with real tools like the ones they see adults using. The measuring tape is sized for their little hands and lets them experiment with concepts of measuring and length through color and collaboration.
This is one of his favorite toys now and measures EVERYTHING! He's getting familiar with numbers and having fun while he does it.
Color mixing is fun for all ages, and this activity is great because it has color-matching tubes. I asked my son to match the liquid color to each test tube.
We are still working on colors, which is an excellent opportunity to discover how mixing primary colors can make secondary ones and beyond. I recommend taking this experience outside in case it gets messy.
After the color experiment, we decided to make the test tubes a growing laboratory.
Sprouting beans is a great way to practice delayed gratification, which is part of self-control and emotional regulation. Use a seed like Kale; they grow quickly enough to hold your child's interest but slowly enough that it will be a few days before progress is visible.
You can find a small packet of Kale seeds here.
What Age Is Lovevery for
These crates are specialized for younger kids from 0 to 48 months (4 years old). The play kits offered are age-based, with multiple kits for each age.
In this Lovevery review, all the pictures are from The Problem Solver Play Kit for kids around 43 to 45 months. I think the age is correct, as my son recently turned four. The only thing he really struggled on was the wooden puzzle.
Mixing the primary colors was fun, but I don't think it understands what was really going on. He was just having fun mixing and making new colors.
On their site, you can see all of Lovevery Play Kits with the recommended age.
How Much Does Lovevery Cost
The price depends on the age range of the kit. The kits are big with a lot of material in them to last more than a month.
0-12 months old: Ships Every 2 Months | $80 per Play Kit
1-4 years old: Ships Every 3 Months | $120 per Play Kit
At first glance, I thought their pricing was a little strange as my family has tried so many educational subscription boxes. It threw me off that it's not a monthly subscription but quarterly in my case.
I mentioned above that when I received the Lovevery box that it was huge. This is because they put enough material to last a few months and multiple ways of exploring the activities.
This makes sense.
Lower shipping cost saves you over the long run and reduces waste in fuel and materials.
If you average out the two or three months, the price is in-line with other STEM subscription boxes.
You can find all their current prices here.
How Does lovevery Compare to Other Subscription Boxes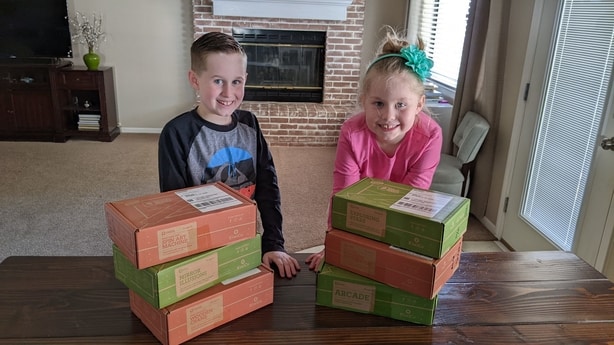 Out of all the subscriptions we've done, the closest comparison is Lovevery vs. KiwiCo.
I have a detailed review of KiwiCo here. When someone asks which box or crate to get for their kids, I usually say KiwiCo. We've had the subscription for years and plan on keeping it.
KiwiCo vs. Lovevery
KiwiCo Pros:
Grows with your family. They have a ton of boxes for kids of all ages, even adults.
Focused more on education, science, and engineering.
Slightly lower price, but you don't get as much material.
Activities can be done by your kids alone or with a parent.
KiwiCo Cons:
They don't target younger kids, but they have the Panda Crate for babies.
If you're not working on the monthly boxes, that can pile up.
Lovevery Pros:
Made for kids 0 to 4. The subscription fits perfectly because they have tight age brackets.
The fit and quality of the material are better than KiwiCo.
Perfect for parents that want to simulate their babies' minds.
Lovevery Cons:
Nothing for older kids.
The price can seem steep because it's quarterly subscription boxes.
Look into both and decide what's most important to you. Some of these pros and cons of Lovevery and KiwiCo can be mitigated by subscribing to Lovevery first, then KiwiCo.
You can visit the KiwiCo site to see all their options. You can see all the Lovevery options here.
You can also find all of my STEM subscription box reviews here.
Final Thoughts
Lovevery is a fantastic subscription for a growing family. I've gone through the pros and cons of why parents choose them and why they might not be a good fit for some. From there fit and finish of all the materials to the well-thought-out activities.
Overall, I'll be recommending Lovevery to families with little ones!
You can check them out for yourself on their site here.
FAQ
Is Lovevery Worth the Money?
Throughout this review of Lovevery, I've gone through the pros and cons, and if you're looking for STEM activities for your baby, I think you can't go wrong trying out a box. You can always purchase one and see how it goes.
Lovevery vs. Panda Crate
Above I have a detailed guide on KiwiCo vs. Lovevery, but comparing KiwiCo's Panda Crate makes the most sense. Both are for Babies to explore and set the foundation for growth. After reviewing both with my youngest kids, I give the edge to Lovevery.
Can You Skip a Month of Lovevery?
Yes, you can skip a scheduled delivery. They really focus on customer satisfaction.
Can My Baby Become a Lovevery Representative?
Yes, they do casting calls. They are always looking for photos of children playing with Lovevery products. You need to connect with them on their website here.