How to Choose the Right Microscope: A Step-by-Step Guide
In this microscope buyers guide, I'll cover everything you'll need to make a decision on what microscope you'll need.
Also, I'd bet we all remember learning about the different parts of a microscope in science class when we were younger.
It was a crucial first step when studying science. How exciting was it when you learned how to use it properly and watch the little microorganisms grow in the petri dish underneath the lens?
When it comes to the foundation of a STEM (science, technology, engineering, and math) curriculum, there are some important tools needed to create that hands-on, real world learning experience that STEM is all about. Insert microscopes!
Not only do microscopes support STEM learning, but a microscope is a wonderful gift for any child. Whether it's for your homeschooled child or your child who is innately curious about the natural world.
Microscopes bring the little parts of the natural world into vision for those little eyes.
Buying the RIGHT microscope is key, as it's an investment that supports your child's learning. We hope this microscope buyer's guide offers some of the best tips and tricks when picking the right microscope for your child. The good news is that there are a plethora of options.
From high-powered microscopes to pocket microscopes. The land of microscopes is large! Before we get started on the details of a microscope, we encourage you to reflect on these questions as a starting guide.
If you're looking for a quick suggestion on a well-rounded microscope, take a look at this compound microscope, that's perfect for students.
What Age Are You Buying For
There are microscope sets that are made from durable plastic for your toddler that can be a great introduction.
Then there are more advanced microscopes that can connect to your iPad or laptop with high-powered magnification. Maybe you want to buy a more advanced one that your child can learn to operate and grow into as they age. These are useful things to think about!
What Will Be the Purpose of It
Does your child LOVE to explore bits of nature when you travel?
Maybe a handheld microscope is for them.
Are they interested in rocks, coins, or more solid objects? Then a stereo-microscope might be your best bet.
Maybe they love the details of leaves, what's inside their orange juice, or skin snake shedding. Then, you might want to look at a compound microscope.
What Is Your Price Range
Microscopes can be expensive. Their price range depends on how they operate, what they are used for, and how they are made. How often will it be used? How long do you want it to last? When you think about these questions, as well as the two above, you can determine what your price range might be.
Now let's get started on breaking down the different microscopes out there. We mentioned a few different kinds when thinking about their purpose. Let's get into that a bit more!
Handheld Microscopes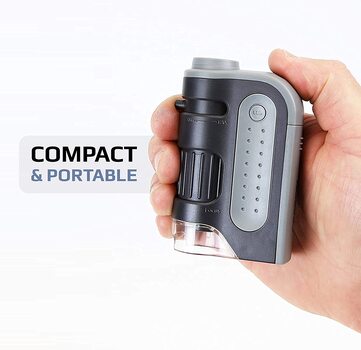 A handheld microscope is one that can fit in your pocket and travel with you wherever you go. Your little scientist can take it anywhere you go. If you need to find a gift for a little one, this can be their first microscope.
Every handheld microscope has different qualities, but these are some examples of the parts hand-held microscopes have; a Light source (LED), an eyepiece, a stage for holding objects, a mirror, a battery and a battery holder if it is power operated, and a digital camera for more advanced ones.
Types of Handheld Microscopes
30x Pocket Microscope –  is a 30x magnification powered microscope. It's the most common type of pocket microscope, and is very affordable. Most have lights and are battery powered, making it that much easier to illuminate details of the little finds.
LED pocket microscope – the LED pocket microscope has a built in LED light source. This helps provide a bright clear image. Other handheld microscopes might have an LED feature, but you can also find an LED exclusive microscope.
Pocket Microscope 100x – It has a high magnifying power of 100x, meaning it magnifies the image 100x getting very close to detail of the object.
Stereo microscopes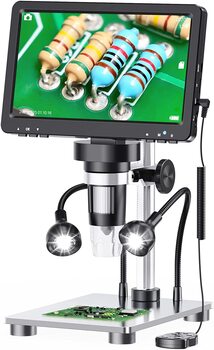 A stereo microscope is a low powered microscope offering a view between 10x-80x. The "toy" microscopes made for children are typically stereo or simple microscopes. However, there are very well made metal based stereo microscopes that many professional scientists also use.
A stereo microscope has a dual binocular lens. This allows for a dual optical path to view objects at different angles. Types of objects you can view are coins, flowers, rocks, and other 3-dimensional objects. 
Types of stereo microscopes
Fixed or standard stereo microscopes – when you are searching for a stereo microscope, this is what will likely show up in your search. These are great options for beginners. Most standard stereo microscopes allow the rotating nosepiece to be adjusted for magnification, but nothing more than 30x the original magnification.
Stereo zoom microscopes – stereo zoom microscopes are typically used for advanced users looking to adjust the magnification with an adjustable zoom knob. 
Digital stereo microscopes – These days, all 3 types of microscopes (handheld, stereo, or compound) offer a digital version. Where you can hook the microscope up to your laptop or computer and view the object digitally. This is a great option if your child really wants to inspect and get a broader visual.
Compound Microscopes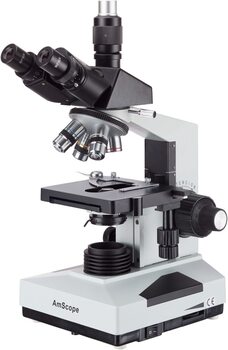 Compound microscopes take things to the next level. They are high powered and allow you to view things at a close up, cellular level. Things that cannot be seen with the naked eye. Things like the breakdown of salt, specimen growth, or the details of an insect wing.
A compound microscope is a great option for your older child, or any child interested in exploring cellular structures. These are the microscopes used for research and are found in schools.
They are typically on the more expensive end. When you look at the types they are categorized based on where they are used rather than how they are different. What they can do and their structure is similar, but their purpose may be different. 
Types of Compound Microscopes
Student compound microscopes – these are likely the ones you'll be considering for the child you are shopping for. They are mobile and usually battery-powered. It is important to note that these are very different from a "toy microscope." They offer much more depth in what they display than a "toy microscope."
Laboratory compound microscopes – these typically have a binocular head, which supports long term observation. They are a bit more bulky than the student compound microscope and offer just a bit more power in magnification and light.
Research compound microscopes – these are heavy-duty microscopes and aren't typically portable. They are advanced, high powered microscopes.
Stereo Microscopes vs. Compound Microscopes
You might now be asking yourself, "how do I decide between these two?" It is a great question! Both are optical microscopes that use light to magnify objects. They have the same objective function. They mostly have similar parts like a base, stage, eyepiece, and focus wheel.
What is different about the two is the power of the ocular and eyepiece magnification. Compound microscopes offer higher magnification. Giving you the ability to really look at things at the cellular level.
The path of light, the working distance from the object, and how the knobs adjust are also different. A separate optical pathway in the stereo microscope gives you the scope of a 3 dimensional object. Where the narrow pathway of a compound microscope gives you the close up.
Another thing to note is that compound microscopes usually come with slides in order to keep liquids and fragile specimens in place when viewing. In summary, it is important to circle back to those initial questions we provided to decide between these two. What is the interest of your child and what will the microscope be used for?
Where to Look
Some large retail stores like BestBuy and Walmart sell high quality microscopes. Other places you can look are Amazon or Ebay, which are great options to find gently used microscopes to find more affordable options!
Am Scope has some great options and a great collection of microscopes to check out. Whether you are shopping for a little one or a middle schooler looking for an advanced microscope. They've both got options for any age.
Nothing is cooler than seeing your child's eye light up when they're exploring the world around them. When it comes to the natural world the classroom is wide and expansive. From a seashell that was pulled from the beach along the Atlantic ocean. To a fallen leaf found at a hiking trail close to home.
A microscope gives you that up-close tactical learning experience that children crave. We hope this buyer's guide helps you land the right microscope for that magical experience!
Make sure to take a look at our article, fun microscope activities for kids!