7 Best Building Toys for Future Engineers
Building toys are among the best to encourage creativity as kids create skyscrapers, bridges, and so much more! 
We have found the best building toys that go beyond your classic blocks to creating genius pieces to inspire your future engineer. In this list, we've picked out our favorite sets of the classics – Legos & K'Nex. But we've also found some additional creative building toys that you're family will love.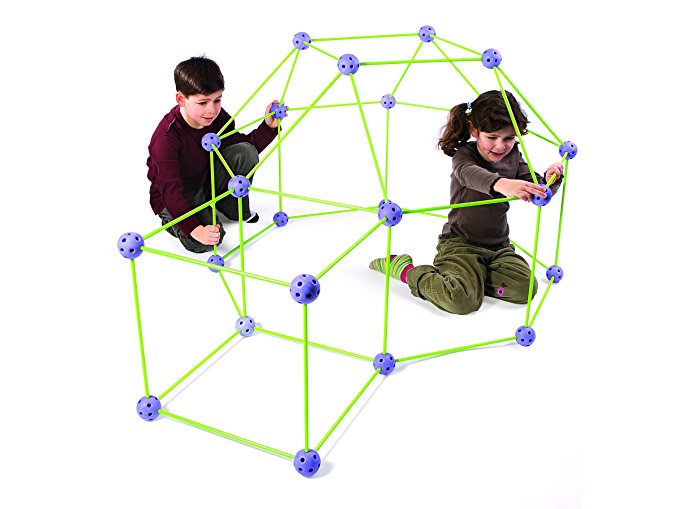 When you think of "building toys", you probably aren't thinking of a fort! 
But building forts is an incredible activity to encourage an engineering and creative mind. Instead of making a mess of chairs, learn a bit of geometry along the way with this fort building kit. There are 63 pieces, so you can design forts of all shapes and sizes. Throw sheets on top of the frame for a cozy hideout.
Plus, once you've built it there's plenty of playtime within the
Go back to basics with these classic building LEGOS. Coming in many different colors, this box of 790 LEGO pieces gives your child the opportunity for open-ended creativity. There are also windows, doors, baseplates, tires, and wheel rims to use for different project designs. This is a great holiday gift idea for all of the children to share! Recommended age is four years and up.
This best-seller building toy brings me back to my childhood days. Your kids can piece together a marvelous marble maze (say that five times fast!). The set includes 85 translucent pieces to see all the action and 15 glass marbles to run down it. Recommended age: Four years and up.
A classic toy for older children to build innovative models and hone their future engineering skills. There can be 30 models made from this set or your child can make their own designs. Recommended for ages 7 and up.
This 200 piece building toy is a fun and colorful advanced learning opportunity for preschool aged children (3+). Rods and connectors are easily fit together. Watch your child's engineering talents unfold as they build bicycles, houses, bridges, and creatures. This fun building toy is also for many ages (36mos-15 years) and can be bought on Amazon.
Lincoln Logs came out with their 100th anniversary set! If 100 years doesn't mean this building toy has stood the test of time, then I don't know what does! I played with these as a kid and loved building towns and villages! Looking for a classic that kids won't grow tired of? This is (still) a great choice!
There's so many Lego sets out there, it's hard to choose just one to make our "best" list. If you don't have a general Lego set already, then get one right now!
But if you're looking for a great Lego set with a STEM focus, we recommend the Lego Gadgets. You'll learn to build 11 different machines. And the additional Lego elements will come in handy for future projects to combine with other kits!
Building toys haven't changed much since we've been kids. The goal of these toys is for kids to encourage creative play and learn to build structures that stand! That was the goal 20 years ago, and its still what we love about these toys today.