Awesome & Educational Subscription Boxes for Teens
STEM goes well beyond younger kids.
There is a wide variety of teen STEM kits available for older kids interested in further developing their love of all things STEM!
Whether their interest is chemistry, engineering, chemistry, or something else, there is a STEM kit out there for them.
We've found the best and most interesting STEM toys and subscription kits for teens. Read on to see which kit your teen would most like (although we bet there will be more than one they would choose)!
Educational Subscription Boxes for Teens
Subscription kits are great for teens who like a variety of activities and challenges. MEL Science kits and KiwoCo kits are examples of just that.
Also, check out our article where we deep dive into a lot of different subscription boxes for kids, 13 Awesome (& Educational) STEM Subscription Boxes for Kids.
MEL Science
MEL Science (also known as MEL Chemistry) is another excellent subscription crate company. These are perfect for teens or more advanced kids because they focus on hands-on experiments focusing on chemistry and science.
MEL Chemistry Kits are great because they hit on STEM in various methods during the same activity. These kits are curated and created by a team of parents and scientists.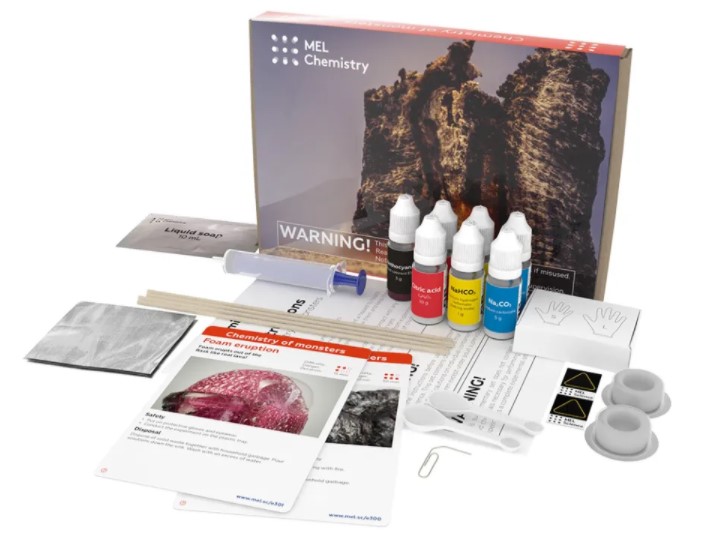 Their scientific expertise, combined with their knowledge of being parents themselves, creates a unique and fun kit through MEL Science. Their goal was to create a science kit that was hands-on, engaging, and fun!
These kits are also tested and held up to European safety regulations. This means that when any of these kits enter a home, they are proven safe for teens and at-home use.
Inside each kit, every item needed to carry out the experiments and activities is provided. There is no need to go out and order special equipment.
Each kit comes with two or three different activities each month. Each kit focuses on a different Chemistry topic. By this, we do not mean simply looking at an element on the periodic table and doing experiments.
The kits focus on topics with real-world connections.
Some previous kits include the Chemistry of Winter, in which teens could create instant snow, Chemistry for Spies, where they use "magic" paper and iron gall ink, or the But Will it Burn? Kit in which they can create a fire foam!
An added element of the MEL Science kit is the VR aspect! Download the app on either your Droid or Apple device, and suddenly, a virtual and interactive element is added to your teen's monthly kit.
You can check out MEL Science VR chemistry apps here.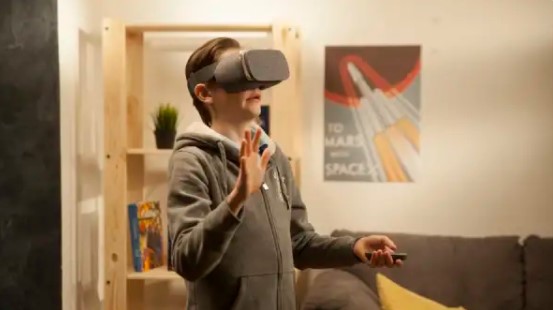 There is a VR aspect that pairs with each box. Topics covered include learning about atoms, electrons, ions, and more.
Each kit costs $34.90, and the kits automatically ship each month (they can be canceled at any time). In the initial kit, there will be the first set of experiments, but also included are a starter kit with things like safety glasses, VR headset, a glass beaker and flask, a macro lens, a tablet/phone stand, a tray, and a burner (a solid fuel stove).
Of course, supervision is always recommended. However, each time a MEL Chemistry kit arrives at your house. There is an opportunity to complete the experiments as a family.
You can find all the MEL science kits here.
MEL Science: MEL Physics Kits
From the MEL Science company also comes the MEL Physics kits. Bring physics right inside your home with these kits, in which teens can learn about and create their own radios, projectors, electric motors, and more.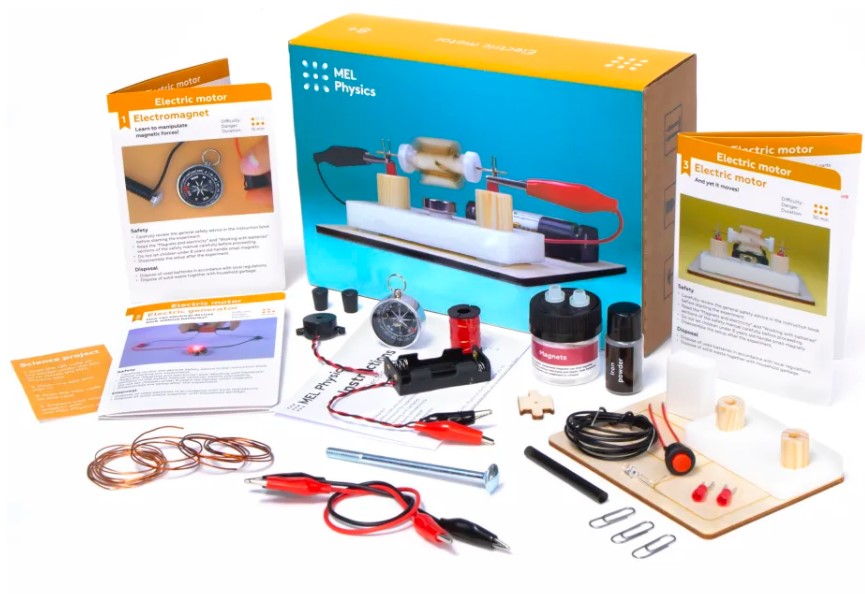 The kits come with everything needed to carry out these physics activities. There are two to three activities in each kit.
Just like the MEL Chemistry kits, there is also an added VR element that is paired with the monthly kits. Teens can learn about and create a jet rocket model, wireless power, and even the science of invisibility.
The MEL Physics kits cost $34.90 each month, and they can be canceled at any time. In the initial kit, the VR and mobile apps are included so your teen can dive right in as soon as the box arrives.
Just as supervision is essential for the MEL Chemistry kits, supervision with the MEL Physics kits is also a good idea. However, do not think of it as supervision – think of it as family time!
Why do we love this? It pairs virtual reality with actual reality in physics. Physics can be an exciting and very interactive subject to explore, and we think that through the MEL Physics kits, your teen can break through and enjoy physics on a whole other level!
You can check out the MEL Chemistry kits here.
KiwiCo
KiwiCo offers a wide variety of monthly subscription kits for kids of all ages. However, when it comes to your teen, there are several in particular that may be of interest to them in the world of STEM.
Kits from this company are designed by the KiwiCo team. Their goal is to provide a hands-on and fun learning opportunity for all ages.
Also from KiwiCo is the Tinker Crate. The monthly Tinker Crate screams STEM for your teen. Teens can create a hand-cranked automaton made from wood. They can also construct and use a hydraulic claw or a robot that can actually walk!  
The Tinker Crate costs $19.95 per month, and it can be canceled at any time. Included in the kits is a project for the month, blueprints that provide directions to complete the project, video tutorials, and additional STEM content to keep your teen engaged.
Just like the Eureka kit, you can purchase an individual kit to see if your teen likes it, but by going with the subscription route, you can save money each month and get access to additional things that a single crate purchase would not be privy to.
We love the Tinker Crate because it gives your teen monthly, well-made projects to work on. It keeps kids engaged, and the result is something kids can use and reuse. It is not a one-and-done situation.
The cost is also entirely reasonable for anyone looking to add some STEM into their teen's life!
You can find more information and all the KiwiCo subscription crates here.
Engineering Kits for Teens
Do you have a teen who loves engineering? Are they a teen who has taken things apart to see how something works?  The Eureka Crate by KiwiCo could be the perfect STEM subscription kit for them.
Each month a Eureka Crate gets sent to your teen. In the kit, there is an engineering project included in which they can explore, create, and construct using their own hands.
There is also a guide provided that gives detailed instructions and inspiration for your teen. The kits allow your teen to use high-quality materials to learn about science and engineering.
The Eureka kit costs $29.95 each month. It ships automatically, but it can be canceled at any time.
Shipping is also free. If you are not sure if the kit is a perfect match for your teen, you can order a single kit from the KiwiCo Store, which will cost $34.95.
There is currently one Eureka Crate option at this time, which is an electric pencil sharpener kit. Going with the subscription kit will save you money each month on shipping and cost per kit. It also allows you to get access to early shopping opportunities and special offers.
We love this kit because of its quality materials. For someone who always wonders HOW things work or WHY things work the way they do, this crate allows them to dig in deep and answer those questions.
In the end, not only do they get those questions answered, but they also have something to show for it that they can use over and over again.
You can find more information and all the KiwiCo subscription crates here.
Coding Robots
Even if your kids don't know anything about coding themselves, your kids can learn the fundamentals of programming with these coding robots.
The best part? Coding robots make learning to code fun!
Also, check out our guide to coding robots for kids of all ages, Best Coding Robots to Teach Kids to Code.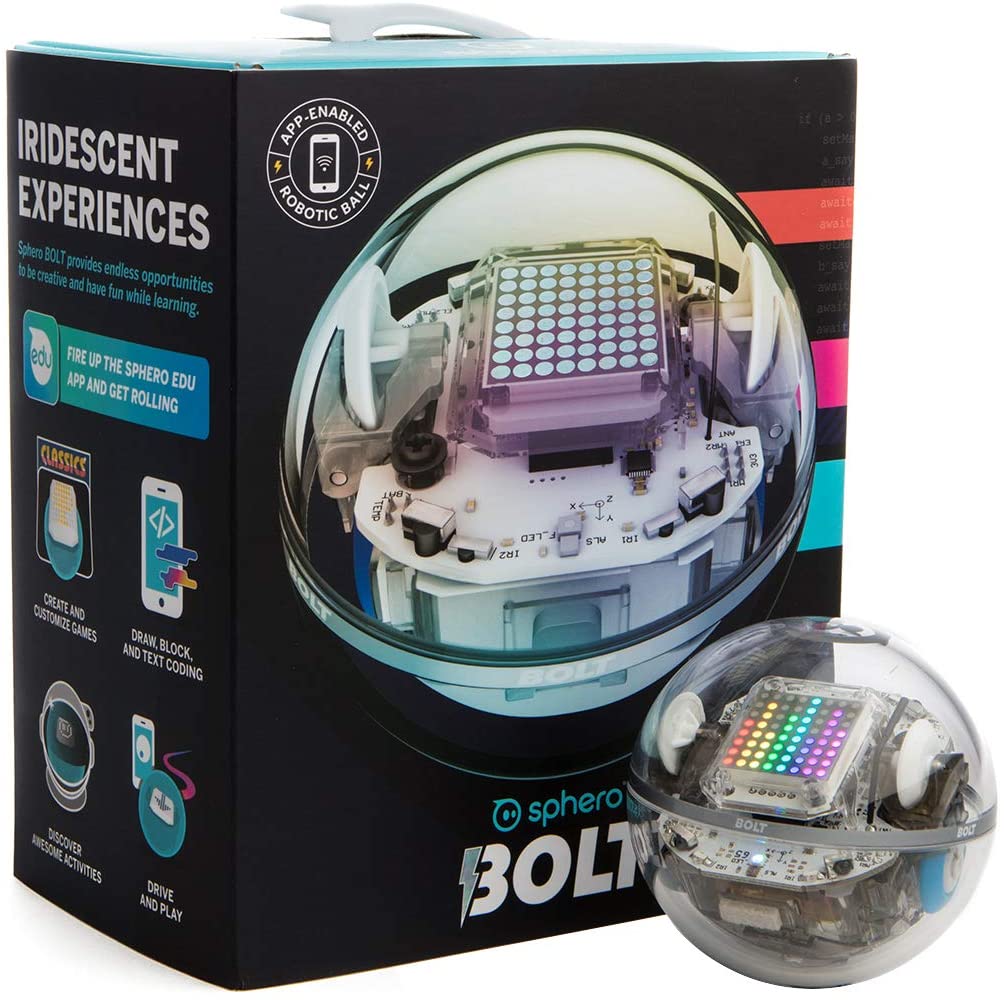 Sphero's are my top recommendation for a robot to teach young and older kids to code! You can go from beginner to advanced with just this single coding toy.
Start with draw programming, then blocks, and ultimately even write Javascript directly to program your Sphero!
Sphero is powered by the Sphero Edu Coding App. You can program Sphero across several programs including, JavaScript.
The best part is all the different coding aspects of this bot. You can program Sphero's sensors (including a gyroscope, accelerometer, motor encoders) and Sphero's LED lights.
This means that a creative teenager can have tons of fun unlocking Sphero's potential. Basically, you tell this little bot precisely what you want it to do.
Check for the availability of the Sphero BOLT on Amazon here.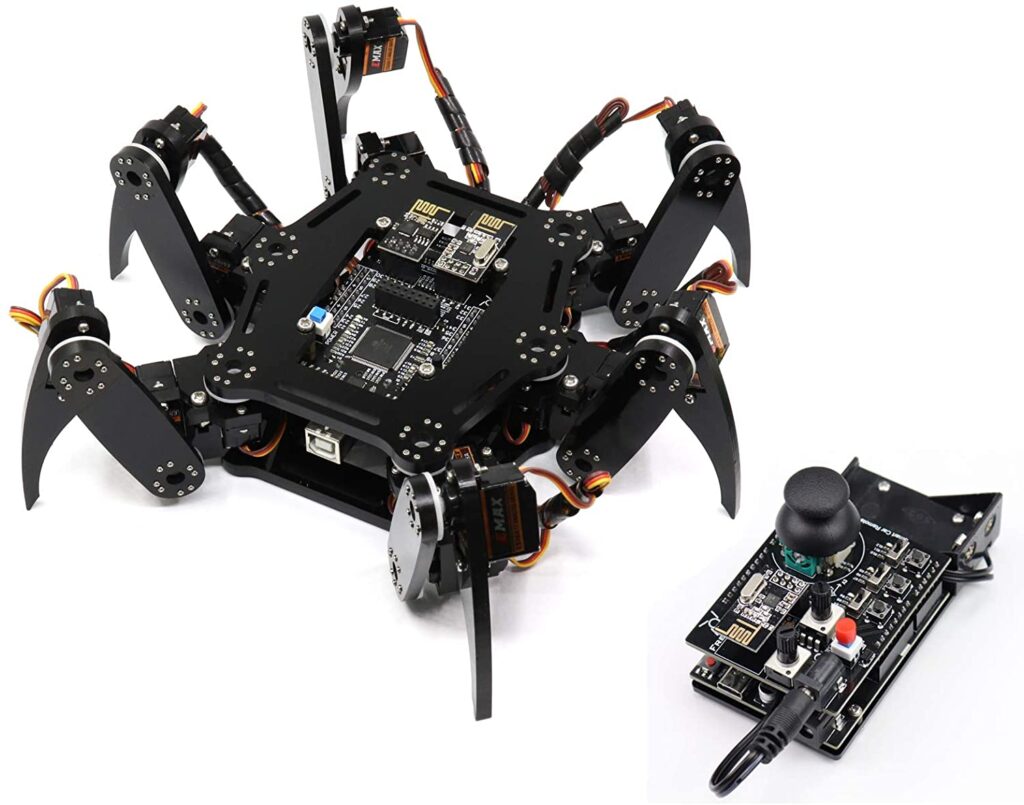 The Freenove Hexapod is a STEM robot kit with a remote controller. It's basically a spider robot with only six legs that Compatible with Arduino IDE Raspberry Pi OS.
What sets this toy apart from most robots is it was made with education in mind. It's learning while playing, which is the best way to learn!
The robot is controllable with the included remote, using an app on your smartphone or on your computer. This robot can craw around, twist with its flexible body, all while being controlled wirelessly.
Check for the availability of the Freenove Hexapod is a STEM robot on Amazon here.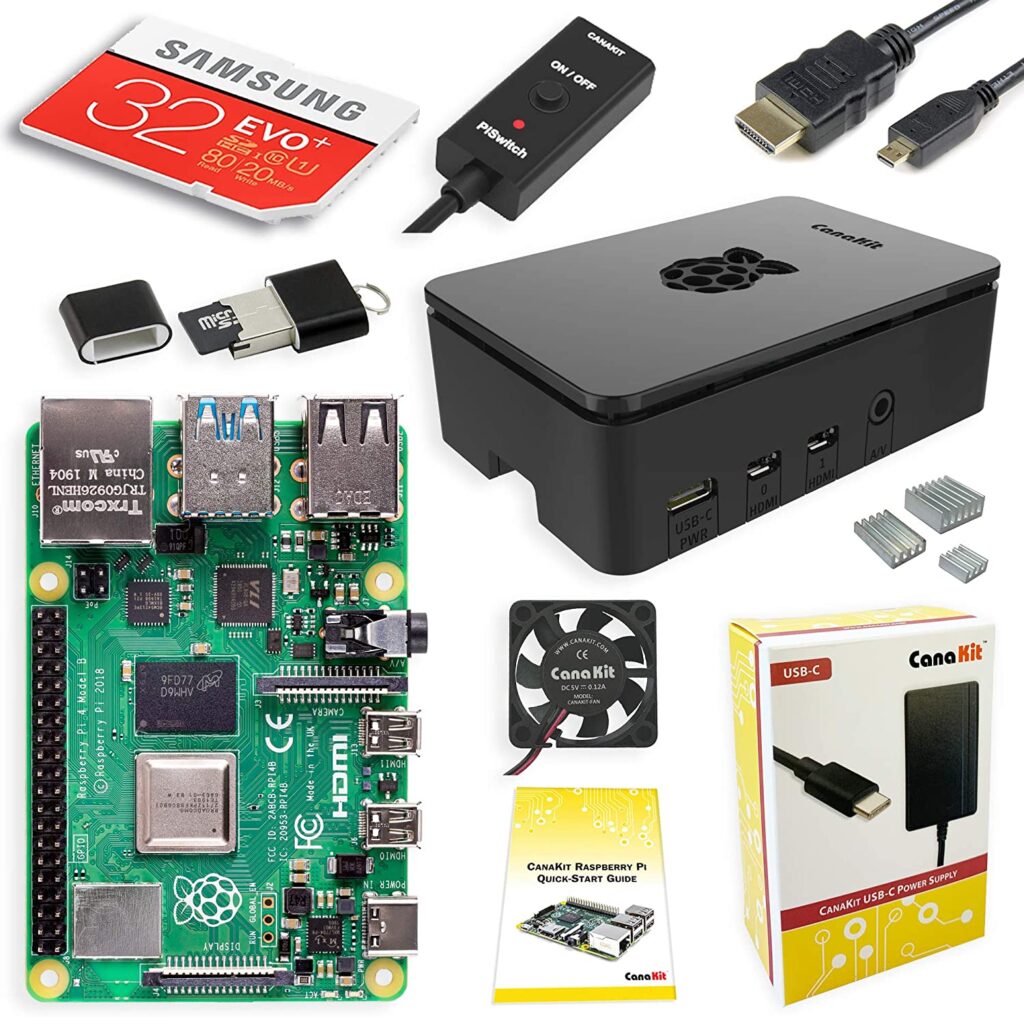 Raspberry Pi is more than a dessert. Nowadays, this is a popular STEM and coding kit for older kids of a wide range of abilities. For those just starting out, a basic kit comes with the board and the components needed.
More involved kits have more components to them. As your teen creates and develops a deeper understanding of coding, they may wish to expand upon their knowledge and dig deeper into coding.
If they like Raspberry Pi, they can stick with it in a more challenging way.
For those starting out, there is the CanaBot Raspberry Pi 4 Starter PRO Kit. With this kit, your teen gets everything they need to start out: Raspberry Pi 4 4GB Model B with 1.5GHz 64-bit quad-core CPU (4GB RAM), 32GB Samsung EVO+ Micro SD Card (Class 10).
This can also come in an 8GM model or a 2GB model. The 4GB model is a little more inexpensive. The mouse, monitor, and keyboard are not included.
You can check out this Raspberry Pi and everything that comes with the kit on Amazon here.
What we love about this kit is that whether your teen or older kid wants to work with media, build a gaming system, or work with coding in general, this can be a great tool. It gives your teen everything they need in one spot.
For one price and all at the same time, you get everything at once as opposed to buying pieces separately.
Wrapping Up, Why We Love These Subscription Kits
We love these kits because it combines hands-on learning with technology. In addition, it typically uses real-world examples for things teens are interested in learning about…or learning about things they never knew they could learn about before.