Snap Circuits vs. LittleBits – What's the Best Electronics Kit?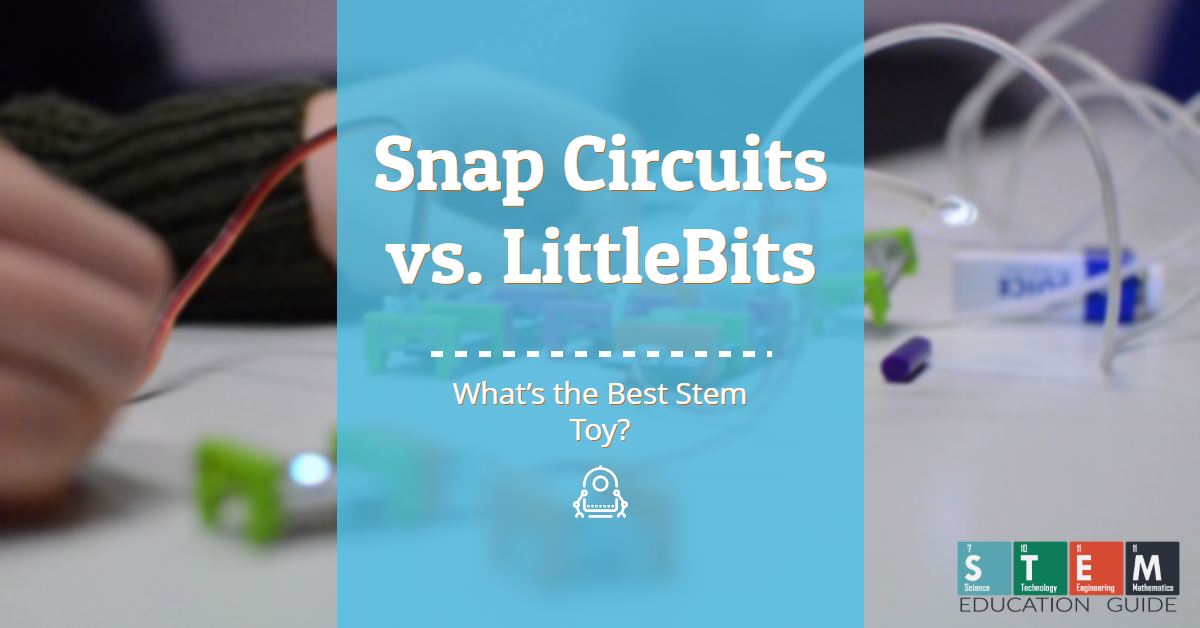 Childhood is a time of exploration and learning, which is why it is so important to start building 21st-century skills.
Nothing says 21st-century learning like exploring circuitry and what better way to do this than through the use of electronic kits? Introduce your child to electronics and circuits using littleBits or snap circuits – two of the most popular electronic kits on the market.
Electronic kits are great for introducing children to circuitry. They also offer a fun way for children to explore the concepts of electronics and circuitry. While electronic kits are not the same as coding, they provide hands-on skills that can benefit your child later in life.
Plus, they promote creativity and imagination. Since these kits require fine motor skills and have many parts, they are recommended for ages eight and up.
What's the Difference Between Snap Circuits and LittleBits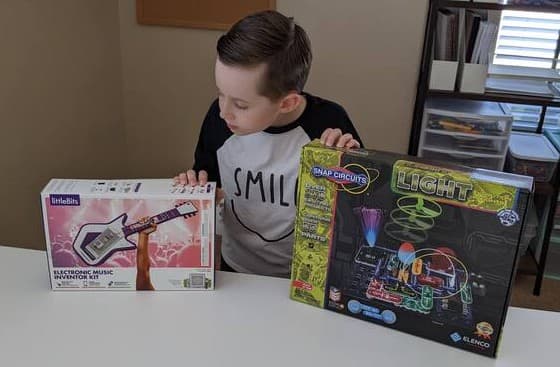 While Snap Circuits and LittleBits may appear the same, they are actually quite different. Each one has very distinct features that make them unique.
Overall though, both of these are perfect electronic kits for beginners.
Adaptability Between the Two
Snap Circuits are a great way to extend basic circuitry skills and play. They are limited to their base plate, and they cannot extend to other objects. Additionally, they can only be used within the specific kit you purchase.
However, there are options to buy extensions for your gear, which can level up the experience. It should be noted that while children can use the circuits and outputs independent of the kit, they cannot extend beyond the kit's individual purpose.
Overall, LittleBits offer more extensive opportunities for play. They can connect to objects outside of the kit. This means if your child wants to attach something to a household object, they can. Plus, instead of purchasing an entirely new kit to upgrade the experience, you can purchase expansions.
There are also even more opportunities in the mobile app. One highlight of LittleBits is that there are themed kits, something that Snap Circuits does not offer. For example, you can purchase an Electonic Music Inventor kit, among other themed kits.
They even have a deluxe kit for kids available on Amazon, for those who are super interested in circuitry and electronics. This kit can connect to all other kits.
Price Comparison
Let's start by looking at the price. Snap Circuits kits start at around $20.00. The basic equipment includes everything you need to work on various projects; however, there is not much room for creativity. There aren't many options to go off script as the activities are guided.
That being said, Snap Circuits are cheaper than LittleBits. LittleBits, while more expensive, offer more options for creativity. They are not limited to the specific kit you buy.
Even though they are more expensive, the price has lowered over the last several years. An essential LittleBit kit is only slightly more than the basic Snap Circuits Kit.
Apps for LittleBits
One notable feature of the LittleBits Kit is they offer a mobile app. The mobile app provides a more extensive community for those who want to share their projects and learn about other projects.
It is a great way to build experience and connect with other users. Some places even offer competitions for their users. On the other hand, Snap Circuits does not offer a mobile app or an online community.
Snap Circuits Review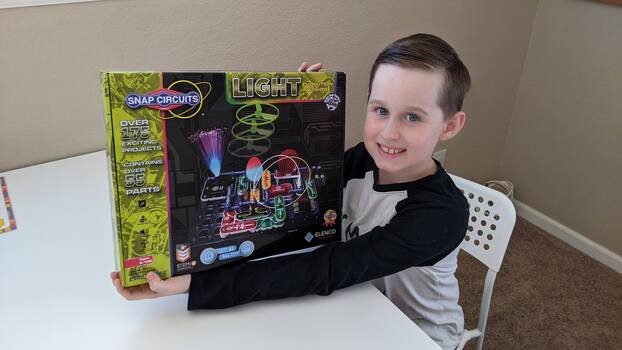 While comparing Snap Circuits vs LittleBits, I really think you can't make the wrong choice here. A kid will be happy to receive either as a gift, jumping straight into learning while having fun.
Let's take a deep dive look at Snap Circuits before deciding which one is better!
Snap Circuits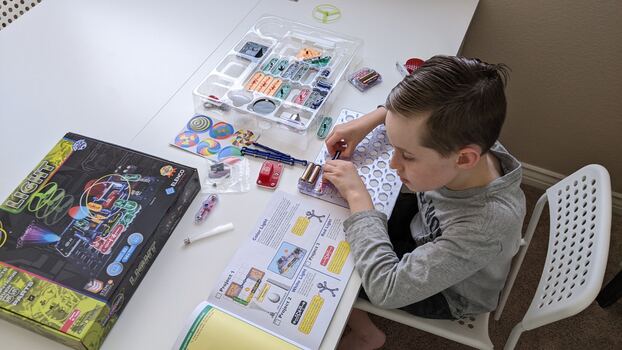 This is a perfect toy for a kid that enjoys tinkering around and generally likes to build things.
Snap Circuits are a fun and creative way to encourage your child's STEM skills and problem-solving.
Snap Circuits is made by ELENCO, and while they do make a ton of educational STEM toys (you can see their storefront on Amazon here), Snap Circuits is by far their most popular STEM toys. This isn't by coincidence though, Snap Circuits are an intuitive way of learning electronics, science, and technology for budding engineers.
Let's take a look at some of Snap Circuits' best educational toy kits.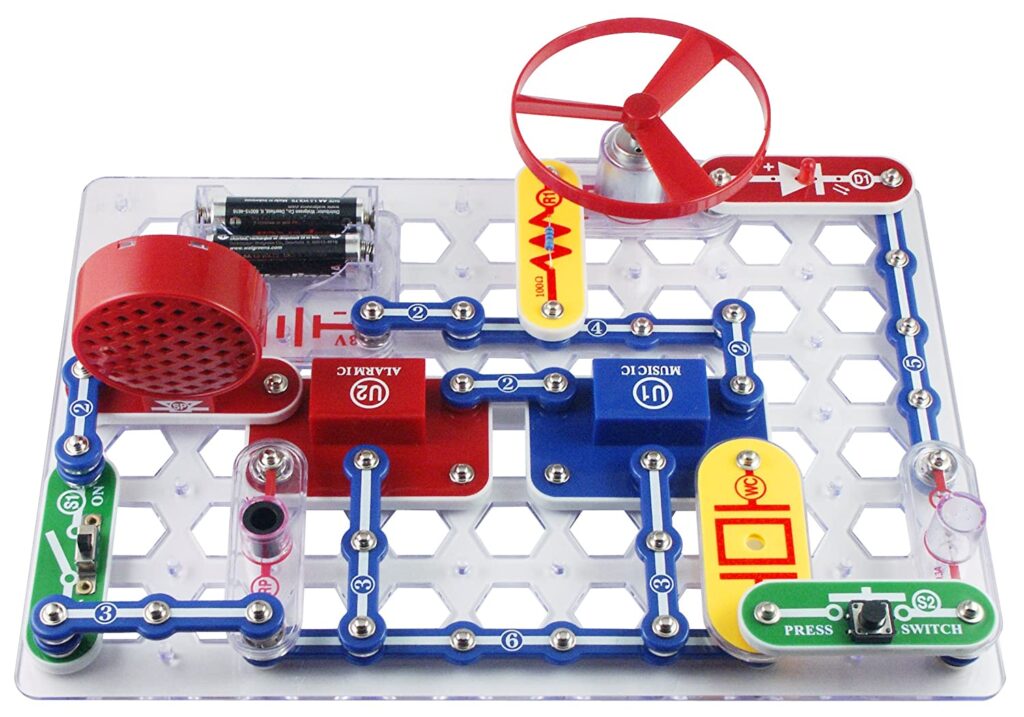 This is an excellent beginner's circuit kit. While it's small in size, it offers 100 different electronic circuit projects with just 30+ electronic parts. We like that it comes with clear instructions and doesn't need any tools to put the circuits together.
I think your kids will enjoy working models of a photosensor, a flashing light, an Adjustable-Volume siren among other things. It's a great way of learning hands-on to an introduction to electronics. The Snap Circuits Jr is recommended for children 8+.
Check availability for the Elenco Snap Circuits Jr here.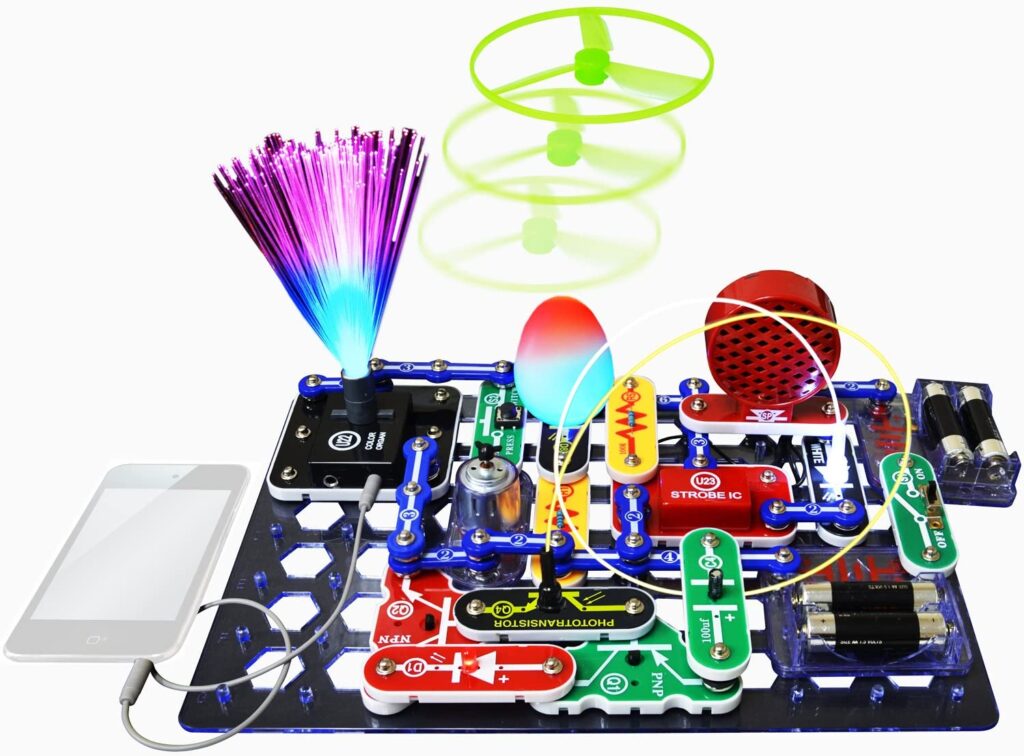 This is the kit my son was using above. We chose this one because it has a ton of configurations.
As you can tell, this one is a little more of an elaborate kit than the Snap Circuits Jr. While this one is still recommended for kids 8+ there are just a lot more amazing projects you're kids can do.
With 175 different configurations and 55 color-coded circuit components, they won't get bored anytime soon. Just like the kit above it comes with a detailed full-color instruction manual with over 100 pages
Check availability for the Snap Circuits Light Electronics Exploration Kit here.
LittleBits Review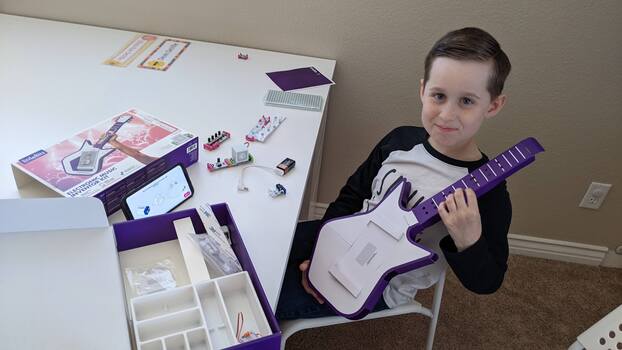 LittleBits makes a great platform for someone getting interested in electronics. LittleBits is made by Sphero. We have quite a few articles featuring Sphero, as they have proven to be great educational toys. You can find all our articles about Sphero here.
Sphero also makes a lot of educational STEM toys (you can see their storefront here) and LittleBits are some of their best.
Let's take a deep dive look at LittleBits!
LittleBits
LittleBits are electronic building blocks, like little bricks, almost like Lego bricks, but they're electronic. So they have lights and sounds and sensors that make them straightforward to use; they snap together with magnets.
Within seconds, you can start to put together a circuit without any engineering experience without any programming. Suddenly, you can make all sorts of inventions that use technology.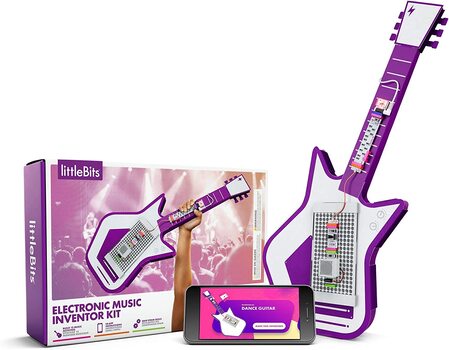 This was the LittleBits kits my son was using above. All of my kids love using this and showing it off to everyone.
As your kids are building this, they will be testing the different settings, making sounds, and changing the setup.
The app wasn't necessary, but it added a bunch of functionality to the kit. New songs that were easy to learn are included in the box with instructions. Even more, are in the smartphone app. Along with other challenges for them and different configurations.
If your kids are eight years old, they will be able to put this together and play the guitar without an adult.
You can find all the information about this kit here.
If you're interested in ittleBits this is a perfect introduction to circuits. If you don't know where to start, this base inventor kit includes everything your kid needs to start inventing out of the box.
With this base kit, your child can build and customize a voice-activated robotic gripper arm, then transform it into new creative inventions. It includes everything, from the 9V battery to tech sensors, LED, servo, paper templates, stickers, and free inventor app.
I mentioned above that LittleBits integrates their STEM toys with phone/tablet apps. Just about every LittleBits and Sphero STEM toys do.
Check availability of the LittleBits Base Inventor Kit on Amazon here.
This kit is a lot more involved than the base kit above. This STEM kit snaps together like all the other LittleBits kits. Each color-coded Bit has a specific function. Such as lights, sensors, LED display, speaker, and is reusable for an infinite number of inventions your kids can do.
Who is this for? Someone who wants to learn fundamental coding concepts: inputs & outputs, loops, logic, variables, and, functions all while having a lot of fun.
Check to see if the lIttleBits Education Code Kit is still available on Amazon here.
Which One Is Better, Snap Circuits or littleBits?
Deciding which kit to purchase ultimately comes down to your child's interest in STEM, specifically circuitry and electronics. LittleBits costs more but offers more opportunities for activity than Snap Circuits.
LittleBit's is an excellent option for those who are very interested in STEM.
If your child is just scratching the surface, Snap Circuits might be a more affordable option that offers a good opportunity to branch into circuitry. Both kits are aimed for the same age group; however, LittleBits does offer some kits more focused on older children and young teens.
What Areas Can They Improve On
Both Snap Circuits and LittleBits have areas for improvement. Snap Circuits could offer more ability to use with other everyday objects. It would be better if they could be used off the circuit board in combination with other objects.
Snap Circuits could also benefit from an online community where users can engage with one another by posting projects and having competitions. On the other hand, LittleBits has a more intricate design and more extensive opportunities for play.
However, it is more costly, which is not ideal for those just trying out these STEM activities. Also, because of littleBits intricate design and adaptability, it is geared toward a slightly older audience interested in STEM.
If you're looking for more STEM interactive activities to do with your kids, check out our article on Awesome (& Educational) STEM Subscription Boxes for Kids.