Spa Day Science: 7 Creative Projects for Making Your Own Lip Balm, Soap, Bath Bombs and More!
Who says scientists don't also love to pamper themselves?
It is too easy to imagine that all "scientists" work in labs or think that all STEM careers are behind a computer.
I love to remind students the variety of STEM careers that exist!
A career within a STEM field could mean being a software engineer, a data scientist, a mechanical engineer, or doctor.
But it could also mean being a toy designer, a perfumer, or a lighting technician specializing in theatrical productions!
There's a lot of chemistry that goes into being a perfumer. You have to know exactly which molecules combine to produce what scent of effect.
The median salary for a cosmetic chemists is $77,860. These scientists typically get their bachelors in chemistry or physics and then go into a career that you wouldn't necessarily think of when you think of a chemistry degree!
So if you have a future cosmetic chemist on your hand, here's 7 awesome spa and cosmetic science experiments and DIY projects.
Fair warning – the kid is going to come out of the bathtub covered in glitter after using your DIY bath bomb! But who doesn't want to go to school with a bit of shimmer?
This bath bomb is AWESOME. I might even go so far as to say, its the bomb. You'll get to take a bath in teal blue shimmering water.
It definitely requires a good bit of adult supervision and help to make these bath bombs. But the kids will love the process, and the final playtime! I think they'd make really fun homemade gifts too. Read the full recipe here by Beauty Crafter.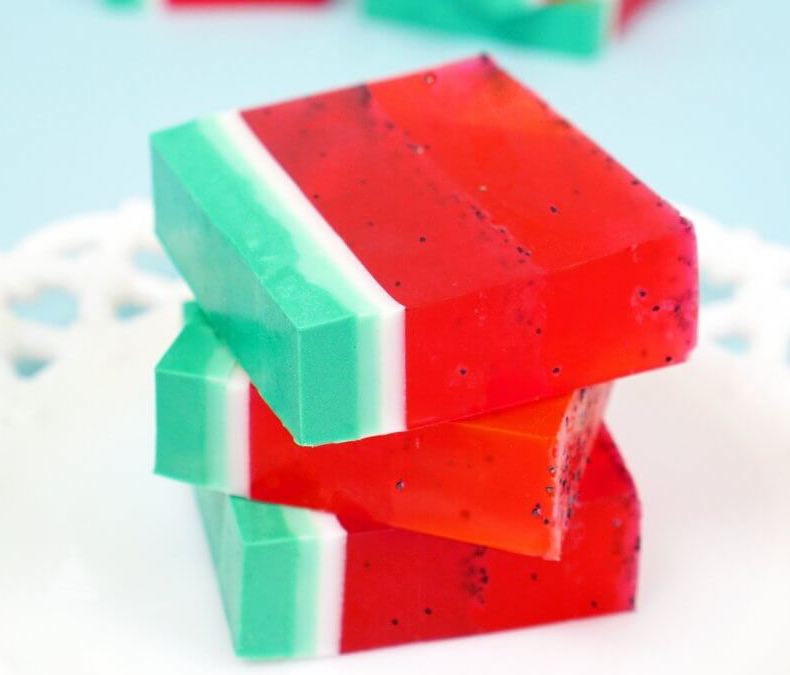 This soap project will require some extra help from adults. But it is simple enough that kids can help out plenty! It looks so good I think I could eat this soap!
I love this project because it doesn't require using any lye, like many homemade soaps. Instead you'll melt Goat Milk soap base. I suggest buying some extra so you can experiment some of your own recipes!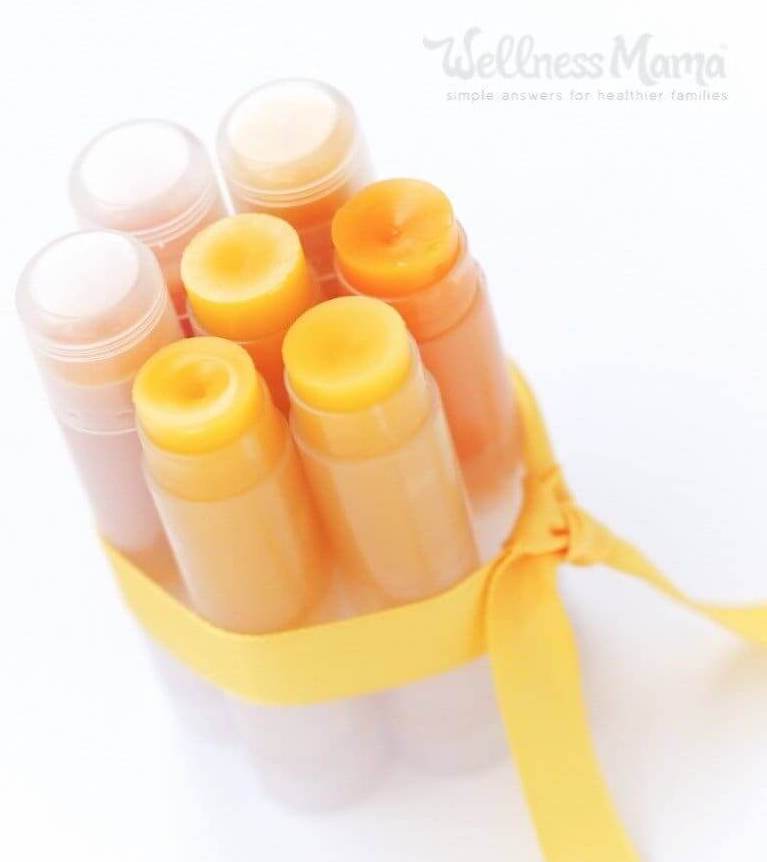 This all natural chapstick has the same minty tingle you get from the classic Burt's Bee chapstick. It's all thanks to the peppermint oil. Burt's Bee started out as a small company selling hand-poured candles and self-care products out of bee wax. It makes sense to me that you can make an imitation version with just a few natural ingredients!
Get the full recipe from Wellness Mama.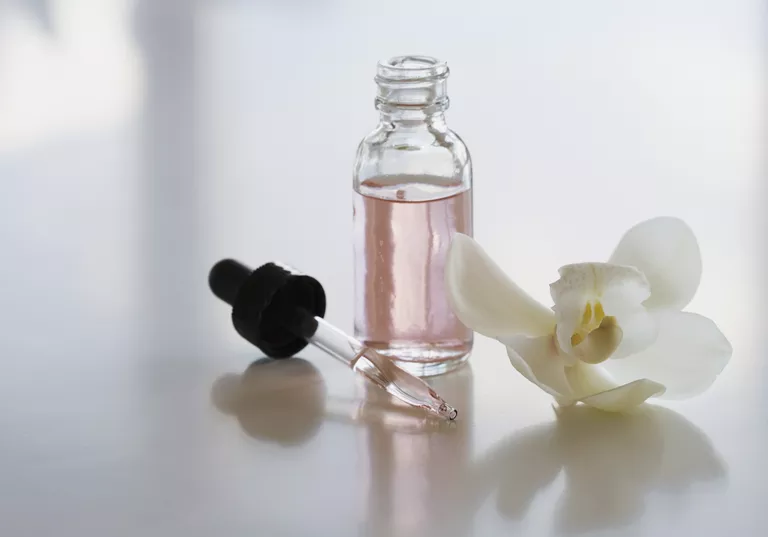 Perfume is quite simply a combination of alcohol and essential oils. Oil doesn't dissolve well in water, which is why you use alcohol. A great science experiment would be to test making perfume with water or alcohol and then explain why alcohol can dissolve the oil, but water can't.
The above recipe does call for using ethanol (ex. vodka). Since you can't exactly take a bottle of booze into a classroom, you can also use rubbing alcohol. This is another great alternative recipe to making your own perfume with just two ingredients: essential oils and rubbing alcohol.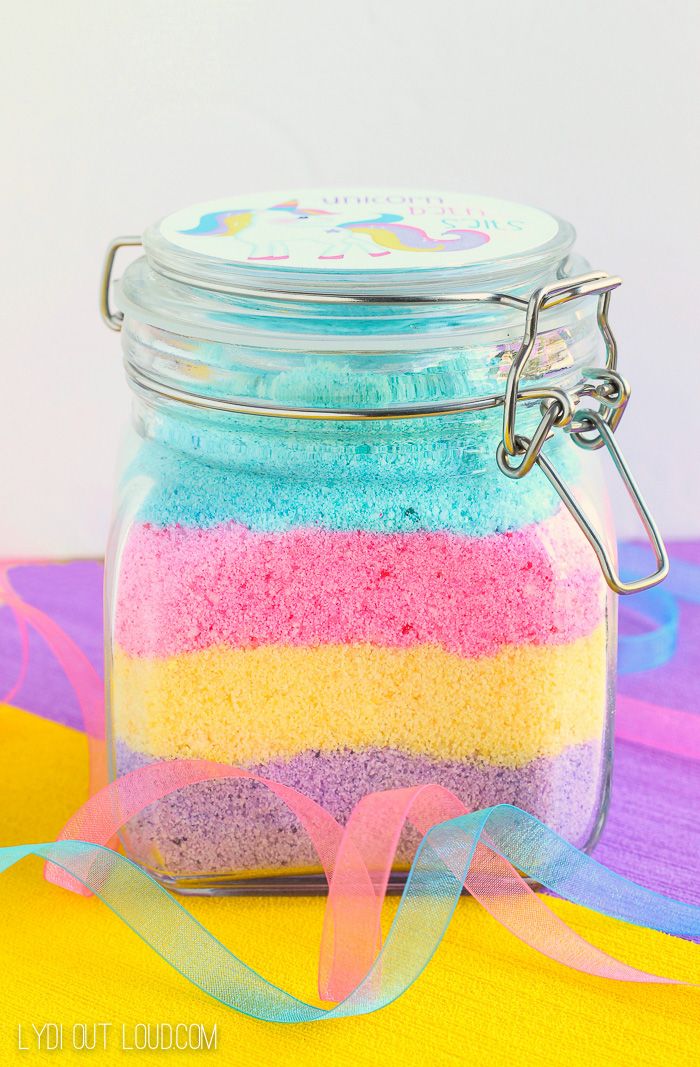 This bath salt brings me back to my days collecting only Lisa Frank school supplies.
It's so fun and beautiful! Plus, that fizzy effect! Who isn't going to love turning bath time into a fizzy rainbow party?
The main ingredients for this DIY bath project are epsom salt, baking soda, and fractionated coconut oil. I did have to lookup what fractionated coconut oil is, and it is different than what you probably already have at home. They separate specific fats rom this coconut oil. The standard cooking coconut oil you have in your kitchen won't work. It's used in a couple of the projects here, so get yourself a bottle for days and days of spa science projects!
Read the full recipe from Lydi Out Loud.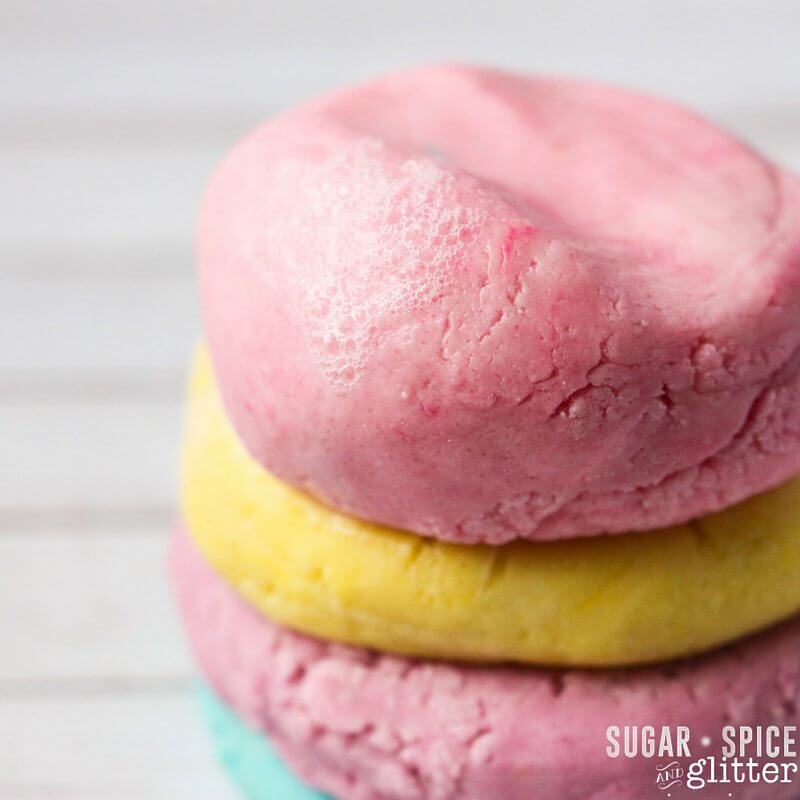 This incredibly soft play-dough is great for sensitive skins. You can play with it in the tub, but it also suds up slightly for actually washing yourself! When I first saw it, I thought surely it must just be a toy. But nope – it's actually soap too!
Make it together and then for next bath time, even a kid who hates bath time will be ready to jump in!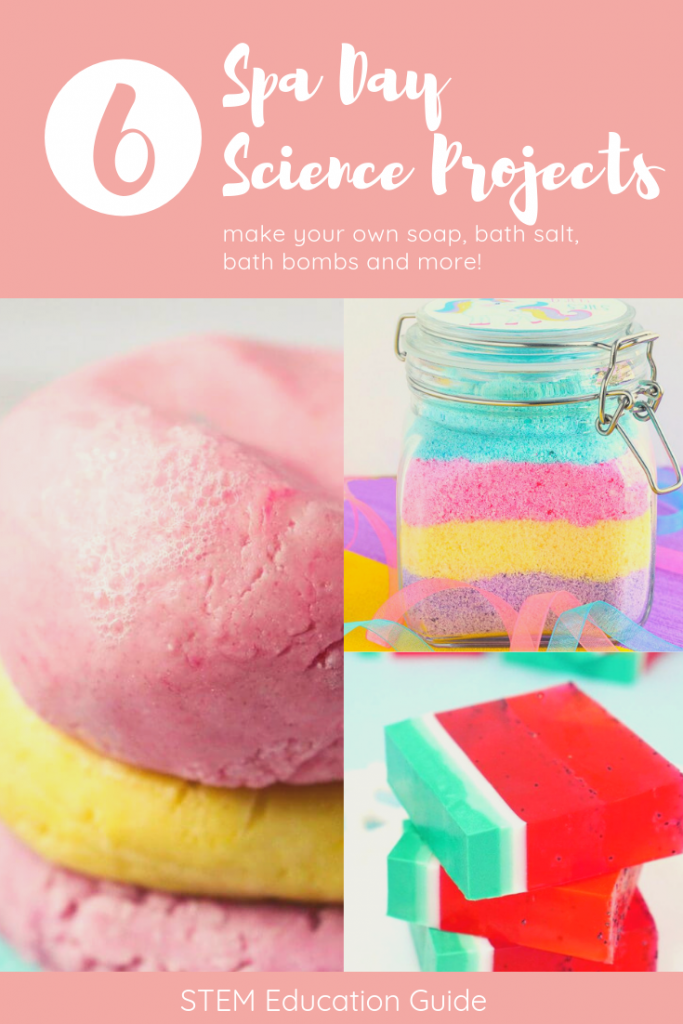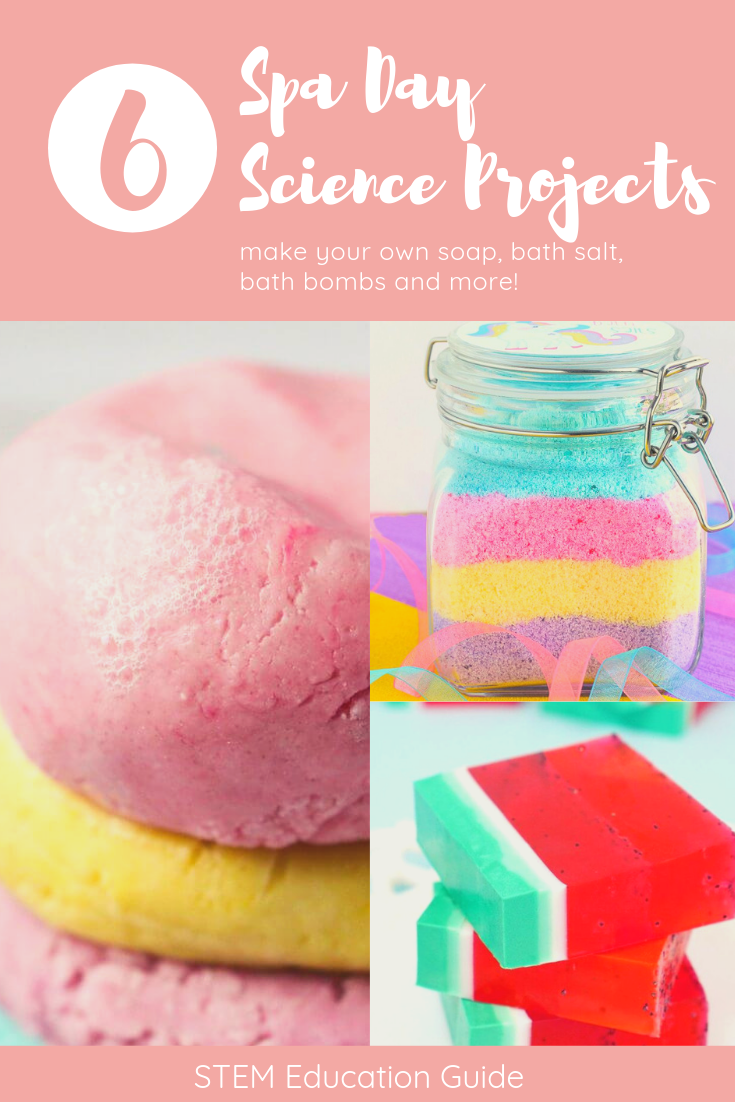 I think these projects would be make a great Birthday theme too! It combines creativity and some science!
Let us know which one is your favorite in the comments? Or do you have any other great spa day science projects? We'd love to hear them!