From Page to Screen: Our Top 10 Movies Based on Children's Books
Children's books are a great source of inspiration for movies.
They offer rich stories, memorable characters, and imaginative worlds that can captivate audiences of all ages. Whether it's a classic tale, a modern fantasy, or a thrilling adventure, there's something for everyone in the genre of children's books adapted into movies. In this blog post, we'll share our top 10 picks for the best movies based on children's books. Some of them are faithful to the original text, while others take creative liberties to bring the story to life on the screen. Either way, they're all worth watching and reading. Let's get started!
1. The Chronicles of Narnia series (2005-2010) PG
Based on the books by C.S. Lewis.
For decades, The Chronicles of Narnia series by C.S. Lewis has been enchanting readers of all ages with its timeless tales of adventure and magic. The film adaptations, released between 2005 and 2010, have successfully brought these beloved stories to life on the big screen with stunning visuals and exceptional performances.
What makes these movies truly remarkable is their ability to stay true to the spirit of Lewis's books while also introducing new elements that enhance the overall story. From epic battle sequences to touching moments between characters, each film in the series captures the unique essence of Lewis's world and its inhabitants.
Regardless of whether you're a lifelong fan of the books or simply seeking a thrilling cinematic experience, The Chronicles of Narnia movies are bound to leave you spellbound. With their captivating storytelling and breathtaking imagery, they demonstrate why children's literature remains a source of inspiration for generations to come.
2. Harry Potter series (2001-2011) PG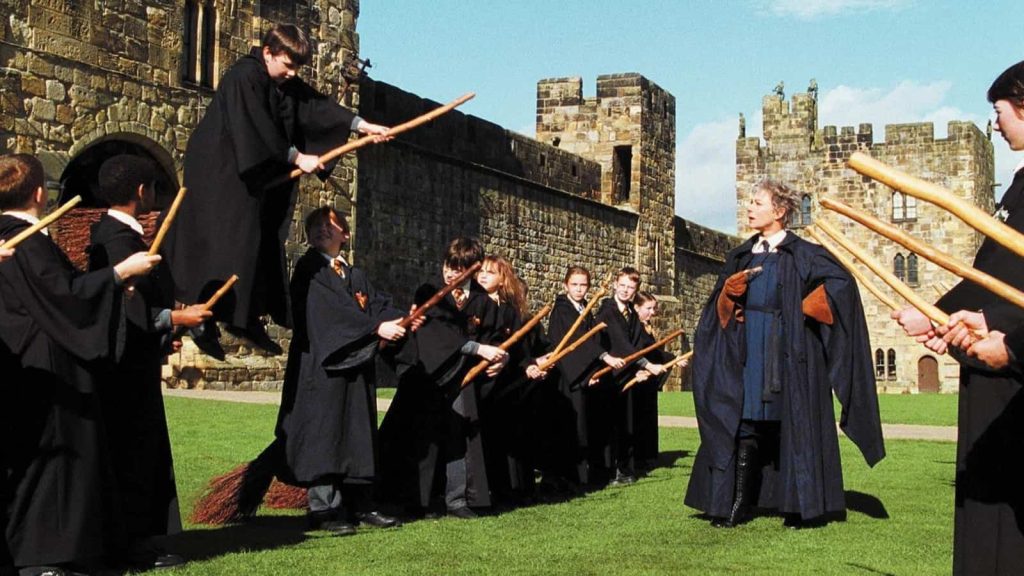 Based on the books by J.K. Rowling.
J.K. Rowling's seven-volume saga of imaginative fiction, the Harry Potter Collection, unveils the story of a young orphan named Harry Potter, who uncovers his wizarding heritage and enlists in Hogwarts School of Witchcraft and Wizardry. Alongside his allies, Ron Weasley and Hermione Granger, Harry pursues a mission to overthrow the dark wizard, Lord Voldemort, who slays his parents and aims to subjugate the wizarding society.
The Harry Potter series has enthralled over 500 million readers worldwide and has been translated into 80 languages. It has also spawned a hugely successful film franchise, theme park attractions, and merchandise. The books have been lauded for their elaborate world-building, character growth, and themes of love, friendship, and sacrifice.
3. The Secret Garden (1993) G
Based on the book by Frances Hodgson Burnett
The Secret Garden is a timeless classic that has captured the hearts of many children and adults alike. The film adaptation, released in 1993, is a faithful retelling of the story originally penned by Frances Hodgson Burnett. Set in early 20th century England, the movie tells the tale of Mary Lennox, an orphaned girl sent to live with her uncle in his sprawling estate. As she explores her new home and befriends local boy Dickon and her sickly cousin Colin, Mary discovers a hidden garden that has been locked up for years.
The Secret Garden's stunning cinematography and beautiful score make it a true feast for the senses. The lush gardens and grand architecture of Misselthwaite Manor are expertly brought to life on screen, transporting viewers straight into Edwardian England. The film's talented cast also deserves praise – Kate Maberly shines as Mary Lennox, capturing both her stubbornness and vulnerability with ease. All in all, The Secret Garden remains one of our top picks for movies based on children's books – a magical journey that captures the wonder and imagination of childhood like few others can.
4. Matilda (1996) PG
Based on the book by Roald Dahl
Matilda (1996) is a classic children's movie many people grew up with. Based on the book by Roald Dahl, tells the story of Matilda Wormwood, a young girl with extraordinary intelligence who her family and school principal mistreats. With the help of her kind teacher Miss Honey, Matilda learns to use her powers to take control of her life and stand up against those who have wronged her.

One of the reasons why Matilda has become such a beloved film is its ability to capture the magic and whimsy of Roald Dahl's original story. The movie features colorful visuals and quirky characters that bring Dahl's world to life in a way that feels true to his vision. It also stays faithful to the heartwarming themes of love, compassion, and standing up for oneself, which are central to both the book and the movie.

Overall, Matilda is an excellent example of how successfully adapting a children's book into a movie can create something exceptional. Its enduring popularity speaks not only to its quality as a film but also to its ability to captivate young and old audiences with its timeless message about the power of kindness and resilience.
5. The Cat in the Hat (2003) PG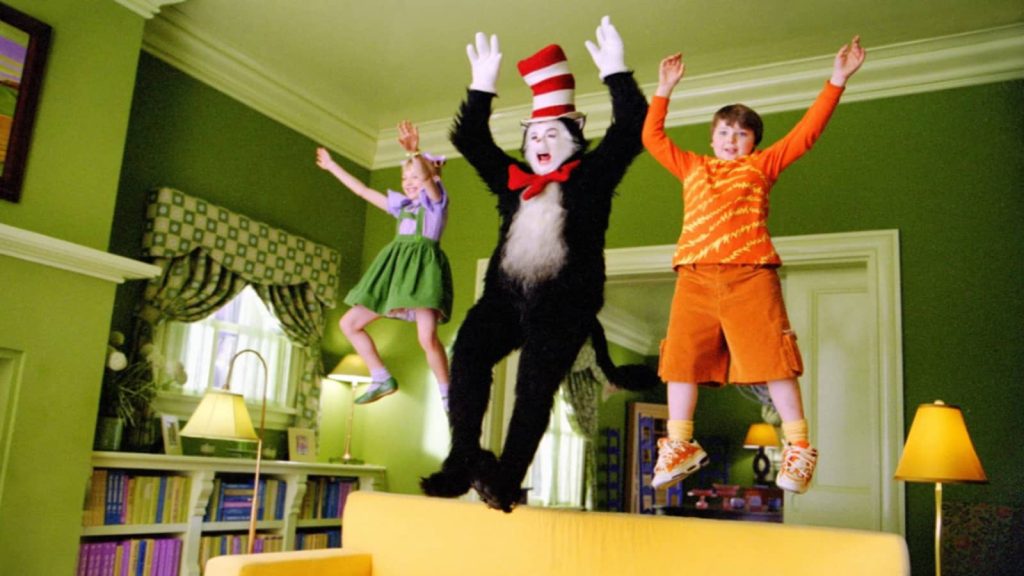 Based on the book by Dr. Seuss
The whimsical world of Dr. Seuss comes to life in The Cat in the Hat (2003), a movie that takes viewers on a wild and colorful ride. Two siblings, Conrad, and Sally Walden, are left alone at home by their mother and quickly grow bored. Suddenly, a mischievous cat in a hat appears, promising to liven things up with his zany antics. Chaos ensues as the cat's tricks become increasingly outrageous, wreaking havoc throughout the house.
Although some critics were critical of the movie's departure from the original book, it still managed to capture the imaginations of children everywhere. With its vibrant visuals and lively storyline, The Cat in the Hat is a feast for the eyes and a delight for viewers of all ages. Mike Myers' hilarious portrayal of the titular character only adds to the fun, making it a movie that's sure to bring a smile to your face.
Whether you're a lifelong fan of Dr. Seuss or simply looking for a fun family movie night, The Cat in the Hat (2003) is a must-see film that will transport you to a world of pure imagination.
6. Charlie and the Chocolate Factory (2005) PG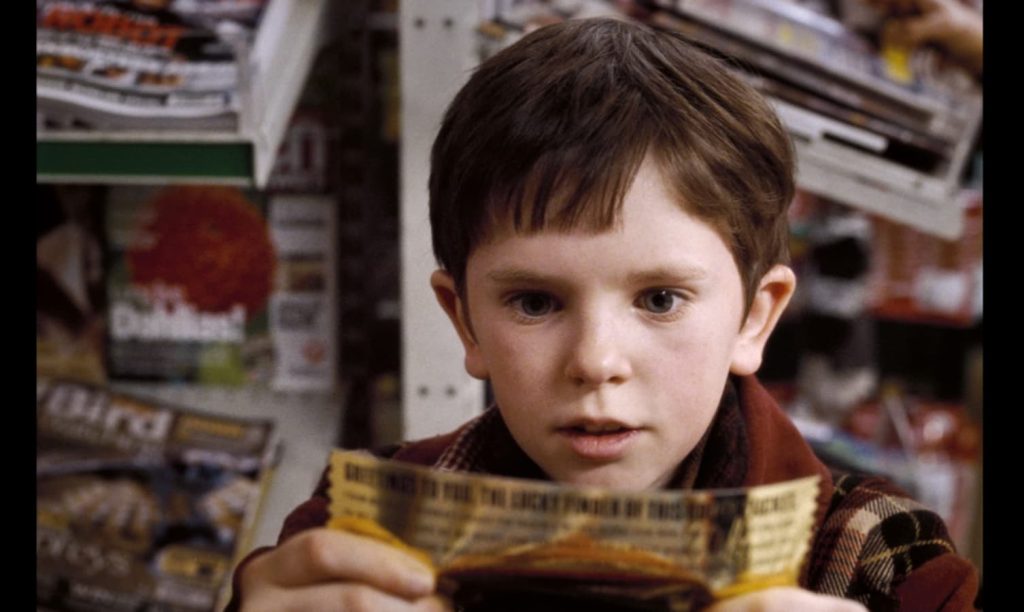 Based on the book by Roald Dahl
In Charlie and the Chocolate Factory, Tim Burton brings Roald Dahl's classic novel to life with his signature blend of whimsy and wonder. The 2005 film follows the adventures of Charlie Bucket, a young boy who wins a golden ticket to explore the magical and mysterious chocolate factory of Willy Wonka.
And yes, I know the original is better!
Johnny Depp's eccentric portrayal of Willy Wonka steals the show, while Freddie Highmore shines as Charlie with his wide-eyed innocence and pure heart. Supporting cast members, including Helena Bonham Carter, David Kelly, and Deep Roy as the lovable Oompa Loompas, all add their own unique charm to the film.
While some may argue that the movie diverges from the book in certain ways, it nevertheless captures the spirit of Dahl's imaginative storytelling and adds its own delightful twists. Whether you're a die-hard fan of the book or simply looking for a fun family movie night, Charlie and the Chocolate Factory is a cinematic delight that will transport you to a world of pure imagination.
7. How to Train Your Dragon (2010) PG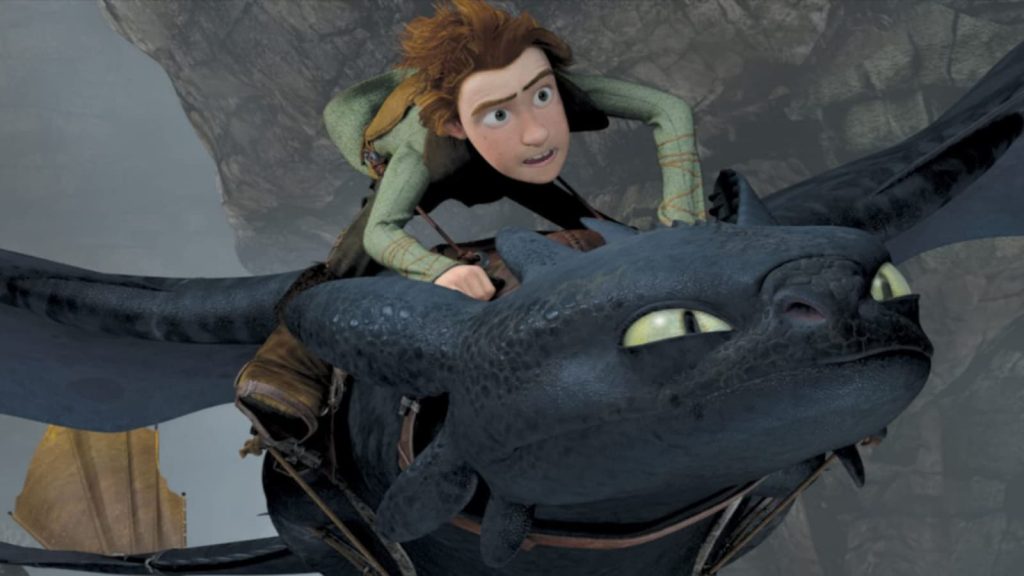 Based on the book by Cressida Cowell
How to Train Your Dragon takes audiences on a thrilling ride through the fantastical world of Vikings and dragons. Based on Cressida Cowell's beloved book series, the movie tells the story of Hiccup, a young Viking who dreams of being a dragon slayer like his village's warriors.
But when Hiccup befriends a wounded dragon named Toothless, he begins to see the creatures in a different light. The movie explores themes of friendship, acceptance, and bravery, and features breathtaking animation and an epic score that brings the world to life.
Critics praised How to Train Your Dragon for its captivating storytelling and stunning visuals, making it one of the best book-to-film adaptations in recent memory. While the movie stays true to the heart of Cowell's original work, it also adds its own unique spin, making it a memorable adventure for both fans of the book and newcomers alike.
In short, How to Train Your Dragon is a thrilling adventure that proves a great book can inspire a great movie. With its heartwarming themes and breathtaking visuals, it's sure to delight audiences of all ages.
8. Where the Wild Things Are (2009) PG
Based on the book by Maurice Sendak
e story of Max, a young boy who escapes to a world where wild creatures roam free. As he journeys through this fantastical land, Max learns valuable lessons about friendship, love, and courage.
Where the Wild Things Are offers a unique and engaging perspective on childhood fears and insecurities. Max's journey is not just a physical one, but also an emotional one, as he confronts his inner demons and learns to accept himself for who he is. The film's beautiful visuals and enchanting soundtrack create an immersive experience that captures the magic of childhood and inspires viewers of all ages to embrace their creativity and imagination.
More than just a story about perseverance, Where the Wild Things Are is a celebration of the human spirit and the power of imagination to transform our lives. With its heartwarming message and stunning visuals, this movie is a must-see for anyone who loves great storytelling and a touch of magic.
9. Bridge to Terabithia (2007) PG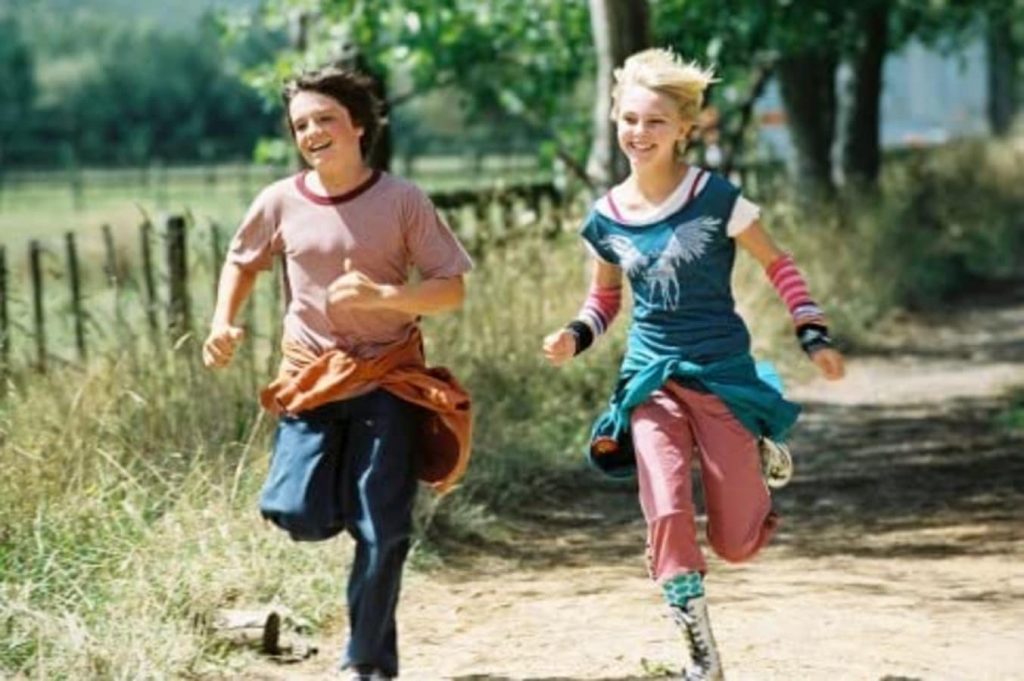 Based on the book by Katherine Paterson
Bridge to Terabithia is a captivating movie that follows the journey of two young friends, Jess and Leslie, as they navigate their personal struggles while trying to find meaning in their lives. It's a story of friendship, loss, imagination, and perseverance that will resonate with both children and adults alike.
The movie's central message is about the power of perseverance. Jess faces numerous challenges, including a strained relationship with his father and feeling like an outsider at school, but through Leslie's unwavering support and encouragement, he learns to keep pushing forward despite the obstacles he faces.
Additionally, Bridge to Terabithia also emphasizes the importance of creativity and imagination. The creation of Terabithia serves as a safe haven where Jess and Leslie can escape the harsh realities of their lives and explore their creative sides.
All in all, Bridge to Terabithia is a powerful movie that teaches children about the importance of perseverance and creativity while highlighting the value of friendship and the beauty of imagination. It's a story that will stay with viewers long after the credits roll.
10. James and the Giant Peach (1996) PG
Based on the book by Roald Dahl
James and the Giant Peach is an animated movie based on the Roald Dahl classic. This fantastical story follows James, a lonely orphan boy who lives with his abusive aunts until he is transported to a magical world inside a giant peach. Along the way, he befriends a group of insects who become his loyal companions as they journey across the ocean on top of the peach.
At its core, James and the Giant Peach teaches children the value of perseverance. James faces many challenges throughout the movie, but he never gives up hope. He learns to believe in himself and his unique abilities, and this helps him overcome obstacles and find his way back to his family. This inspiring message encourages children to keep trying, even when the odds seem stacked against them.
The movie also highlights the importance of friendship and trust. James learns to trust in his insect friends, who support him throughout his journey. They help him navigate dangerous situations and offer a sense of companionship and belonging that he has never experienced before. This heartwarming tale reminds us all that no matter how hard life may seem; we can always find strength and comfort in the people who care about us.
This article was originally on STEM Education Guide.
Breaking Stereotypes: Dive into the Best STEM Books for Girls!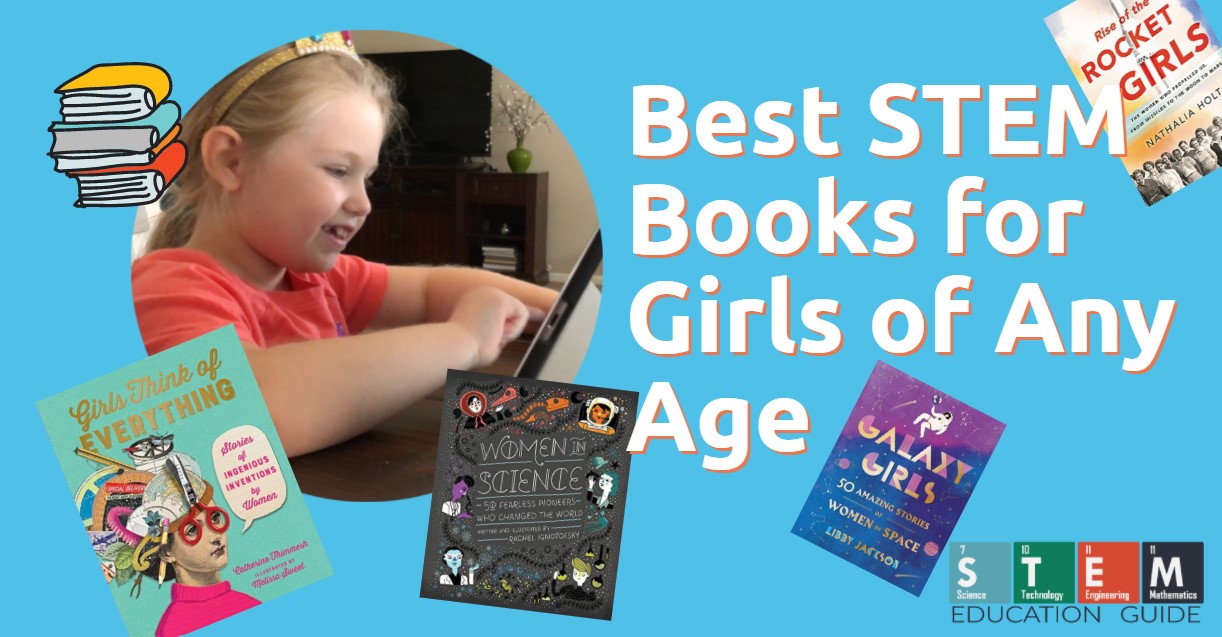 Encouraging girls to explore STEM fields is crucial, but a gender gap still exists. Access to books that educate and inspire can help address this issue. STEM books can feature female protagonists or provide fun experiments and facts that spark curiosity and creativity. With many excellent options available, girls can engage and empower themselves to explore these exciting fields.
10 Inspiring Movies That Teach Kids About Perseverance
Developing perseverance is an essential life skill that children should cultivate. However, teaching children about perseverance can be challenging, but movies can make it easier. Films have the ability to motivate and inspire children while providing entertainment and education.
In this article, we will be presenting 10 inspiring movies that demonstrate perseverance. These films feature stories of people who overcame challenges, tales of underdogs conquering the odds, and stories of individuals who never gave up on their aspirations. These movies are sure to inspire and encourage your child to persevere through any obstacle. So, prepare some snacks and settle in for an exciting cinematic journey!
Empowering STEM Education: A Review of 13 Top Books for Teachers
STEM education is crucial for students in today's world. As a teacher, it's hard to find engaging resources. Our list of 13 top STEM books for teachers provides hands-on reviews covering a range of topics, from coding to robotics. These books will spark creativity and curiosity in learners of all ages.
Discover the Top-Rated STEM Activity Books for Kids!
STEM activity books for kids are a great way to introduce children to the exciting world of science, technology, engineering, and mathematics. We've compiled a list of the best-rated books that offer interactive and fun ways to learn about STEM, from coding challenges to experiments that teach mechanics and physics.
Engage Your Middle Schooler with These Top STEM Books!
STEM education is critical in today's world, and it's essential to cultivate a lasting interest in Science, Technology, Engineering, and Mathematics. For middle schoolers, we've compiled a list of the 13 best STEM books that will inspire and foster curiosity in these subjects.