Best STEM LEGO Engineering Kits (2023)
Sometimes it may seem that learning and playing are mutually exclusive, but that doesn't have to be the case.
There are many playsets, toys, and games that your children can play that will benefit their skills, knowledge, and still give that desired "ooh, ahh" effect that we all want our kids and students to have.
At the top of that list of innovative toys, you'll find LEGO engineering kits. Below is a list of the best sets for all ages and price ranges. I found a good range of prices so there is something for everyone.
Children of all ages can find fun in learning. There's something about a hands-on activity that allows the child to actually create and build something that is fascinating to them.
It's something that they can both learn from and take pride in.
Best STEM LEGO Engineering Kits
My kids have played and learned from LEGO since they could remember. If your kids are like mine, they love building and being creative.
These are some of the best LEGO sets I've found to spark the engineering curiosity in all kids.
LEGO Boost Creative Toolbox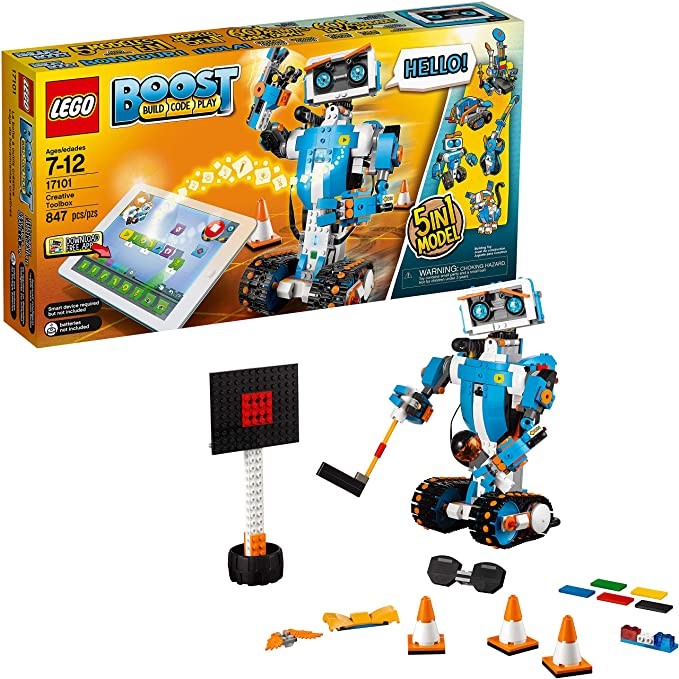 This first set is so creative, and it's perfect for your future little scientists! Ideally, the set is targeted for 7-12-year-olds. I love this kit because it's multi-dimensional.
Your child can build and code the robot in five different ways, allowing for change and excitement with every new model. A phone or tablet is necessary in order to build Vernie the robot, so keep that in mind if you're considering this purchase.
This is one of the most expensive sets I've found. It's more expensive, but it is versatile and hands-on. I think you'll find the value in it.
Why We Love it:
Over 847 pieces that build 5 different models
Perfect gift for beginner coders
Pairs with a free app and other LEGO toys
Great science introduction to 7-12 year-olds
Check the availability of the LEGO Boost Creative Toolbox on Amazon here.
LEGO Women of NASA
This is my absolute favorite set on this list. This set is for any of your kids particularly interested in space, but it's specifically designed for our future female scientists and astronauts!
It's common that science-oriented toys are often geared towards boys, but with new toys like this coming around, there's more support for our girls who are interested in STEM.
Based on the women of NASA, this set is complete with four women Minifigures, each with their own set to build, whether it is a space telescope or books for the figure to "study" in!
This toy is personalized, fun, and STEM-centered not only in its make-up but in its theme. You can't go wrong with this one.
Why We Love it:
It Helps girls realize women are scientists too.
Includes 4 Minifigures that are real women: Nancy Grace Roman, Margaret Hamilton, Sally Ride, and Mae Jemison.
Has 3 removable rocket stages.
Ages 10 and up.
Check availability for LEGO Women of NASA on Amazon here.
LEGO Classic Ocean's Bottom Building Kit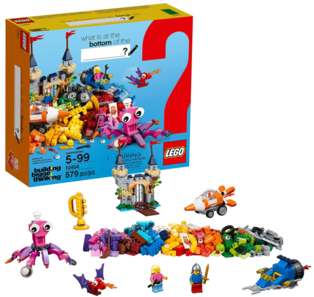 OK, it's not really a LEGO brand, but I include it in our list because the learning and building principles are the same.
Remember learning about Newton's Law in elementary school? Me either.
Make sure that your kids learn it in the most hands-on, memorable way possible with this set. Not only will your child build the set, but afterward, they will witness how inertia, momentum, and kinetic energy work to make the set successful.
By doing that, they'll be able to recognize how it happens in all the world around them! Another great aspect of this set is that it also has activities, illustrations, and facts.
I feel that this is especially thoughtful in instructing the youth because it includes these extra components in order to teach alongside the hands-on method of building.
See the current price of the Engino Discovering STEM kit here.
Why We Love It:
This toy will help kids understand the logic behind Newton's laws.
With this set, they can build 8 models
Great hands-on adjunct to a STEM class introducing principles of basic physics.
This is for ages 8 & up.
LEGO Chain Reactions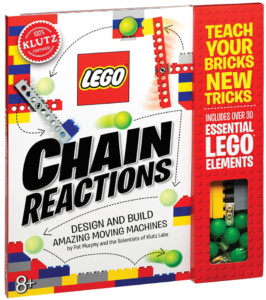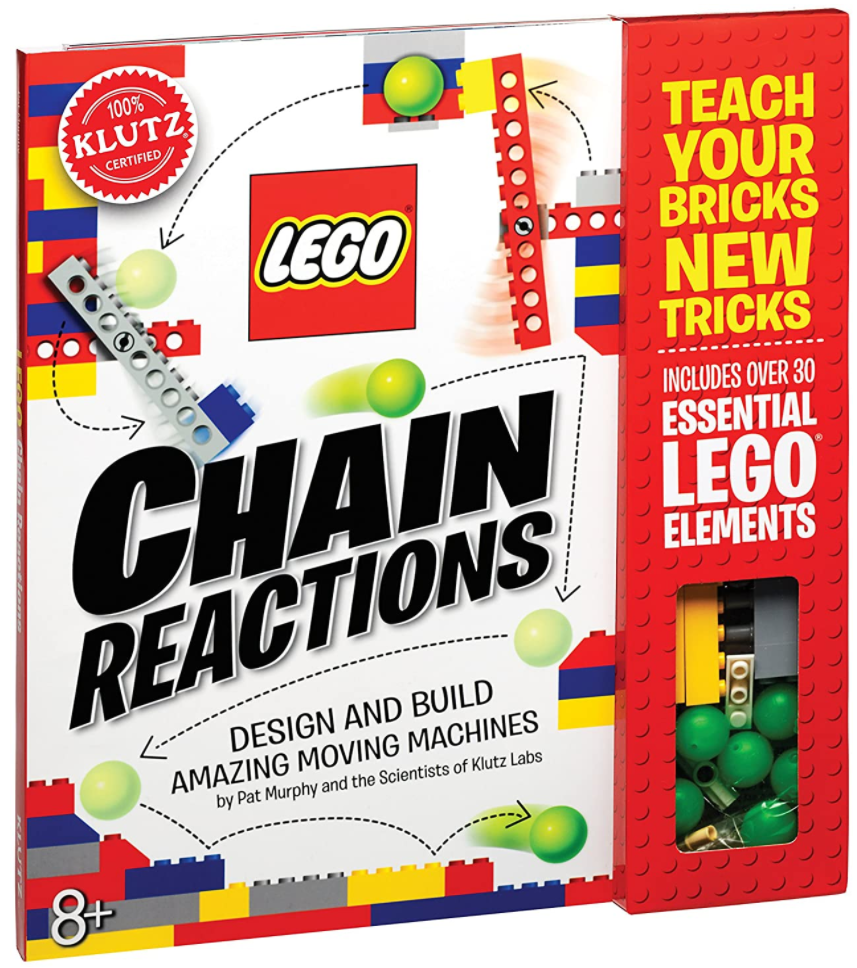 If you follow the above link, it will lead you to a great project for your kids! This set is fun and exciting because of the opportunity and variety they offer.
If you have a child interested in engineering, this set would be ideal for them. Your child will feel great excitement and confidence in seeing that they can create something that has movement and can have an effect on something else.
Hopefully, these can urge further exploration of experiments and imagination within the home with everyday objects, as well as in school.
Check availability for the LEGO Chain Reactions kit here.
Why We Love It:
Design and build 10 amazing moving machines.
A well-thought-out guide with clear instructions.
This is for ages 8 and up.
Klutz LEGO Gadgets Science & Activity Kit
One of the reasons this set was included on my list was because of how it allows for open-ended thinking. This is absolutely critical in a child's education because it drives them past the simple answers but urges them to think outside the box and push their knowledge further.
This set does just that. It builds eleven different machines which can appeal to a variety of interests for different children, which also makes this set more versatile, promoting it to be used more than just once.
It is directed toward an older audience, specifically those between 8 and 12 years old, but just about everyone will enjoy this LEGO kit.
Check the current price of the Klutz LEGO kit here.
Why We Love It:
Open-ended thinking this LEGO kit allows.
Your child will build 11 different machines.
Clear instructions on building all the different machines.
For ages 8 to 12, but everyone can enjoy this.
LEGO Education Wheel Set
This set is meant for all ages four and up. What four-year-old doesn't love a good toy with trucks and cars?
Capable of building up to twelve cars simultaneously, it allows for extra excitement and creativity. Children will learn how to put together steering wheels, tires, hubs, axles, etc. to create something fascinating for them.
Recognizing how these parts work together to create a vehicle will propel learning from a young age.
If your child is interested in vehicles, looking forward to taking an auto mechanic class, or wants to work alongside dad on the family car, this is the perfect toy set to boost their interest and learning.
Why We Love It:
The box contains 286 pieces.
Your child can make up to 12 different vehicles at the same time.
Regular standard LEGO bricks can be added for more vehicles.
For ages 4 and up.
Check out the current price of the LEGO Education Wheel Set here.
Creator Ocean Explorer Science Toy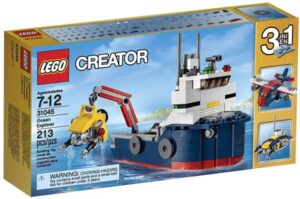 This fun set initiates and leads interest in deep-sea exploration. The kit can be built into a ship, submarine, or even a plane for a helicopter view!
It comes with attachments such as radar and antennas to also teach your children not only about construction but the science and technicalities that go into production.
I love this set because it promotes children and students to think big and to have great expectations for the things they can eventually explore and do.
Check availability of the Creator Ocean Explorer Science LEGO set here.
Why We Love It:
Promotes your child to think big.
When put together this toy has a movable crane.
Best for ages 7 to 12.
Zoob BuilderZ STEM Challenge Moving Building Modeling System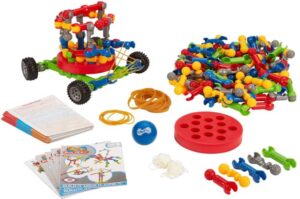 This is another kit on this list that isn't LEGO brand, but it's similar to the kit centered on Newton's Law.
This also teaches kids about momentum, energy, and inertia, but does so while allowing a little room for the silly, fun parts. Not only does your child build the set, but is then given the opportunity to use the items to learn and play.
This set will have your child thinking in a creative innovative way which will enable them to continue to work towards asking questions and gaining more knowledge.
See the current price of the Zoob BuilderZ STEM system here.
Why We Love It:
Kids learn physics as they play.
Tons of different ways to do whatever the mind imagines.
For ages 6 and up. Depending on your kids, 6 might be a little young for this.
Some Common Questions about LEGOs
Is Lego a STEM toy?
Of course, absolutely! Everything about LEGO and its LEGO engineering kits allows for STEM thinking. From building, following instructions, and enabling innovative and open-ended thinking, LEGO truly has STEM principles built into it.
Beyond that, however, many of the sets are specifically geared toward STEM careers, pushing an extra interest towards that in science, technology, engineering, and math.
Why is LEGO so fun?
LEGO is fun because it is hands-on, and takes both intellectual and physical interest.
It's an all-encompassing toy that accelerates the thought process, which draws in anyone who plays with it.
Is LEGO good for your brain?
You bet! According to The Scots College, LEGO "promotes fine motor skills, improves creativity, problem-solving and mathematical thinking."
Any child who plays with Legos enjoys it because it gets them involved intellectually and creatively.
What is LEGO Education?
LEGO Education is the method of using LEGO bricks in the classroom.
While it might sound a little crazy, according to Robomets, it actually boosts critical thinking and helps students to remember and retain information, therefore making their performance rates go higher.
Wrapping Up
It's easy to see all these great LEGO kits can help your kids get a good understanding of engineering. Engineering toys might spark enough curiosity to pursue an engineering degree one day.
If your child has found the perfect LEGO toys and kits, let us know in the comments, and we'll check them out and add them to the list!
Have you seen the new LEGO Technic Sets? They are perfect for older kids (and kids at heart), that want a more challenging LEGO set. You can find the best ones in our article here.