Build Your Own 3D Structure: STEM Challenge for Kids
STEM stands for science, technology, engineering, and math. STEM challenges aim to engage children in hands-on activities that teach them about concepts in the four subject areas.
STEM challenges have great appeal for several reasons. First, they are fun! Next, they allow children to take their learning beyond a book or video and participate in hands-on activities using concrete materials.
Also, STEM activities encourage children to tap into their creativity. They also need to employ problem-solving skills. Lastly, when STEM challenges are completed with others, they encourage skills like communication and collaboration.
Building STEM Structures
Having children build their own three-dimensional structures is a great STEM challenge. If you have been teaching your child about 3D figures, creating designs helps solidify concepts and extend their learning.
The Marshmallow Shapes activity allows children to create models of 3D figures using simple materials like toothpicks or popsicle sticks and marshmallows.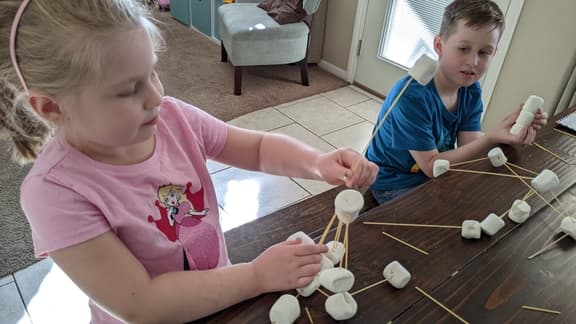 Similarly, children can use the Geometric Nets activity to assemble 3D figures using paper or cardstock.
With this challenge, you can easily incorporate math learning like identifying the 2D shapes they see, such as the squares on a cube. They can also count vertices, edges, and faces, which may be easier using a concrete model versus a diagram.
Children can also determine which 3D figures roll, slide, or stack by testing them out.
Budding engineers can try combining their 3D figures to create larger structures. They can build a house, make a rocket ship, or create a marble run.
Trial and error are integral parts of STEM challenges as children solve problems while creating and testing their designs.
Please resist the urge to provide too much instruction and instead give them opportunities to develop their own solutions.
More Structure Ideas
You can also relate 3D figures to concepts that incorporate engineering and science. Challenge children to build the tallest, free-standing 3D tower. They can't let it fall down! Watch them explore how to create their base and what shapes work best.
You could also challenge them to use 3D figures to make a bridge. Bonus points if their bridge can hold an object! Have them explore the concept of flight by creating a structure that can safely transport an egg from a certain height to the floor.
STEM vs. STEAM
You may have seen STEM include the letter 'a' to create the acronym STEAM. The 'a' represents the arts. There is growing interest in including the arts to recognize the importance of personal expression and purpose. This may include visual arts, drama, dance, music, and media.
You can easily extend your 3D structure activities and challenge children to create 3D artwork. This could be making a city, a vase of flowers, a statue, an abstract work of art, and so much more!
Children can learn about design elements, including color, shape, and space.
STEM (and STEAM!) activities benefit by providing children with fun, open-ended challenges that have more than one solution or outcome. Consider incorporating a STEM challenge into your lessons on 3D figures so children can begin applying what they have learned.
Take their learning beyond paper and pencil and let them experiment with hands-on activities. After a bit of prep and guidance to get started, stand back and let them explore concrete materials, use their creativity to make designs, and use the knowledge they have acquired to create and problem-solve.
You can find more information in our article, STEM vs. STEAM.
Wrapping Up
Building structures at home is a great way of getting kids increased in STEM and engineering. If just a few simple, easy-to-find materials your kids will be building and learning in no time.
If you'd like to find more building sets for kids, please take a look at our article, The Top STEM Building Sets for Kids.