Make-A-Fort Review (Hands-on)
Make-A-Fort provides flexible STEM building fun, for kids that like to explore hands-on.
When I first heard about Make-A-Forts pre-built fort kits, I thought, "my kids already build forts. What more can Make-A-Fort do that my kids already haven't don't."
After looking at some videos on their website, Make-a-fort, we decided to give it a try. Make-A-Fort recommends ages 4 and up. My kids' ages are 3, 6, and 8 years old. So I thought the fort might be a good fit for them.
I encourage you to read my review, but if you're short on time, you can click here and check out everything Make-A-Fort offers on their site.
Why Get a Creative Building Toy?
We're all about creative, educational activities and STEM toys here (this is why I created this site). Building toys engage kids in real-world play and hands-on activities. Building a fort together helps get the entire family involved in discovering and playing together.
Making something fun will develop confidence in your kids as they realize they can create something amazing. During which, they are improving fine motor skills, social skills, problem-solving skills, and hand-eye coordination.
Make-A-Fort kits provide a clean, fun activity for families to do together. The major point is to make these fun activities with no screen time!
What's in the Build Kit
For starters, I thought only one build kit wasn't going to have enough panels. Looking into it more, I saw that each kit has 18 panels with 80 connectors. For my kids' ages, one kit was a good starting point. I also liked that the fort kit fits nicely into the original box, which doubles as a carrying/storage case.
With 18 panels and 80 connectors, the kit also includes 10 yellow braces. We found that we never needed more connectors or braces. After each build, we still had connectors left over. There is also a detailed colored instruction booklet that's included to get you started.
All the kits are made in the USA with recycled materials. If you feel your kids would like to build bigger forts, every kit is the same size and material, so all the panels will fit together.
How Strong Is the Material
The panels, while cardboard, are stronger than regular box cardboard you'd received in the mail. Make-A-Fort says they can be built outside, but I wouldn't recommend it unless it's in a good area that's shielded from the wind. Also, the panels are absorbent, so keep water away from the fort.
Can Kids Climb on Top of the Forts
Absolutely not.
We made every fort sturdy enough from bumping into and adding more panels but my kids couldn't climb on top. The fort would fall. This wasn't an issue for any of my kids except our 3-year-old. Our older kids had fun making tunnels and walls with the fort pieces, which is definitely why we agree with their recommendation of 4 and up.
What Forts Can Kids Build
From only one kit, there are a few different configurations kids can make the fort into. Helping my kids set up the fort for the first time, we make a basic "Mansion Style Fort." You can see all the starter fort kits designed on their website here, fort projects.
After a few different forts I helped build with the kids, I was happy to see they started to let their imaginations get the best of them and create their own ideal setups. My two oldest set up two little Nerf forts they used as cover while having a Nerf war.
What Age is Make-A-Fort For
They say the kits are for kids four and up. From our experience, kids under five will have trouble building a fort by themselves. Our eight-year-old was excited to see the examples in the detailed booklet and get started building. Our six-year-old needed a little guidance at first but got a handle on it after seeing how to set it up for the first time.
This is not to say you'll need to hold their hand through it the whole time. The point of Make-A-Fort is to let your kids decide on where the panels will go and use their imagination to configure how they see fit. With that in mind, it's definitely a great fort-building kit!
Can the Panels Be Colored On?
Yes, the material isn't waxy and coloring with crayons and markers was perfect.
One side on each panel has a fun pattern on it, while the other side is blank for your kids to make their own design.
Kids can use markers, crayons, colored pencils, or whatever they prefer. Our kids grabbed the markers before I even realized the baby had them, so we definitely recommend crayons for younger kids, so they don't accidentally mark any furniture next to the fort.
What's the Most Popular Kit, and Why
According to Make-A-Fort, their most popular option is the three kits – discounted option. While at first, I thought one kit would be enough, I can see the benefits of having two or even three kits. They made some really great 'creations' that they were so excited to expand, so we'll be getting more soon.
More building materials will give a few more options to build larger and more complex forts. This will help the kids' imaginations go wild and build whatever they feel like.
You can see all the kits available on their site, here.
Creative Ideas for Forts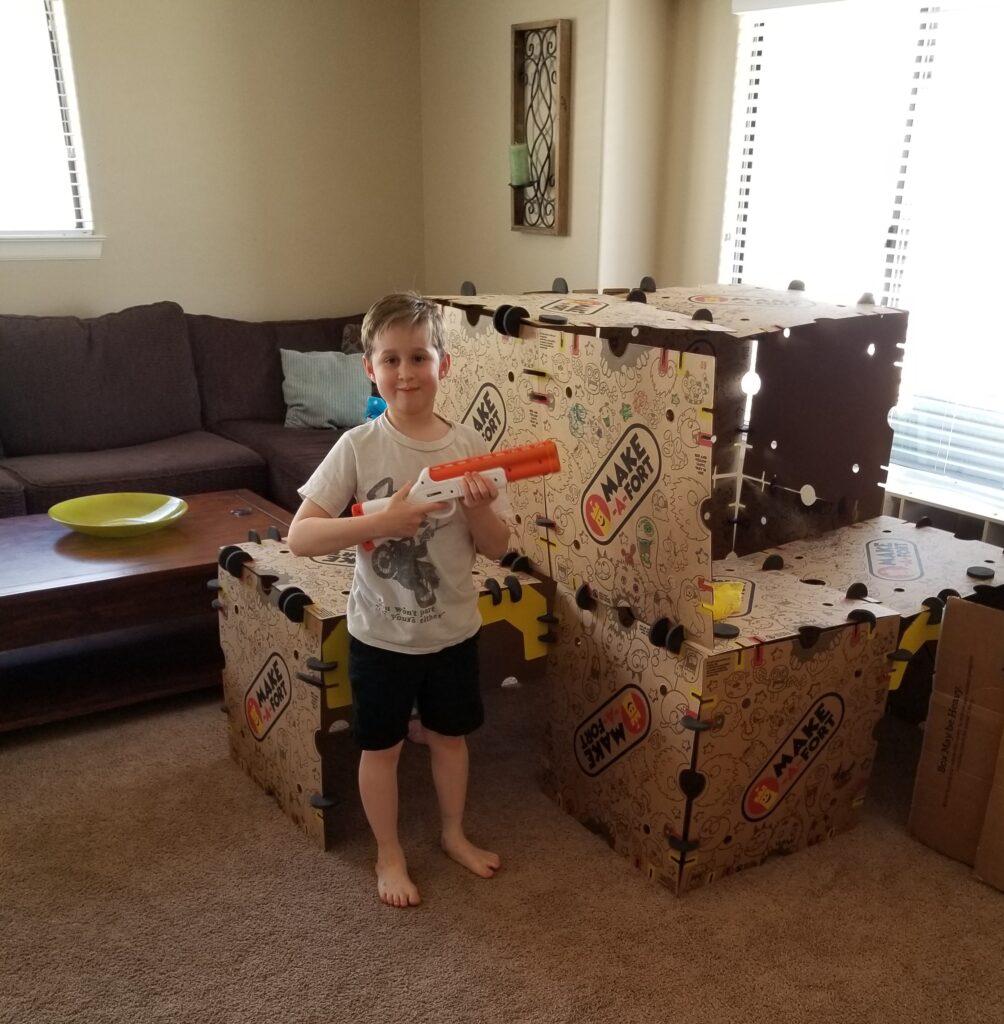 Building a fort is fun in and of itself, but there are a few other things to really ramp up the fun and get creative playing inside.
Make a Light Show Inside: With these small LED colored puck lights, your kids can make a light show inside a maze. What's great about these LED lights is the small size that can stick to the walls or ceiling with these Command Strips. These lights also turn off after 30 minutes, so they don't drain the battery when kids forget to shut them off.
Test Your Pets: Make a maze with a treat on the other side to test your pets IQ. Since the fort is so easy to rearrange, no two mazes have to be the same.
Have a Nerf Gunfight: Panels can be arranged for a perfect hiding area for kids with their Nerf guns. Each panel has a hole where a puck can go in, which would be great for target practice.
Large Area for Coloring: I mentioned it above, but the panels are made to be colored on. The cardboard material isn't waxy, so that kids can color on the front and back. One side has a fun pattern, with the other side being a blank canvas.

Easy to Reuse and Put Away
The fort was shipped in a plain brown box, but inside the shipping box, was a box with a handle that had everything inside. The panels and pucks are easy to take out and store in the box. It's great to be able to dismantle the fort and store it in a closet, or under a bed, quickly.
Wrapping Up
With Make-A-Fort, you can challenge your child's imagination as they transform their room into a castle, the wild west, or a city for a day. Let your child channel their inner explorer, knight, or princess to explore inside something they made themselves, all while building their confidence in clean family fun!
Take a look at all of the fort kits as well as the different configurations on their website here, Make-A-Fort.
Discount Tip: ​They have a $5 discount code you can receive by signing up for their email newsletter. After you signup, you'll receive an email to confirm your subscription. After you confirm your subscription, you'll get an email with a link to the discount code. Once you click the link, the discount code is automatically applied, and you'll see $5 off during checkout.