6 Best Building Toys for Future Engineers
Building toys are among the best to encourage creativity as kids create skyscrapers, bridges, and so much more! 
We have found the best building toys that go beyond your classic blocks to creating genius pieces to inspire your future engineer.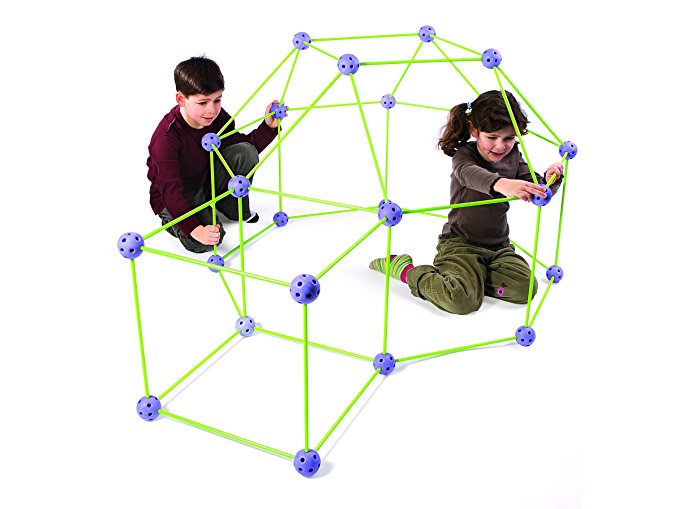 When you think of "building toys", you probably don't have a fort set as the first thing that comes to mind. But building forts is an incredible activity to encourage an engineering and creative mind. Instead of making a mess of chairs, learn a bit of geometry along the way with this fort building kit. There are 63 pieces, so you can design forts of all shapes and sizes. Throw sheets on top of the frame for a cozy hideout. Retails for $40 on Amazon. 
Go back to basics with these classic building LEGOS. Coming in many different colors, this box of 790 LEGO pieces gives your child the opportunity for open-ended creativity. There are also windows, doors, baseplates, tires, and wheel rims to use for different project designs. This is a great holiday gift idea for all of the children to share! Recommended age is four years and up.
This best-seller building toy brings me back to my childhood days. Your kids can piece together a marvelous marble maze (say that five times fast!). The set includes 85 translucent pieces to see all the action and 15 glass marbles to run down it. Recommended age: Four years and up.
A classic toy for older children to build innovative models and hone their future engineering skills. There can be 30 models made from this set or your child can make their own designs. Recommended for ages 7 and up.
This 200 piece building toy is a fun and colorful advanced learning opportunity for preschool aged children (3+). Rods and connectors are easily fit together. Watch your child's engineering talents unfold as they build bicycles, houses, bridges, and creatures. This fun building toy is also for many ages (36mos-15 years) and can be bought on Amazon.
Got any Star Wars fans in the family? Who says engineering can't be fun? This is the perfect building toy featuring a pivotal scene in Return of the Jedi. Your Star Wars fan can re-enact the final battle between Luke Skywalker, Darth Vader, and Emperor Palpatine.