13 Best STEM Books For Teachers (Hands-on Reviews)
These STEM books are for teachers and educators that need ideas or inspiration about teaching STEM subjects. Some of these STEM books are for a classroom setting, while others are for a small group of kids.
I have a lot of content on this blog centered on STEM activities for kids, but I only have a few articles dedicated to school teachers and their needs when it comes to teaching STEM.
I personally purchased each book I'm recommending for these reviews, and I give my thoughts about each of them in the overview of the book.
If you're looking for STEM ideas to do in a classroom, take a look at my FREE STEM activities eBook that I made with my kids, you can download it here: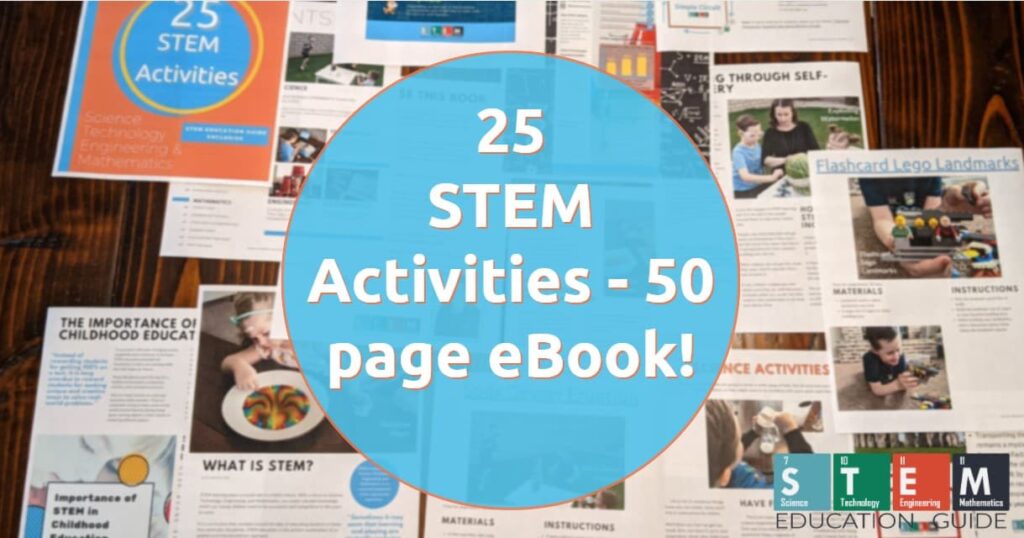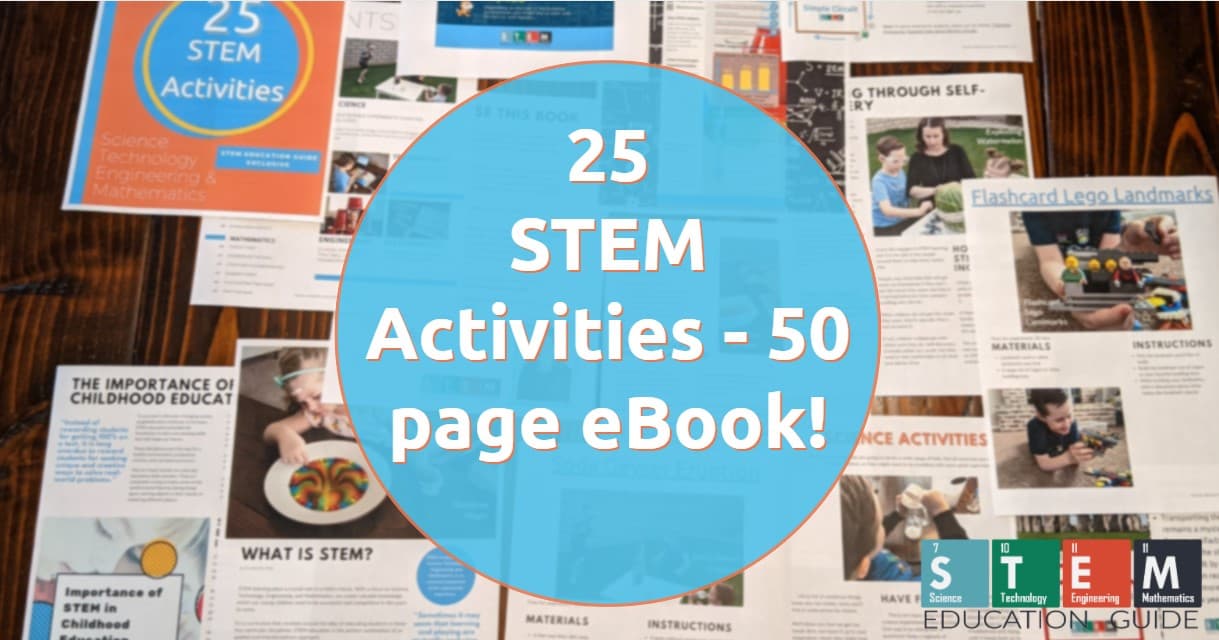 If you're looking for STEM activities books, please check out my article dedicated to that.
Teaching Stem in the Early Years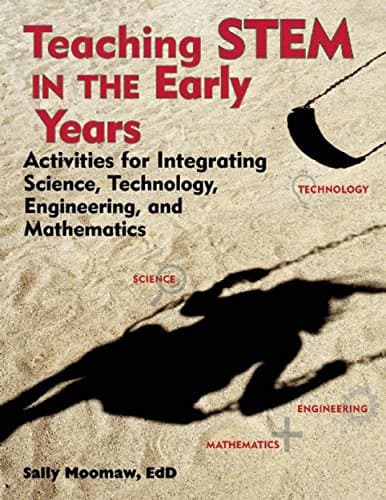 When I searched for STEM books specifically for teachers, I saw that Teaching STEM in the Early Years kept coming up. After reading this book, I can see why.
The author gives an excellent explanation about the different parts of science, technology, engineering, and mathematics (STEM). This is before she gets into the activities for small and large groups of kids.
That's one of the reasons this is a must-have book for school teachers; it was written by a long-time educator that knows how to teach to a large group of kids.
I'm going to take some of these techniques and ideas to my homeschool group, as I think they are valuable lessons everyone should implement.
The only downside I found reading this book was the lack of pictures. While not always a must, adding a few more photos to help understand the projects is beneficial.
Author: Dr. Moomaw
Why We Love It:
One hundred STEM activities in this book for teachers of home school parents.
Best STEM book for teachers.
You can find the Kindle edition or paperback book here.
Successful STEM Education: A Workshop Summary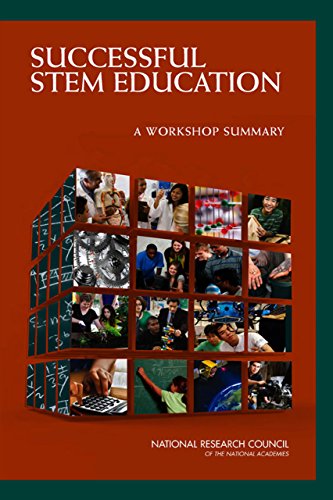 You're not going to find fun activities for kids in this book. It's focused on building a STEM curriculum and making a case for schools and school districts to put more focus on STEM education.
The author also has practices that support effective STEM education and what defining success is when schools focus on STEM, including non-STEM-focused schools.
The biggest disappointment with this book is the length. It's a short read at around 80 pages, but the information is great.
Author: Alexandra Beatty. You can find all of her books here.
Why We Love It:
This book makes clear what makes STEM education effective.
You can find Successful STEM Education Kindle edition or paperback book here.
We also have some great tips about teaching STEM in our article, Seven STEM Teacher Tips If You're Suddenly Teaching STEM.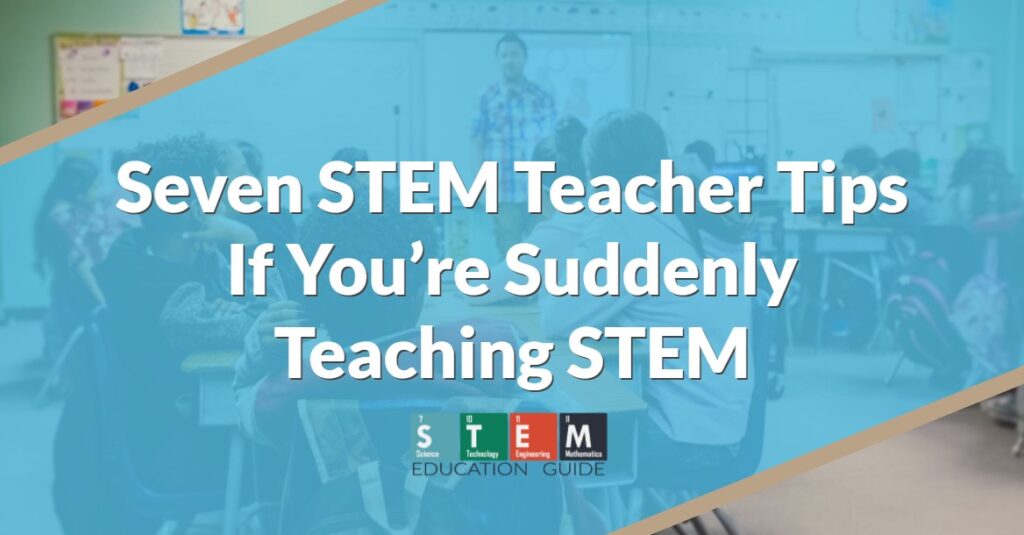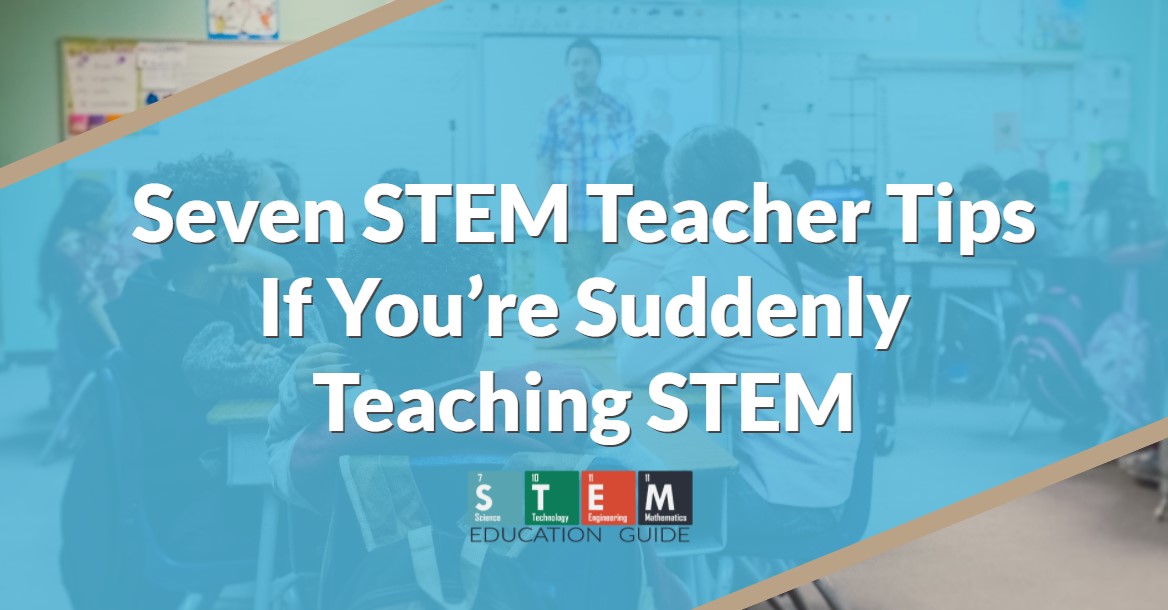 Engaging Young Engineers: Teaching Problem Solving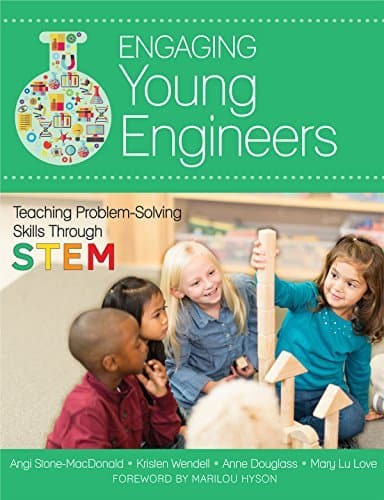 After a brief thank you to everyone that helped write this book, the author jumps right into some rich content about engineering for kids.
I've never seen such a clear outline for each age group before. The author breaks how to teach engineering in what they call, "Developmental continuum of thinking skills." In this section, they go through:
Curious thinkers
Persistent thinkers
Flexible thinkers
Collaborative thinkers
Reflective thinkers
From me reading the book, I see these sections break down further for Infants, Toddlers, and Preschoolers. They go through each phase of "thinkers" for kids and how teachers can manage curriculum for the little thinkers.
Young Children Are Natural Problem Solvers
In this section, the book goes into detail about teachers building a framework of problem-solving.
Think about it
Try it
Fix it
Share it
This is a simple scientific method that kids can understand.
There's a lot in this book that's too much for me to cover here. I highly recommend if you're an engineering teacher for young kids to pick this book up.
Author: Angela K. Stone-MacDonald
Why We Love It:
Breaks down perfectly how to get young kids to engaine in engireeing.
The book is available in paperback and eBook here.
The Big Book of Makerspace Projects
In this book, the author starts with classroom tips for teachers. These tips are great for kids in school in large groups. A lot of this comes down to planning and thinking out of the box when you have supply constraints for the projects you'll plan.
I like that this book does its best to come up with ideas for teachers. It's not the same old cookie-cutter STEM projects and activities that I've seen before. There's nothing wrong with classic STEM experiments, but it's nice to see some new things or twist on old ideas.
Something else lovely to see is an entire section that is very low-cost or free projects. These can be done with stuff you have in the classroom already or picked up at most stores.
All the photos in this book are close-ups of hands building the projects. I would have liked to see them in color, but they are all in black and white. That said, there are a lot of photos, and I had no problem following along step-by-step.
Author: Colleen Graves. She has a few STEM books for teachers here.
Why We Love It:
This book has interesting STEM projects for teachers in a large classroom.
See the current price of this in paperback or on Kindle.
Teaching and Learning STEM: A Practical Guide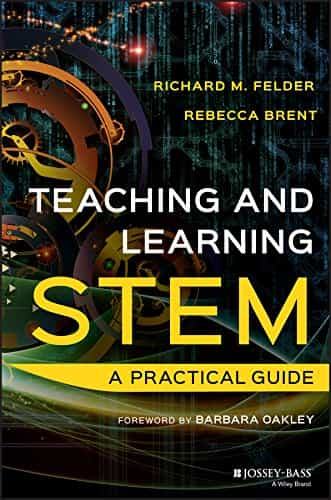 This book is hands-down the best instruction manual for professors in science, technology, engineering, and mathematics that you can find.
The book is not filled with project ideas, it actually has nothing to do with activities, but it really is a practical guide to teaching STEM. It has an efficient guide for instructors on planning courses, planning class sections, and adequate instructions on carrying this out.
Author: Richard M. Felder. This is a link to his other books on STEM.
Why We Love It:
A real practical guide for teachers and administrators setting up STEM curriculum.
You can find the book in paperback and Kindle here.
STEM Learning with Young Children: Inquiry Teaching with Ramps and Pathways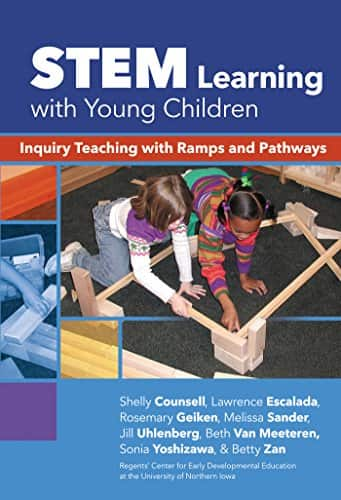 This book makes a great case on why teaching STEM to young children is the best path of success.
Early childhood offers opportunities to develop positive attitudes toward STEM that will serve all children well throughout their school careers.
Throughout the book, the author makes references to ramps and pathways. The reason for this is a STEM-based approach to engaging young children in inquiry, problem-solving, and active investigation of force and motion through the use of inclined planes and the movement of objects.
Author: Shelly Counsell
Why We Love It:
This book offers strategies needed to successfully implement an early STEM curriculum for young children aged 3 to 8.
You can take a look at this book in a few formats here.
Teaching STEM in the Secondary School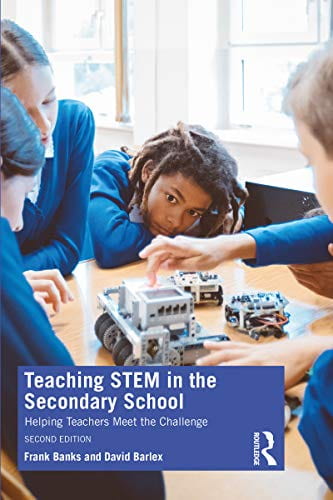 This book explores subjects that interact in the curriculum to enhance student understanding, achievement, and motivation. The author goes in deep on mixing STEM subjects with the curriculum kids already have in secondary school.
He further goes into detail about how design is interlinked with mathematics and technology. Making the case if design isn't emphasized, technology would lag in the past.
This book does have practical information about teaching STEM, but it's a rather large book filled with information about the history of STEM and teaching styles. I would choose another book if you're looking for a guide on implementing STEM in your class.
Author: David Barlex
Why We Love It:
An exciting read for the history and understanding of how STEM was implemented and where it's going in the world.
You can check out the book and all the formats available here.
From STEM to STEAM: Brain-Compatible Strategies and Lessons That Integrate the Arts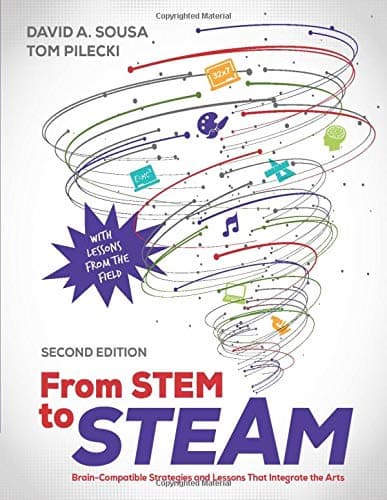 The book from STEM to STEAM makes a great case on why the arts should be included.
If you'd like to read my thoughts, STEM vs. STEAM: Making Room for the Arts, I have an article on this subject.
It examines how the arts develop cognitive and social growth, enhance creativity, capture attention through novelty, reduce stress, and make teaching more enjoyable. The author further explains how arts-related skills support and complement the skills needed to succeed in STEM areas.
I included this book as it opened my eyes to why the arts are so important for learning. I've always understood this somewhat, but when making articles for this blog about STEM activities, I've added art to STEM as a fun way of keeping my kids engaged. Not the primary purpose of the activity.
The author also does a great job in implementing this for teachers for all grades in school.
Author: David A. Sousa. You can see all of David's books here.
Why We Love It:
It does a fantastic job of explaining the importance of art in education.
You can find the book From STEM to STEAM here.
STEM by Design: Strategies and Activities for Grades 4-8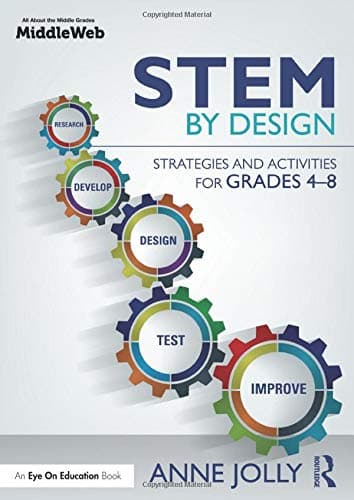 This book for teachers is a practical guide on how to gear up for teaching STEM. The author covers everything a teacher needs and everything involved in your classroom.
I like that the book makes you think about your students. It ask questions like what kinds of problems can my students realistically address? The book also has a section on how to prepare students for STEM lessons.
Another thing that I enjoyed in this book was the real-world problem solving that learning these lessons will bring to students.
The book is not only for teachers to read and reflect on, but it has a ton of worksheets for you to put your thoughts on. Most of the book content comes in questions and the best way to solve areas you might struggle in when setting up your classroom for STEM studies.
Author: Anne Jolly
Why We Love It:
An interactive guide for teachers to follow along with as you work through the book.
You can find STEM by Design in multiple book formats here.
Making Sense of Mathematics for Teaching the Small Group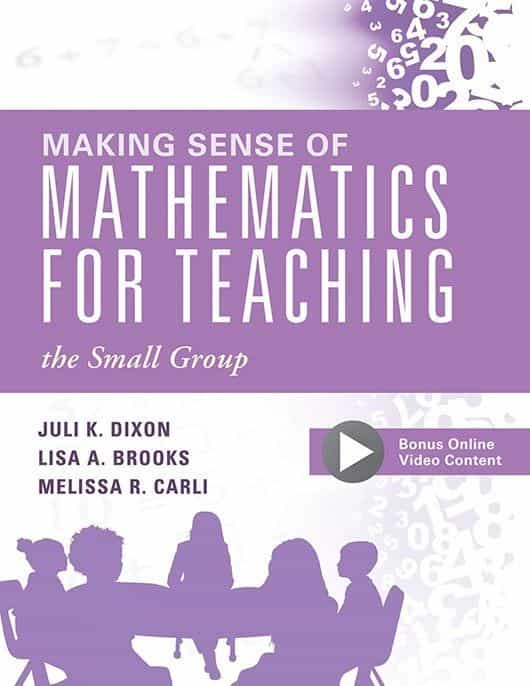 This book focuses on small-group instruction strategies to differentiate math lessons in elementary classrooms. The authors think that often, teachers are not initially aware that they lack sufficient depth of mathematical understanding.
This book aims at helping teachers understand mathematics for teaching and how to engage in the best mathematical practices in the classroom.
I liked that this gives practical guidance for small groups of kids with detailed instructions on lesson planning and asking practical questions to engage students in meaningful conversations.
Before getting into questions for students, the authors ask some questions asked in this book for teachers are:
What do we want students to learn and be able to do?
How will we know if they know it?
How will we respond if they don't know it?
How will we respond if they do know it?
From here, the book jumps into practical math equations per school grade.
Author: Juli K. Dixon. She has a lot of books made for STEM teachers here.
Why We Love It:
The book is filled with practical information that any math teacher should have.
You can see if this book is still available here.
Teaching STEM Literacy: A Constructivist Approach for Ages 3 to 8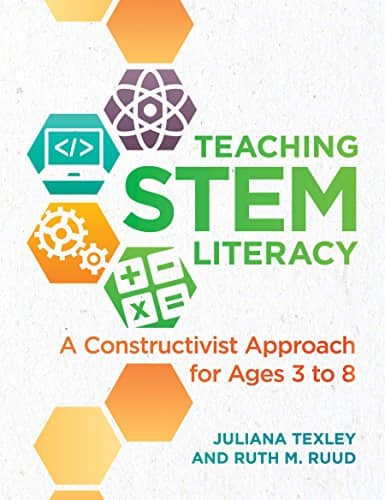 Teaching STEM literacy has a great approach on how to focus education for young children.
Asking questions
Designing experiments
Developing models
Using data
Communicating information
This is a simple model young students can follow to grasp the scientific method and how to use it in real-life situations.
With the practical information about teaching STEM, the book also has a lot of activities and projects for kids. This isn't the reason I'd get this book though. It has some good ideas with well throughout instructions, but I've read other books that are better for STEM projects.
You can see my reviews for STEM activities books here.
Author: Juliana Texley. You can find all of her books here.
Why We Love It:
Clear instructions and lesson plans for teachers.
You can find Teaching STEM Literacy here.
Teaching STEM and Common Core with Mentor Texts: Collaborative Lesson Plans, K–5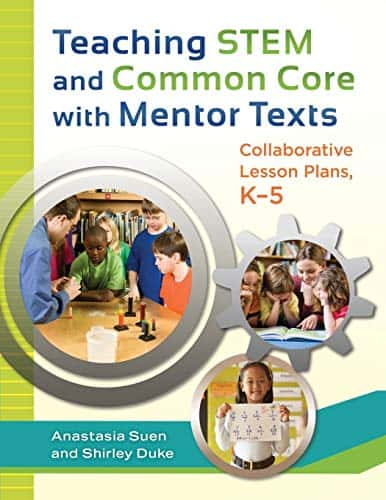 This book was written to bring common core standards and STEM together with lessons that can be done in a library or classroom. The book is divided into STEM subjects, and there are five library lessons for each subject.
With each lesson, there is a book suggestion to go along with it. These are popular book suggestions that can be found in more school libraries.
I like that this book gives very detailed instructions for a school teacher to jump right in with a lesson. These lessons can be done in large and small groups of students.
All of the lesson plans are linked to the Common Core Standards for K–5 librarians.
Author: Anastasia Suen. She has a lot of books for younger kids you can see here.
Why We Love It:
Very detailed lesson plans.
You can find this book in a few formats here.
A Practice-based Model of STEM Teaching: STEM Students on the Stage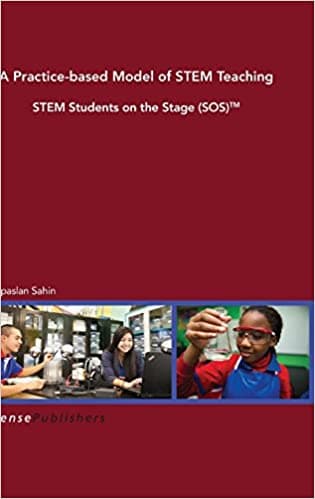 This book is about the model of STEM teaching called Students on the Stage, or SOS for short. It's an easy-to-use project-based learning model. That focuses on classroom-ready materials that help make implementation as simple and seamless as possible.
The author goes into detail about this method of teaching and how to implement it for your students. Overall, I like that the book has very detailed instructions for teachers, but I think it is more geared toward administrators or teachers who will make their curriculum.
That being said, if you find yourself teaching STEM, I think you'll find this book helpful.
Author: Alpaslan Sahin
Why We Love It:
Walks you through the Students on the Stage teaching method. It takes a different angle on teaching.
You can find A Practice-based Model of STEM Teaching: STEM Students on the Stage here.
Wrapping Up
I hope you've found these books helpful. I picked these books because I felt each one offered something unique or exciting for teachers like yourself.
If you'd like to give me feedback or have a book recommendation, please leave a comment down below.