How to Clean Magna-Tiles
Parents know the investment of quality toys can be financially costly but worth it for toys that last the test of time for years to come.
The signs of well-loved toys are the ones that usually contain remnants of crusty food, smudged peanut butter fingerprints, and molecules of the unseen…germs. Thankfully the non-toxic and food-grade ABS plastic of Magna Tiles makes cleaning these durable STEM toys effortless for busy families.
Follow our suggestions below for the simplest and best ways to clean Magnatiles that will leave them feeling brand new, germ-free, and last for years.
How to Clean Magna Tiles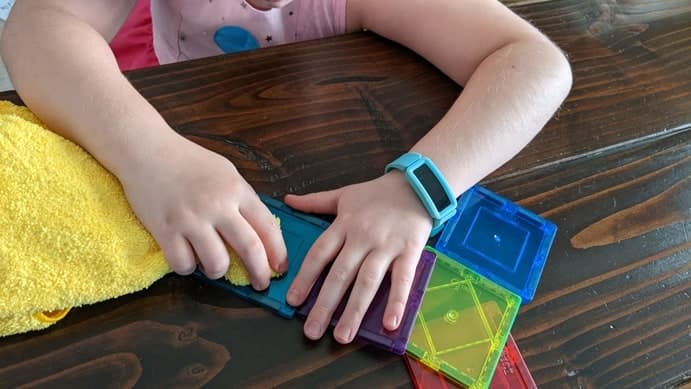 Magna-Tiles and other magnetic tiles toys don't need any harsh cleaner, as this can damage the plastics.
Use a moist cloth and a gentle cleaner such as dish soap to get the job done for the best results. If you prefer, the convenience wipes will work as well. I always keep some wipes around in my kids' bag, and you can see the wipes I use here. They are the best I've found so far.
Food, washable marker/paint residue, and greasy or sticky fingerprints will come off quickly.
Permanent Marker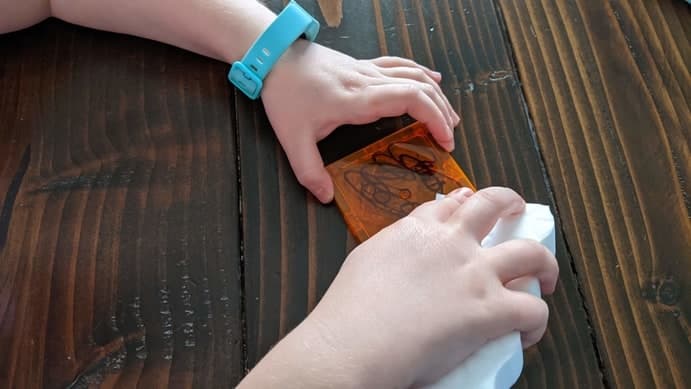 To remove permanent markers from tiles, I use Mr. Clean Magic Erasers. I just get the sponge a little wet, then scrub the tiles for a few seconds. This does the trick every time!
If you're looking at stocking up on more Magnet Tiles, please check out our article Magna Tiles vs Picasso Tiles (hands-on) Which One is The Best before deciding.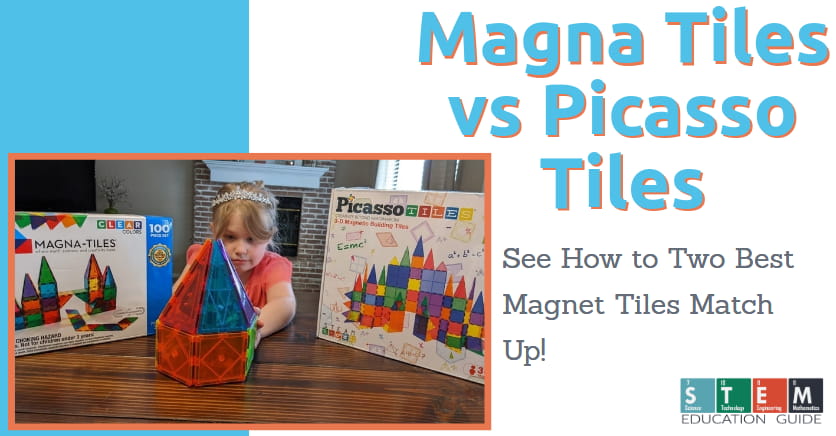 Can I Soak Magna Tiles in Bleach Water or Another Cleaner
While Magnatiles are durable and can withstand the intensity of children's play, fully submerging them in water with a harsh cleaner is probably not the best idea for extending their longevity.
Even though Magnatiles are made of plastic, they are not fully waterproof, so cleaning them in a dishwasher could cause moisture to leak inside or break down the plastic's durability.
What If I Get Water in My Magna Tiles
Magna Tiles are not waterproof, so it's vital to get water out as quickly as possible as this could lead to mold, rust, or mildew on the inside.
If you end up with water inside while you are cleaning, try to drain the water out by standing the tile(s) up vertically and resting on its side. Also, you could try shaking the water out or use a blow dryer but make sure to use the warm or cool setting as the plastic could get hot.
How to Dry Magnatiles
After your Magnatiles are clean, you have few options for drying them, depending on how much time is needed until they are used again.
If you choose to clean them for a longer time, you can let the Magna-Tiles air dry. But, to dry them quickly, you can use a towel to absorb the extra moisture.
How do I Store and Keep Magnatiles Clean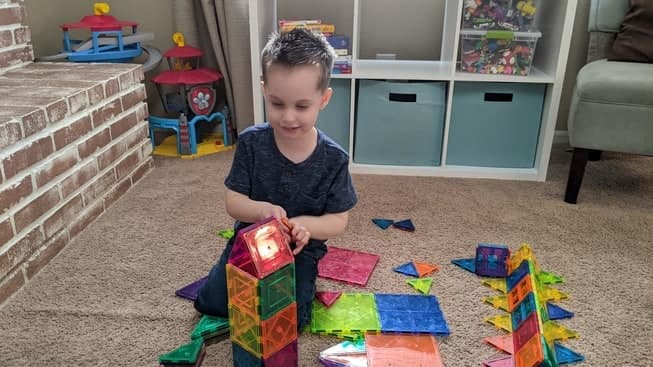 Since Magnatiles easily stack because of their magnetic abilities, putting them away and storing them is a simple and fun task for kids because cleaning up feels like play!
The cardboard box the tiles come in could work if you have nothing else. However, the task can be difficult and meticulous to put Maganatiles back in.
Storing tiles in designated bins keeps them clean during non-use and allows children to maintain an organized playroom. I have a container in the kids' playroom for separating toys. We keep our magnet tiles in this bin so the kids can play with them easier and put them away just as quickly.
You can see if this organizer bin is still available here.
If you are on the go and need a quick toy to bring along, Manga Tiles are easy to transport. The best part is you don't have to worry about tiny pieces getting lost! Try this indestructible carrying case designed just for Magnatiles on the go.
The best way to prevent the tiles from getting dirty or damaged is to take a few simple proactive steps in caring for the tiles. Establishing a routine with children on some basic guidelines for play can ensure their STEM toys last even longer.
Have children wash their hands before playing with toys.
Keep play items confined to certain places or rooms.
If toys are played with at the kitchen table, ensure the area is wiped down first, and food is put away.
Encouraging gentle play and modeling how to use them carefully. Motions like kicking, throwing, or walking on the tiles could cause chips or break them.
What Should I Do If a Magna Tile Breaks
Because the Magnatiles are made of plastic, minor scratches are expected. Although breaks and chips are relatively uncommon when using the tiles properly, there are a few DIY things you can try first before tossing the broken tile away in the trash.
The good news is these food-grade ABS plastic Magnatiles are non-toxic, BPA & Phthalate free, so you don't have to worry about exposure to harmful toxins.
Your first step would be to inspect the tile and see if it is repairable. Depending on the break, you attempt to superglue the pieces back together.
The next course of action you could take is to reach out to customer service. Per the Magnatile website, if the damage is caused by regular everyday use, you can email a picture of the broken tile to a representative at info@magatiles.
They should get back to you quickly.
What Kind of Surfaces Can Magnatiles Be Used On
Most surfaces are fine for Magnatiles! Light table, carpet, magnet boards, metal baking sheets, refrigerator, and tables are great ideas for play.
Outdoor use on concrete, dirt, and sand may not be the best idea if your goal is to prolong the life of Magnatiles and ensure they stay clean and dry.
If you want your kids to use it outdoors, I wouldn't recommend putting all the tiles outside. Instead, you could split them up to have a designated indoor set and an outdoor set for kids to use that would be a good option using the tiles you already have.
Magna-Tiles actually makes a dedicated storage bin & interactive play-mat. This is great when you don't trust the surface, like in a public building or a nasty floor.
Unforatanly, the Magna-Tiles mat is usually sold out. You can see if they are finally in stock now, here.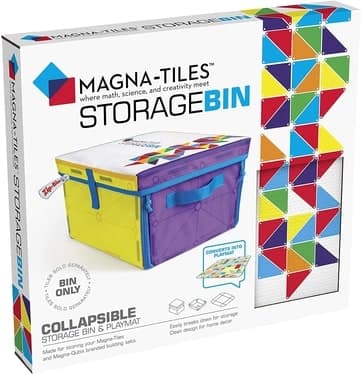 Wrapping Up
Most of the time, you'll need to wipe the Magna Tiles down with a damp cloth or baby wipes. Never soak them in chemicals and if you do get them wet inside, do your best to dry them out or throw them away if mold develops inside.
Please take a look at our article, The Top STEM Building Sets for Kids. If you notice your child stacking any items they can find, you might have a future builder in your home.