The 9 Best Building Toys for Kids That Aren't Legos
Did you know that building toys for kids are more diverse, and they rarely outgrow them? Once you get the best building toys, your kids can have fun for a long time.
It's a common sight in most homes to have building toys either scattered everywhere or stacked up into different designs in the corner. Kids rarely stop playing with them, which explains why they're so popular.
Therefore, as you contemplate the right toys to get for your child that will keep them interested for some time, check out the best building toys.
In this guide, you catch a glimpse of some of the top picks on the market today that aren't Legos. While Legos are quite popular, many other fantastic building toys offer a better variety.
If you're looking for a STEM subscription for your kids or as a gift, take a look at our article, 13 Awesome (& Educational) STEM Subscription Boxes for Kids.
BIRANCO Flower Garden Building Set is one of the best building toys you can get for a toddler between 3 and 6 years old to get them started. The set stacks into a flower garden and has a total of 138 pieces.
Product Features
Brand: BIRANCO
No. of Pieces: 138
Measurements: 11.4″ L by 8.5″ W by 6.8″ H
Age recommendation: 3 to 6 years
Unisex building set
One booklet guide
As a parent, getting this building set for your toddler allows you to welcome them into the world of creativity and fun. It's among the best building toys because of the variety offered as well as the vibrant colors
All the pieces come together to form a brilliantly colored garden that stimulates your toddler's brain. Each piece of this building kit is large and easy for small hands to grasp. Stacking the building toys is easy, and the guide is easy to follow.
When your child is done playing with these building toys, they can be stored in the plastic tub they came in. This set encourages pretend play and is both educational and fun to play with as your child learns all about stacking, colors, and nature.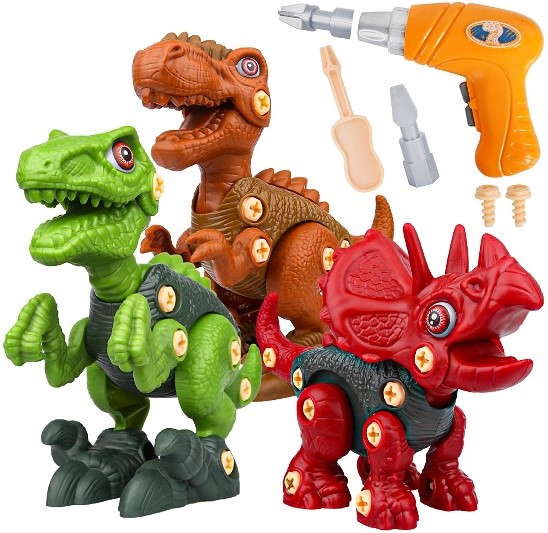 Kids enjoy taking things apart and putting them back together, which this take-apart dinosaur set offers. Sanlebi Take Apart Dinosaur Building Toy Set comes with three colorful dinosaur toys and one electric toy drill.
Product Features
Brand: Sanlebi
No. of Pieces: 9
Age recommendation: 3 to 5 years
Material: ABS
Battery: 2AA (not included)
Low-speed motor drill
Unisex building set
1 booklet guide
As one of the best building toys for young kids, you can rest assured it'll teach them valuable skills. Young children learn how to take apart the three dinosaurs and put them back together.
All the dinosaurs have a critical simulation design and texture that makes them more realistic to kids. Also, this helps them remain interested from the start and manage to complete the rebuilding process.
The building set comes with a low-speed battery-powered motor drill that comes in handy when taking part in the dinosaurs' joints. The drill has a 2-way rotation that kids can use to tighten any loose screws. As a safety feature, it automatically stops functioning if it encounters any obstacles.
Amplify the fun by moving the flexible dinosaur joints to create numerous poses like fighting or feeding stances. Such poses spike the interest of kids and help their imagination grow.
Each of the three dinosaurs plus the tools is made using sturdy ABS material free of any toxicity. It comes with an easy-to-follow instruction manual to help build the set with your child.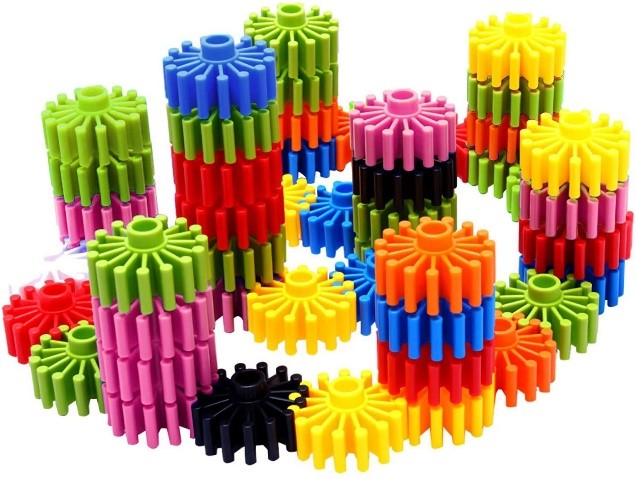 The 100 pcs Kemiteddy best building toys comprise gear-shaped educational engineering and construction pieces. It's the best introduction into STEM play sets better suited for brain development.
Product Features
Brand: Kemiteddy
No. of Pieces: 100
Age recommendation: 3yrs and above
Unisex building set
Instruction manual
Every piece that makes up this best building toy set for kids is safe to use by any child aged 3 years and above. All the pieces are made from durable and non-toxic materials, and all are free of lead.
These are a perfect introduction to STEM for kids with a keen interest in construction and engineering. All the blocks resemble gear parts and come together to form numerous cool items like cars, buildings, and even robots.
The purpose of building toys is to help children from the age of 3 learn hand eye coordination, increase imaginative thinking, and develop problem-solving skills. At the same time, kids learn some excellent motor skills they can apply in other areas of their lives.
This kit is easy enough for your children to play with by themselves but is also fun to play with the family to enhance social interaction and communication skills.
If you're interested in more building toys for kids, check out our article, The 7 Best Building Toys for Future Engineers.
Even 1-year-olds can play with these best building blocks from TOP BRIGHT. This set comes with 80 colorful wooden pieces. The set offers variety in terms of shapes and colors, which is intriguing to toddlers.
Product Features
Brand: TOP BRIGHT
No. of Pieces: 80
Material: Wood
Age recommendation: 1 yr. and above
Unisex building set
Storage bucket with handle & shape sorter
Soft squeeze blocks
Instruction manual
This wooden building blocks for toddlers set has 80 wooden pieces of varying shapes and colors. These are the perfect introduction to a world of creativity and imaginative thinking. A child can start learning hand eye coordination, assist in brain stimulation, and encourage design creation.
As an addition, the manufacturer has included some squeezable items in the set meant to intrigue babies. The toys are made using quality soft rubber that comes in handy when they are teething. Also, each makes a squeaky noise that's thrilling for babies.
As your toddler gets older, you can choose the toddler building set, which has numbers and letters in different shapes. Kids start to learn the alphabet and number system while having fun building.
After you're done playing, the toddler can place all the shapes into the clear bucket with a handle. There's a shape-sorter they can use, which helps them to identify the different shapes in the set.
The design on the blocks is embossed to increase sensory development. This kit is good for your younger children and is a toy that will prove to never be outdated.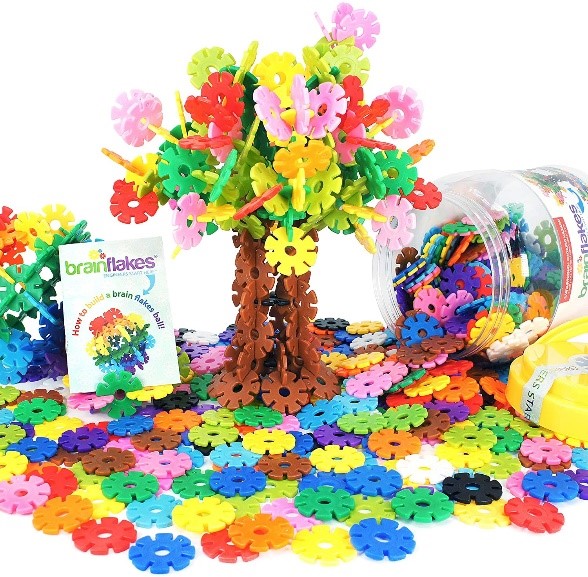 Is your child looking for a more challenging building set? VIAHART brings you this set of 500 interlocking pieces. It is one of the best in the engineering toys category because of how each piece can interlock. It is an educational toy and one that also encourages imaginative play.
Product Features
Brand: VIAHART
No. of Pieces: 500
Material: plastic
Age recommendation: 3 yrs. and above
Unisex building set
Storage bucket with handle
Instruction manual
This Brain Flake building set provides your imaginative child 500 interlocking flakes to inspire creativity and spark their imagination. There's no limit to what they can create, from simple designs to more complex ones as they advance in age.
Each piece easily interlocks to the other resulting in amazing shapes and designs. They're easy to put together, meaning your child won' feel frustrated and can advance skills like hand eye coordination.
The interlocking disks are durable since each is made using sturdy plastic material free from toxic ingredients and BPA. This set comes with an instruction manual that guides you on how to interlock the disks. Also, you can get a glimpse of different designs to create depending on the child's age.
These interlocking flakes help your child develop spatial reasoning and gross motor skills. It is a great construction set for them to work on alone or with the family. It is a good start for an early engineering career for your child.
This best building toy set includes 40 steel balls and 110 magnetic sticks that your kids can use to create their masterpieces. There's a lot these items can create, and all it takes is lots of imagination.
Product Features
Brand: Veatree
No. of Pieces: 150
Material: PP and Steel
Age recommendation: 6 yrs. and above
Unisex building set
Storage bag
Instruction manual
The Veatree magnetic building set is suitable for children ages six and up. Each stick is made using quality PP material that's non-toxic and odorless.
The Veatree building set is ideal for indoor and outdoor play, thanks to the durable material.
You can use the different parts to introduce kids to the world of 3D creations, which at the same time stimulates their spatial thinking. Additionally, children benefit from strengthening their problem-solving skills, visual cognition, and hand eye coordination.
All the sticks have vibrant colors that keep children interested for a long time. Such color variety helps them think better, master different colors, and learn more about each geometrical shape.
It comes with a user manual that has both easy and more complicated designs. You might need to get 2 or 3 sets to complete the complex designs. The more advanced and intricate designs can prove to be an excellent stress-reliever for adults.
The Picasso Tiles 60-piece magnetic tiles building set allows your child to be creative even beyond their imagination. The set is scalable as long as they continue to add pieces.
Product Features
Brand: Picasso Tiles
No. of Pieces: 60
Age recommendation: 1 yr. and above
Unisex building set
Storage bag
Instruction manual
The incredible set of building tiles presents an opportunity to have lots of fun with your child as you create 2D and 3D structures together. It ranks among the best building toys set because all the tiles have vibrant colors appealing to kids.
There's nothing not to love about this building tiles set from Picasso Tiles. These tiles introduce them to shapes and colors, which advance into geometric shapes and different architectural designs as they get older and continue to build.
Since the set has numerous pieces, it can help kids learn traits like sharing and bonding as they play together. However, it's just as fun when children prefer to play alone and use their imaginative thinking.
The set is made using durable material, and every piece follows the best manufacturing practices. There is no toxic material on the blocks, making them safe for babies and toddlers.
If you'd like to see the difference between Magna-Tiles vs. Picasso Tiles, I have a comparison in that article. I go over strengths and value so you can make the best decision between the two.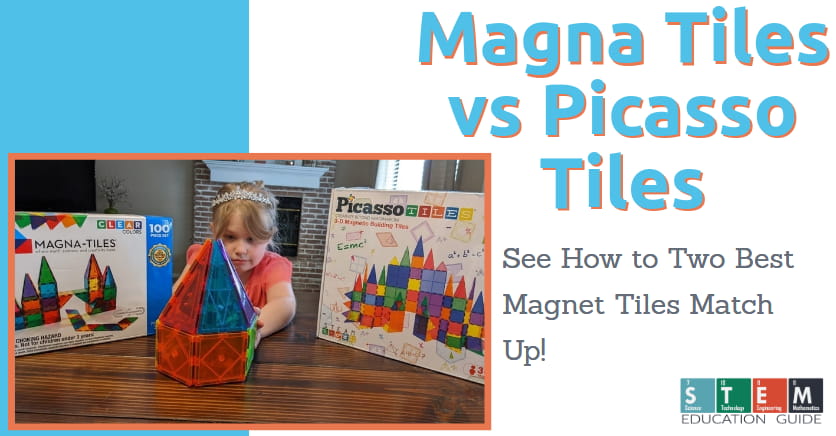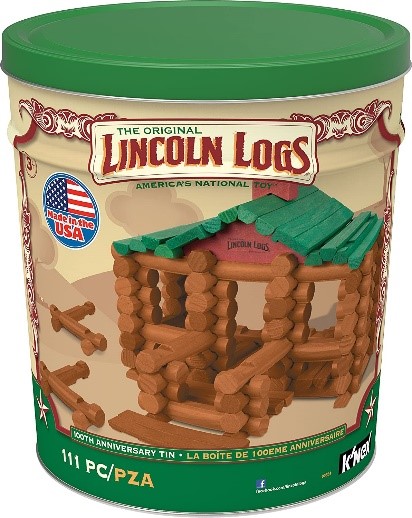 This American-made set is John Lloyd Wright's brainchild. He came up with the concept in 1916. The Original Lincoln Logs set comprises 111 wooden building logs that are an ideal preschooler education toy.
Product Features
Brand: LINCOLN LOGS
No. of Pieces: 111
Material: Wood
Age recommendation: 3 yrs. and above
Tin measurements: 10.38″ L by 10.38″ W by 11.5″ H
Unisex building set
Storage Tin
Instruction manual
The wood block set is a classic among children and is the best building toys kit for ages 3 and above. All the logs come in a tin that will give adults a nostalgic feeling, given that the company has been around for a century.
The building set comes with a manual that offers three concepts your child can choose from. Alternatively, children can choose to develop their own designs and creations, leading to imaginative thinking.
All the logs are made from durable maple wood with indentations that come in handy when a child wants to connect them.
Different colors depict the various parts of a cabin or house. The staining gives off a true cabin vibe. For example, cabin wood is bright brown, roof face is muted red, and the roof is forest-green. Kids get to know parts of a house and color varieties as they play.
After you finish playing, return the logs to the collectible tin. It is an easy-to-store toy and easy to grab for playtime.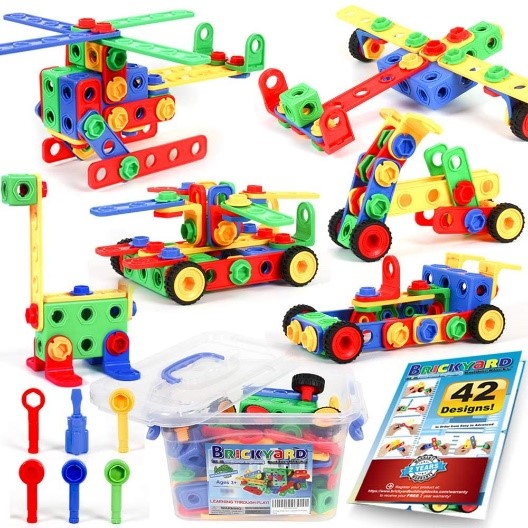 Brickyard building blocks kits are suitable for kids to play as a group since it has 163 pieces. All the parts are in line with STEM toys meant to foster construction engineering interest in children.
Product Features
Brand: Brickyard Building
No. of Pieces: 163
Material: Tough Plastic
Age recommendation: 3 yrs. and above
Weight: 2.29 pounds
Unisex building set
Storage Plastic container
Instruction manual
This STEM toys building set helps foster an early interest in STEM subjects for children three years and up. You will find different movable wheels, wrenches, plates, nuts, and bolts in this kit.
The set has numerous colorful pieces meant to inspire children's imaginative ideas while bringing out their creative side. Inside the pack is a detailed, elaborate guide with 42 designs meant to help kids learn how to use the blocks. The designs are easy and are meant for beginners who can later advance to more intricate ones.
It's a set that helps kids learn numerous traits like proper hand eye coordination, logical thinking, socialization, and fine motor skills.
The construction toy set comes with a plastic container that facilitates fast and efficient cleaning and easy storage. Children can learn how to clean up after themselves and put their toys away.
Final Thoughts
Building sets are diverse and foster many crucial traits in children, including logical thinking, improving fine motor skills, and improving hand eye coordination.
The best building toys have age variations meant to introduce kids to building sets and more challenging ones that spike their imaginative prowess. Additionally, the sets we have listed above support children pursuing an interest in STEM subjects at school.
Make sure to check out our article, How to Choose STEM Toy Gifts for Every Age Kid!