The Preschool Box Review: Everything You Need to Know
Fun monthly preschool activities that encourage learning, reading, and creativity!
In this Preschool Box review, I'll cover what The Preschool Box is, who it's for, and how best to utilize the material in the box.
I'll also compare other top educational STEM boxes and how they stack up against The Preschool Box.
My family has reviewed dozens of monthly educational subscriptions, and I'm happy to give you my insights.
I encourage you to read my review of The Preschool Box, but if you're short on time and would like to skip and see everything they offer on their site, you can find them here.
What is The Preschool Box
They are a preschool activity kit that you'll receive monthly. Their primary focus is on kids ages 3 to 6 years old.
In each monthly box, you'll find material that is easy to use, with hands-on activities that focus on teaching a different skill.
The Preschool Box's main goal for your child is to learn skills to put them way ahead of the curve, boosting their confidence. How they do this is included activities that your kids will love, all while learning a new skill.
What's included in every box is 16+ activities each month. You'll also receive a book, crafts, activities, and a Parent Guide that makes everything easy to follow. Every box builds on top of the previous one.
What is Inside The Preschool Box
There's a lot inside this box!
To start with, the course is broken down into four weeks. This is perfect if you keep with the schedule, you'll finish one box as you receive your new one in the mail.
This is different than most subscription boxes we've used.
I mentioned that my family has tried out over a dozen subscription educational boxes. Most of them, like KiwiCo or Mel Science, don't schedule out the activities. You get the crate, then work on the activities one at a time and usually finish in a day or so.
With The Preschool Box, you'll follow the activities in order. Each one builds on the last. This way, your little one won't get burned out doing everything at once.
Parents Guide
The Parents Guide is information for you. It explains what the activities are and how to set them up for your preschooler. This was perfect for my toddler, numbers, letter, and colors!
Activities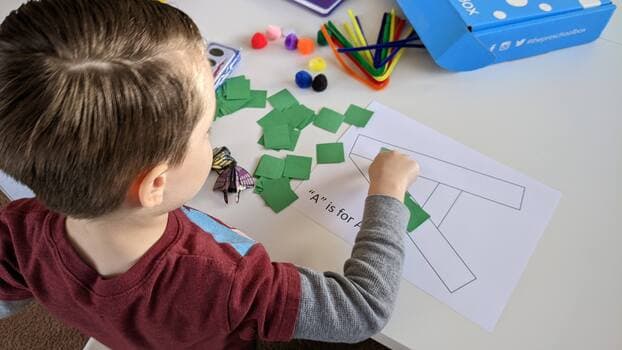 While I'm not covering everything in the four-week box, there is a lot to go over with your kids.
First, we dug into letters.
Each letter your preschooler works on comes with a few activities and crafts that are fun to set up. Above is my son making an alligator letter "A." The paper came pre-cut; all he had to do was use a glue stick and apply the paper. Some paper teeth and googly eyes made it an alligator.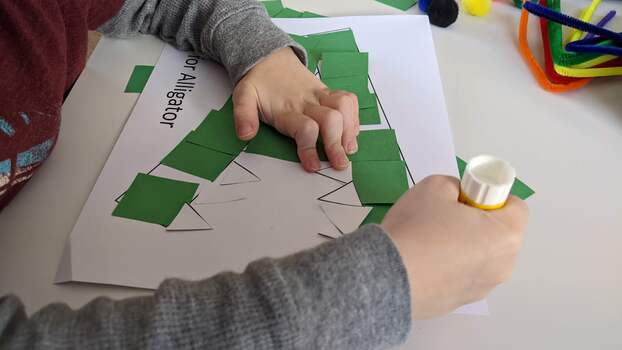 Next, we were on one of the number activities.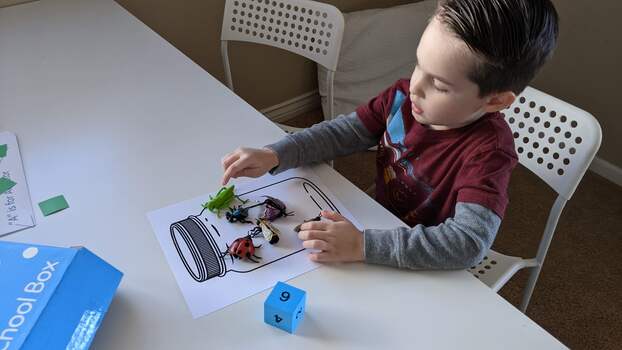 This was a fun game that his sister helped with. We rolled a die, then placed the correct number of bugs into the jar. The bugs are also finger puppets, his new favorite toy! He's literally sleeping with these in his bed as I write this, lol!
I didn't think of it at the time, but I should have invited him to color inside the jar with colored pencils for added fine motor skills; maybe tomorrow we will.
My preschooler then wanted to jump ahead because he saw the dinosaur; what kid doesn't love dinosaurs?
There were watercolors included that wash out of clothes and wipe off surfaces easily, but I didn't want to risk it getting everywhere, so I put some craft paper down that I had laying around. This is the roll of craft paper I use here.
There are many crafts and projects that I didn't set up with my son yet, but I wanted to highlight the book for preschoolers that was included. It's a high-quality, real book.
This makes sense that they would include a high-quality book for toddlers as The Preschool Box also offers lil readers' book club for kids. That's not what this review is about, but I thought it was important to note.
What Age is The Preschool Box For
I mentioned above (and you can tell from the name) that the subscription is for kids three to six years old. This isn't to say that older kids won't get anything out of this preschool theme box.
If you have a child that is preschool age and older kids. You might be surprised that the older kids will want to help out with the crafts and other activities. My seven-year-old daughter also enjoyed playing with her little brother and helping him in areas he got stuck on.
My youngest son is four right now, and we are still working on letter and number recognition. With my daughter right next to him, it was a fun way of learning as she helped him along. Having a toddler subscription box is a great way of watching siblings work together.
How Much Does The Preschool Box Cost
They have a few different options to choose from. Naturally, the longer you subscribe, the more substantial the discount. Remember, each box or session, builds on the other one for your preschooler.
Month to Month – Pay on a month-to-month basis, cancel at any time! $29.95.
Quarter-Year Plan – Pay for 3 months upfront, for a cost of $28.32/mo. $84.95.
Half-Year Plan – Pay for 6 months upfront, for a cost of $26.66/mo. $159.95.
Full 1-Year Plan – Pay for the full 12 months upfront, for only $25/mo. $299.95.
To get the largest discount, you'll want to go with the full year, saving $10 a box. If you don't feel comfortable with that, you can try the month-to-month plan. Another option is to buy an individual box.
This is also a great way of gifting The Preschool Box to a parent with a young child. You can find all their one-time gift boxes here.
I'll do my best to keep this article up to date with the prices, but to see all their current prices and check if they are still available, you can go to their site here.
How Does The Preschool Box Compare to Other Subscription Boxes
I think The Preschool Box is fantastic, and I love that they are solely focused on kids 3 to 6 years old, I think it's important to see how they compare to the other subscription boxes in the same age group. I chose KiwiCo and Lovevery as my kids have first-hand experience reviewing these.
KiwiCo
KiwiCo has a wide range of subscription crates for babies to adults. We currently have an active subscription as it grows with your kids. As they get older, they bump us up to the next stage.
Comparing the KiwiCo Koala Crate to The Preschool Box is the best comparison. The difference between the two is that KiwiCo is more focused on projects for kids. They will build a craft, but it won't necessarily focus on numbers, letters, and reading The Preschool Box will.
I think KiwiCo does this to keep kids engaged but also because they are international. Engish letters wouldn't make sense for kids in countries that don't speak English. This way, KiwiCo doesn't have to make boxes, especially for different regions.
If you like to see for yourself, you can find my full hands-on review of KiwiCo here.
Lovevery
Lovevery is a lot like The Preschool Box in that they focus on a narrow age range. While KiwiCo offers something for everyone, Lovevery only offers subscriptions for kids four and younger.
When I reviewed Lovevery with my youngest, I noticed right away that everything felt high quality, and the lessons were well thought out.
You might be asking, Lovevery sounds great, what's the downside? The Price.
They are very proud of their kits for preschoolers, and they should be, they are fantastic, but you can get four boxes from The Preschool Box compared to one box from Lovevery. This is one of the reasons I really wanted to show you this comparison of Lververy and The Preschool Box.
The saving grace is that Lovevery only ships every other month, so it would make sense that their subscription box is larger with more crafts and material in it.
Overall, Lovevery is a closer comparison to The Preschool Box than KiwiCo.
You can see my full review and see everything inside the Lovevery box here.
Final Thoughts
In this review of The Preschool Box, I've covered all the reasons why I now recommend them for expanding preschoolers' education.
I love that they put all their focus on one age group. I've reviewed and researched so many subscriptions for kids, and I've seen many subs that are "for everyone," but that makes them not particularly great for anyone.
Overall, I'm impressed with this first box and going to stay subscribed to The Preschool Box. You can find their site here.
Frequently Asked Questions
Is Everything Included?
All materials are included except maybe a few small things that most people should have in their homes. Like a pen, or tissue paper.
Where Do They Ship To?
They are looking to expand to new regions, but they currently only ship to the United States.
What if My Kids Don't Like It?
It's easy to cancel anytime. They will also refund you if you're prepaid a few months in advance. You'll see all this information in your dashboard after creating an account. You can make an account here.