7 Kindergarten STEM Kits for Your Children to Improve Their STEM Skills
STEM is a curriculum that teaches students four basic disciplines. STEM stands for Science, Technology, Engineering, and Math.
This curriculum aims to produce critical thinking and innovation at an early age. Kindergarten STEM kits have all the materials needed for little kids to learn STEM.
There are different Kindergarten STEM kits available, ranging from all sorts of topics. Most common kits include robot kits and building structures. With all the kits available on the market, do you know which one to pick? This list gives you 7 of the best Kindergarten STEM kits that help encourage children to grow their STEM abilities.
Be sure to take a look at our article, Kindergarten STEM Activities – Easy & Fun Setup!
1. KiwiCo Kiwi Crate
Encouraging children to learn STEM gives them profound knowledge of what they should expect in the bigger world. So, if you want to engage your kids more, then you might consider subscribing to a monthly Kindergarten STEM kits crate. The crate includes various kits that your child can benefit from each month.
By joining a STEM subscription box such as the Kiwi's Crate from KiwiCo for ages 5 to 8 years old (start of Kindergarten age), you will receive amazing projects with complete materials for STEAM learning.
An "A" has been added to STEM to include the Arts! Booklets and magazines are also included in your subscription. And if your kids are fast and have finished their mailed subscription activities already, fret not!
You can get your hands on online DIY activities your kids will surely love and enjoy in addition to your STEM subscription box. You can enjoy KiwiCo's individual STEM activity projects by checking on their online shop.
Please take a look at our article, the best subscription STEM boxes available for kids!
2. SUPSTEM Drill Puzzle STEM Building Toys
This complete STEM engineering kit gives little children a chance to discover their building prowess. This will keep children preoccupied for hours at a time as they discover, build, and learn how to work independently on their own.
The kit includes 224 pieces of drill puzzle pieces. It also has an electric drill, nuts, and bolts so that your child can have firsthand experience in assembling things.
On top of that, this is one of the best Kindergarten STEM kits for developing a child's fine motor skills and hand-eye coordination while also empowering his creative thinking.
3. Thames & Kosmos Kids First Robot Engineer Kit and Storybook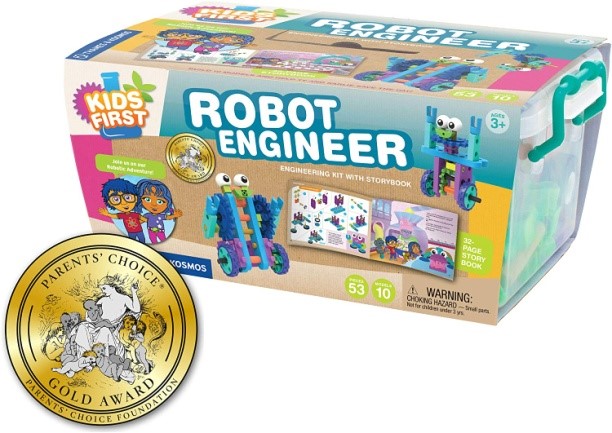 The Parents' Choice Foundation awarded the Robot Engineer Kit and Storybook the Parents' Choice Gold Award. The kit comes with large plastic building pieces that even little kids can put together easily with their little hands. The kit also comes with a book so that your child can build the robot while reading.
The robots have their own wheels, gears and they can even move! So, not only will the kids learn about simple machine construction and mechanisms, but they will also do so in a fun and exciting way.
4. Gili STEM Building Toy for Boys
Boys love trucks and planes, but why buy two separate Kindergarten STEM kits when you can have these two in one? The STEM kit from GILI contains 361 building blocks, which can be assembled to create a dump truck and an airplane.
The truck has huge wheels and a heavy dumper. The cargo bed can also be tipped just like a real dump truck. Meanwhile, the airplane comes with a spinning propeller, detailed engines, and an airplane rudder.
This educational STEM toy will surely delight budding engineers as they develop their motor skills regarding the assembling process.
5. IQ Builder STEM Learning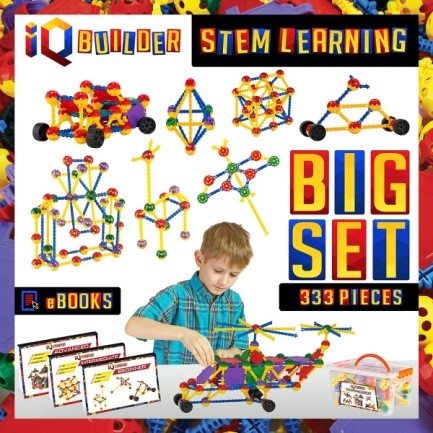 The IQ Builder STEM Learning focuses more on Mathematics and Physics. The kit is useful when you want to demonstrate topics on Math, Physics, and Geometry.
Being one of the best Kindergarten STEM kits, it promotes cognitive function by developing the child's critical thinking, problem-solving, and reasoning skills.
The kit has a total of 333 pieces that comes in one storage box. The pieces are made from safe and environment-friendly materials. Each piece can also be cleaned easily with water. So, it is perfect for kindergartens who might get a bit messy during playtime. But, hey, that's part of learning!
6. Galt Rainbow Lab Science Kit
Use colors to enhance learning! Let the kids enjoy while exploring and discovering STEM learning and using a scientific approach to things. The kit allows your kids to conduct experiments while mixing colors and creating jelly-like crystals. The result creates a rainbow within a test tube!
The entire kit includes three test tubes, three food colorings, three plastic cups, a test tube rack, a mixing tray, goggles, and more! Each part of this kit is also safe to use and has passed toy safety standards for American, Canadian, British and European laws. You can guarantee your child's safety with this kindergarten STEM kit.
7. Snap Circuits Beginner, Electronics Exploration Kit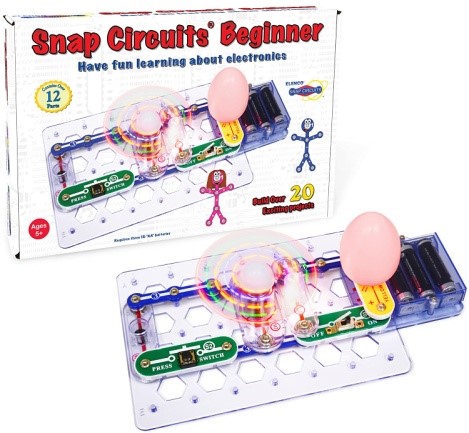 One of the Kindergarten STEM kits we highly recommend when it comes to electronics is this exploration kit. The 14-part kit can create up to 20 projects. All projects created will introduce your child to how to follow set directions and encourage problem-solving abilities.
The kit also comes with a colorful manual that little kids can easily follow as they build and explore the beauty of electronics. With this STEM challenges kit, children can learn the basics of how switches and circuits function.
It also teaches them to troubleshoot problems with extra safety features. The instruction guide also includes many step-by-step diagrams so that your kid can work on any project independently.
Snap Circuits has many discovery kits available. However, the Electronics Exploration Kit is one of the brand's award-winning discovery kits under electronics. Thus, it's worth a try!
Is Snap Circuits the best electronic kit? Be sure to check out our article, Snap Circuits vs. LittleBits – What's the Best Electronics Kit?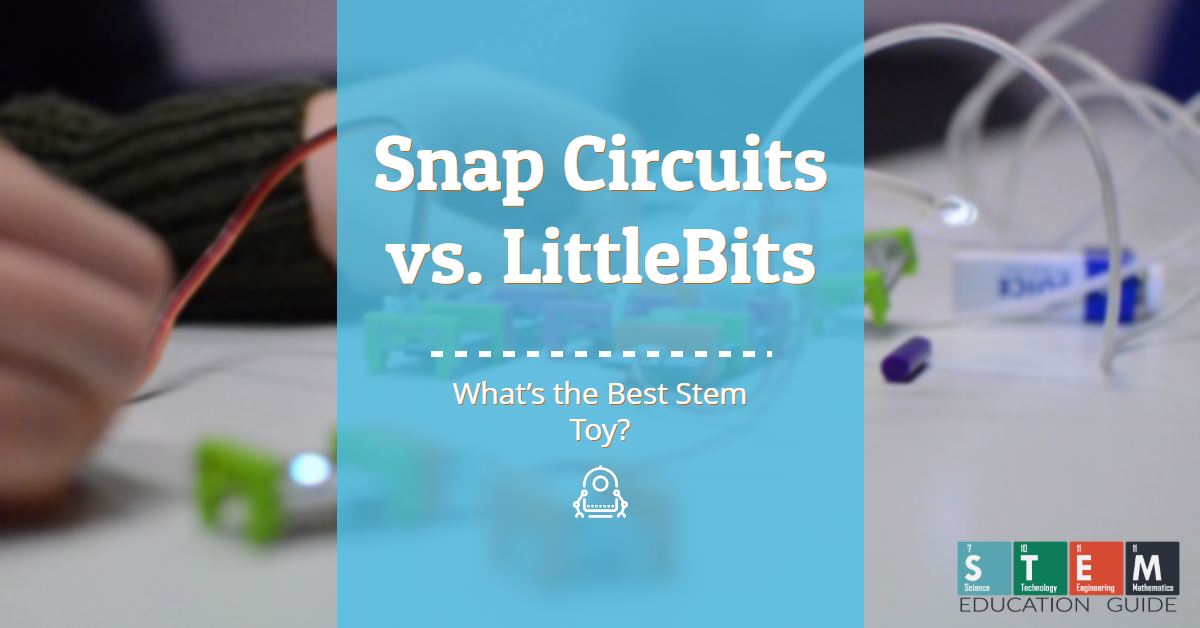 Takeaway
Teaching kids at an early age will help them become smarter and more innovative. The critical thinking abilities and the problem-solving skills taught by Kindergarten STEM kits will encourage little children to love Science, Technology, Engineering, and Math.
Who knows? Your child might be the next scientist and inventor who can solve the earth's global warming problem. Or probably be the next engineer to build one of the world's greatest structures in the future. Start teaching them young, and the children will definitely become the future of their generation.
Are you interested in robotics? Check out our guide to the Best STEM Robotics Kits.