Best Black Friday Deals for Sphero
Looking for a good deal on a Sphero this Black Friday? We are keeping our eyes out for you this holiday season for the best deals.
Spheros are my favorite toy for getting started with programming!
Rather you are looking at one of classic Spheros or a BB-8 Droid, this is the STEM gift that we recommend this 2018 holiday season. It's fun, engaging, and a great way to start learning to code with their Sphero Edu.
Sphero activities for the kids are endless. This is a toy that doesn't get old, which is why I love it so much.
STEM Education Guide is keeping you updated in real time with the best deals for Black Friday STEM toys. So I recommend bookmarking this page if you're interested in the best deals for a Sphero this year. We will keep it updated with the best prices from Amazon, Target, and other retailers so you don't have to do the price comparison yourself.
Now, the next question is, which Sphero should you buy?
We'll review each Sphero, so you know exactly which to purchase this Black Friday (and snag the best deal)!
Okay, let's check them out!
Best Deals for the Classic Sphero Products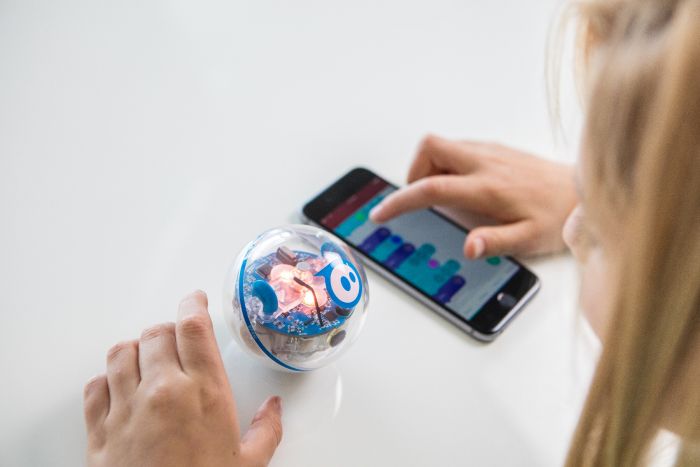 To start, let's look at the classics.
The Sphero SPRK+ is an upgrade from the original. But it's the same size and classic shape. The focus of this model is certainly on the educational side of a Sphero. (However, remember every Sphero can be programmed!)
Sphero's are great ways to introduce you children to programming. Through the app, you can program your Sphero to complete e obstacle courses, program them to dance, hide them under a hat for a fun prank, and a LOT more. 
Plus, there are over 30 apps that work with the Sphero, so if you look at the Sphero and think that it is a remote control toy that is going to get boring after a few days, that is a mistake!
Oh, the Sphero SPRK+ is also scratch proof, waterproof, and shockproof. So if you are looking at a Sphero the games and educational side, get the SPRK+ model. It is going to be the most versatile for all of the programs you can write for it.
Sphero delivered a new model that you can drive, play games, and code – but now it's fun sized!
And with the "fun-size", came a new "fun price". The Sphero Mini is over half the price of the SPRK+ model.
You get the same educational benefits. The Sphero Mini also has a "Face Drive" mode. You use your phone to drive your Sphero with your head. A nod to turn, an expression for braking. It's certainly a fun one to watch!
Some of the activities planned for Sphero SPRK may be more difficult with the mini, but there is still plenty that you can do with it! And many games and activities can be adapted. For example, you couldn't knock down classic-sized bowling pins with the mini, but they have accessories kits that include pins and cones designed specifically for the smaller size.
Sphero Bolt is the most expensive of these three classics, with the retail at $149.99. However, this is a fun one!
Program this rollable robot. And as an extra bonus, program the LED matrix too.
You can do same games and programming activities, but this might be an extra special gift for a student curious in the digital arts.
Black Friday Deals for the Star War's Series Sphero
Last year, you were looking at paying $129 for Sphero's newest model. This year, they are cutting the cost – big time! This is the big Black Friday Deal for Sphero this year! It's 60% off on Amazon today only!
This was  new addition last year to the Sphero family line-up. But the R2-D2 Sphero Droid is a hot STEM toy to have this year too – especially for the Star Wars fans out there.
This droid is programmable and adventure-packed. But my personal favorite in the Star Wars is still the original BB-8
This cute guy is affordable and the main Black Friday promo that Sphero is offerring! It discounted over $60 currently on Amazon!
Or, if you're at Target this Black Friday, they have it listed in their Black Friday Ad for just $49.99 as one of their door busters!!
Yes, the most critical review of it is that the head breaks off (though Sphero sells replacements for $10). It also gets really dirty underneath its head from my running around your floor. But if you're looking for one of the character droids, this is my personal favorite! 
You can program the BB-8 with the SPRK lab app by Sphero to start building the coding skills.
But, if the activities is your focus, stick with the Sphero SPRK+. If you're looking for a great deal, fun and education toy that is sure to catch you child's attention, the BB-8 is a safe bet this holiday season.
OTHER RELATED ARTICLES: