STIIX STEM Box (Hands-on Review)
With all the education subscription boxes available, choosing the right one for kids can be challenging.
Thankfully, there are many high-quality STEM kits and boxes to choose from. The educational subscription boxes from Hello STIIX are one of the best boxes my family and I have tested. We've reviewed a lot of STEM subscriptions, each with its unique advantages.
We'll look into what makes Stiix different compared to other STEM boxes and if you should give it a try with your kids.
If you're interested in seeing the best educational subscription boxes we recommend, check out our article here.
What is STIIX
STIIX was created to bring its series of engineering school-inspired projects to students across the world. My first time looking around the STIIX site, I could see that they heavily focus on engineering. This is different from other STEM boxes we reviewed, such as Groovy Lab in a Box (our review), which combines science, technology, engineering, and mathematics.
Or another education crate like KiwiCo, (our review), which wants to be everything for kids. STIIX focuses on engineering and does a great job inducing the concepts to children with hands-on projects.
STIIX does a great job at inducing these engineering concepts by presenting an idea to the student, then letting them solve the problem.
An example of this was when my oldest son and I were working on the boat project. He needed to figure out how to keep the boat he built from sinking under the added weight of coins we would be adding during the experiment. He learned about buoyancy and was introduced to concepts to help him along his way.
The genius part about STIIX is they show your kids the problem, but lets them figure out how to solve the problem through experimentation.
We built a boat then tested it. After that, my son built another boat with the information he received from the first one to improve it. So his second one was even better with added material to prevent the boat from tipping over.
STIIX knows this is the best way to learn, so they include enough material for multiple projects, knowing that the student will learn more with each iteration.
What's Inside The STIIX Box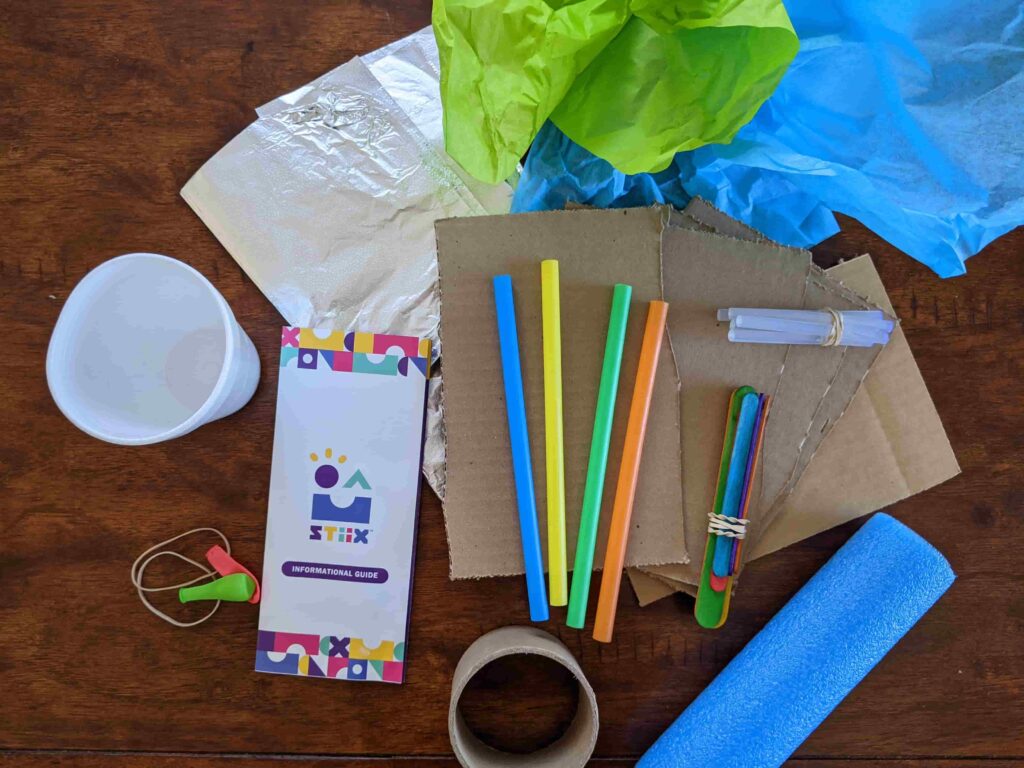 We started with two engineering projects. The first project was to build a boat, and the other was to build a rocket.
When first opening a box, we were introduced to the instructions along with a link to watch the project's video. The videos from STIIX tell the student how and why the experiment works.
The boat project goes over what makes an object float, along with building tips and how it will be tested. This is the first video of five. STIIX makes videos for all their subscription boxes so you and your kids can get started quickly.
The introduction explained clearly how this engineering project would work that my eight-year-old son was already coming up with ideas.
The other STIIX STEM box had everything to build a rocket. This had my kids very excited! We had built a few rockets before, so they knew they were in for a treat. In this article, you can see how we make our baking soda rocket (at the bottom of the page).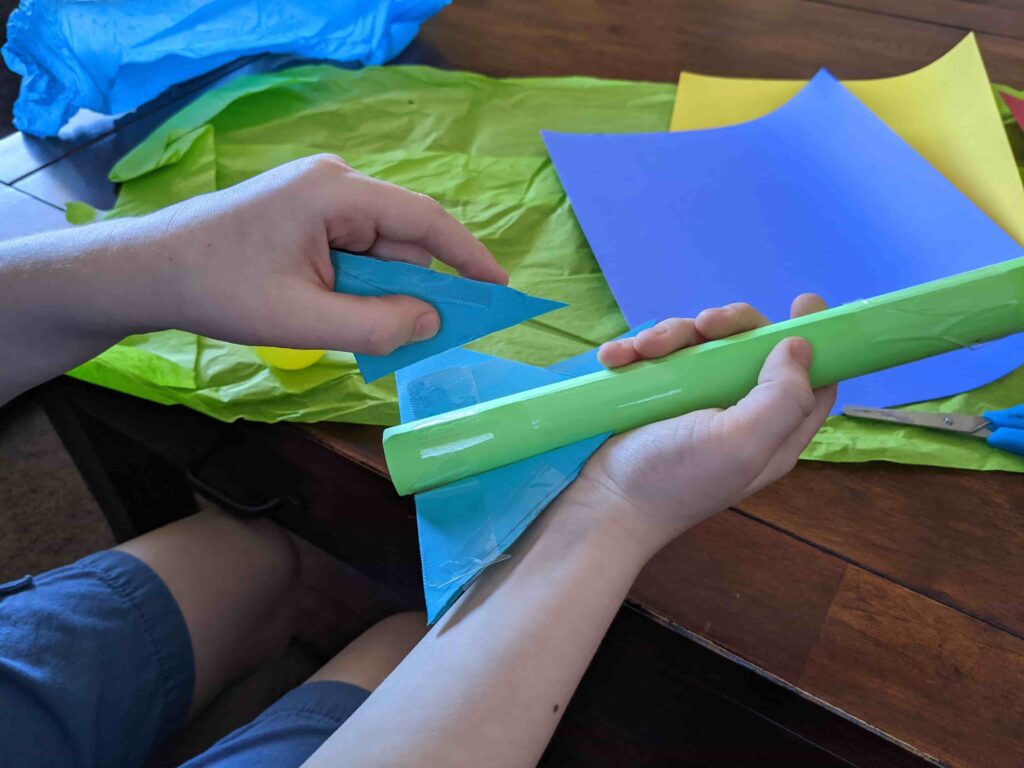 Was All the Material Included?
Everything was included to make a few different boats and rockets. We only needed a hot glue gun, but the glue sticks needed for the gun came in the box. Depending on the age of your kids, they will need some supervision. My son used the glue gun a little, but I glued most of the boat together.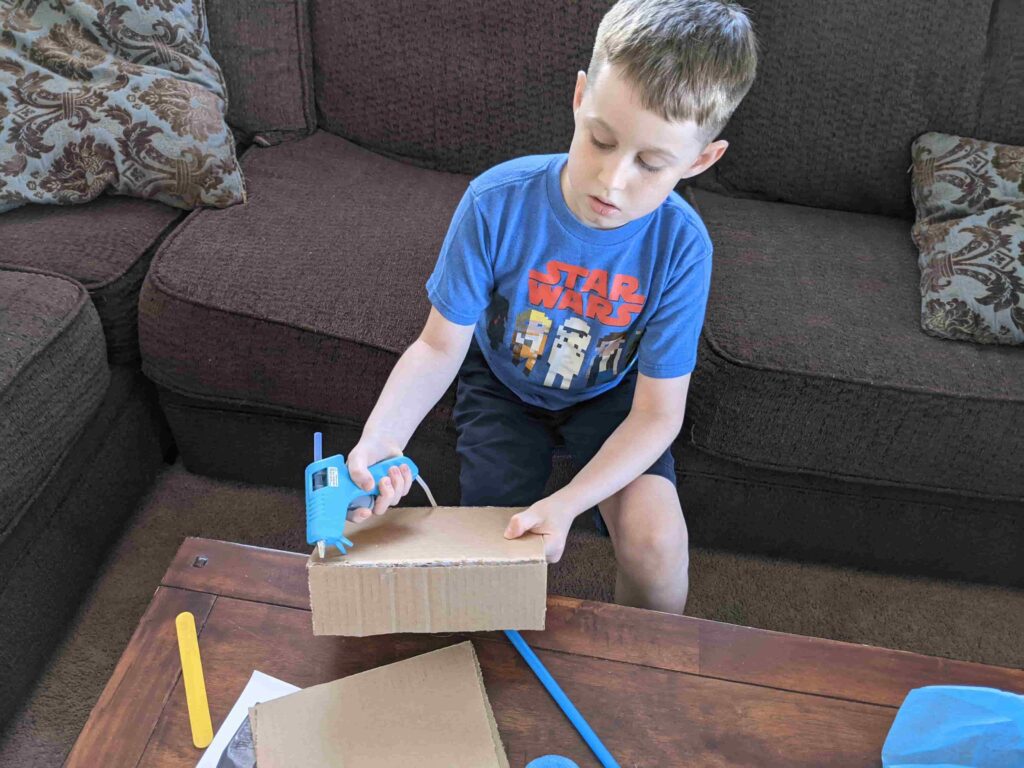 How Does STIIX Compare to Other Education Subscription Boxes
As I mentioned above, we've tested a lot of STEM subscription boxes. Not only for younger kids but also teenagers.
You can take a look at our article for the best subscription boxes for teenagers here.
My kids and I have enjoyed every subscription box we've tried. STIIX has a different feel by being more hands-on during the building process than a lot of other subscriptions.
If your kids like building and figuring things out, they will enjoy STIIX.
They also liked the videos from STIIX. My kids knew what to do and the desired outcome of each project before they got started. I especially liked that the instructions were not step-by-step. STIIX provides enough instructions and information to get started but still lets kids figure it out for themselves.
Another thing I noticed from looking into STIIX and watching their videos is the tone the company gives off. They have an intention to detail that shows in their projects and videos. I think this is due to being a smaller company with an engineering founder with a desire to teach leading STIIX.
This might be a small thing to some, but I've never had this since from another education subscription service.
What Makes STIIX Different
After your engineering projects are complete, you can either send them back to STIIX to be tested or make a video for an evaluation and rating.
This can be great feedback and insight on how the project could have been improved, another learning possibility.
As far as I know, STIIX is the only STEM subscription service that does this. It's a little something extra that shows STIIX goes the extra mile.
How Much Does STIIX Cost
Each project can be purchased from the past months, but the subscriptions are straightforward:
One off box – $30
3 months – $99
6 months – $175
12 months – $350
Comparing prices to other subscription boxes from Kiwico or Groovy Lab, they're all around the same. I think STIIX is a good value, and you and your kids will enjoy building the monthly projects.
Coupon Code:
As of right now (and I'll update this as I find new coupons), you can use SAVE10 on any subscription. You can also use Hello8 for eight dollars off any individual boxes.
Final Thoughts
We've only scratched the surface, and I recommended you take a look at their site for more details over at HelloSTIIX.
I've gone over how I think STIIX is more for kids that want to get the most out of engineering in an easy-to-understand process. Compared with the other boxes reviewed by myself and my kids, STIIX is at the top spot for what they set out to do, making education fun and engaging.