Take Apart Toys for Toddlers – Perfect Gift to Keep Them Occupied
Toddlers love to take things apart.
Whether they are taking apart some type of model or something an older sibling has created, ruining a perfectly good stack of clean clothes, or even just methodically taking things out of a toy bin and just throwing them all over the place.
They seem to derive a lot of pleasure from taking one big thing and breaking it into smaller pieces.
Since this behavior seems to be so enjoyable and natural to toddlers, there has been an increasing interest in take-apart toys, which are toys that are actually meant to be taken apart and put back together.
Today we will be checking out some of the best take apart toys for toddlers to help keep them occupied and your stuff intact!
You can also find more ideas for toddlers in my article, Best STEM Toys for Toddlers.
The Benefits of Take Apart Toys
Besides the fact that these types of toys play into the idea that toddlers naturally just like to take things apart, there are also some other benefits to choosing these as gifts for your child.
STEM (Science, Technology, Engineering, Mathematics) toys like this help develop kids' concentration, memory, problem-solving skills, hand-eye coordination, and other fine and gross motor skills.
It even helps them learn things like patience and following instructions, as it takes time to identify and locate the correct pieces needed to build each toy properly.
If you find that your toddler is mechanically inclined, make sure to look at my article dedicated to mechanically inclined toddlers.
Take Apart Toys for a Crane Operator
This Take-Apart Toy Crane Truck with Toy Drill is the perfect choice for the future heavy equipment operator in your life! This comes with 33 chunky, colorful pieces that are easy to identify and put into place with an easy-to-use electric drill.
The drill can be used to both screw and unscrew parts, just hit the switch on the bottom to switch from one direction to the other. The batteries are even included with this one, so this gift is good to go right out of the box!
The crane can be assembled in multiple ways. Children will love to build this toy, then play with it and take it apart over and over again! This construction toy helps toddlers develop their motor skills by building the crane, then playing with it!
You can find this Crane toy here.
Take Apart Toys for the Construction-Obsessed Toddler
Is your toddler fascinated by construction vehicles? Do you have to stop by every construction site you see so they can take a closer look? If so, then this Top Race 3 in 1 Remote Control Battery Powered DIY Construction Trucks set should be a perfect fit!
Designed with kids three and up in mind, this set provides your child with 44 pieces to build three different construction vehicles, including a dump truck, a cement truck, and a crane. Just note that not all three can be created at the same time. There is only one base, so you can only build one vehicle at a time.
When you are done with one, you can just take it apart and then create another! This set also comes with an electric drill, so your toddler can have fun using their very own power tool to put their truck together.
The drill can even be taken apart to turn the vehicle into a remote-control truck! Even if your toddler starts crashing this thing into the wall with the remote control, it is made of durable material, so it should hold up well under rough play.
If you think your toddler will loves this toy, you check it out here.
Take Apart Toys for Toddlers Who Love Things that Go
Perhaps your toddler loves all vehicles! This Forty4 Take Apart Aircraft Carrier Themed Toy Set allows toddlers to build and take apart multiple vehicles, including the big aircraft carrier and smaller tank, helicopter, airplane, and missile truck. This set comes with multiple tools, including a wrench, manual screwdriver, and power screwdriver.
Your toddler will have to choose between three different bits to find the right one to fit the various connectors, so this set encourages shape matching in addition to the other previously mentioned STEM skills.
All these vehicles can be used together for imaginative play, and when playtime is over, they can all be stored together in the aircraft carrier.
Check out this cool take apart Aircraft Carrier here.
Take Apart Toys for Dinosaur Lovers
If your toddler is not into vehicles, how about dinosaurs? This Kidtastic Dinosaur Construct and Play 106 piece kit comes with all of the parts you need to make a Tyrannosaurus Rex, an Alamosaurus, and a Triceratops.
It also comes with not one, not two, but THREE manual screwdrivers, so if you have multiple kids, there should not be any fighting over tools. The fact that there are extra tools included can even encourage teamwork between children, as they may opt to work together on each project.
This is also a great choice because there are no batteries required, so they can be washed and even taken into the bath without issue. This set also includes a downloadable coloring book that can be printed out if your toddler needs a break from building and dismantling their toys.
You can take a look at this Dino toy here.
Take Apart Toys for Everyone!
If you are looking to entertain an even bigger group of toddlers or just have one with varying interests, then this Kidtastic Set of 7 Take Apart Toys may be exactly what you need! This set comes with 192 pieces and seven screwdrivers that can be used to make a train, helicopter, truck, motorcycle, and three dinosaurs.
A pack like this could even be great for toddler birthday parties, as each child could have their own to build and maybe take home with them as party favors. There are again no batteries with these toys, so they are completely washable and durable enough to withstand rough play.
Perhaps best of all, they do not make any noise! While the kids are playing, you do not have to worry about hearing roaring dinosaurs or revving cars the whole time. And when they are done playing, clean-up is a breeze as all the parts can be stored in the included reusable container.
Battat – Take-Apart Roadster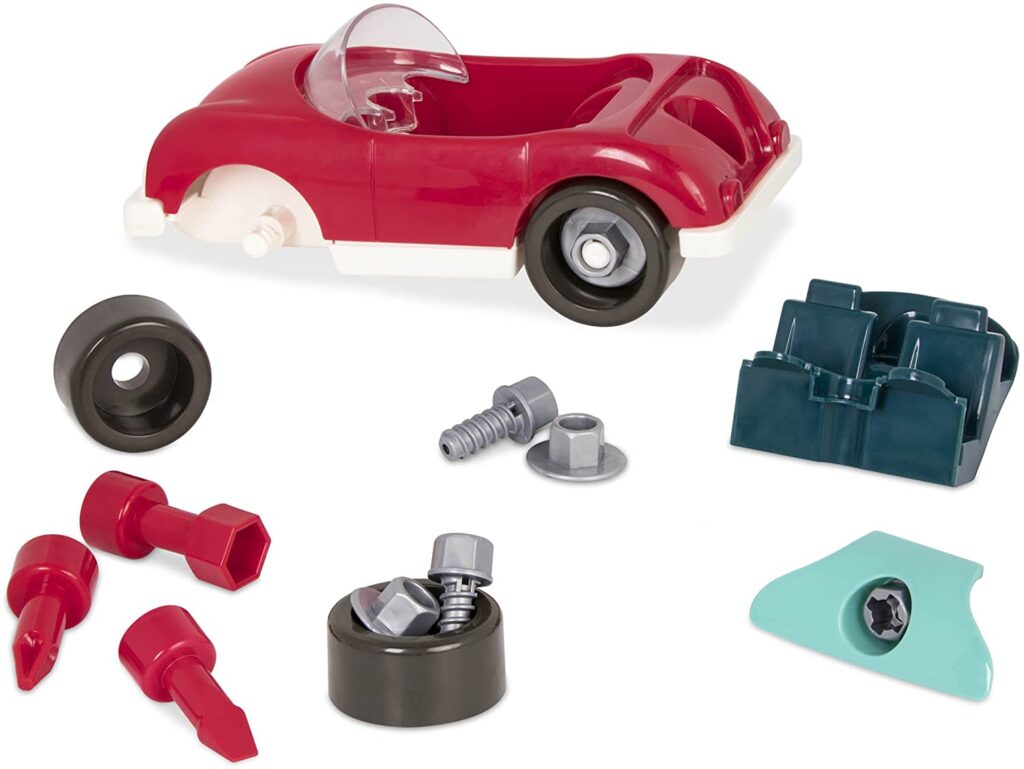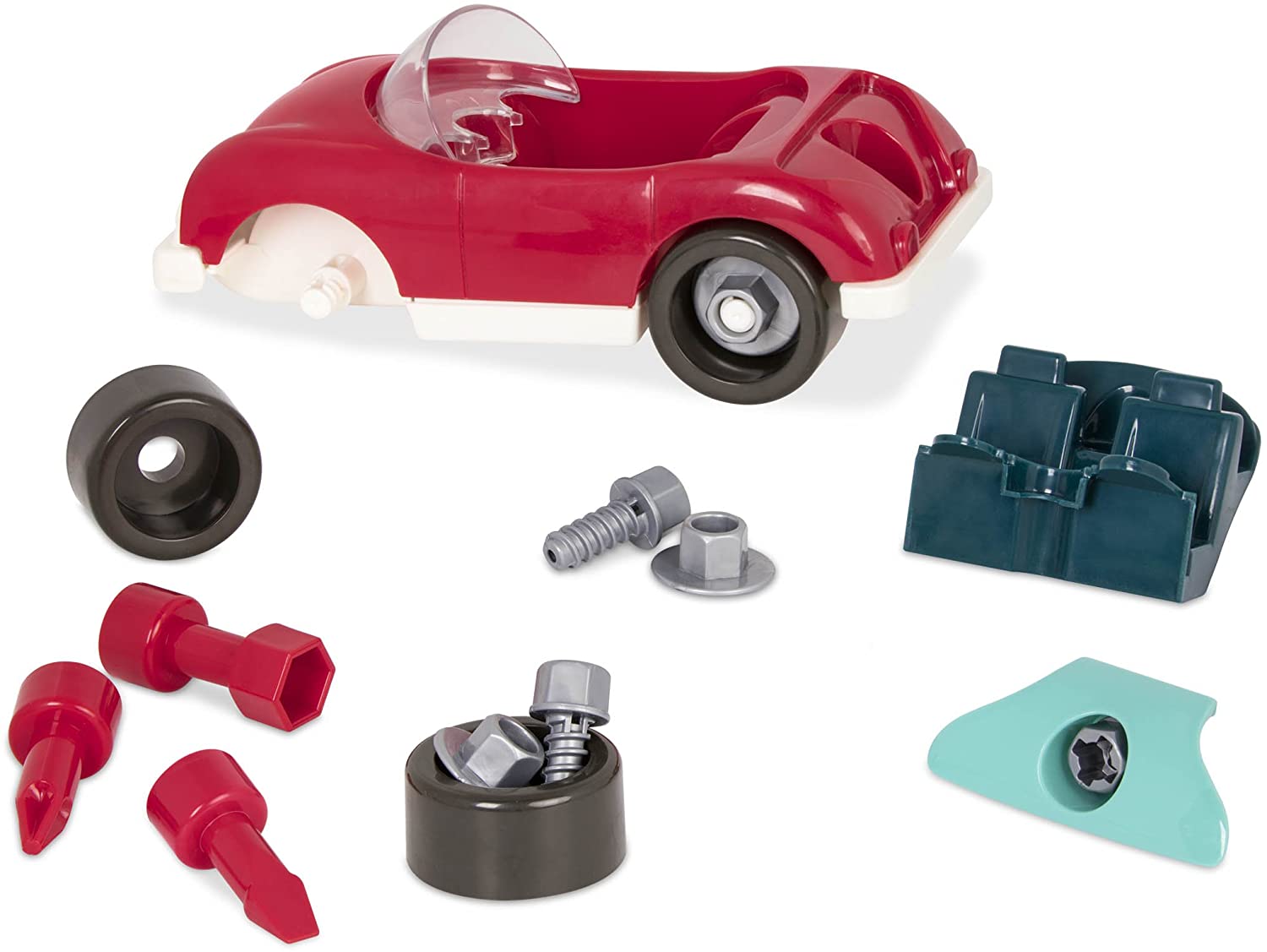 The Battat Take Apart Roadster is a colorful, chunky take-apart toy car with a working drill. This building toy set includes 18 toy car parts, a battery-powered drill, and 3 bits to help your little one build and rebuild the car over and over again.
Tiny hands friendly: chunky pieces are easy to grab and put in place with a kid-friendly drill, Righty tighty, Lefty loosely, as in the drill rotates in both directions.
This toy will also help with fine motor skills that will help with concentration, color and shape sorting, as well as motor skills so your toddler can go cruising whenever they want!
Take a look at this take apart roadster here.
It can be challenging to find toys that toddlers will love. I have a great article on the best subscription boxes for toddlers. Subscriptions take all the guesswork out of finding activities for your kids, and all material is included.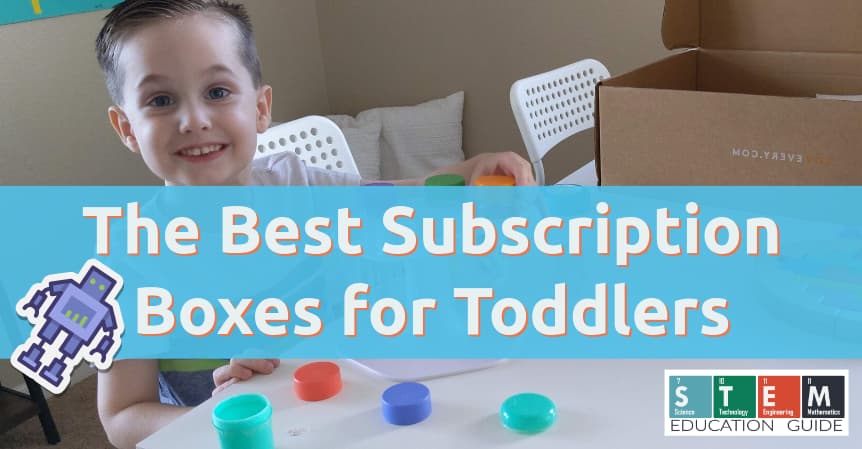 Wrapping Up
Hopefully, by now, you have found the perfect take apart toy for your toddler!
Remember, it may seem frustrating learning how to put everything together at first, but they will begin to develop the confidence and skills they need to tackle anything in their way with some time and patience. And, of course, you will benefit from getting some peace and quiet while they are keeping themselves busy!
Make sure to check out my article about the 7 Best Building Toys for Future Engineers.