Best STEM Toys for Toddlers
Looking for some great holiday gifts for your preschooler to have fun with and learn at the same time? Look no further.
We have found some great STEM toys for 3-year-olds! These toys focus on developing counting, building, and creative skills for a young learner. They make the perfect toy for a preschool or at home. 
11 Best STEM Toys for 3 to 4-Year-Olds for Fun Learning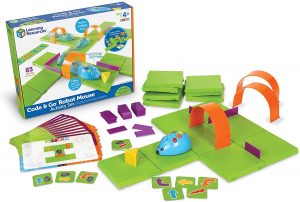 Code & Go Mouse set is my favorite STEM toy for 4-year-olds! Kids will learn problem-solving skills to help them "think like a programmer." The program" their mouse using the buttons on top of their mouse to help their mouse navigate around the maze. There are different challenge cards, so they won't get bored with this toy.
You can see the current price of the Code & Go Mouse Set here.
For 5-year-olds (or if you're looking for something a little more advanced), we also love Learning Resource's other beginner coding bot – Botley.
This awesome construction kit will get your child's imagination and engineering skills going! It's designed for 3, 4, & 5-year-olds. I love K'Nex for older children, but this construction set is my favorite for this age group. The pieces are large enough while still allowing them to work on fine motor skills.  
You can see if this construction kit for toddlers is still available here. 
Gears! Gears! Gears! These colorful, spinning gears will build your child's fine motor skills as they work to fit gears together. This 96-piece set is the winner of four awards and is guaranteed to promote early STEM skills.
Check out the current price of these gears here.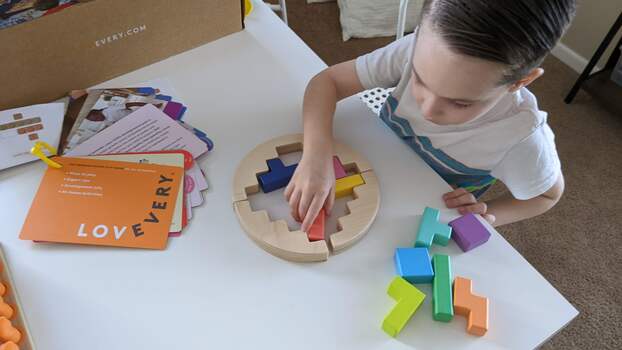 Lovevery is an educational subscription to help your child develop their brain through stage-based play. These kits are designed by experts for young children.
You'll receive a box full of stimulating toys and activities every other month. These are specifically made for brain development. You can check out all of their subscription kits for toddlers right here. 
I also have a full review with my toddler, where we open the box up and see how he interacts with all the toys. You can find my review of Lovevery here. 
These are plastic and durable binoculars designed for little ones! They are focus-free, 2x Magnification, and have a strap to go around the neck. Your child will enjoy looking at nature with these. Encourage them to go bird-watching! A great learning opportunity awaits!
You can click here to see if these Kidnoculars are still available here.
This is a cool and colorful design studio for your little one, likely appealing to a young girl. It has a "power drill" and plates and bolts that can be made into designs. It encourages creativity and grows kids' hand-eye coordination, patterning, and problem-solving. (PS. If you're looking specifically for a STEM toy for girls, check out this post.)
You can find the current price of this Flower Power Studio here.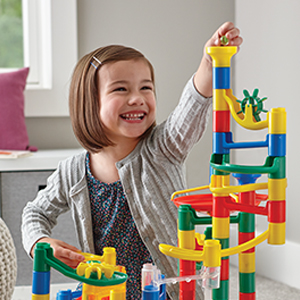 This Marble Run is for ages 4 & up! It's another one of my favorite building toys. Kids work on problem-solving as they build their marble run to make sure the marble ends at the bottom of their creation. You can find this Marble Run here.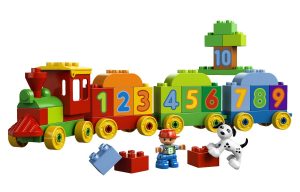 Now let's dive into some math toys to put that "M" in STEM!
This is a great toy by LEGO DUPLO that teaches counting up to 10. It is fun, educational, and young ones can construct their own train in the correct order. It certainly fits the 'M' in STEM.
You can see the current price here.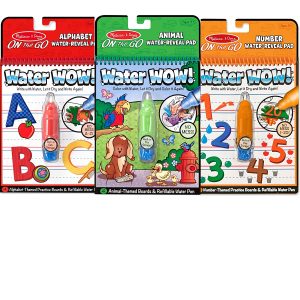 Another great counting game! Kids have to stack these different colored cars in the right order, numbered one to ten. Check out all the cards in this set here.
It's never too early to start getting your child comfortable with handling money as they grow older. They might not understand it right away, but it is good to have this as they grow older.
It includes 30 pretend US bills and 40 plastic coins. I know I used to love playing store, so this is a great way to combine playtime and learning. They will love the "cha-ching" sound their register makes when the cash drawer opens. 
You can find this Play Calculator Register here.
This suggestion is a bit different from some of our favorite STEM toys above!
Consider a subscription box for kids as a great gift. Children receive a new learning activity every single month! One of our favorites for 3 to 5-year-olds is Koala Crate. These are hands-on activities in each box that focus on different science themes, from oceans to doctor visits.
You can find our full hands-on review I did with my kids in our KiwiCo review here. 
Do you have a favorite STEM toy for your toddler? Let us know in the comments below!
Check out the best subscription boxes for toddlers in our article here. We also have a link to all of our hands-on reviews of each box.